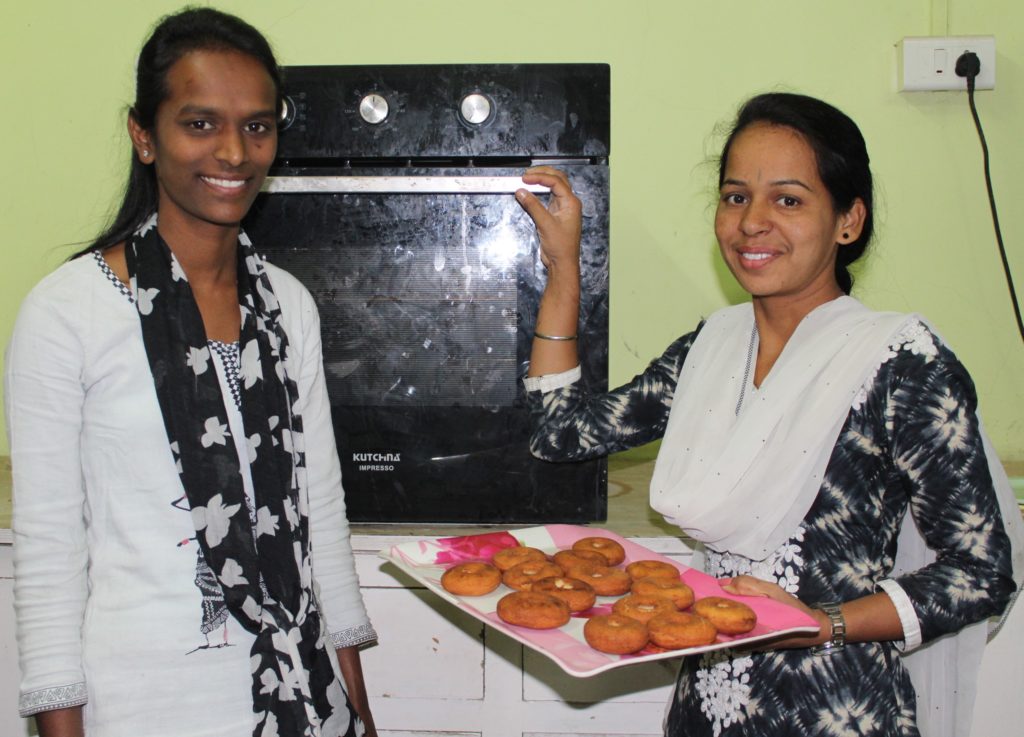 By Lata Rajeev
Presenting to you, our young entrepreneurs Mangal Patil and Swati Bakke, who spill the beans on their passion for cooking. They run Manu's Café, the canteen of the Manorama Memorial High School. The canteen serves wholesome fast foods like bhajis (spicy hot snack that resembles a fritter), vada pav (deep-fried potato dumpling in a bun), udid vadas (donut-shaped fritter) and idlis (rice cake). The new menu is a hit with both staff and students. Swati and Mangal also cater for birthdays and get-togethers. Their mouthwatering cakes and donuts are very popular and receive the highest number of orders.
Mangal recalls the first time she cooked a big meal at Mukti. She was a nervous wreck and sought strength in prayer. The vegetable pulao (rice dish) she made in the Mission kitchen was delicious and Mangal's cooking was much appreciated. There has been no looking back since. She says, "I have always loved to cook, even as a young child. After coming to Mukti, I have learnt to bake and make new dishes like biryani (mixed rice dish). I really enjoy making Chicken Biryani."
Mangal is thankful that she found direction and her purpose at Mukti Mission. She is grateful to God for rescuing her from hardships and giving her an education.
When Swati began working in Manu's Café, she was apprehensive about doing a good job. She worked hard to update her skills and became deft at catering to the requirements of the café. Her specialty is udid dal vadas (a deep-fried snack). She would like to set up her own eatery and help those in need. As a child, she had not imagined having an education or being employed in a fruitful manner. She had many fears and doubts regarding her capabilities. She says, "After coming here to Mukti Mission, I felt that I, too, can do something. I experienced the joy of being cared for and guided onto the right path."
Mangal was eight and Swati was four when they came to live at Mukti. Today Mangal is 22 and in the process of completing her Third Year Bachelor of Arts. Twenty-one-year-old Swati studied until the 10th and has worked at Manu's Café for the last five years. Mangal wants to study for a master's degree in social work. She would like to open a Biryani outlet, employ those in need and help them. Swati is eager to set up her own business and also teach culinary skills. Both feel blessed to use their God given skills and talents for His glory.
Many other young women, like Mangal and Swati, have been able to explore their passions and career ambitions. With our Economic Empowerment core strategy, we help empower women entrepreneurs and provide resources so that they can start their own income generating activities. We hope that many more women will be able to start their own businesses and serve their communities, like Mangal and Swati are at Mukti Mission.