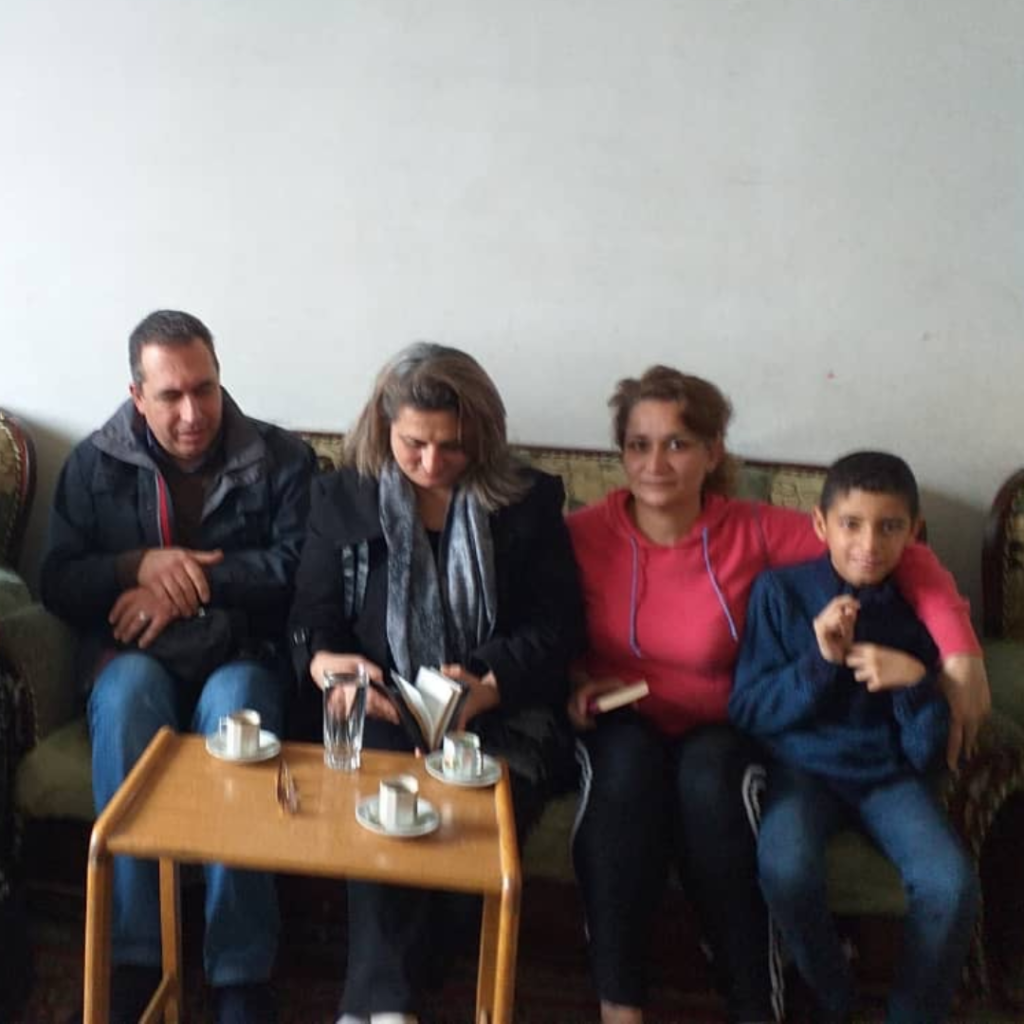 Earlier this year, Syria entered its 10th year of civil war, just as COVID-19 became a global pandemic.
Since 2013, we have worked with local partners to provide aid and the hope of Jesus to displaced individuals and families whose lives have been forever changed since the war, including 13.1 million in need and 6.6 million internally displaced (UNHCR). Our Bags of Blessings program (distributing bags with a month's worth of food and non-food items) has helped alleviate some of the financial burdens since inflation and unemployment has made it hard for families to put food on the table.
When COVID hit and restrictions meant that churches were unable to gather in large groups, our faithful partners continued to dedicate their time to visiting families door-to-door. They delivered over 955 Bags of Blessings and 100 Clean Bags (containing basic cleaning and disinfecting supplies) to help raise awareness and prevent the spread of the virus.
Dina A., is a wife and mother of three adult children. She is a member of the local church and started attending when she received Bags of Blessings through the program.
Life before COVID was already hard, but the added impact of the pandemic is causing more stress on her family's situation.
"My husband is a retired policeman and he isn't earning much," Dina explained. "My eldest daughter is 32 years old and is dealing with chronic health issues that require her to be on medication and go to the hospital for regular examinations. My youngest son is 20 and currently in university. My other son is 31 years old but has not completed his education in order to earn more and help us with household expenses."
Due to inflation, whatever they earn isn't enough. While life remains difficult for Dina and her family, the Bags of Blessings help make a difference and continue to serve as a reminder of God's faithfulness.
"I serve God at the church and help package and distribute Bags of Blessings. The Bags touch my heart and fill it with gratitude to the Lord, because He is a good and faithful shepherd. The Bags definitely attract new members to the church and are given according to the need, so that it will be a reason for blessing everyone who takes it with knowledge of how the Lord is good."
Faddaa S., is another member of the church who first heard about it through the Bags of Blessings program.
"The economic situation at home, because of the general situation and the deteriorating conditions, is below the middle line because of the high cost of living. We live on my salary, which does not exceed $25 dollars (per day)," Fadaa, 46 years old, shared.
"When we heard that the baptist church distributed Bags of Blessings, I began attending. This was the reason we came at the beginning. But then, I became attached to the Word of the Lord and I began to think of the benefits (Bags) as gifts from the Lord Jesus. The Bags have helped lift a large part of our expenses that we used to spend on purchasing food. Now we use that money on other household expenses."

Families with younger children are finding it difficult to get by. Rana K. is 38 and part of a family of four.
"We can no longer provide for the needs of our children in a healthy and ideal way for their ages," Rana lamented. "They are in the stage of development."
Despite the hardships, Rana still has faith.
"The love of the Lord Jesus is beyond our imagination. We find Him with us in every moment of our lives, with joy and pain. We find that the Lord will provide us with our needs at the right time when we are most in need of help. Personally, I do not fear any need because I have an inner peace that my master never leaves me in need. As for the Bag of Blessings, due to the current situation in our country, some people come to the church for the purpose of aid, but when they hear the word of the Lord and enter the minutes of the Lord, you will find them adhere to the word of the Lord and apply it in their lives."