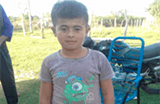 Felipe*, 10 years old, lives in Abai, Paraguay with his parents. When missionaries named Susana and Alejandro visited his grandmother's home, he learned about the opportunity to go to a nutrition centre, run by Jesus Responde, Global Aid Network's partner in Paraguay. At the nutrition centre, children from impoverished backgrounds can come weekly, receive nutritious meals, receive tutoring and learn about Jesus.
Before going to the nutrition centre, Felipe disobeyed his parents and showed very little interest in his studies. Despite already being in third grade, he didn't know how to read or write.
Felipe is now in fourth grade. His mother commented that she has been congratulated by Felipe's teacher because his behaviour has notably improved. Not only that, but he can now read Bible verses correctly, thanks to the care and attention he has received from the nutrition centre. This has impacted Felipe's entire family and has opened the door for his parents and grandfather to all receive Christ in their hearts.
Soon, they are expected to take the next step of being baptized.
Susana, the missionary, commented that their church has grown and that they are extending the services they offer at the nutrition centre to provide more meals. Through children like Felipe, we can see how the simple service of providing food can allow encounters with their families and the opportunity to share the love of Christ with them.
*Name has been changed
YOU COULD PROVIDE A NUTRITIOUS MEAL AND MORE FOR A CHILD LIKE FELIPE. WOULD YOU GIVE A GIFT THAT CAN MAKE A LIFE-CHANGING IMPACT ON A CHILD?