By Priya Dsouza, Mukti Staff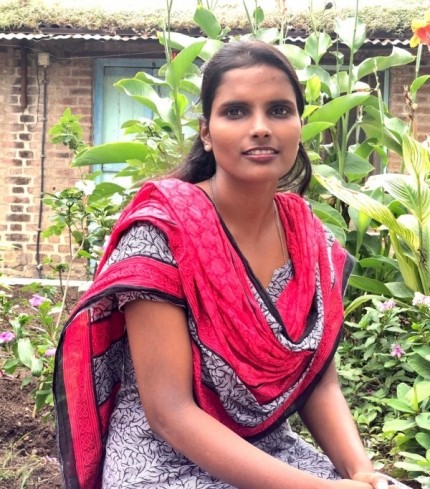 Radhika came to Mukti as a shy two-year-old. Her father had recently died in a railway accident. He had passed out drunk on the railway track and was run over by a train. He was survived by his wife Hirabai, five daughters and a son. Hirabai was uneducated and made little money as a maid. She suffered from a bad back; this made most labour intensive jobs very painful for her. She was doing her very best to support a family of seven, but it was still not sufficient.
Hirabai brought her youngest two daughters to Mukti Mission for residential care and education. Radhika became a part of the Sunflower family and spent her childhood there. Hirabai had requested that her daughters be educated in Marathi medium, so the two sisters attended Sharda Sadan school and then the Manorama Memorial girls High School. Radhika was a good student. Besides being attentive in class, she also excelled in drawing and painting. A passion she still pursues.
Radhika was raised in a Christian environment, hearing about God and His sacrificial love for her. She found great comfort in the Bible and God's promises. But she did not accept Jesus as her Lord and Savior. When she was in the 11th standard, Radhika attended Vacation Bible School. It was here that God touched her heart. She gave her life to Jesus and became a new creation. She started to read the Bible and experience life in a different way.
After obtaining very good marks in her 12th board exams, Radhika earned her B.A in Economics from Jawaharlal College in Kedgaon. She had always had a heart to serve, so a Masters degree in Social Work (MSW) was the logical next step for her. She completed her Masters degree and worked as an assistant in the Residential Care office in Mukti. It was in her capacity as assistant that I met and worked with Radhika.
I was new to Mukti and assigned to create profiles for newly joined residents. The case files were all written in Marathi, a language I cannot read or understand. Radhika came over to my desk in the communication office to translate information I needed. She would go through the case reports and narrate the story to me. Then I would ask her specific question to fill blanks in the narrative. As we worked through that first pile of files, I noticed many unique qualities in Radhika.
She always used respectful terms, even while talking about the most villainous character mentioned in the case. Sometimes we would stop and talk about the people mentioned in the file and their lives. She showed great compassion in her understanding of people and their motivations. Her attitude can only be described as a Christ-like love towards sinners.
Radhika embodies the verse, "Let your gentleness be evident to all" (Philippians 4:5). She radiates peace, gentleness and is a calming presence in the midst of heated arguments and angry outbursts. She has a humble heart and ready smile. Radhika is always impeccably dressed and manages to look fresh even on sweltering summer afternoons.
Her friends and housemates of the Magnolia family have nothing but high praise for her cooking. Her egg biryani and chicken curry are always in demand. She also makes various Indian sweets with besan (chickpea flour) and tries to make time to cook for her Mukti family.
Radhika has not had much chance to bond with her biological family. She has begun reconnecting with them, but is a little wary of moving in with them. She fears that they will force her into an unsuitable marriage. There are many goals she wants to accomplish before settling into married life.
She feels she has an aptitude for counseling in the area of depression. She wants to do a counseling course sometime in the near future. She plans on preparing for a government job placement exam. She wants to be part of either the Central Adoption Resource Authority (CARA) or the Child Welfare Committee (CWC).
The security of a government job and the steady income would help her provide financially for her mother, who is aging and unwell.
Radhika started a new job at the Aashirvad Hostel in Nagpur last month. She will start off as a receptionist and later move onto Social Work related work. She is very excited for this new chapter in her life. After spending 24 years in the safety of Mukti Mission, the time has come for her to leave the nest. "Mukti is my home, I will be back when I get my annual vacation." She attributes all her accomplishments to the opportunities received at Mukti Mission. The best gift Mukti gave her was introducing her to Jesus, her Lord and Savior.
YOU CAN SUPPORT A YOUNG GIRL AT MUKTI MISSION. WILL YOU GIVE TO HELP CHANGE A LIFE LIKE RADHIKA'S?