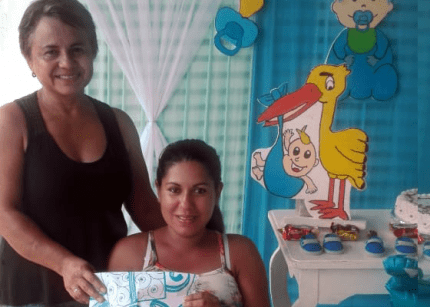 Mercedes is a woman of many talents. While her main business is selling clothing in her neighborhood, she also makes a variety of traditional Paraguayan foods to sell. Her two children are now grown, but are still living at home and their whole family depends on the income Mercedes generates with her business.
Creating a new income source was the initial reason that Mercedes became an entrepreneur, however, she has a deeper motivation for choosing to sell clothing. "Something I've always taught my children is that they should try to dress well," she said. "It doesn't matter if you're rich or poor, you should always try and you deserve the opportunity to dress well." She also commented that when she does business, she's not only selling clothes, she's selling hope to the people in her neighborhood.
Seven years ago, Global Aid Network (GAiN)'s Paraguayan partner, Diaconía gave her the initial push she needed to get her business started. She says that Diaconía has helped her to look further than her current situation and to hope for more. "Diaconía gives us the support we need. The women in my community have a lot of potential, but we need a push and training on how to start a business. Diaconía has been a huge help."
Mercedes has also learned how to always have a goal in mind, and she is working to one day have her own shop to sell clothes and also make healthy meals to-go. Many of her neighbours work full time and don't have enough time to sit and have a healthy meal at lunch time. Her dream is to create a menu with healthy options that her neighbors can purchase and take with them on busy days.
Over the years, Mercedes' trust group has grown together and learned to support and celebrate one another. They even take advantage of their meeting times to have birthday parties, baby showers and fundraisers for group members in need.
WOULD YOU LIKE TO PROVIDE A MICRO-LOAN TO A WOMAN LIKE MERCEDES?