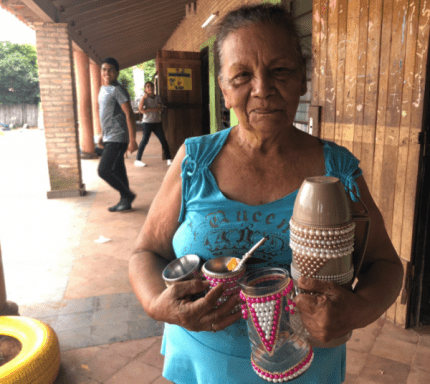 When Benita found out she was sick and began to grow weaker, she could no longer clean houses for a living. She began to sell traditional Paraguayan foods from her home but was just barely making it on the small income she was earning. At the beginning of 2018, she heard of the vocational training courses through Diaconía, Global Aid Network (GAiN)'s partner in Paraguay, and joined right away. Diaconia offers vocational training for impoverished women who are interested in establishing or growing a small business. Throughout the year, there are a variety of different classes for women who are interested in learning how to sew, craft, do hair and makeup and more. Since Benita started attending a vocational training, she has never missed a meeting since.
Throughout the year, she has learned to crochet, embroider cloth purses, decorate sandals and thermoses, and work with beads to make jewelry. Now, in addition to selling food, she takes personal orders for her craft work and sells her products in her community. She has always loved creating things but wasn't able to allow her creativity to flourish because there wasn't anyone to teach these trades. With the skills she learned in the courses, she now loves what she does, and the additional income helps her to advance more in life.
She is thankful for what Diaconía and God have done in her life and community. Because of this experience, her neighbourhood is improving economically and is more united. What she has learned and accomplished has created a sense of pride in her own work and has taught her that she can always learn new things.
DO YOU WANT TO HELP WOMEN LIKE BENITA BY GIVING THE OPPORTUNITY TO LEARN NEW SKILLS THROUGH VOCATIONAL TRAINING? YOU CAN HELP WOMEN IN PARAGUAY BREAK THE CYCLE OF POVERTY.