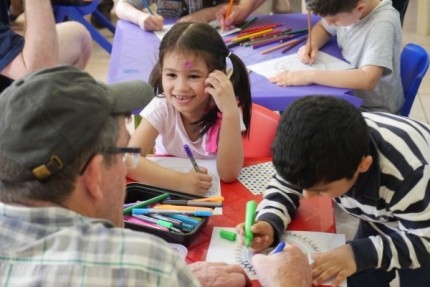 In the past seven years since the Syrian Crisis started, news of the ongoing war has been unavoidable. Uncertainty seems to be the only constant for refugees and yet, there is still a strong spirit of hope – participants on our most recent LIFE Team to Lebanon learned.
For two weeks in May, seven compassionate people joined Global Aid Network on a LIFE Team impact trip to Lebanon. The purpose of the trip was to get a better understanding of the crisis happening in Syria while serving alongside our partner in Beirut, Lebanon, to help bring hope and encouragement to refugees.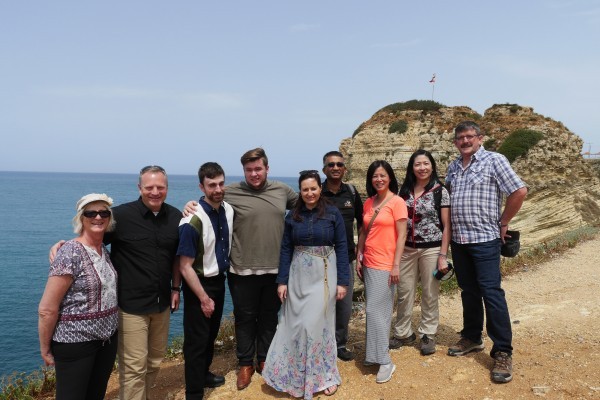 The team showed up, ready to serve with the opportunity to be present in the following ways:
1) To encourage our Syrian partners
Our team met with some leaders from our partner organization in Syria, who travelled from Damascus to Beirut for a short one-and-a-half day retreat. We had the chance to hear directly from our Syrian partner's staff who shared their own harrowing stories of war, displacement and loss.
The volunteers, who faithfully distribute Bags of Blessing (food and household items) to people who have been forced from their homes, were an inspiration and encouragement to our team. Their steadfast determination to stay in a war zone to provide aid to those in need is a strong testament to their faith.
"At times, the personal stories were so heartbreaking that many tears flow[ed] in the room," shared Lily Kwok, LIFE Team Manager. "The team ministered to the Syrian leaders through their listening ears, words of encouragement, many prayers and hugs and simply being present. Despite the tears and obvious pain, we were so encouraged by the leader's joy, faith and trust in the Lord."
The meeting was mutually encouraging to both the Syrian staff and the LIFE Team. Our Syrian partners found the session therapeutic, while our team members gained an eye-opening and humbling glimpse into what life has been like in Syria for the past seven years.
"It has made me more aware of the impact of war on the citizens of the country of Syria," said one participant. "The hurt and pain of losses but the opportunities it gives to show the love of Jesus."
Another LIFE Team member said: "I have been challenged by the group of heroes in the faith from Syria. They care about their community so much to risk their own lives."
2) Spend time with refugee children
With our Lebanese partner, the team was able to serve at a "makeshift" school for over 40 refugee children who are unable to attend a Lebanese school for various reasons. The children were either behind academically (due to the war and displacement causing a gap in their schooling), lacked the required legal status, or simply could not afford the minimal fees required to attend a school.
Despite the lack of obligation for these children to attend this unofficial school, the kids show up early, enthusiastic and ready to learn.
"It's a testimony of love and care the kids receive from the church that keeps them coming back," Kwok observed.
Team members that worked with the kids were able to help them with crafts, math games and chapel services, providing some temporary relief for the underpaid but passionate teachers.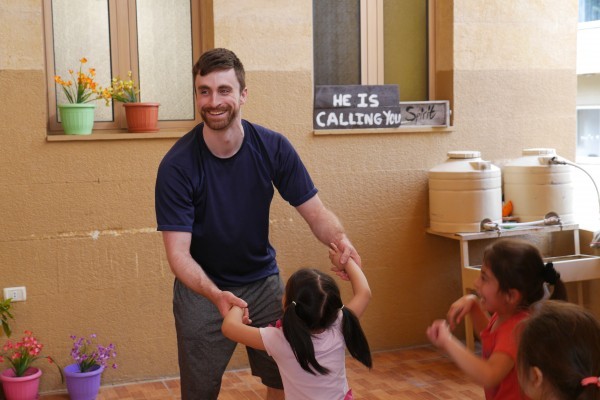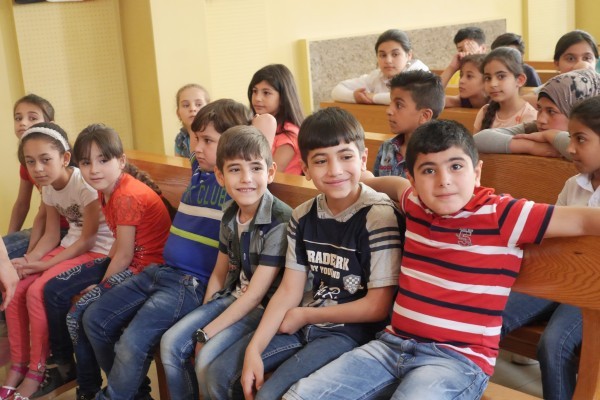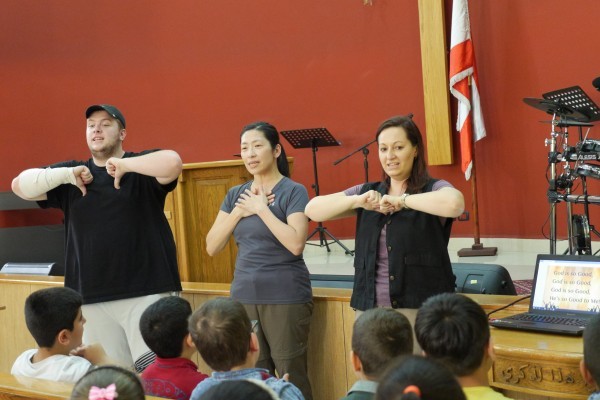 3) Visit refugee families
After school, participants were able to be a light to the community by visiting the homes of refugee families (some were families of children who attend the school).
"During these visits we were able to hear stories of their plight from Syria, often filled with some traumatic experiences," Kwok explained.
They also visited a squatter refugee camp (not run by the UN) in the Bekaa Valley. Working with the local hosts, the team was able to meet with a family of eight (parents and six kids) who had been at the camp for two years. There, they saw the reality of conditions that refugees in camps have to live in.
"Often there are no words when faced with such circumstances, but we also know that God is at work here through this team who are committed long-term," said Kwok.
4) Lend a hand
Team members also had the chance to serve through manual labour at our partner's used clothing store. The store sells items at a discounted price for refugees in need. By spending their time cleaning up the storefront and adding a fresh coat of paint, the store was transformed to be more welcoming and organized.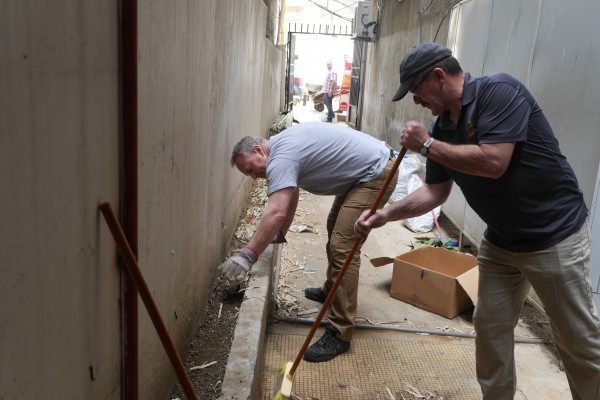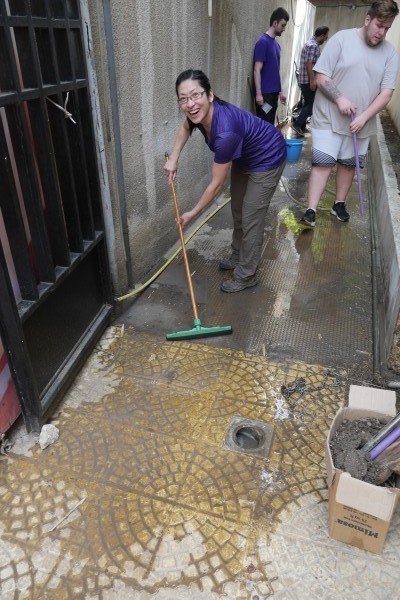 At the same time, other team members were able help our Lebanese partner prepare meals for refugee kids and seniors in the community. Help in the kitchen provided an "answer to prayer" for the staff who work tirelessly.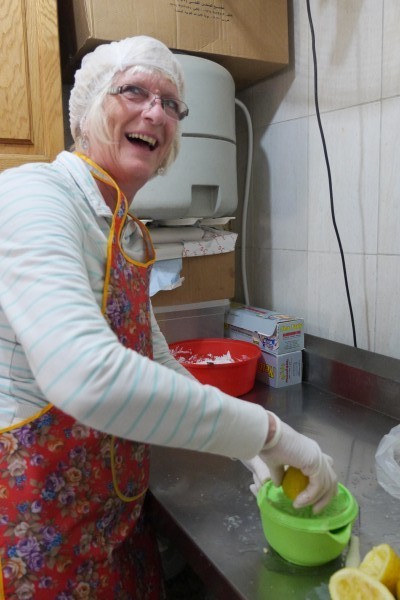 With open and compassionate hearts, the LIFE Team group was able to serve the community in different ways. Their willingness to be available and present meant that they were able to be used in whatever capacity was needed.
One LIFE Team participant said: "What I have experienced the most in short-term teams like this is that it's about being able to build relationships, taking time to stop, spend time with people and not just "do.'… Maintaining relationships can be such an encouragement to the people here. To know that they have prayer partners all over the world is just as important as the practical things that are needed in getting a job done."
ARE YOU INTERESTED IN JOINING US ON A LIFE TEAM TRIP? JOIN US