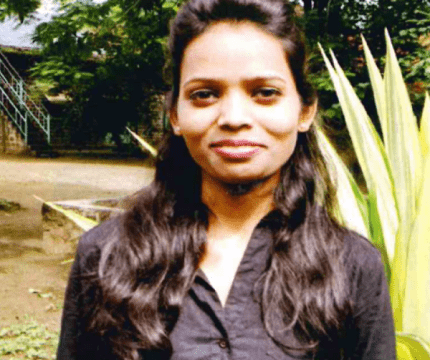 By Shital
I am Shital, a daughter of Mukti Mission. I arrived at Pandita Ramabai Mukti Mission in May 2001, at the age of five, along with my two older sisters. After our father's death, our mother was not able to look after us or provide for our needs. So she decided to take the three of us to Mukti to give us a better future. She always hoped that we would grow up in a place where we would be loved and cared for.
As I was growing up in Mukti, I was nourished and cherished by the people around me. I received a good education from primary school through 12 standard (Grade 12) while at Mukti and subsequently went on to pursue a Bachelor's Degree in Computer Science with the help of the Mission. By God's grace, I completed my degree with First Class (honours).
I was given all that I needed, not only for my physical and academic needs but spiritually as well.
At present, I am living and working in Pune with an IT company. Mukti encouraged me to explore new things in the outside world with my education and talents. Through these new opportunities, the joy of the Lord is reflected to those around me. People often ask me, "How can you be so happy?" This gives me a platform to share my story, of how I experienced God's love, with my co-workers. Though I am surrounded by many challenges as a new employee, I have already seen how God is protecting and strengthening me.
I am really grateful to God, that He brought my sisters and me into the Mukti family and to have a secure home. Whatever I am today is because of God and the gift of Mukti. I believe "The will of God will never lead you where the grace of God cannot keep you."
SHITAL IS ONE OF MANY INSPIRING WOMEN WHO CAME FROM MUKTI.
SUPPORT THE NEXT MUKTI GIRL AND HELP HER GROW INTO AN EMPOWERED WOMAN. GIVE TODAY