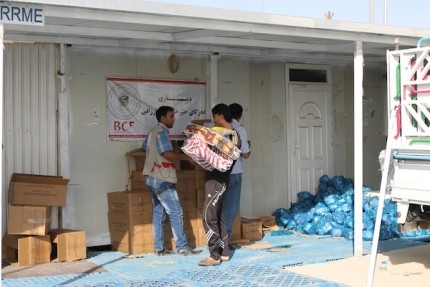 "I'm still in shock; the situation was very, very, very bad," Simon* told me, the day after their first visit to Debaga Camp at the end of July. "Yesterday I was taking photos, interviewing people, and crying. I had heard about the situation, but didn't imagine it was so terrible."
A Christian IDP from Mosul, Simon is no stranger to the trauma of imposed flight from a feared "enemy", the harsh new realities you're forced to confront along the way, and the longer term harsh reality awaiting you once you arrive at relative safety. But even he was at a loss for words to describe his experience at Debaga Camp.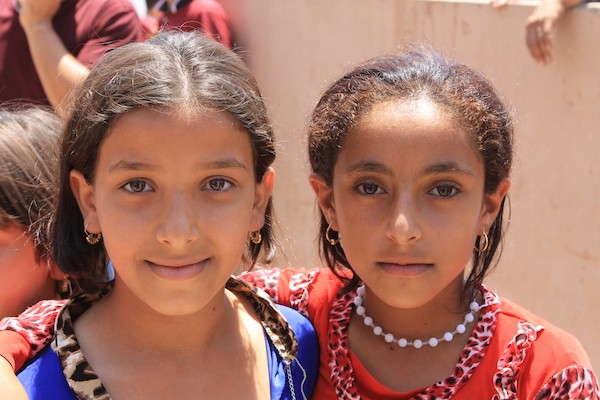 The majority, if not all, of these families are Muslims displaced from their towns and villages as a result of the military offensive as the Iraqi army coalition continues to make progress in its fight to remove ISIS from Iraq, and specifically its stronghold in Mosul.
Debaga Camp, located on the edge of the Kurdistan Region (an autonomous region of Iraq, significantly more stable and secure than the rest of Iraq), was originally built in late 2015 and hosted about 3,300 people, a number that has increased tenfold. At the end of July, the registered IDPS numbered over 29,000. As of late October, Debaga is host to over 32,000 individuals, with over 58,000 having passed through the camp since March.
"I've never seen people so desperate for food—'Just give me one!'," said Simon. "We were distributing materials (water, ice, fruit, bread, baby food) and they didn't run out, we just kept distributing…like the loaves and fish! We need God always—He's providing people, connections, He's doing everything."
The population of Debaga Camp has exploded over the past several months, placing it far above capacity and forcing a second and third location to be hastily constructed. Resources—water, sanitation and hygiene, shelter, food—are scarce, but organizations are doing their best to provide these basic necessities to people within the first hours of their arrival.
Our partner on the ground was able to take responsibility for a section of the camp, and distributed blankets, the nutritious dried soup mix and dried fruit donated by Fraser Valley Gleaners (which is GAiN's partner) to 5000 families.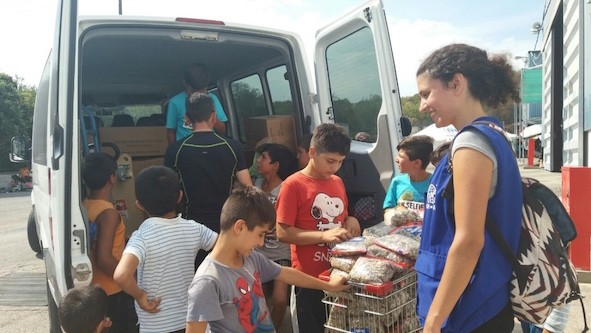 The blankets were crucial to these families living exposed to the chill of the desert nights, and the rapidly approaching chill and wet of winter. The soup mix and dried fruit were a great boost to the limited diet of these persecuted people.
The war in Syria has raged on for over five years, with 4.8 million people fleeing the violence, carrying little more than hope. Thousands of Syrians have made the journey across the Mediterranean Sea to Greece.
In June 2016, GAiN Netherlands transported five pallets of Fraser Valley Gleaners' dried soup mix to Thessaloniki in Greece. In Thessaloniki, GAiN Netherlands works in partnership with the Apostolic church, caring for 1,500 Syrian refugees.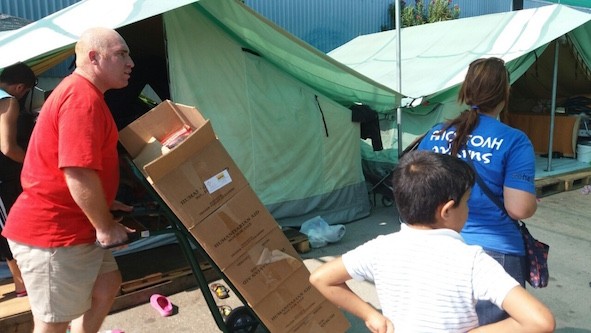 GAiN offices around the world seek to come alongside these suffering people and demonstrate the love of God, in word and deed, from Ukraine to Paraguay, to the refugee camps in Serbia and Greece, and to the IDP camps in Iraq. Without
the partnership and generosity of Fraser Valley Gleaners, thousands of refugees and displaced people would continue to be need of healthy sustenance.
On behalf of the refugees and displaced people, THANK YOU to all the volunteers, staff and leadership at Fraser Valley Gleaners.
IF YOU WANT TO KNOW MORE ABOUT OUR RELIEF WORK IN IRAQ, CLICK HERE.