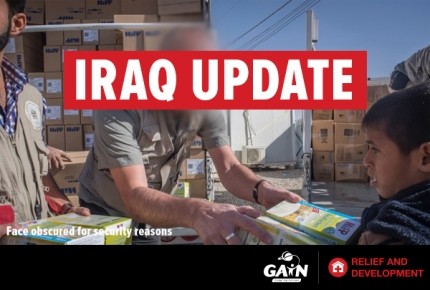 This letter is to update you on the situation in Mosul, Iraq since the battle to liberate Mosul began on October 17th.

We have been able to provide much-needed help for the Iraqi people in need, thanks to donors like you.

From November 17-22, GAiN sent an assessment team to Iraq. During their time in country, they witnessed devastating sights and experienced horrifying sounds and smells.

Along with the over three million displaced Iraqis since 2014, the recently liberated town of Qaraqosh (eight kilometers from Mosul) was also devastated. Explosives and fire destroyed every single private home, the infrastructure was intentionally abolished and every one of the ten churches there…obliterated. Deliberate attacks of Christian faith were evident as crosses atop churches were smashed, Christian literature burned and graffiti tagging the churches with phrases like "we love death as you love life" and "Christianity has ended here."

"Qaraqosh is reminiscent of the 2010 earthquake destruction in Haiti except this was entirely man-made and evil," shares one of the team members.

Our staff visited two new camps holding over 100,000 people and there they were able to distribute humanitarian aid consisting of rice, baby cereal, and winter clothing.

However, the need is still overwhelming and very real as witnessed first-hand by the staff. And, as the devastation continues to grow, the need grows also.

We have expanded our relief programs with the local partners on the ground to provide further help through its Disaster Assistance and Response Team (DART).

A preliminary plan has been put into action. With the onset of winter, this plan addresses several basic human needs ranging from providing water, food, warm clothing and hygiene packets.

We urge you to help us, bring aid to the thousands who have been devastated and traumatized by this horrific attack and restore hope to them by demonstrating God's love during this Christmas season.

YOUR GIFT TODAY WILL BE DOUBLED BY A DONOR MATCH!