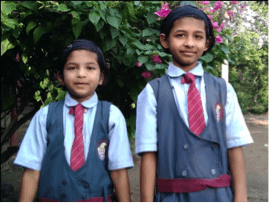 Two bright new faces shine in the Frangipani Flower Family since August 2016.
Sisters Trushala and Deepali were born in such an area where children and women are vulnerable and always at risk.
Unfortunately, their mom could not take proper care of them. She didn't want them exposed to her work environment.
So, when she heard about the loving and supportive home at Mukti Mission, she felt that would be a good and safe place for her girls.
Quite quickly it became apparent how well the girls adjusted at Mukti.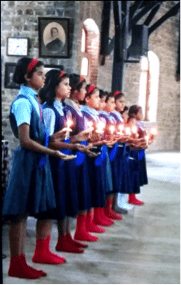 Trushala, at six years, loves to play and sing. She listens attentively to stories and loves learning new songs. She chats amiably with everyone, especially when she should be studying! She is social and excels at playing with the other children.
Deepali, at nine years, studies in third Standard at the English Medium School. She is clever, enjoys studies and good in English. Quiet and respectful, she easily accepts the love of adults in her life.
Today, the girls are now settled at Mukti.
Being in a supportive environment has helped them begin to grow emotionally, spiriitually and with their studies.
Their mother can still come and visit. But, because of her work, the girls don't go home for holidays.
Instead the love of their matron-mother and the happy welcome from their new sisters has made it easy for Mukti to provide for their needs and become their new home.
STORIES OF CHILDREN LIKE TRUSHALA AND DEEPALI ARE COMMON THROUGHOUT MUKTI.
WOULD YOU LIKE TO KNOW MORE ABOUT MUKTI MISSION? CLICK HERE.