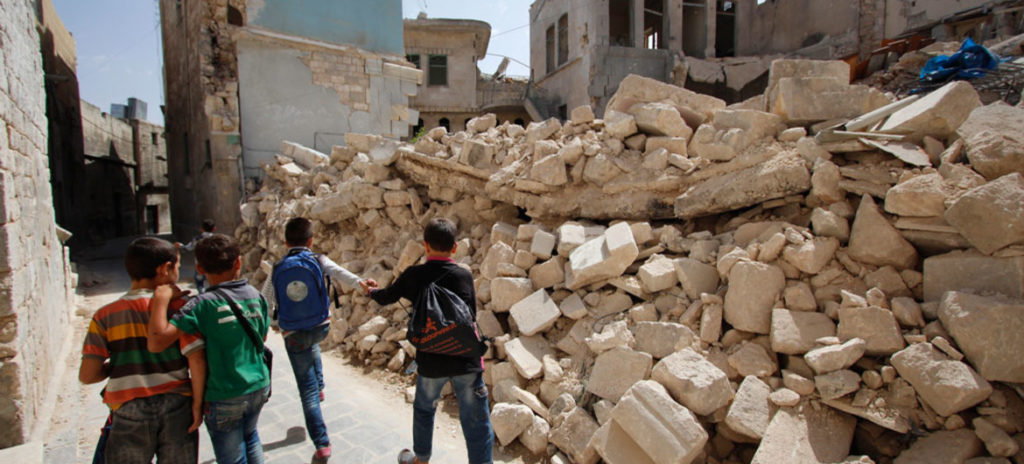 10 November 2016 – The United Nations humanitarian envoy for Syria today urged actions to stave off the threat of mass hunger in eastern Aleppo before the arrival of winter that he fears could be "a real killer" for a quarter of a million people trapped there.
"The fifth war winter is starting in Syria. There is no doubt it will be the worst in this cruel war, and I fear it will be a real killer in too many places," Jan Egeland, Special Advisor to the UN Special Envoy for Syria, told reporters in Geneva.
"Some of the areas are freezing cold, horrible conditions, and people will be in need of digging themselves down in the ground in extreme cases," he said, explaining that humanitarian convoys are being blocked physically or administratively from reaching them, or they cannot depart because of crossfire or insecurity.
He said that the last time eastern Aleppo was reached with significant humanitarian supplies was the beginning of July and reports imply that the last food rations are being distributed now. "There will not be more to distribute next week," he said.
Mr. Egeland said that the UN put forward a humanitarian initiative last week, which has been translated into Arabic and presented to the negotiating parties, including Russia, the Syrian Government and the armed opposition groups.
He said that the initiative calls for four actions to save the people in eastern Aleppo: distribution of medical supplies to the medical facilities; medical evacuations for the estimated 300 or so patients, together with their families; delivery of food and other urgent humanitarian relief supplies; and dispatch of more personnel to provide medical relief.
"None of the four elements are conditional on the others," he said.

"Having heard back from the [humanitarian] taskforce today, we are hopeful that both sides will, since the situation is so horrendous as it is, grant us the opportunity to both come with supplies into east Aleppo, and evacuate wounded and others out of east Aleppo," he said.
The International Syria Support Group (ISSG) has established the respective taskforces on humanitarian aid delivery and a wider ceasefire. They have been meeting separately since early this year on a way forward in the crisis. Russia and the United States are the co-chairs of the taskforces and the ISSG, which also comprises the UN, the Arab League, the European Union and 16 other countries.
"I do not think anybody wants a quarter of a million people to be starving in east Aleppo," he said. "I do believe we will be able to avert mass hunger this winter."
There are also hardships in western Aleppo, which can still be reached with aid, he said, warning that civilians there are dying every single week from the continued fighting.
Mr. Egeland also noted that the situation has not gotten better in the other besieged areas.
As for Madaya, Zabadani, Foah and Kafraya under the 'Four Towns Agreement,' all relief into these areas and medical evacuations out have been paralyzed because of the "conditioning" between Iran and Ahrar al-Sham.
"I have not seen a place where there has been so much politicization, manipulation of aid, as we have seen in Syria in recent months. It has to stop," he said.
IF YOU WOULD LIKE TO KNOW WHAT GAIN IS DOING REGARDING THE SYRIAN CRISIS, CLICK HERE.