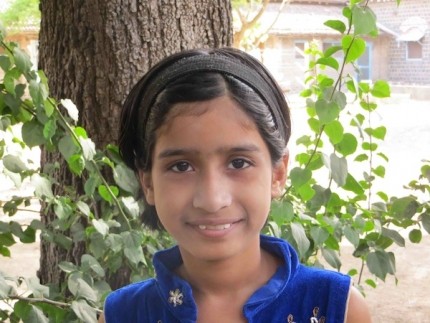 "I want her safe", said Pari's mother when she came to Mukti to leave her daughter. "I can not escape my lifestyle and work but I want Pari to have a choice," her mother said determinedly as she made the decision to leave Pari at Mukti.
Pari was living in Northern India with her mother and father. The marriage of her parents was arranged by Pari's maternal grandmother. Pari's father took one look as his wife and fell in love. She was a very beautiful lady. Pari's parents quickly married and moved far away from the mother's relatives. The family was financially well off and had two girls and one boy.
Their lives seemed to be going dreamily.
Then a trip was planned to visit the mother-in-law. Upon arrival, the father knew he had been tricked. Pari's grandmother lived in a very poor area in a very small house. He was angry, disgusted and felt tricked.
He told Pari's mother to get out of the house and don't come back. Two of their children stayed with their father.
She quickly called her cousin and left with Pari to live in the city. Without knowing, Pari's mother had moved to the red light area of the city. Within a few weeks, she needed to make money for rent and began to work in the red light area. She became very concerned about Pari but found a room where she could stay while her mother worked. This worked for awhile but the boss wanted Pari out of the way and wanted Pari's mother to focus on her work only.
Pari's mother sought some counseling from a Christian lady. She suggested bringing Pari to Mukti Mussion. Her mother came with her boss to bring Pari. Mukti actually wanted both Pari and her mother stay for care at Mukti. Pari's mother thought it was good for Pari but found it impossible to escape her work.
When Pari first entered the Frangipani home, she cried. Meera, her house mom, comforted her. Pari tearfully told Meera, "I will not stay".
After a few days, Pari could see that Mukti was a safe and loving place. She is adjusting to her new home.
Pari is eight years old. She is a tall, graceful, and a quiet girl who likes to read story books.
She has made a good friend in Riya, her Frangipani sister.
Pari had never heard about God's love for her. Today, in the Frangipani family, the love of God is demonstrated to Pari and to the others, in word and deed.
IF YOU WANT TO KNOW MORE ABOUT OUR WORK WITH MUKTI MISSION, CLICK HERE.