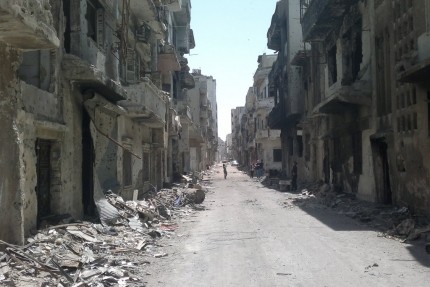 16 September 2015 – The United Nations humanitarian chief today urged the Security Council to find a political solution to end the conflict in Syria, warning its members that the fighting had created one of the largest refugee exoduses since the Second World War.
"It is civilians who continue to bear the brunt of this war," Under-Secretary-General for Humanitarian Affairs and UN Emergency Relief Coordinator Stephen O'Brien told the Council, appealing to the 15-member body to find "a political settlement that brings an end to the crisis."
Mr. O'Brien noted that, 18 months after the Security Council adopted resolution 2139, its demands to allow unhindered humanitarian access to the country had gone unheeded, and there had been no reduction in the appalling patterns of human rights violations.
Government forces, he said, had repeatedly attacked residential areas during between 17 and 26 August. During the last week of August, non-State armed groups had launched hundreds of shells, killing at least 20 civilians.
He warned of a "deliberate targeting of civilian infrastructure," including water and electricity networks, as well as schools and medical facilities.
In 2014, he said, some 169 reported attacks on medical facilities occurred, and 259 medical worked were killed. Additionally, since the start of 2014, the UN has verified at least 84 attacks on or near schools.
"Today, Syria is one of the most dangerous places on earth to be a child," said Mr. O'Brien, noting that over two million children are not in school and a further 450,000 are at risk of dropping out. He also expressed his concern that, in areas controlled by the Islamic State of Iraq and the Levant (ISIL), schools were using a curriculum designed by the terrorist group.
He also outlined the current state of humanitarian aid delivery in Syria, warning that the UN and non-governmental partners were still unable to deliver sufficient quantities of aid to the hardest-to-reach areas of the country.
Lack of funding, said Mr. O'Brien, continued to be a major challenge, and that $738 million was needed to fund essential life-saving operations until the end of 2015.
The Under-Secretary-General called on members of the Security Council to do more to demand an end to indiscriminate violence in Syria, and to ensure that humanitarian assistance is able to reach all areas of the county. Above all, he said, the Council should find a political solution to "end this nightmare" for the Syrian people.
GAIN IS PROVIDING AID TO SYRIANS WHO ARE DISPLACED WITHIN THEIR OWN COUNTRY. CLICK HERE IF YOU WOULD LIKE TO KNOW OUR RELIEF EFFORTS.
(Article Source)