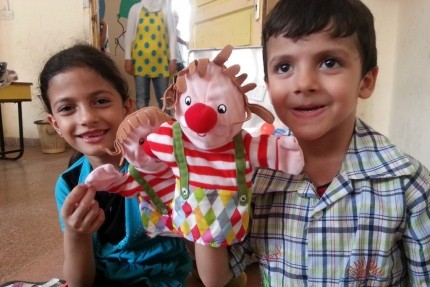 15 September 2015 – As children around the world return to school, there are more than two million in Syria who will not be able to join them, the United Nations Children's Fund (UNICEF) cautioned today, adding that another 400,000 are at risk of dropping out of school as a direct result of conflict, violence and displacement.
With the conflict in Syria now in its fifth year, some children in Syria have never known what it is like to enter a classroom, while others have lost up to four years of their schooling, the agency noted in a news release.
"Syria's basic public services, including education, have been stretched to the maximum," said Hanaa Singer, UNICEF Representative in Syria. "We need to do so much more to help the education institutions from collapsing and increase opportunities for children to access education across the country."
School buildings are also affected by the conflict; 5,000 of them cannot be used as they have been destroyed, converted into shelters for displaced families, or used as bases for armed forces, UNICEF said. Often, the schools and their surroundings are unsafe, dangerous for children to reach, and at risk of deliberate attack. To take their exams last summer, at least 20 per cent of Syria's children were forced to cross lines of fire.
UNICEF has been working with local partners on the ground to reach around three million children, and has implemented an informal education programme to reduce the number of out-of-school children. The agency is also printing school supplies and text books locally and distributing them to students.
"Even under the worst circumstances Syrian children keep asking to learn and go back to school because they are yearning for a better future and a chance to be influential" said Ms. Singer. "We must all invest in Syria's children as they are the future of Syria and they will help rebuild their country when peace returns."
Under the 'No Lost Generation Initiative,' UNICEF is starting a self-learning programme to reach 500,000 children who missed out on years of schooling. An accelerated learning programme is also aimed at helping 200,000 children catch up with their learning and eventually reintegrate into formal education. UNICEF is also rehabilitating damaged schools and creating prefabricated classrooms to accommodate 300,000 additional children.
UNICEF requires $68 million by end of the year, of which $12 million is needed immediately in order to continue responding to children's educational needs.
IF YOU WOULD LIKE TO KNOW HOW WE ARE COMING ALONGSIDE SYRIAN CHILDREN AND THEIR FAMILIES, CLICK HERE.
(Article Source)