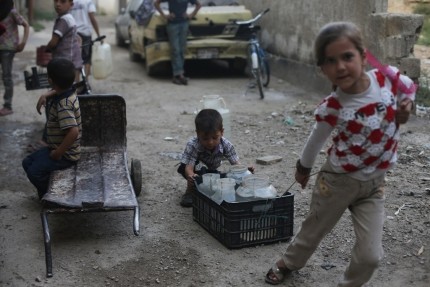 16 September 2015 – The United Nations Children's Fund (UNICEF) has condemned in the strongest terms mortar attacks on civilian areas of Aleppo, Syria, which reportedly killed at least 19 children yesterday, including six in a UNICEF-supported child friendly space.
"Child friendly spaces enable children to play and reconnect with their childhood, and forget, even if for a short time, the horrors of war. They must never be targeted," Hanna Singer, UNICEF Representative in Syria said in a statement.
"This reprehensible attack shows that even the simple act of playing represents a grave danger for children in Syria," she added.
In recent weeks, several indiscriminate attacks have been reported in civilian populated areas leading to the death and injury of scores of children.
"These attacks highlight a flagrant disregard for the laws of war. They are a stark reminder that nowhere in Syria is safe for children," Ms. Singer warned.
UNICEF is calling on all parties to the conflict in Syria to immediately halt such attacks and do their utmost to protect civilians and civilian infrastructure such as schools, health clinics and water facilities, in accordance with international humanitarian law. The agency urged that all civilians including children to be protected at all times.
In his briefing to the UN Security Council today, Under-Secretary-General for Humanitarian Affairs Stephen O'Brien highlighted the impact of the conflict on Syria's children and young people.
"Today, Syria is one of the most dangerous places on earth to be a child," he stated, adding that over 5.6 million children are in need of immediate assistance. In addition, children continue to be murdered, tortured and subjected to sexual violence by all parties to the conflict. "Millions of children have been traumatized by the horrors they have witnessed."
In addition, Mr. O'Brien noted that, although the school year commenced this past week, over two million children – one out of every three – are not in school in Syria, and an additional 450,000 children are at risk of dropping out. He also expressed his concern that, in areas controlled by the Islamic State of Iraq and the Levant (ISIL), schools were using a curriculum designed by the terrorist group.
IF YOU WOULD LIKE TO KNOW HOW WE ARE COMING ALONGSIDE SYRIAN CHILDREN AND THEIR FAMILIES, CLICK HERE.