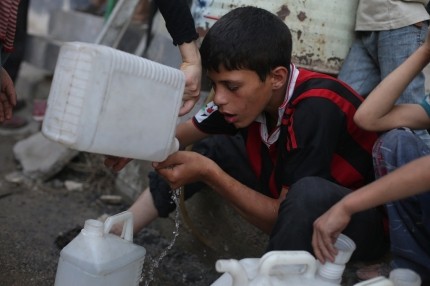 13 July 2015 – Syrian children are becoming increasingly vulnerable to water borne illnesses amid peaking summer temperatures and dwindling supplies of safe water, the United Nations Children's Fund (UNICEF) warned today.
"The situation is alarming particularly for children who are susceptible to water borne diseases," Hanaa Singer, UNICEF's Representative in Syria reported in a press release. "With the crisis now in its fifth year, water has become even more scarce and unsafe, and poor hygiene conditions especially among the displaced communities are putting more children at severe risk."
Since the beginning of 2015, said the UN agency, Syria has reported 105,886 cases of acute diarrhoea while also registering a sharp increase of Hepatitis A cases.
The situation is particularly dramatic in Deir-Ez-Zour, a city not far from Syria's border with Iraq, where raw sewage has reportedly contaminated the Euphrates River from which the local population receives its water. As a result, UNICEF added, some 1,144 of typhoid cases have been reported.
"Since the beginning of the crisis, we've been working with a range of partners to support the vital water infrastructure on which some 15 million people in Syria depend," Ms. Singer continued. "This includes drilling and equipping wells as alternative sources of water as well as supporting the local production and procurement of water treatment supplies."
The conditions in Syria have steadily been deteriorating since the outbreak of the country's conflict in March 2011.
The UN's Office for the Coordination of Humanitarian Affairs (OCHA) has cautioned that some 12 million people in the Middle Eastern country today remain in need of humanitarian assistance – a twelve-fold increase since 2011. 7.6 million people have been displaced by the conflict and another 4.8 million people are in need of humanitarian assistance in hard to reach and besieged locations.
The humanitarian impact of the crisis is only further compounded by funding shortfalls which has seen wholesale cuts to the UN's delivery of humanitarian aid – from food assistance to lifesaving health services.
IF YOU WOULD LIKE TO KNOW HOW WE ARE MEETING THE NEEDS OF SYRIANS, CLICK HERE.
(Source)