Poland provides for Ukrainian refugees –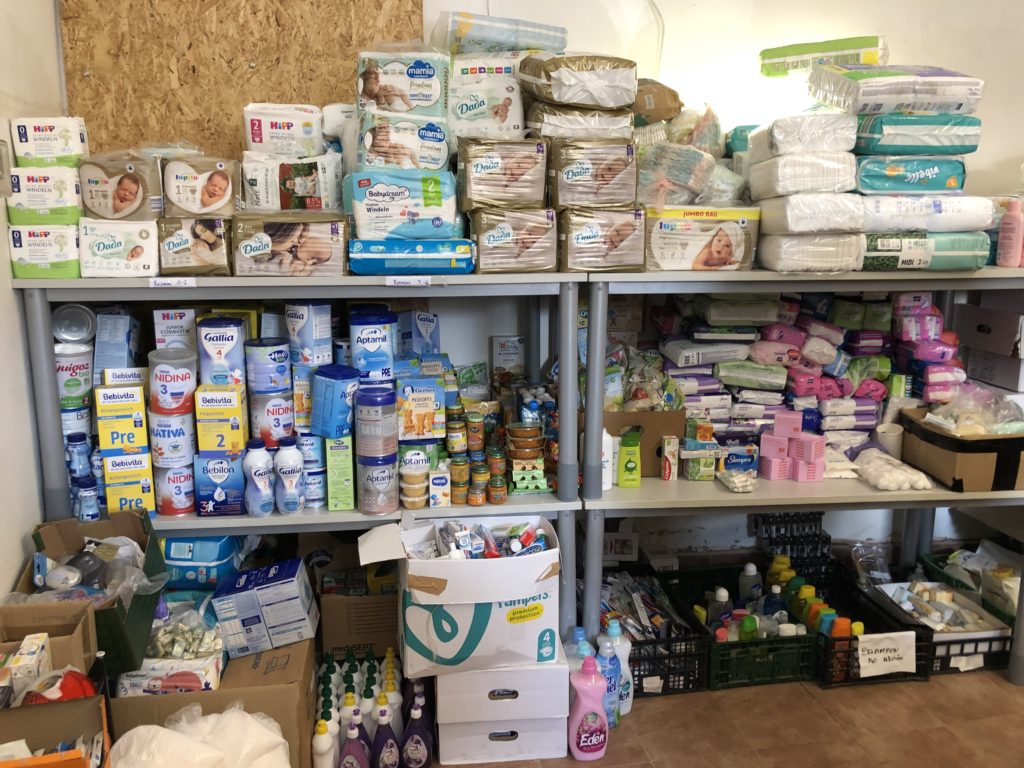 The ongoing war in Ukraine continues to destroy lives. Over 13 million people are displaced –6.6 million people within Ukraine and over 6.4 million refugees in other European countries – with over 17.7 million estimated to be in need of assistance, according to UNHCR.
For Global Aid Network (GAiN), we knew that our worldwide connections would enable us to be ready and equipped to send immediate help to displaced Ukrainians. In partnership with several GAiN offices, including Germany and the Netherlands, we helped ship over 168 truckloads of essential items for refugees in Poland, Hungary, Romania, Latvia and the Republic of Moldova, as well as within Ukraine.
Although news stories from Ukraine continue to be horrifying and disheartening, we have been encouraged by the outpouring of generosity and support for those who have been displaced because of this crisis. Thanks to the prayers and urgent action of our supporters, as well as the efficiency and hard work of our global network, we have been able to obtain emergency relief for refugees and internally displaced individuals and families in a timely manner.
As of October, GAiN has sent 148 shipments from Germany and 67 shipments from the Netherlands. About 20% of the total donated items go to Ukraine, with the rest going to neighbouring countries. These shipments contain food, water, blankets, pillows, diapers, clothes, hygiene items, and many other needed items.
When GAiN Spain staff member Pau A. travelled with Poland partner ESPA Fundacja to deliver essential items for refugees in Poland, they visited a small town outside of the city. He wrote about his time there:
"We drove towards a south-western town named Bielawa on remote bumpy roads, surrounded by hills, green fields and small Polish villages that seemed to appear out of nowhere. It would be easy to think that the Ukrainian war had no effect here. This, of course, would be far from the truth.
While the majority of refugees coming into Poland are headed for the big cities, many refugees are reaching the remote, rural villages and towns in Poland. According to our Polish partners, it is a much harder task for small towns to host and provide for Ukrainian refugees than it is for big cities. Cities are often better prepared in terms of structure and policies, and they receive more support from the government and private institutions.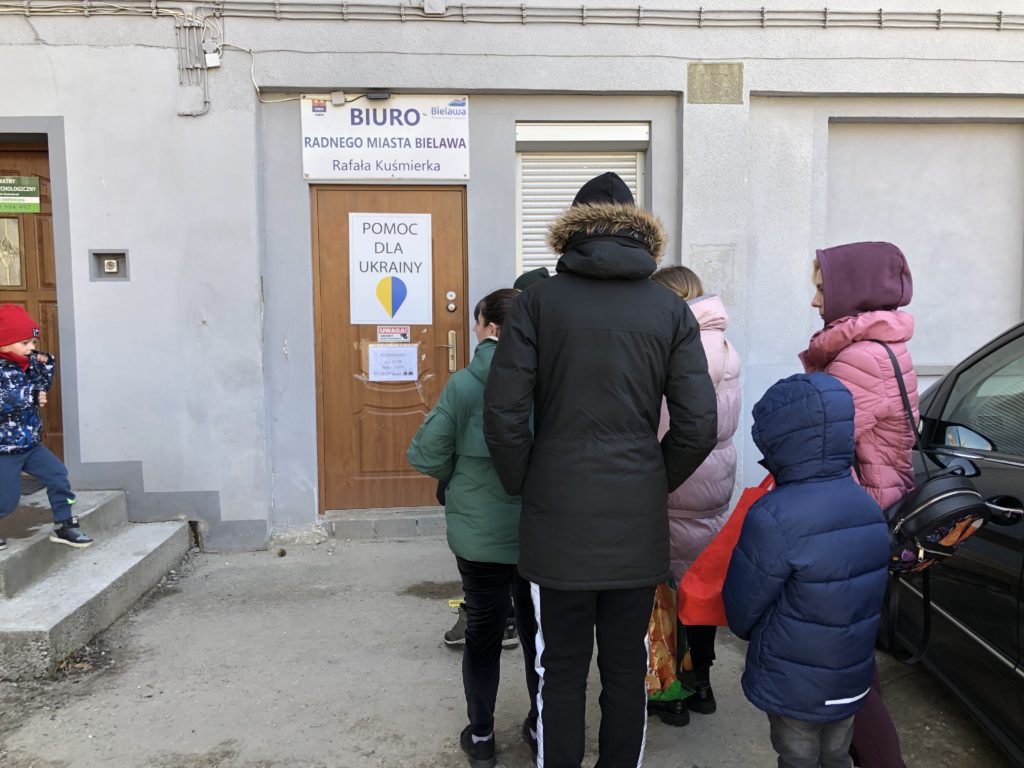 Thankfully, through our growing local partner network of churches and local initiatives, GAiN is supporting Ukrainian families who find themselves in rural villages and small towns in Poland. Here in Bielawa, a town with less than 30,000 inhabitants which is hosting more than a 1,000 refugees, the partnership was already established before the war started.
During our visit to Bielawa, we met a man named Jarek. He is in charge at our partner's office, which is located next to one of their two rehabilitation centres that host up to 70 people with addiction to alcohol and drugs. Running rehabilitation centres is an important part of the work they do here, yet the Ukrainian refugee crisis is now taking up most of the time of their staff and volunteers.
'So far, we are helping 300 people – 200 of them children,' Jarek explained. 'We use two containers to store, and if there is a need elsewhere, we send it. We also send directly to Ukraine. At the end of this week, we will send our third truck.' They even receive trucks from Amazon on a weekly basis with goods that are unable to be sold anymore on Amazon, but are still in good condition.
Jarek believes God was preparing them even before there were any rumours of war. For instance, they were finally able to open their social supermarket in November last year. They also unexpectedly received 1,000 mattresses in January that they have been able to use and distribute to refugees. It all started 7 years ago, when they brought in a refugee family from Donbas.
'They live here in town, and he (he husband)' is the one arranging everything,' Jarek said. 'He calls to Ukraine, organizes and brings people here. He knows how to deal with this.'
We met Tania, who is about 30 years old, at the storage and distribution building that the city hall provided for Jarek's foundation when the war started. Her oldest child, eight-year-old Anata, had come with her to gather clothes and hygiene products. Tania explained that she had left her hometown, Tarnopil, with her husband and three children on February 28, but the rest of her family members were still there.
'We have no plans, we will see later what we will do,' she said. Her husband is an electrician, while she worked as a hairdresser. It would be easier for them to find jobs here as they had studied the Polish language in Ukraine. Still, their hearts long to return to their home country.
'Because my mother and father are in Ukraine, brother, grandmother . . . My family could not come.'
So far, the family's needs are being met. 'We have everything we need,' she declared happily. They go to Jarek's supermarket for food, while at the storage and distribution building, they can find other basic essentials. Some of these products clearly come from GAiN, as shown by the logo on the boxes.
'We have received so many things from GAiN,' Jarek said. 'I lost count. Maybe 10 to 15 vans. Many shoes, and many hygiene and cleaning products.' About 180 children have received new high-quality shoes from GAiN.
Adrian, a volunteer, stepped up to say, 'They have very little, but they have the best shoes in [all of] Poland!'
Jarek also clarified the current and future needs of the refugees. 'We need food and clothes,' Jarek stated. 'The winter is coming to an end, [so] for spring and summer they do not have proper shoes.' His daughter Eva, who manages the distribution centre, added that milk and cots are also ongoing needs.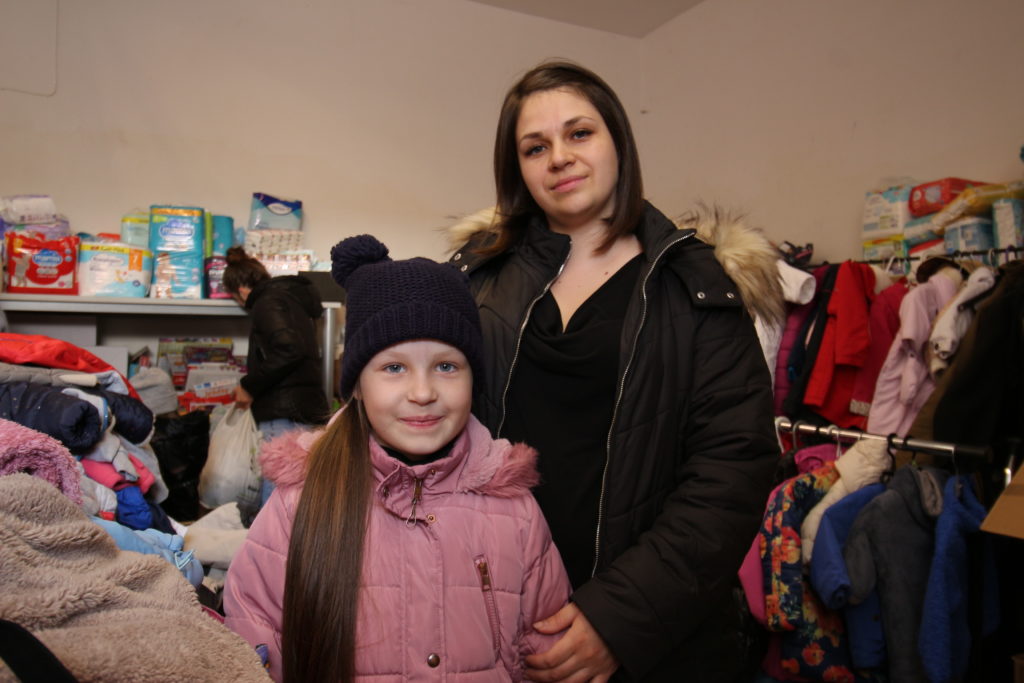 Eva explained that if they don't receive these items from outside sources, their team works hard to find these basic essentials by coordinating with different organizations, institutions and local authorities. As we talked with her, it was evident that the responsibility of helping the refugees was leading to her physical, mental and emotional exhaustion.
'There is no rest here,' she said.
Indeed, there is no time to rest in any of the places in Poland where people are working to host and provide basic needs to Ukrainian refugees. We witnessed this relentless pace at our own warehouse, where trucks were being loaded and unloaded from early morning to late at night. Most of the Polish people behave as though the war was hitting their own country.
As our local partner leader put it once: 'We Polish only need two things to react like this: one, an enemy, and second, a person, weakened, in need of help.'" (end of Pau A.'s story)
Lindsey Schacter, COO of GAiN, shares, '"As the winter months approach and the war in Ukraine continues, GAiN is committed to supporting individuals and communities affected by the war. Through the generous contributions of partners and our worldwide network, we continue to minister to the holistic needs of those affected and pray for peace to be restored."