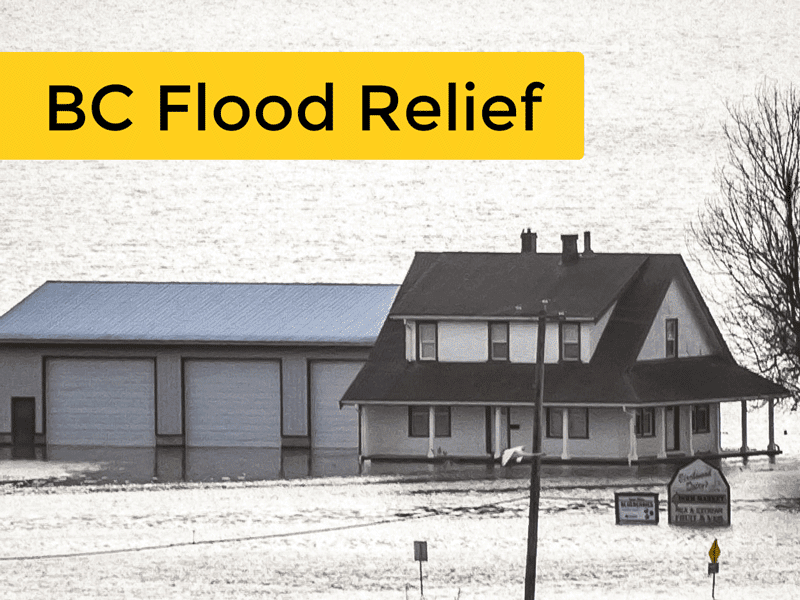 On November 17, the BC government declared a state of emergency due to widespread flooding across the province. Tens of thousands of people have had to evacuate, leaving behind their homes, businesses and entire livelihoods.

The effects of the flooding hit close to home as parts of the Lower Mainland region (Abbotsford, Mission, Chilliwack, Hope), where many of our staff and partners live, have been significantly impacted.

"The Fraser Valley flooding has impacted our immediate family, friends and the greater farming community. We have observed first-hand the tragic loss that many families have experienced. However, the strength and resilience in this community is like no other; selfless in their dedication to help each other." Ben & Ashley VanDorp

Nathan and Shena Gorter share: "Our hearts are broken as we check in with our friends and church community, who are affected by rising waters in Sumas Prairie. There are tremendous heroic efforts taking place by farmers, first responders, volunteers, churches, and friends to save people and livestock and provide essentials for living. People are exhausted physically and emotionally and we continue to pray and turn our eyes towards Jesus to gain strength as efforts continue hour to hour."

Please join us in prayer for:
Safety and peace for families, individuals that have evacuated and vulnerable populations
Safety for first responders and those working hard to clear the roads and manage the community water systems
That the damage to homes and properties would be minimal and that livestock would be able to be moved to a safe location
The infrastructure that it would continue to hold, and there would be no more challenges introduced into the already complex situation
We are partnering with Samaritan's Purse, which is in charge of the evacuee shelter in Abbotsford. Together we will provide aid and support to evacuees who have been impacted by the floods. Will you join us* in demonstrating God's love through compassionate action to those who are suffering?