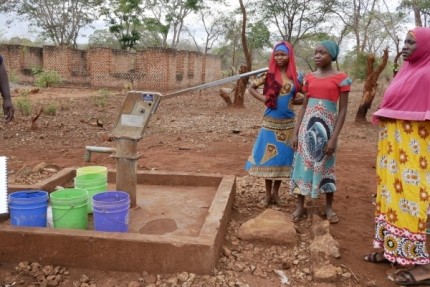 The GAiN Tanzania team recently drilled a well in the village of Liugulu on the grounds of a secondary school where a number of students live during the school year. When we came to visit, we were greeted by a few students.
Lack of clean and safe water affects the education of many students who spend plenty of hours a week collecting water. Unfortunately, this isn't uncommon. According to UNICEF, one out of every six secondary schools have no drinking water service. 1
Before the well was provided to Liugulu in May 2019, their nearest water source was a small river a few kilometres away. Students had no choice but to fetch buckets of water in the early morning hours or late at night, to ensure that they did not miss classes.
Not only did collecting water take up much of their time, the water was contaminated and often caused them to fall ill, resulting in absences due to sickness. Sadly, up to 443 million school days are missed worldwide, each year, due to water-related illness. 2
But now, with a water source right next to their school, these students are able to enjoy the full health benefits of clean water and the freedom to attend classes and focus on their studies without worrying about the burden of funding water.
We had the opportunity to speak with these students about what dreams they had for the future. Some wanted to be doctors to help heal the sick, while others wanted to be police officers to help protect people.
One girl said she wanted to be a teacher. Her desire was to come back to teach at this school because of the positive impact it has had on her life. Having access to this water source removes a significant barrier for these students to realize their potential. They are now one step closer to seeing their dreams become reality.
1 UNICEF https://www.unicef.org/eap/wash-schools-fast-facts
2 Human Development Report, 2006 https://www.wateraid.org/facts-and-statistics
YOU COULD HELP A VILLAGE LIKE LIUGULU GET ACCESS TO CLEAN WATER. WILL YOU GIVE TO MAKE AN IMPACT TODAY?