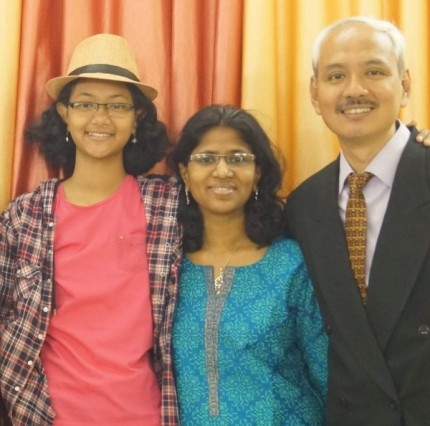 Story by Sulekha
The Mukti Home became my beautiful abode when I was 11 months old. My mother had died due to tetanus and father due to tuberculosis. It is difficult to describe how I have been blessed. I was loved and given an opportunity to study at one of the best English Medium Christian schools in Pune. I had the opportunity to learn a variety of sports and represent school and state at various levels. There was nothing that I lacked and I am most grateful for the spiritual discipline that was built in from a very early stage in life. We were highly impacted by the sacrificial lives of missionaries from overseas, as well as others from within India who had chosen to leave their family to serve at Mukti.
Nothing beats the testimony of Pandita Ramabai herself, who was committed to God's calling fearlessly. I had the opportunity to help set up archives and read through her correspondence with politicians and people in prominent positions and that greatly impacted the choices I made.
Academically, I studied science in college and later studied nursing. I worked in the maternity section and later as a teacher at the College of Nursing.
I got married in December 1998 to Naren who was working in the Indian Navy at the time. But the plan was to give up this job to start a home for orphan boys as part of the church social work wing. I knew in my heart that this was the right course of life because at the age of 15, I heard God clearly speaking to me about His plan for my life. I was blessed to be a blessing and the biggest blessing I had received was being brought up in Mukti. I knew that this was my opportunity to give back what Mukti had done for me. My life was shaped in such a way that I could be instrumental to shape the destiny of other children in need.
To make this God-given dream come to reality, our first two boys came to live with us on July 5, 1999. We served at this home for 16 years and over the years had 16 boys under our care. We lived in the same house, ate the same food and ensured it was a family-like atmosphere. Our daughter Champa* was born in 2002 and the boys were thrilled to have a little sister.
We have also been leading the local church for the last 18 years and have grown from eight members to about 150 members. We also planted two more churches. The boys who grew up under our care are worship leaders and musicians for the church.
Champa is growing into a fine young girl and is passionate to serve the excluded. She loves visiting Mukti.
I am currently working as the Regional Head for an organization in India that works largely among those from situations of abuse and exploitation.
Looking back, I am so thankful to the Lord for a great childhood in Mukti, for all the opportunities and above all, to know my Saviour, the Lord Jesus. All my achievements are nothing but the Lord's doing; His blessing, His favour. Mukti will always be my home and I proudly teach my Sunday school children about Pandita Ramabai. I also encourage our youth to take part in missions. As we pursue in building His kingdom, we do keep at the core of our values what Pandita Ramabai said, "A life committed to God has nothing to fear, nothing to lose and nothing to regret."

*Name changed
WOULD YOU LIKE TO LEARN MORE ABOUT MUKTI MISSION AND HOW YOU CAN SUPPORT WOMEN AND CHILDREN TO HELP BREAK THE CYCLE OF POVERTY?