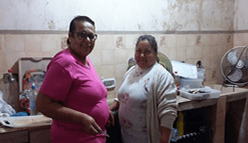 Mrs. Clotilde Haedo (pictured on the right), 57 years old, is a hardworking mother of seven, currently living with two of her kids in Isla Bogado, Paraguay, in the neighborhood of Luque. She has faithfully attended the National Marathon of Prayer, an event organized annually by Global Aid Network (GAiN)'s Paraguayan partner Jesús Responde, since 2010.
In August 2012, a young volunteer from Jesús Responde met with Clotilde and shared stories of impact from the Jesús Responde wholistic community centres and invited Clotilde to partner with them as a donor. She accepted the invitation and committed to giving 20,000 Guaranies ($4.36 CAD).
True to her word, Clotilde gave the agreed amount each month.
Unfortunately, as time passed, her family experienced a financial crisis, causing her to, with great sorrow in her heart, renounce the commitment that she had made.
In September 2017, the pastor, of Clotilde's church, Pastor Cleibel Peixoto, challenged the members of his congregation to start a wholistic community centre. Although she was hesitant at first, Clotilde agreed to be one of the cooks. In that moment, she remembered the commitment she had made and could not fulfill years ago. Clotilde saw this as a new opportunity that came from God. He was calling her once again to serve.
By the end of 2017, the wholistic community centres had served the community successfully and the number of children in attendance increased. Upon hearing this, a representative of Jesús Responde en Luque told them of the support given to the churches that work with children.
On February 13, 2018, Pastor Cleibel presented his application and shortly thereafter began to work in partnership with the institution.
On June 3 of that same year, Mrs. Clotilde confirmed during a volunteer day, once again, the call for her life. "I thank God for showing me, after thirty years (in the way of the Lord), the ministry that He had kept for me," she told us, with tears in her eyes.
Today she serves with joy and faithfulness at the community centre, loving and caring for the children. The children have praised her, saying that they do not even eat a meal made with as much affection in their homes.
YOU CAN HELP BRING WHOLISTIC NUTRITION TO IMPOVERISHED CHILDREN IN PARAGUAY. WILL YOU HELP SUPPORT A WHOLISTIC COMMUNITY CENTRE?