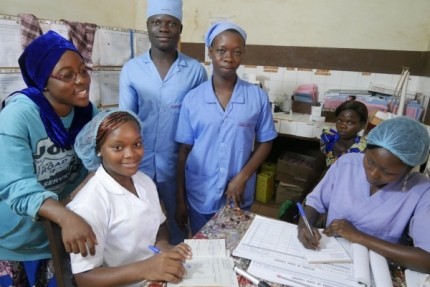 "The gender training has had a huge impact on our households," one woman from the village of Fignonhou, Benin, told us after we had conducted a gender sensitivity training in her community. "There was a lot of quarrelling between husbands and wives before. Now, few people quarrel. Violence against women has decreased."
When another woman first went to a hygiene and sanitation training put on by GAiN [as part of the Maternal Newborn Child Health (MNCH) project, in partnership with the Government of Canada] her husband was angry with her for going without his permission. However, when he noticed the useful information she was learning and how it improved their lives, he was happy to see her participate in more training and activities.
Sometimes it is these small improvements in women's lives that give hope. When before, women were devalued and forbidden to take action and responsibility, now, they are now trusted and empowered to create change. They are given a new status within their homes and communities.
This year for International Development Week (IDW), the theme is "Together for Gender Equality." Through our projects, one way that we aim to restore justice is by addressing gender inequality in the developing countries in which we work.
After 13 years of providing deep-capped water wells in remote areas, we've seen the power that clean water has to transform individuals and entire villages – not only to improve health but also the quality of life for women.
Over the last two years, we've been able to help mothers and children through the MNCH project by:
Providing water wells in the village near medical clinics. This not only reduces diseases but also eases the burden of time and physical demands for women and girls, allowing them to attend school, focus on the needs of their families and other economic activities.
Providing hygiene and sanitation education, as well as handwashing stations.
Equipping village champions with the tools to promote proper hygiene and community health.
Improving local health services by providing clinic trainings for village health workers to improve their skills.
Empowering women through gender sensitivity training for both men and women. The goal is to foster healthy family relationships and ensure that the rights of women are better understood and respected, as their participation in decision making and control of resources is valued.
Learn more and see how you can join us in becoming change-makers in advancing gender equality in countries like Benin and Togo.