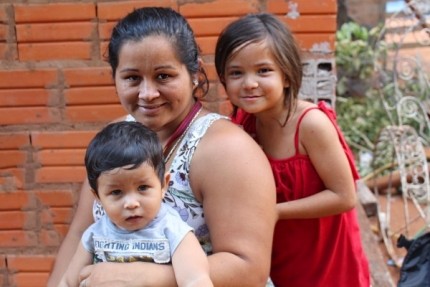 Maria Carmen, 37, is the mother of three children (a 12-year-old girl, nine-year-old boy and one-year-old boy). Every day she leaves the home before 4 am to collect and recycle trash, leaving her kids with her mother.
When she gets back to the house at around noon, she spends the afternoon cooking food, such as empanadas, milanesas and sandwiches, to sell to her community. Maria doesn't work out of a building, she goes out on the street to sell her food.
Maria is part of the Diaconia Trust Group called "Jesus Misericordioso", which means "merciful Jesus." She learned about this Trust Group through her sister, who was in the group before her and encouraged her to join. Maria Carmen says, "I have been in Diaconia almost four years and I want to continue. I am so thankful for all the help I have received."
The Diaconia program has helped encourage her to dream big about the future of her business.
"Thanks to [a micro-loan] I am able to grow my business and aim to open my little restaurant locally – that is my dream," shared Maria Carmen.
The Jesus Misericordioso Trust Group consists of 15 women who live in a squatter zone. Most of them have similar stories to Maria, some of them working through the night collecting and recycling trash.
"[The trust group] has helped me at so many levels," shares Maria. "I have grown financially and spiritually through our chaplain's visits. It is really true that we are stronger together."
WANT TO HELP FULFILL A WOMAN'S DREAM WITH A MICRO-LOAN?
DONATE NOW