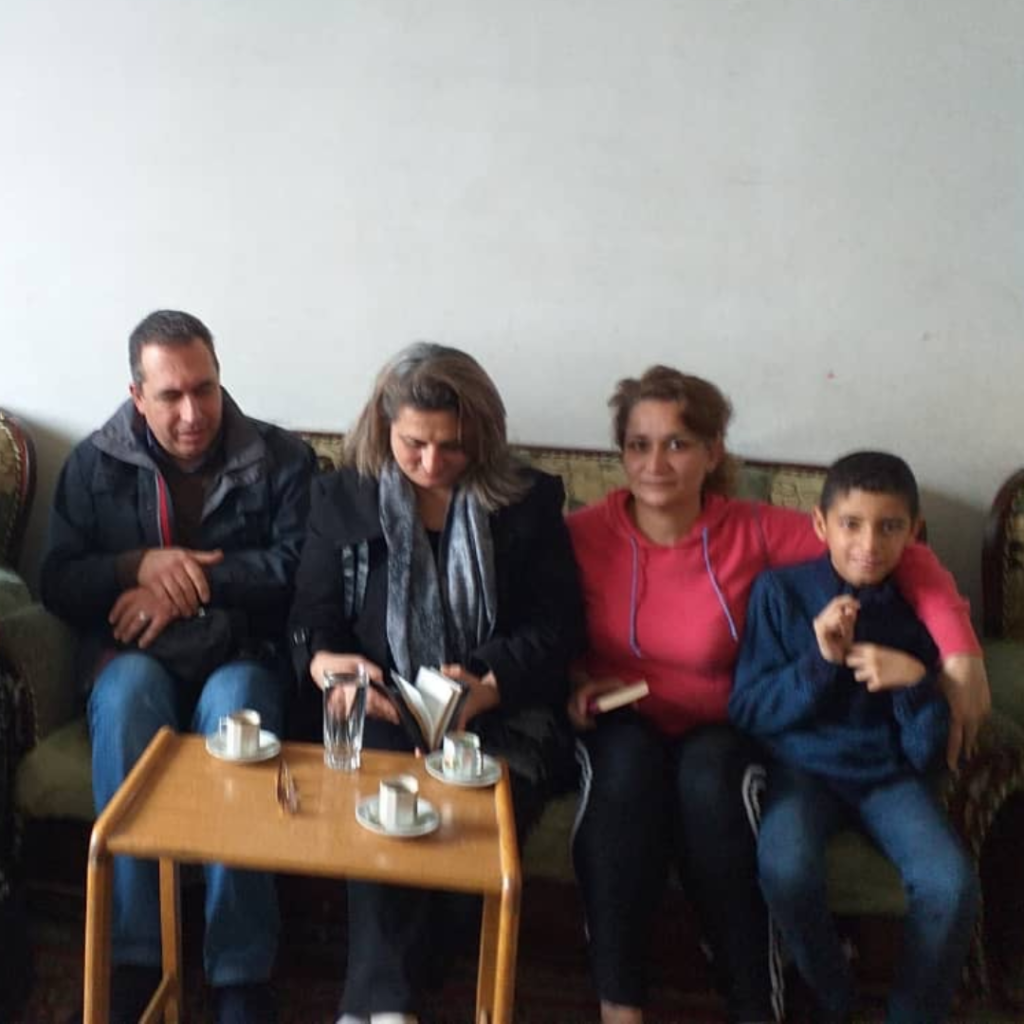 Earlier this year, Syria entered its 10th year of civil war, just as COVID-19 became a global pandemic.
Since 2013, we have worked with local partners to provide aid and the hope of Jesus to displaced individuals and families whose lives have been forever changed since the war, including 13.1 million in need and 6.6 million internally displaced (UNHCR). Our Bags of Blessings program (distributing bags with a month's worth of food and non-food items) has helped alleviate some of the financial burdens since inflation and unemployment has made it hard for families to put food on the table.
When COVID hit and restrictions meant that churches were unable to gather in large groups, our faithful partners continued to dedicate their time to visiting families door-to-door. They delivered over 955 Bags of Blessings and 100 Clean Bags (containing basic cleaning and disinfecting supplies) to help raise awareness and prevent the spread of the virus.
Dina A., is a wife and mother of three adult children. She is a member of the local church and started attending when she received Bags of Blessings through the program.
Life before COVID was already hard, but the added impact of the pandemic is causing more stress on her family's situation.
"My husband is a retired policeman and he isn't earning much," Dina explained. "My eldest daughter is 32 years old and is dealing with chronic health issues that require her to be on medication and go to the hospital for regular examinations. My youngest son is 20 and currently in university. My other son is 31 years old but has not completed his education in order to earn more and help us with household expenses."
Due to inflation, whatever they earn isn't enough. While life remains difficult for Dina and her family, the Bags of Blessings help make a difference and continue to serve as a reminder of God's faithfulness.
"I serve God at the church and help package and distribute Bags of Blessings. The Bags touch my heart and fill it with gratitude to the Lord, because He is a good and faithful shepherd. The Bags definitely attract new members to the church and are given according to the need, so that it will be a reason for blessing everyone who takes it with knowledge of how the Lord is good."
Faddaa S., is another member of the church who first heard about it through the Bags of Blessings program.
"The economic situation at home, because of the general situation and the deteriorating conditions, is below the middle line because of the high cost of living. We live on my salary, which does not exceed $25 dollars (per day)," Fadaa, 46 years old, shared.
"When we heard that the baptist church distributed Bags of Blessings, I began attending. This was the reason we came at the beginning. But then, I became attached to the Word of the Lord and I began to think of the benefits (Bags) as gifts from the Lord Jesus. The Bags have helped lift a large part of our expenses that we used to spend on purchasing food. Now we use that money on other household expenses."

Families with younger children are finding it difficult to get by. Rana K. is 38 and part of a family of four.
"We can no longer provide for the needs of our children in a healthy and ideal way for their ages," Rana lamented. "They are in the stage of development."
Despite the hardships, Rana still has faith.
"The love of the Lord Jesus is beyond our imagination. We find Him with us in every moment of our lives, with joy and pain. We find that the Lord will provide us with our needs at the right time when we are most in need of help. Personally, I do not fear any need because I have an inner peace that my master never leaves me in need. As for the Bag of Blessings, due to the current situation in our country, some people come to the church for the purpose of aid, but when they hear the word of the Lord and enter the minutes of the Lord, you will find them adhere to the word of the Lord and apply it in their lives."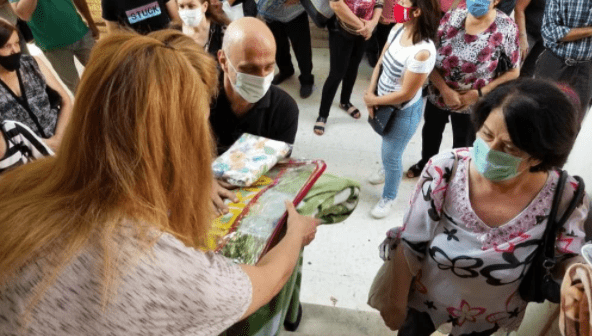 Just like many other countries, Syria enacted lockdown measures when the COVID-19 pandemic hit. Restrictions on gatherings made things difficult for our local partners, who usually host large church gatherings and need to meet with people in order to distribute Bags of Blessings (bags with essential food and non-food items).
Still, they adapted to make it work, including holding bible studies over Zoom and meeting in small groups to share God's word, as well as distributing Bags of Blessings and cleaning supplies to families door-to-door.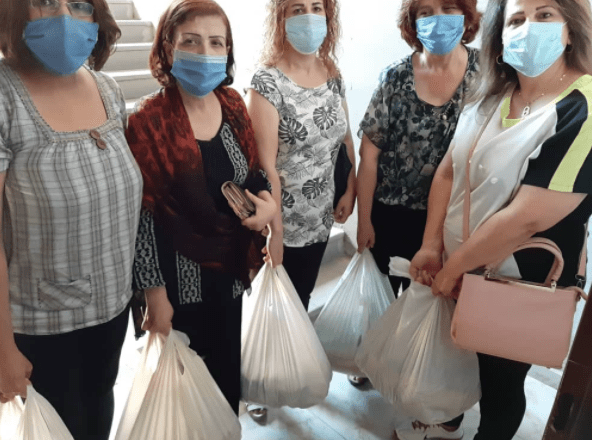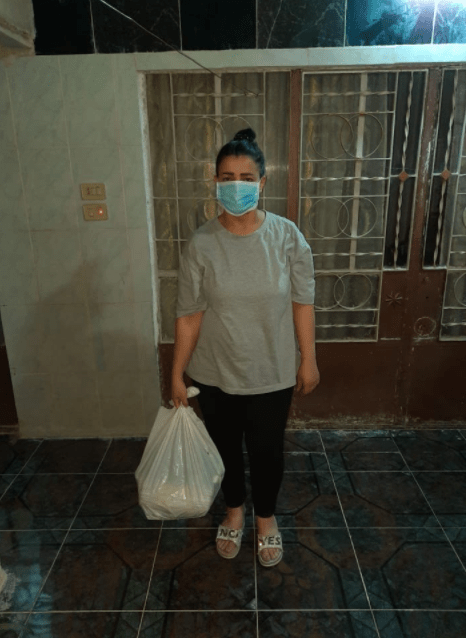 Bags of Blessings have been much-needed since the country's economic crisis has left many families impoverished. With inflation, the cost of even the most basic food items have become unaffordable for many families. To make sure that people are still getting these essential food and non-food items during the pandemic, our partners made personal door-to-door visits to families, providing them with Bags. This act of kindness, along with intentional love and care, has helped many families make a decision to follow Jesus, and many are now in discipleship groups.
Our partners also distributed Bags of Blessings and Clean Bags (with cleaning products), as well as blankets and bed sheets for the winter, at a local church, taking advantage of the church's big parking space to ensure proper distancing.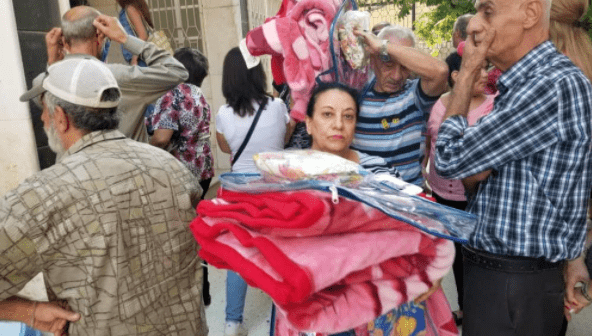 The pastor of the church thanked our partners, saying, "I am very thankful for the help you are granting to our church. These [Bags] are becoming a very good support for their needs, knowing that all the materials (food, detergent, clothes) are very expensive due to the sanction over Syria, and the inflation of the currency (our Lira). For that reason, there is a strong need for our people in Syria in general to be supported and to grant them to and thanks to God for the generous relief program you are doing. This 'love in action' is the core of Christianity and the message of real love, which is translated to caring [for] and helping [each other]. And I see through this holy program a strong and good testimony for our Lord Jesus Christ."
Nadia, who received a Bag at the distribution, wrote a thank you letter, sharing her appreciation: "Thank you and we appreciated so much because you were next [to] us during all these crises and you didn't leave us at all. You were good support for us by sending food, detergent, blankets, etc. Thank you. Because of you, I understand what it means by Christian family and the church… We learned from you to search in deep in bible and love others from our heart and [care for] and help people like us."
In the last three months, our partners have been able to reach 300 families, helping 123 make a life-changing decision to become a follower of Jesus, and leading 13 follow up groups.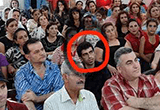 Alaa and his wife Walaa are experiencing the economic effects of the Syrian Civil War. With a one-year-old child, Alaa bears the weight of providing for his family as the sole income earner. Working in a garden and earning a measly $50 USD, Alaa felt the constant pressures, and felt depressed knowing that what he was earning was not enough to feed his family. This led Alaa to have suicidal thoughts.
When Alaa met our Syrian partners in Sweida, they invited him to attend the church to receive a Bag of Blessing (a bag distributed monthly by our partners, with essential food and non-food items). When Alaa came to the church and shared his story, our partners made an intentional visit to his family where they saw his situation first hand. The poverty that Alaa's family lived in was so glaring and undeniable that it shocked our partners.
They spent quality time with the family, who come from a Druze background. Sharing about God's love and how He does not forget His people, Alaa and Walaa were both touched by the message, deciding soon after to commit their lives to following Jesus.
As Alaa and Walaa walked our Syrian partners back to their car after the visit, they were surprised when they were gifted with a Bag of Blessing. Tears of joy escaped their eyes, thanking the Lord and the church for this blessing that would help alleviate some of their financial burdens each month.
WOULD YOU LIKE TO PROVIDE A BAG OF BLESSING TO A DISPLACED FAMILY IN SYRIA? YOU COULD HELP PROVIDE ESSENTIAL FOOD AND NON-FOOD ITEMS TO THOSE WHO ARE HURTING.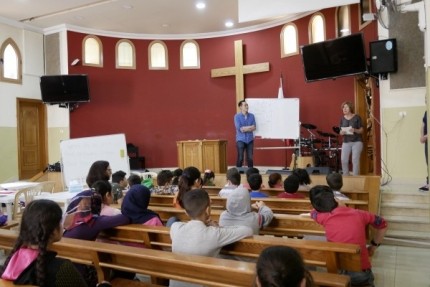 As a supporter of Global Aid Network (GAiN)'s Syrian Refugee Relief program, Raphael knew that he wanted to meet GAiN's partners in the Middle East, see the work being done in the field and also get involved in a more tangible way. A LIFE Team trip to Lebanon with GAiN was the perfect way to do all of these things.

The trip lasted for two weeks in May, giving the team enough time to serve alongside local in-country partners in a variety of different ways.
Having met GAiN's Syrian partner at a Syria fundraiser in Toronto, Raphael already had a good understanding of the project, having heard stories about lives that were being impacted by the Bags of Blessings program. So when he decided to go on the trip to Lebanon, he expected to meet the local partners as well as refugees. What he didn't know was that his expectations would be exceeded.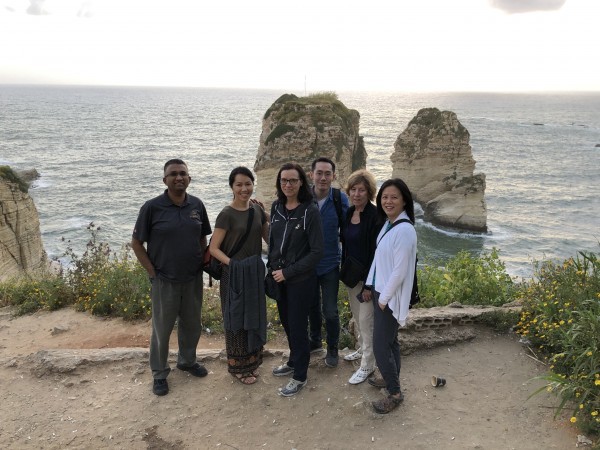 "We met a lot of local partners who had such big hearts for people in Lebanon [and] Syria and loved these people [with] actions, beyond what we could comprehend," Raphael said. "It was very humbling to see how they were lifting His name through their services to refugees."
The team, made up of three other participants, had the chance to meet with six volunteers from Syria who work with GAiN's Syrian partners in the field. The volunteers shared about the work that is being done in Damascus, the economic hardships of local displaced families, as well as share some of their own personal testimonies.
Overall, the team was able to hear firsthand accounts of life in Syria, and was humbled to hear about the incredible ways that God is changing lives in the midst of a crisis.
"Witnessing the sacrificial and incomprehensible love of the local partners in their ministries was the most astonishing aspect of being on the field," Raphael expressed. "Similarly, the sheer incomprehensibility of what it means to go through what these refugees went through was weighing on my mind on the field."
For the rest of the trip, the team spent most of their days at a local church in Beirut, where they helped tutor and teach children from refugee families who have no access to public education. Some members of the team had the opportunity to lead chapel, which included songs, games and Bible lessons.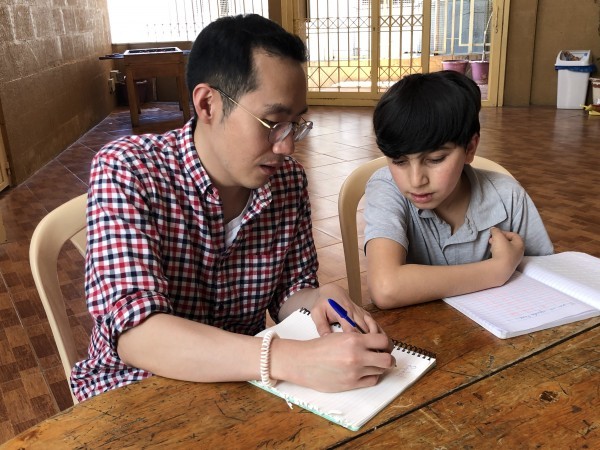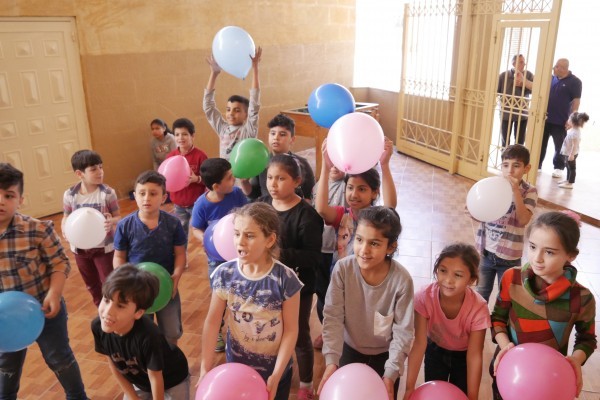 "I think playing with the refugee children, teaching them English, and leading chapel services were the most tangible demonstration of God's love. [The kids] were so excited to be with us from day one. As we spent most of our time serving at the school, we could build relationships with the children individually."
They also had the opportunity to visit the homes of two families of some of the children, spending quality time with them. Unfortunately, due to the timing of the trip being around Ramadan, the team was only able to visit two families, so as not to disturb those families who might have been observing the Muslim holiday. However, Raphael felt that the two family visits they did do was worthwhile and that the families were deeply touched.
"I felt the family visit was a very personal and tangible demonstration of love we could offer to these refugee families."
Another highlight of the trip was volunteering at a medical clinic that was hosted by the church. Refugees were welcome to come in to get checked by a doctor and were given a diagnosis and free medication as needed. The team was able to help in different roles, such as triaging patients, taking medical history and vital signs, dispensing medication, praying for patients and spending time with kids who came with their moms to be at the clinic.
Other days were spent helping sort clothing items at the local partner's used clothing store, which sells clothes and other items at a discounted price to refugee families in need. One day, they went to a large storage warehouse and helped distribute food and household items to refugees from Iraq and Syria and ended up handing out 81 bags, providing families with much-needed essentials.
For Raphael, all of these opportunities to be present and serve refugees has made a significant impact on his life.
"I witnessed that it is possible to serve God and people so boldly as these local partners do. It will be my struggle to live out the same spirit in my own context and place. The trip has helped me to better grasp the interconnectedness of the supporters on the other side of the world and the local staff and partners on the field. In other words, I tangibly experienced that all followers of Christ do, indeed, belong to one body. In places where I never visited and barely thought of, the Spirit was working so powerfully and mightily, and continually will. With these experiences, not only in my financial giving, but also in my prayers, it has become more global."
ARE YOU INTERESTED IN GOING ON A LIFE TEAM TRIP IN 2020? VIEW OUR UPCOMING TRIPS TO SEE IF THERE IS A TRIP FOR YOU.
SEE MORE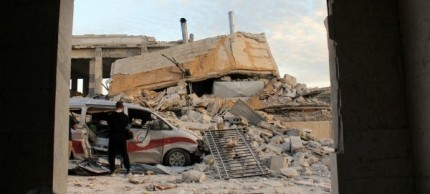 The heads of 11 global humanitarian organizations warned on Thursday that the embattled rebel-held province of Idlib in Syria, stands on the brink of disaster, with three million civilian lives at risk, including one million children.
In a direct video address to launch a worldwide campaign in solidarity with civilians trapped there, dubbed #TheWorldIsWatching, the humanitarian leaders said that they face the constant threat of violence. "Too many have died already" and "even wars have laws" they declared, in the face of multiple attacks by Government forces and their allies on hospitals, schools and markets, together with fierce resistance from extremist fighters that have gained control of much of the territory.
"Idlib is on the brink of a humanitarian nightmare unlike anything we have seen this century", they warn.
UN relief chief and Humanitarian Coordinator, Mark Lowcock, said that "our worst fears are materializing…Yet again innocent civilians are paying the price for the political failure to stop the violence and do what is demanded under international law – to protect all civilians.
A huge influx of civilians – many displaced by fighting during urban offensives in places such as Aleppo and eastern Ghouta – has seen the northwestern Governorate double in population since 2015.
At least 330,000 have been forced to seek shelter elsewhere within the region, during the huge uptick in violence of the past two months. Many of them have nowhere left to run.
"Our campaign expresses solidarity with the families under attack and tells everyone that we are watching and witnessing what is happening", said OCHA chief Lowcock.
'Universal principles and values must prevail': Rochdi
With more than 300 civilians have been killed in the so-called de-escalation area in northwestern Syria since the latest Government offensive, including many women and children, said the Senior Humanitarian Adviser on Syria, Najat Rochdi.
During a Syria Humanitarian Taskforce meeting in Geneva on Thursday, she noted the ambulance that had been hit by aerial bombardment just last week, and the death of three medical workers, who had been attempting to rescue a female patient who also died, while they were trying to reach a local hospital.
"Everything needs to be done to protect civilians", she said. "Universal principles and values must prevail when so many innocent lives are at stake."
In Rukban camp on the Jordanian border, she said around 27,000 displaced civilians still lacked the most basic services, in dire need of assistance. "We continue to call for humanitarian access to Rukban to be able to deliver life-saving aid and to assist those who would like to leave", she added.
UN envoy urges Russia and Turkey to 'stablize' Idlib
The UN Special Envoy for Syria, on Thursday urged the Security Council to "work at the highest level to stabilize the situation in Idleb" as the guarantors of the de-confliction zone in and around Idlib, set up last September.
Gier Pedersen told the Council that both countries "have reassured me that they remain committed" to the Memorandum of Understanding and had set up a working group.
"We must see this assurance reflected on the ground" said the Envoy, adding that he hoped Syria would be a main item for discussion at this weekend's G20 Summit of nations, taking place in Japan.
"We hope that Russia and the United States can build on recent talks and deepen their dialogue at the highest level too", he said, noting that five international armies were still present in war-torn Syria, making the need for a nationwide ceasefire critical.
Mr. Pedersen also highlighted the "significant presence" of terrorist group, Hayat Tahrir al-Sham inside the de-escalation area as another major drawback: "Its attacks must cease. But all due protection must be afforded to the up to three million civilians in Idlib.
"Undoubtedly, there is no easy solution for Idlib. But the only way to find one, is for hostilities to stop, and for key stakeholders to engage in a cooperative approach towards countering terrorism – an approach that safeguards the protection of civilians."
GAIN IS WORKING IN SYRIA, ALONGSIDE LOCAL PARTNERS, TO HELP BRING HOPE THROUGH AID (BAGS OF BLESSINGS).
CLICK HERE FOR MORE INFORMATION AND/OR TO SUPPORT THE PROJECT.
Source: https://news.un.org/en/story/2019/06/1041471
Photo Source: UNICEF/Khalil Ashawi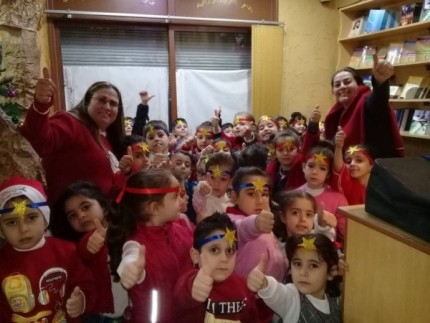 Another year has passed since the Syrian Civil War started in 2011 and the country remains unstable. Our partners on the ground are still working faithfully to bring hope and physical aid where needed most. They continue to meet with displaced families, the majority of whom have experienced trauma and are living in poverty as a result of the war.
In December, our partners distributed clothing (sweaters, jackets, dresses) to 523 displaced children whose families could not afford to get them Christmas gifts. One thousand Bags of Blessings (bags with essential food and non-food items that provide for a family of five for one month) were distributed to the children's families, which helped to alleviate their monthly expenses.
The clothes and Bags of Blessings were a huge help to many families who were in need of not just aid and hope, but community and love in the midst of war and uncertainty. Here are three families who had received gifts:
Jan's father is in the army, his mother has no work and his brother is just three months old. Jan's mother told our partners that receiving the Bag of Blessing helped her cover a large part of what would have been her expenses for the month. In the bag there was halawa (a Syrian dessert), which Jan loved.
When Jan received the Christmas gift (sweater) at the distribution, he was very happy and excited to wear it. Jan's mother said they were very thankful for this gift as there had been no money to buy things for him, since most of the money went toward the baby and rent.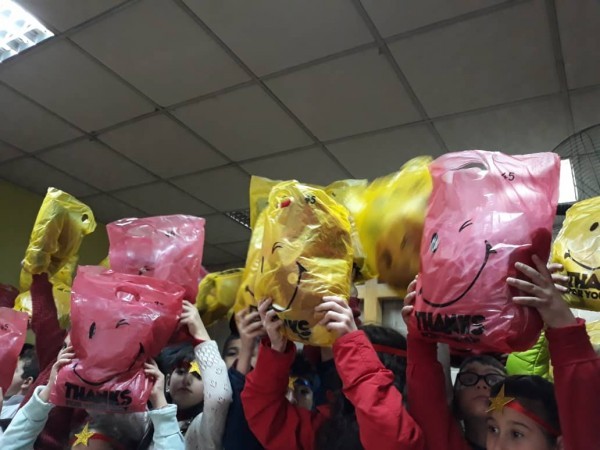 Kalven and Elvin are siblings. Their mother does not work and their father works sporadically, except for in the winter when there is no work available.
For a short period of time, Kalven and Elvin came to the centre. Last month the family took a Bag of Blessing, which helped them out tremendously. The mother said that she would buy half a kilo of rice for cooking. And, due to the high cost of sugar in Syria, she could not afford to buy any sweets at the market. But, with the Bag of Blessing, she received rice, oil, pasta and sugar. The children were delighted because they love pasta and halawa.
The family was also pleased with the Christmas gifts they received. The mother explained that she was unable to buy Christmas dresses for her children due to the market price being too high. So, they were thrilled to receive these dresses as gifts at the distribution.
Tim, Shahab and Nabih attended the centre where Christmas distributions were happening. Their father, who is physically disabled and in a wheelchair, works at a vegetable shop. Their mother does not work; instead, she stays at home and helps the children study.
The children's father mentioned that he had not been thinking about buying Christmas clothes because they had just given their children hand-me-downs from their relatives. When they received the Christmas gift of clothes, they were thrilled.
Upon receiving the Bag of Blessing, the mother cried and explained that she had not seen this amount of food in a long time. The boys loved the many different pastas and the rice. The family happily reported that now the children are always full and satisfied.
WOULD YOU LIKE TO BRING HOPE TO DISPLACED SYRIANS IN THE FORM OF A BAG OF BLESSING?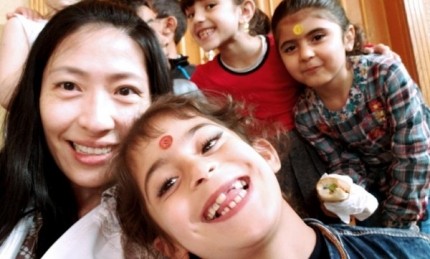 Guest blog by Pam W., Two-Time Lebanon LIFE Team Participant
Geopolitical crises and wars have become typical news items. Following the coverage of the war in Syria, the images of casualties rattled me, but they were just news. In 2017, I joined GAiN on its first LIFE team mission to Lebanon to serve alongside a local partner working with refugees in Beirut. While there, I visited the Bekaa Valley, an area of farmland near the Syrian border that is now filled with a multitude of makeshift tents. The valley has become "home" to Syrians who fled their war-torn country.
We hear a lot about the war and refugees from Syria, but not so much about the Syrians displaced within their own country – and there are many. Some had to flee their bomb-stricken homes, along with any surviving family members, with only the clothes on their back. While in Lebanon, I met Syrian aid workers from GAiN's local partner who provide both physical (food distribution) and emotional support to these Internally Displaced People (IDP). They shared accounts of the experiences of IDPs, and also some of their own. One aid worker shared her own chilling account of escaping armed groups. These experiences are unlike those reported in the media. They are painfully detailed and personal.

After returning home, news from Syria was no longer just news to me. Now I had friends living there – and that changed everything. With the war into its seventh year, local Syrians were surviving with limited resources and diminishing hope, and they are feeling forgotten.
I needed to do something….
I felt it was important that I share their stories so the world could relate to them on a personal level. I also launched a GAiN campaign and fundraised for 100 Bags of Blessing. Each bag provides food for a family of five for a month. These bags are vital to IDPs in Syria who struggle on a daily basis for even the most basic of necessities. The campaign enables sponsors to support the IDPs in Syria in a direct way, but it also helps to restore their hope and reminds them that they have not been forgotten and are loved.
Returning to Lebanon in 2018, there was a sense of familiarity. Reconnecting with the staff of GAiN's local partner and the refugee children was like visiting relatives; no introduction was necessary. For me, the highlight was spending time with the aid workers from Syria. I feel my GAiN campaign brought me closer to them. There were a few familiar faces from my first visit, but I felt a sense of closeness with all of them. They were like family. I am humbled by the tenacity of these aid workers, the silent heroes that the world will never know.
Hearing stories about those who received the Bags of Blessing was like a sequel to my fundraising campaign, following the journey of these bags into the hands of specific recipients. Without this food distribution, these people wouldn't have had enough to eat.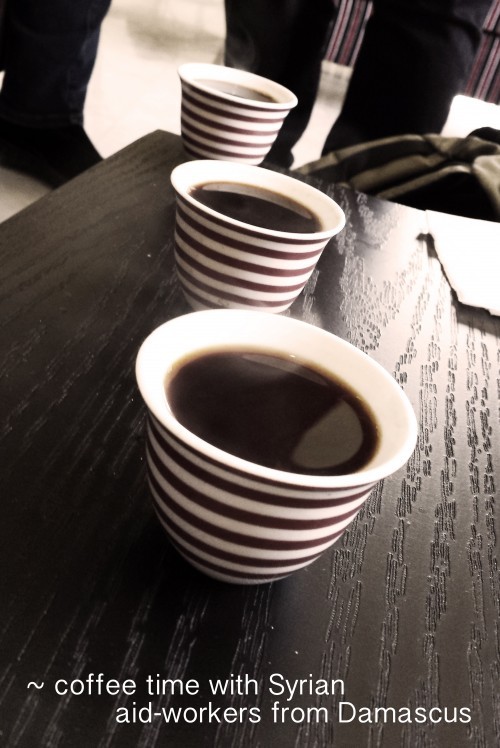 Returning home this time, I am not just telling stories. I am sharing about the lives of people who now have a special place in my life. Continued support of IDPs in Syria through programs such as the Bags of Blessing program is still very much needed. Most importantly, I hope to cultivate a connection between them and the rest of the world by sharing their personal testimonies gathered during my LIFE team experiences.
Like the song says: "We are the world…We're all part of God's great big family…we'll make a brighter day…Just you and me."
Whether it is getting to know the refugees in our neighbourhood or joining GAiN's LIFE team in Lebanon and meeting them locally, the encounter is life-changing. They will no longer be just news stories but personal acquaintances, and for me, like family!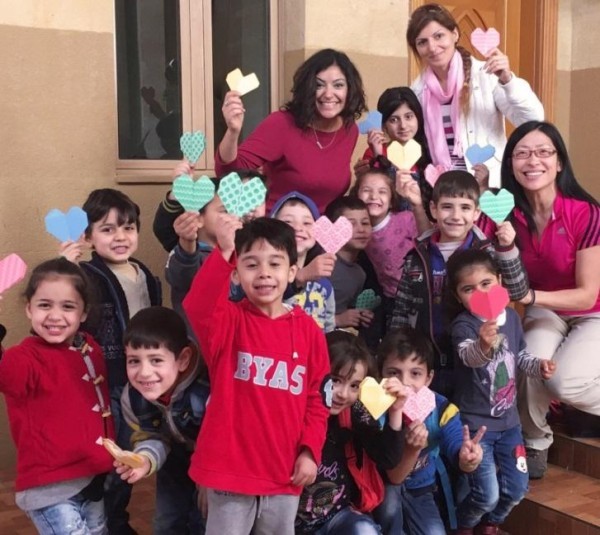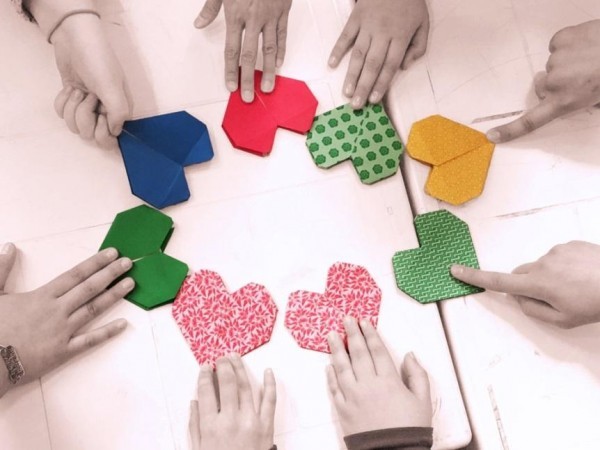 DO YOU WANT TO GO ON A LIFE TEAM TRIP? SEE OUR UPCOMING TRIPS HERE.
LEARN MORE ABOUT THE BAGS OF BLESSING PROGRAM HERE.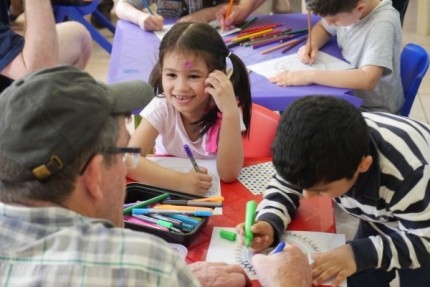 In the past seven years since the Syrian Crisis started, news of the ongoing war has been unavoidable. Uncertainty seems to be the only constant for refugees and yet, there is still a strong spirit of hope – participants on our most recent LIFE Team to Lebanon learned.
For two weeks in May, seven compassionate people joined Global Aid Network on a LIFE Team impact trip to Lebanon. The purpose of the trip was to get a better understanding of the crisis happening in Syria while serving alongside our partner in Beirut, Lebanon, to help bring hope and encouragement to refugees.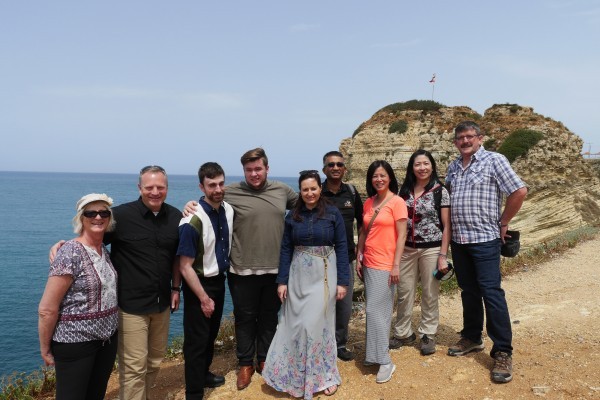 The team showed up, ready to serve with the opportunity to be present in the following ways:
1) To encourage our Syrian partners
Our team met with some leaders from our partner organization in Syria, who travelled from Damascus to Beirut for a short one-and-a-half day retreat. We had the chance to hear directly from our Syrian partner's staff who shared their own harrowing stories of war, displacement and loss.
The volunteers, who faithfully distribute Bags of Blessing (food and household items) to people who have been forced from their homes, were an inspiration and encouragement to our team. Their steadfast determination to stay in a war zone to provide aid to those in need is a strong testament to their faith.
"At times, the personal stories were so heartbreaking that many tears flow[ed] in the room," shared Lily Kwok, LIFE Team Manager. "The team ministered to the Syrian leaders through their listening ears, words of encouragement, many prayers and hugs and simply being present. Despite the tears and obvious pain, we were so encouraged by the leader's joy, faith and trust in the Lord."
The meeting was mutually encouraging to both the Syrian staff and the LIFE Team. Our Syrian partners found the session therapeutic, while our team members gained an eye-opening and humbling glimpse into what life has been like in Syria for the past seven years.
"It has made me more aware of the impact of war on the citizens of the country of Syria," said one participant. "The hurt and pain of losses but the opportunities it gives to show the love of Jesus."
Another LIFE Team member said: "I have been challenged by the group of heroes in the faith from Syria. They care about their community so much to risk their own lives."
2) Spend time with refugee children
With our Lebanese partner, the team was able to serve at a "makeshift" school for over 40 refugee children who are unable to attend a Lebanese school for various reasons. The children were either behind academically (due to the war and displacement causing a gap in their schooling), lacked the required legal status, or simply could not afford the minimal fees required to attend a school.
Despite the lack of obligation for these children to attend this unofficial school, the kids show up early, enthusiastic and ready to learn.
"It's a testimony of love and care the kids receive from the church that keeps them coming back," Kwok observed.
Team members that worked with the kids were able to help them with crafts, math games and chapel services, providing some temporary relief for the underpaid but passionate teachers.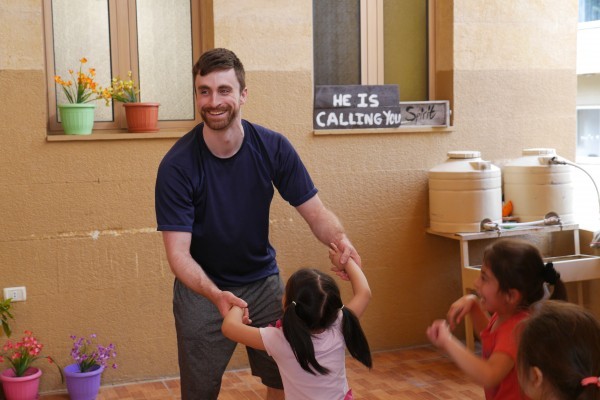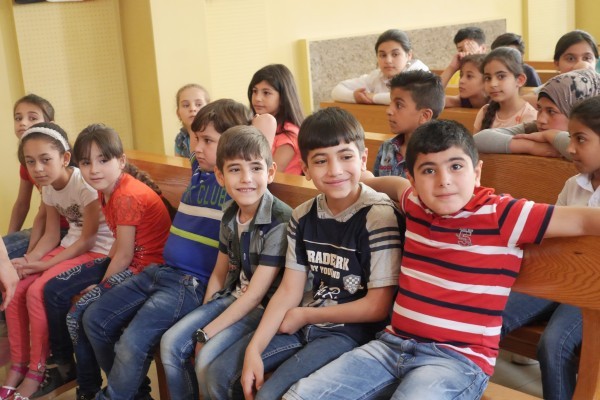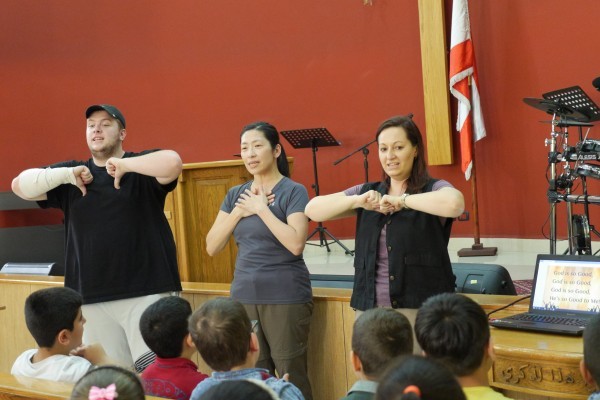 3) Visit refugee families
After school, participants were able to be a light to the community by visiting the homes of refugee families (some were families of children who attend the school).
"During these visits we were able to hear stories of their plight from Syria, often filled with some traumatic experiences," Kwok explained.
They also visited a squatter refugee camp (not run by the UN) in the Bekaa Valley. Working with the local hosts, the team was able to meet with a family of eight (parents and six kids) who had been at the camp for two years. There, they saw the reality of conditions that refugees in camps have to live in.
"Often there are no words when faced with such circumstances, but we also know that God is at work here through this team who are committed long-term," said Kwok.
4) Lend a hand
Team members also had the chance to serve through manual labour at our partner's used clothing store. The store sells items at a discounted price for refugees in need. By spending their time cleaning up the storefront and adding a fresh coat of paint, the store was transformed to be more welcoming and organized.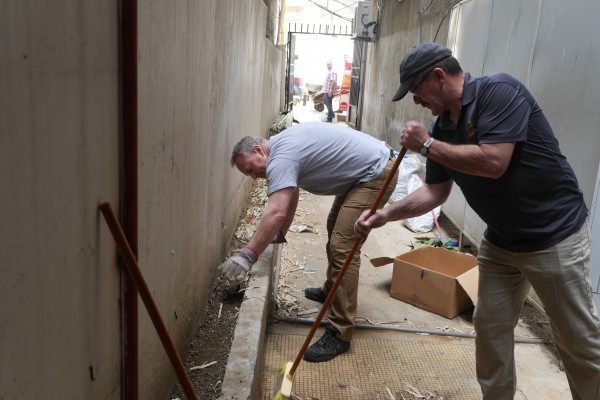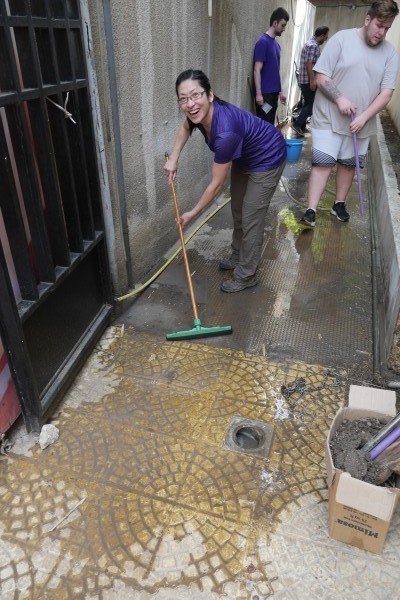 At the same time, other team members were able help our Lebanese partner prepare meals for refugee kids and seniors in the community. Help in the kitchen provided an "answer to prayer" for the staff who work tirelessly.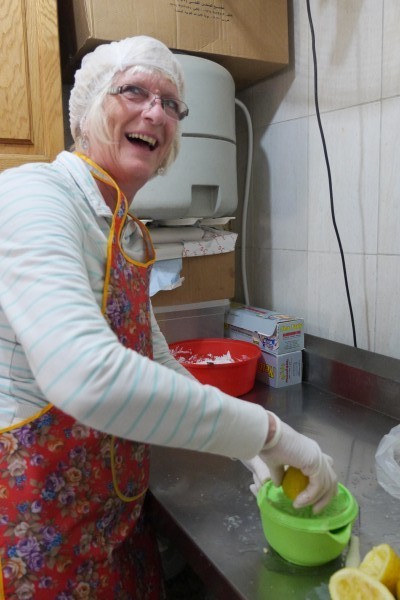 With open and compassionate hearts, the LIFE Team group was able to serve the community in different ways. Their willingness to be available and present meant that they were able to be used in whatever capacity was needed.
One LIFE Team participant said: "What I have experienced the most in short-term teams like this is that it's about being able to build relationships, taking time to stop, spend time with people and not just "do.'… Maintaining relationships can be such an encouragement to the people here. To know that they have prayer partners all over the world is just as important as the practical things that are needed in getting a job done."
ARE YOU INTERESTED IN JOINING US ON A LIFE TEAM TRIP? JOIN US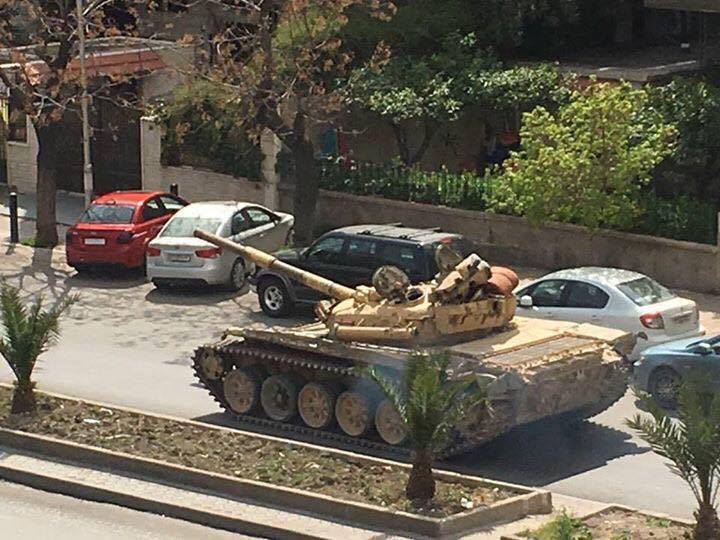 In 2017, the Syrian Civil War entered its seventh year. Bombs hit our local partner in Syria.
Although there was some damage to the building, nobody was injured.
"Last Friday, two bombs exploded in front of the building. I was near the window and shrapnel went through the two windows," recalled the partner. "The windows and aluminum frames were damaged. Bombs were everywhere."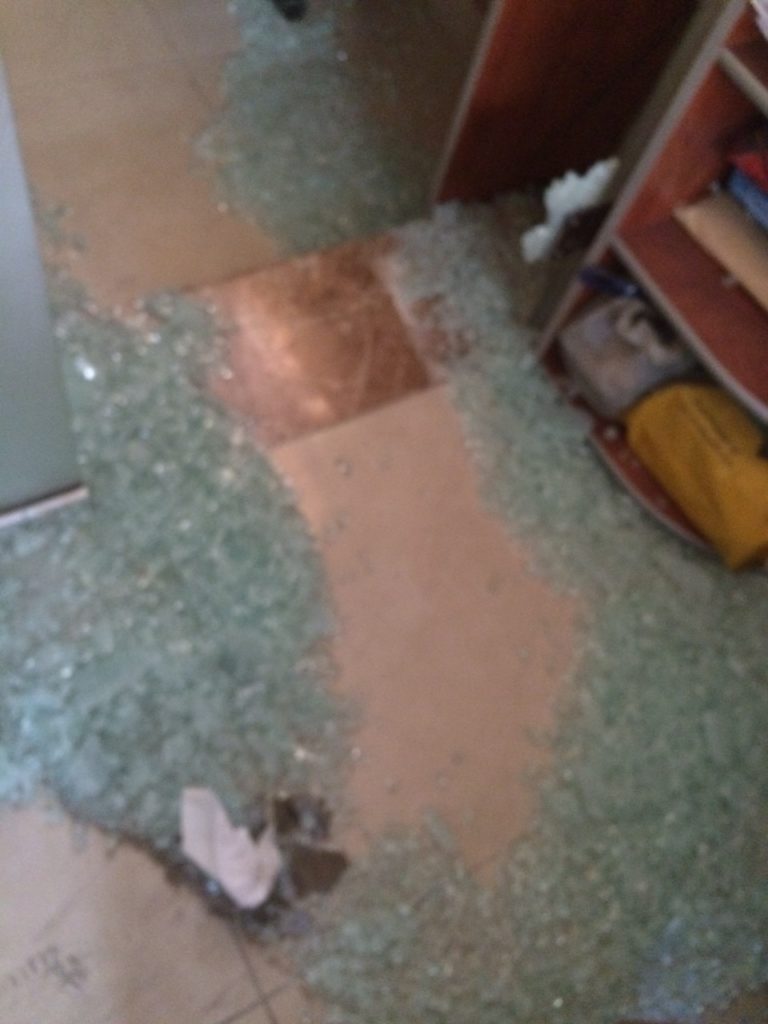 It is under these conditions that our Syrian partner works and continues to bring hope to Internally Displaced People (IDPs) in the country. The ongoing crisis continues and the numbers are staggering. Since 2011, almost 5 million people have been forced to flee Syria to another country, while over 6.3 million people are displaced.1 In the last six years, a total of 96,000 civilians were casualties of this civil war.2
Thousands of Syrians live on the edge. Bombs continue to go off and people still struggle to find their next meal and basic medicine.
Trapped within their country, they look for hope. Our mission is to demonstrate God's love, in word and deed, to those who are hurting and in need.

Bags of Blessings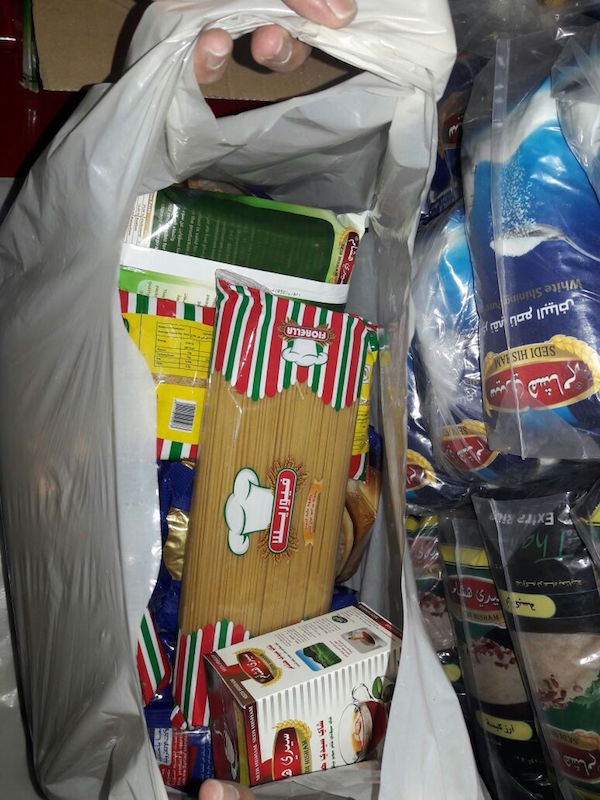 Chased out by unemployment and gunfire, another Syrian family was forced to leave their home. They left behind loved ones, possessions, and important government documents that would have allowed them to get aid from most churches and charitable organizations. Almost overnight, they became part of the 6.3 million Internally Displaced People (IDPs) in Syria. As refugees in a new city, they had no friends or relatives and no way to get support, until a neighbour guided them to a centre run by our local partner. There they were able to receive aid despite their lack of documentation. Though it may seem simple, our policy of giving aid to the needy, regardless of background or situation, is often as meaningful to those receiving it as the aid itself.
Along with our local partner, we were able to show the love of God to IDPs through the Bags of Blessings program, a monthly package of food rations designed to last for one month. While people initially come to receive the food and non-food items in the bags, the people return because they have gained so much more.
Simple comforts, like blankets and hygiene products, were also provided to children and families who couldn't afford to buy them, especially as they enter the winter season. Currently, we have the privilege of providing 1,000 Bags of Blessings each month, thereby providing much needed aid to thousands of desperate people in need.
"When we distribute blankets, it gives the children the knowledge that we not only care that they are hungry, but also that they are in good health and they are taken care of." This deeper care for peoples' well being is only a small part of the spiritual aid that GAiN and its partner provide. By building friendships with those who are suffering and often alone, the centres provide community to families and individuals who have nowhere else to go. Weekly meetings held for men, women, and children of various age groups are places of emotional and spiritual support, healing, and growth.
The teams at the centres seem to have unending stories of hearts touched and lives changed by the community and hope found at the centres. One team member tells of a woman who regularly sends her grandchildren to the centre. "Mainly in the beginning she sent them for the bag, but she knows us and she talks to people. She's saying, 'They have a touch of love. They give. They are generous. They feel with other people.'"
This touch of love goes such a long way. It's the empathetic aid that brings emotional relief to families in turmoil. Families and individuals in dire need such as
Samira: a mom of two whose husband works every other month. She shares that "if you don't give us this Bags of Blessings we will die because we don't have money to buy food. In fact, my daughter is waiting for the bag to do sandwiches for school from the food you send to us."
Darin: a woman with three children whose husband is working just to cover the rent of the room they are renting it. The only work she can find is cleaning houses and the people are using her and paying only $30 per month, which is nothing for the need they have. She expressed "we are still alive because of the Bags of Blessings you are providing."
Mary: a lady living with her husband who isn't working and her son's family. She receives the Bags of Blessings as the main help for her family.
Samira: a widow who lives with her two sons with their families. The Bags of Blessings feeds almost 20 people in her family.
Each story is of a life that has been impacted due to the Bags of Blessings project.
IF YOU WANT TO LEARN MORE ABOUT HOW YOU CAN SHINE LIGHT IN THE FACE OF DEATH AND DIFFICULTY, CLICK HERE.
Sources:
1. UNHCR (bit.ly/syria_regional_response)
2. Newsweek (bit.ly/newsweek_syria)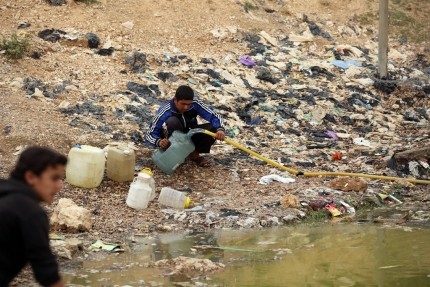 30 October 2017 – The Islamic State of Iraq and the Levant (ISIL or D'aesh) may be largely pushed out of Syria's Raqqa governorate, but after years of oppression and nearly a year of intense fighting – marked recently by heavy airstrikes – humanitarian needs will continue to be large for some time, the top United Nations relief official told the Security Council Monday.
"Since the beginning of the anti-ISIL offensive in November last year, airstrikes and clashes have resulted in more than 436,000 people being displaced from Raqqa to 60 different locations, including in neighbouring governorates," UN Emergency Relief Coordinator said briefing the Council via videoconference from Amman, Jordan.
"One conclusion is obvious: the impact of the Syria crisis continues to be profound."
Expressing deep worry about the impact of fighting and airstrikes on civilians and civilian infrastructure in Raqqa governorate, with scores of civilians reportedly killed in recent months, he said he is also concerned for the safety and protection of civilians at risk from unexploded ordinance throughout Raqqa city, particularly those trying to return to their homes.
"Despite the directive issued by local authorities for civilians not to return to the city until it is deemed safe, the UN anticipates that people will go back to try to check on and protect their homes and their personal assets," Mr. Lowcock explained.
Further to the east, in Deir Ez-Zor governorate, heavy fighting and airstrikes continue to result in civilian deaths and injuries. Large-scale displacement also continues, with the UN International Organization for Migration (IOM) reporting some 350,000 people displaced since August, including more than 250,000 people in October alone.
As for eastern Ghouta, Mr. Lowcock daily shelling has continued to be reported in recent weeks. Humanitarian access to eastern Ghouta – one of the four de-escalated areas where nearly 95 per cent of Syria's besieged population lives – has been severely curtailed for months. Since the start of the year 110,000 people have received food assistance, out of an estimated population of nearly 400,000.
"Today the UN and partners delivered food, nutrition and health assistance to 40,000 people, he told the Council, warning however that an alarming number of child malnutrition cases have been recorded there, and more than 400 people with health problems require medical evacuation.
Overall, he said that more than 13 million people inside Syria still need humanitarian assistance. 6.3 million of them are exceptionally vulnerable and in acute need because of displacement, hostilities, and limited access to basic goods and services. "Conflict and violations of international humanitarian law continue to be the principal drivers of humanitarian need, with civilians in many parts of the country enduring massive suffering."
"Against this background, the UN and our partners continue to implement in Syria one of the largest humanitarian operations in the world," said Mr. Lowcock who is the UN Under-Secretary-General for Coordination of Humanitarian Affairs, noting, by example that in September, the World Food Programme (WFP) provided food assistance to more than 3.3 million people, the UN Children's Fund (UNICEF) reached over 1.5 million people, and the World health Organization (WHO) reached over 800,000 people.
He also went on to point out that cross-border assistance provided for in last year's Council resolution 2165 "has been a lifeline," allowing the UN to reach millions of people in need in northern and southern parts of Syria. On average, aid was delivered to 2.76 million people a month through cross-border operations between January and August of this year.
"Our experience with cross-line operations from within Syria […] leads us to believe that it would be impossible to reach those people in a sustained manner from within Syria. I therefore regard a renewal of resolution 2165 as essential. Millions of people depend on the activities it mandates," he underscored.
IF YOU WOULD LIKE TO KNOW HOW GAIN IS INVOLVED, CLICK HERE.
(Source)
(Image Source: UNICEF/UN066040/Souleiman)