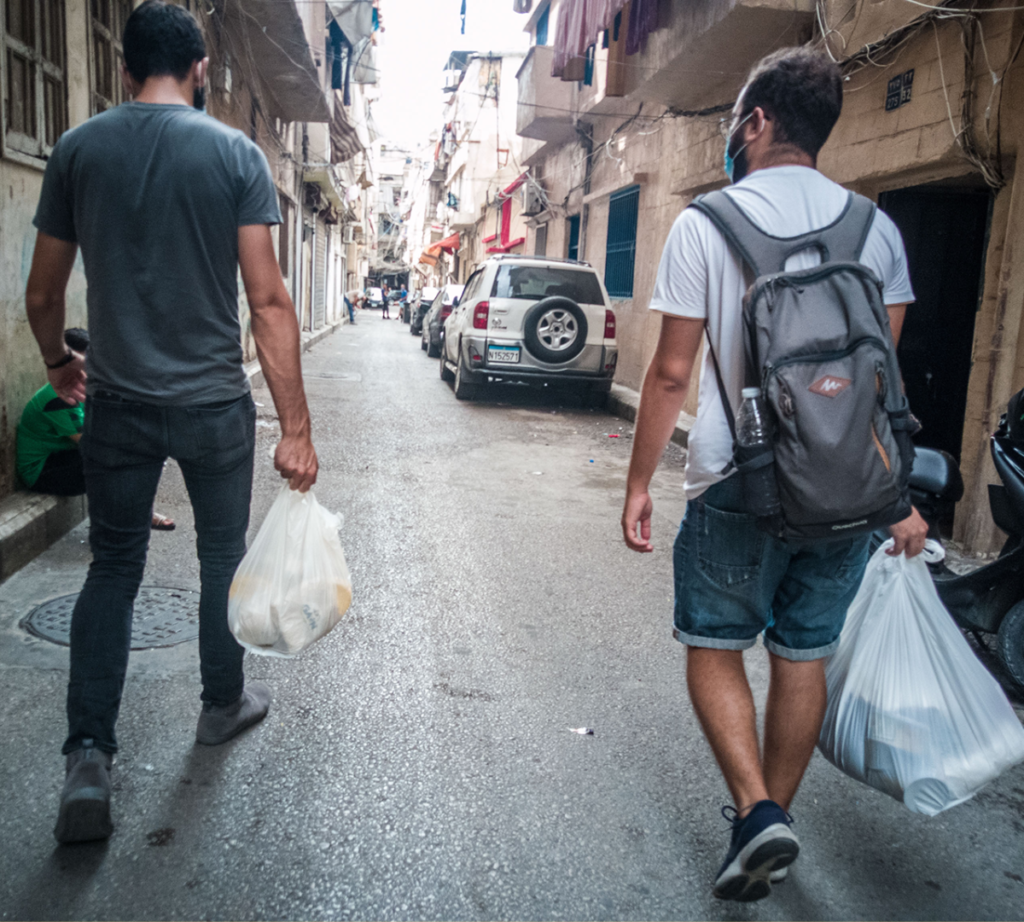 After the Beirut explosion on August 4th, our local partners in Lebanon formed a team to help coordinate cleanup and repairs efforts. Six staff, 11 interns and disciples, and several volunteers joined the effort to visit homes, churches, schools and hospitals to help with cleaning and clearing the glass and rubble caused by the explosion. The team was able to join in the efforts to clean 120 homes, two schools, four churches and one hospital.
They did a field survey of homes affected by the explosion and assessed ways they could help the affected families. The needs varied from urgent repairs to walls, doors, windows, glass replacement, replacement of appliances to personal needs like food, medicine, elderly and baby care products. Teams were divided into smaller groups that went back to these homes to bless families by helping provide some of their needs.
They met Anna through a referral by a family that we were helping. Anna is a single mother who raised three boys on her own after her husband left them. She used to work at a school selling snacks and cooking for elderly people around her neighborhood. After the Lebanese Revolution started in October and the COVID-19 lockdown happened in March, she lost her job at the school due to school closures.
As if that wasn't enough, she also lost her job cooking for the elderly after their families requested she stop to prevent possible spread of the virus. Anna was left without a job and has since struggled to afford food for herself, leaving her going to bed most nights on an empty stomach.
Then the explosion happened and Anna was left devastated and lost hope completely. When our team showed up on her doorstep with food packages, she was overjoyed. She hadn't received this kind of help or generosity from anyone.
After the team fixed things around her house, they shared about who they were and why they do what they do. "We told her our aim is to show God's love and tell everyone about Him," explained our partner. "She was very open since she was from a Christian background."
They spent time praying for her and when it was done she cried, "Your prayer is so beautiful from the heart. I don't deserve it. I'm so far away from God and I'm not a good person. I don't talk to Him or anything. But sometimes I look up and speak to Him but I don't feel He listens to me."
"God is close to you and He loves you," they reassured her. "He has been taking care of you. Whatever you say, He listens to you. Keep talking and praying to Him."
Anna was so touched that she invited the team to come back another time. Once they left, she sent them a voice note saying, "I want to thank you all from the bottom of my heart. Thank you for thinking about us and helping us. I'm so happy that everything in the food pack was what I really needed."
The team has done 450 connections so far with the number expected to reach our 500 families target in the coming week. By early September, have visited 320 homes of the 420, blessing the people and providing repairs, food packs, medicine and the message of hope in a loving God who truly loves and cares for them. Of those they visited and blessed, 13 people made the decision to commit their lives to Jesus.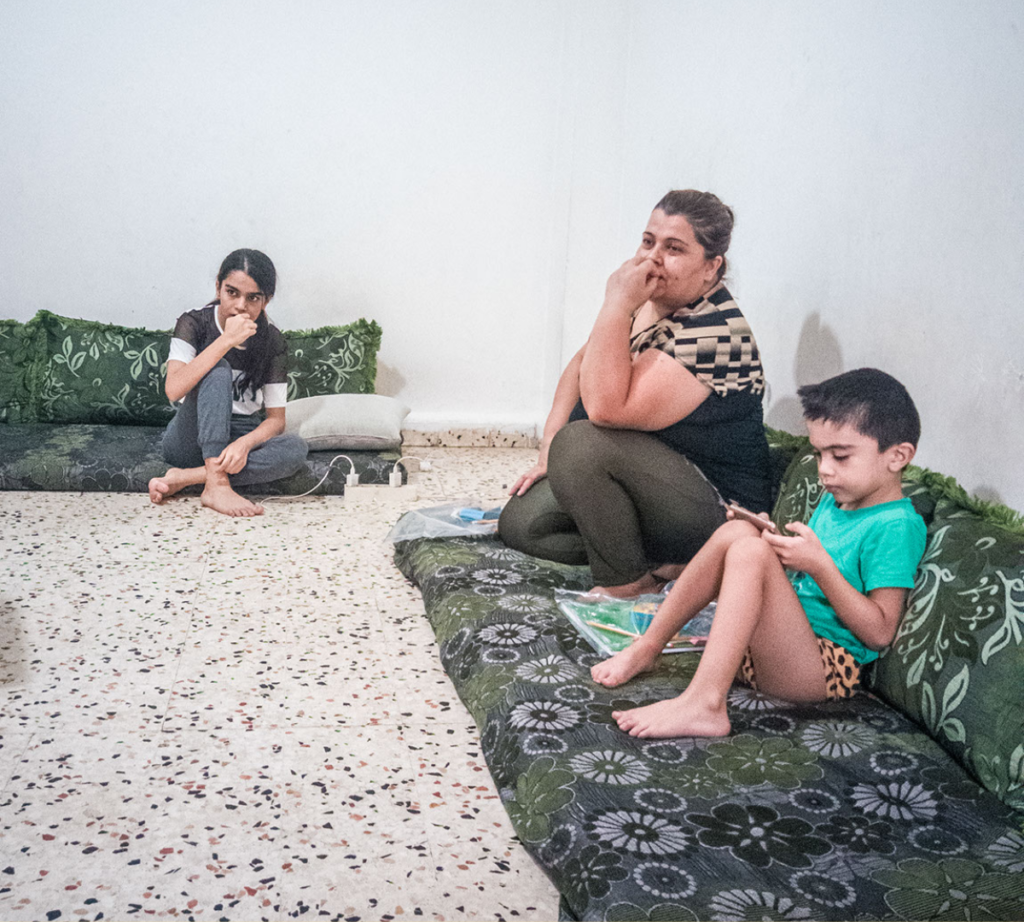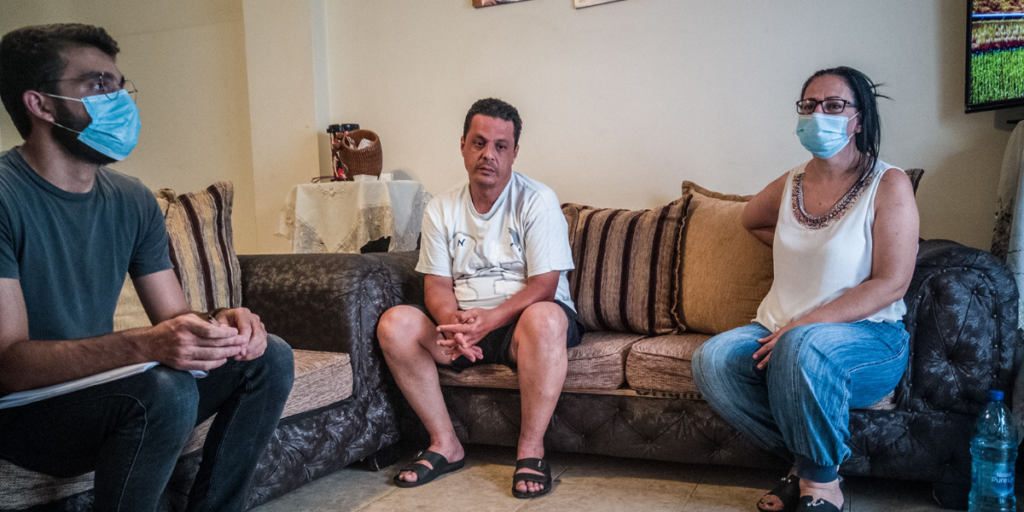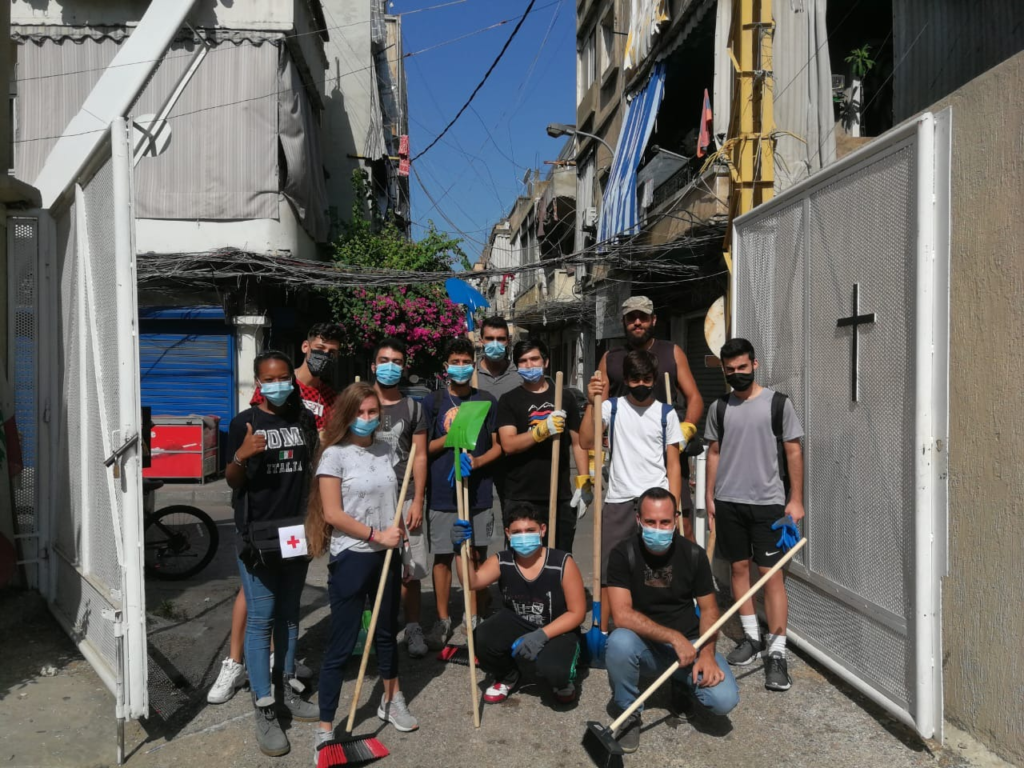 When we announced that we were working with local partners to respond to the crisis in Beirut, you stepped up to help. Because of your timely support, we have been able to provide relief and aid to families, individuals and churches that have been affected by the enormous August 4 explosion that left the city destroyed. Hundreds were killed, thousands were injured and hundreds of thousands were left homeless.
Our partners on the ground wasted no time, making sure to get out into the community to help clean up, deliver aid packages and spend time praying with the people they encountered. These acts of service provided even a little bit of hope for residents of the Lebanese capital, who have already endured multiple hardships, including a political and economic crisis, not to mention a global pandemic.
The Armenian Evangelical Central High School in Beirut was one of the buildings that sustained damage in the blast earlier this month. Our local partners spent two days at the school, helping clear broken glass and debris, and making sure to divide and sort for recycling.
They also spent time visiting houses in neighbourhoods in Ashrafieh (a district in Beirut), assessing the damage and cleaning up debris, as well as distributing aid including food packages, cleaning materials and care packages. Out of the visits came meaningful conversations with the people they interacted with. Every act of service provided the opportunity to share the love of Jesus and start to build authentic relationships.
There is still a lot more to be done. The people of Beirut are still dealing with trauma, unemployment, food insecurity, a lack of available medical treatment and heightened stress.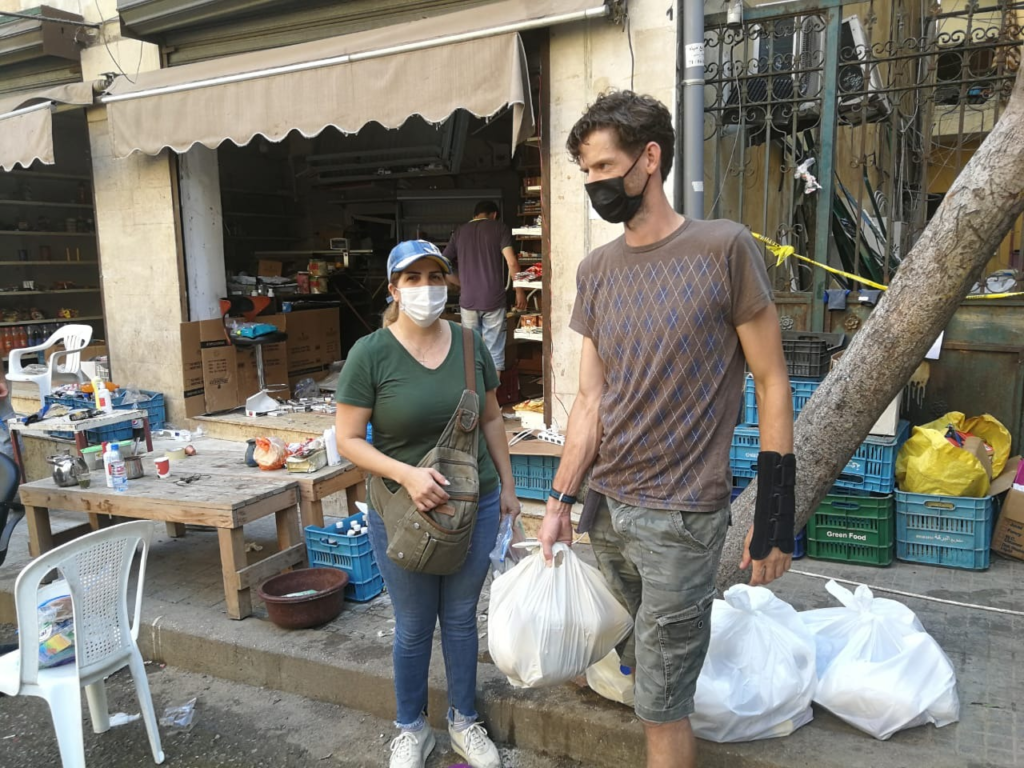 The people of Beirut are still dealing with the aftermath of last week's explosion, which left hundreds dead, thousands injured, and hundreds of thousands of people displaced.
This week, our local partners spent some time visiting neighbourhoods in Achrafieh to assess damage and help clean up debris. They also distributed food packages, cleaning materials and care packs while taking time to pray for the people that they encounter, helping to share God's love in this devastating time.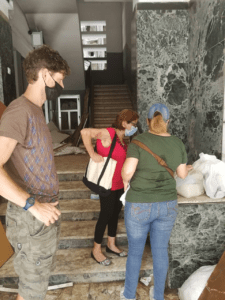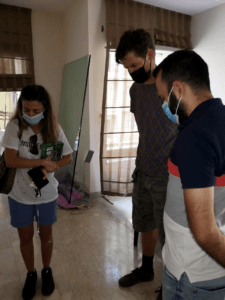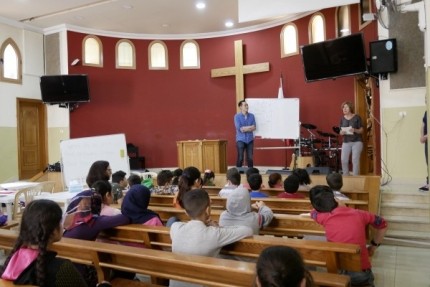 As a supporter of Global Aid Network (GAiN)'s Syrian Refugee Relief program, Raphael knew that he wanted to meet GAiN's partners in the Middle East, see the work being done in the field and also get involved in a more tangible way. A LIFE Team trip to Lebanon with GAiN was the perfect way to do all of these things.

The trip lasted for two weeks in May, giving the team enough time to serve alongside local in-country partners in a variety of different ways.
Having met GAiN's Syrian partner at a Syria fundraiser in Toronto, Raphael already had a good understanding of the project, having heard stories about lives that were being impacted by the Bags of Blessings program. So when he decided to go on the trip to Lebanon, he expected to meet the local partners as well as refugees. What he didn't know was that his expectations would be exceeded.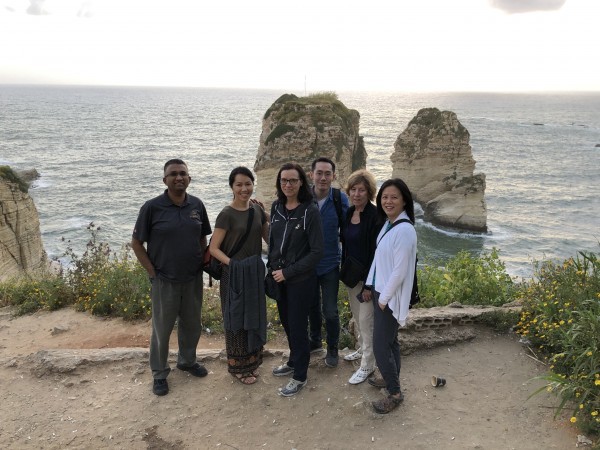 "We met a lot of local partners who had such big hearts for people in Lebanon [and] Syria and loved these people [with] actions, beyond what we could comprehend," Raphael said. "It was very humbling to see how they were lifting His name through their services to refugees."
The team, made up of three other participants, had the chance to meet with six volunteers from Syria who work with GAiN's Syrian partners in the field. The volunteers shared about the work that is being done in Damascus, the economic hardships of local displaced families, as well as share some of their own personal testimonies.
Overall, the team was able to hear firsthand accounts of life in Syria, and was humbled to hear about the incredible ways that God is changing lives in the midst of a crisis.
"Witnessing the sacrificial and incomprehensible love of the local partners in their ministries was the most astonishing aspect of being on the field," Raphael expressed. "Similarly, the sheer incomprehensibility of what it means to go through what these refugees went through was weighing on my mind on the field."
For the rest of the trip, the team spent most of their days at a local church in Beirut, where they helped tutor and teach children from refugee families who have no access to public education. Some members of the team had the opportunity to lead chapel, which included songs, games and Bible lessons.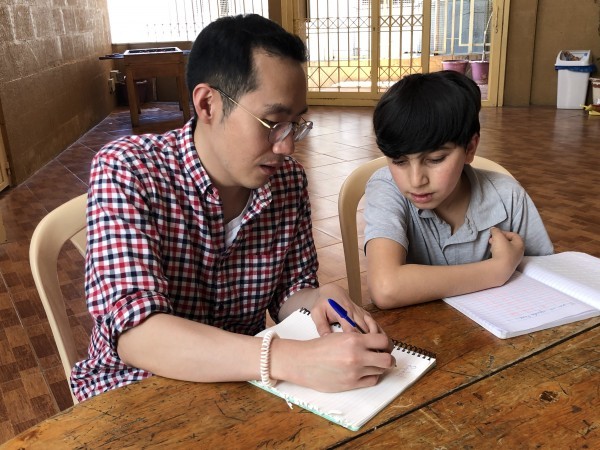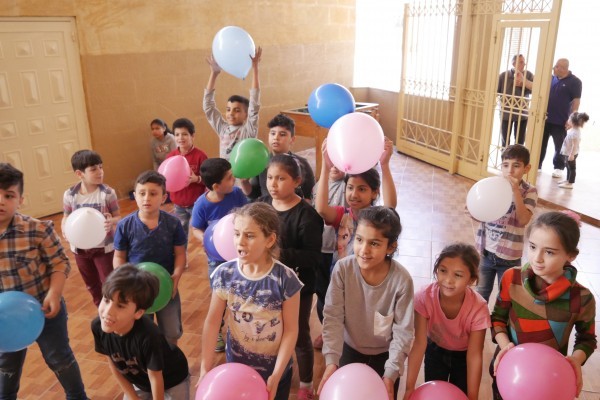 "I think playing with the refugee children, teaching them English, and leading chapel services were the most tangible demonstration of God's love. [The kids] were so excited to be with us from day one. As we spent most of our time serving at the school, we could build relationships with the children individually."
They also had the opportunity to visit the homes of two families of some of the children, spending quality time with them. Unfortunately, due to the timing of the trip being around Ramadan, the team was only able to visit two families, so as not to disturb those families who might have been observing the Muslim holiday. However, Raphael felt that the two family visits they did do was worthwhile and that the families were deeply touched.
"I felt the family visit was a very personal and tangible demonstration of love we could offer to these refugee families."
Another highlight of the trip was volunteering at a medical clinic that was hosted by the church. Refugees were welcome to come in to get checked by a doctor and were given a diagnosis and free medication as needed. The team was able to help in different roles, such as triaging patients, taking medical history and vital signs, dispensing medication, praying for patients and spending time with kids who came with their moms to be at the clinic.
Other days were spent helping sort clothing items at the local partner's used clothing store, which sells clothes and other items at a discounted price to refugee families in need. One day, they went to a large storage warehouse and helped distribute food and household items to refugees from Iraq and Syria and ended up handing out 81 bags, providing families with much-needed essentials.
For Raphael, all of these opportunities to be present and serve refugees has made a significant impact on his life.
"I witnessed that it is possible to serve God and people so boldly as these local partners do. It will be my struggle to live out the same spirit in my own context and place. The trip has helped me to better grasp the interconnectedness of the supporters on the other side of the world and the local staff and partners on the field. In other words, I tangibly experienced that all followers of Christ do, indeed, belong to one body. In places where I never visited and barely thought of, the Spirit was working so powerfully and mightily, and continually will. With these experiences, not only in my financial giving, but also in my prayers, it has become more global."
ARE YOU INTERESTED IN GOING ON A LIFE TEAM TRIP IN 2020? VIEW OUR UPCOMING TRIPS TO SEE IF THERE IS A TRIP FOR YOU.
SEE MORE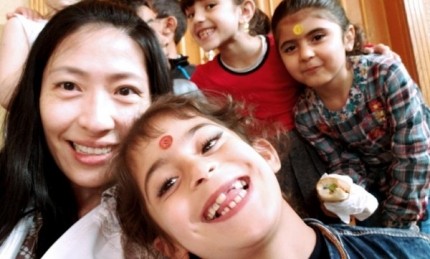 Guest blog by Pam W., Two-Time Lebanon LIFE Team Participant
Geopolitical crises and wars have become typical news items. Following the coverage of the war in Syria, the images of casualties rattled me, but they were just news. In 2017, I joined GAiN on its first LIFE team mission to Lebanon to serve alongside a local partner working with refugees in Beirut. While there, I visited the Bekaa Valley, an area of farmland near the Syrian border that is now filled with a multitude of makeshift tents. The valley has become "home" to Syrians who fled their war-torn country.
We hear a lot about the war and refugees from Syria, but not so much about the Syrians displaced within their own country – and there are many. Some had to flee their bomb-stricken homes, along with any surviving family members, with only the clothes on their back. While in Lebanon, I met Syrian aid workers from GAiN's local partner who provide both physical (food distribution) and emotional support to these Internally Displaced People (IDP). They shared accounts of the experiences of IDPs, and also some of their own. One aid worker shared her own chilling account of escaping armed groups. These experiences are unlike those reported in the media. They are painfully detailed and personal.

After returning home, news from Syria was no longer just news to me. Now I had friends living there – and that changed everything. With the war into its seventh year, local Syrians were surviving with limited resources and diminishing hope, and they are feeling forgotten.
I needed to do something….
I felt it was important that I share their stories so the world could relate to them on a personal level. I also launched a GAiN campaign and fundraised for 100 Bags of Blessing. Each bag provides food for a family of five for a month. These bags are vital to IDPs in Syria who struggle on a daily basis for even the most basic of necessities. The campaign enables sponsors to support the IDPs in Syria in a direct way, but it also helps to restore their hope and reminds them that they have not been forgotten and are loved.
Returning to Lebanon in 2018, there was a sense of familiarity. Reconnecting with the staff of GAiN's local partner and the refugee children was like visiting relatives; no introduction was necessary. For me, the highlight was spending time with the aid workers from Syria. I feel my GAiN campaign brought me closer to them. There were a few familiar faces from my first visit, but I felt a sense of closeness with all of them. They were like family. I am humbled by the tenacity of these aid workers, the silent heroes that the world will never know.
Hearing stories about those who received the Bags of Blessing was like a sequel to my fundraising campaign, following the journey of these bags into the hands of specific recipients. Without this food distribution, these people wouldn't have had enough to eat.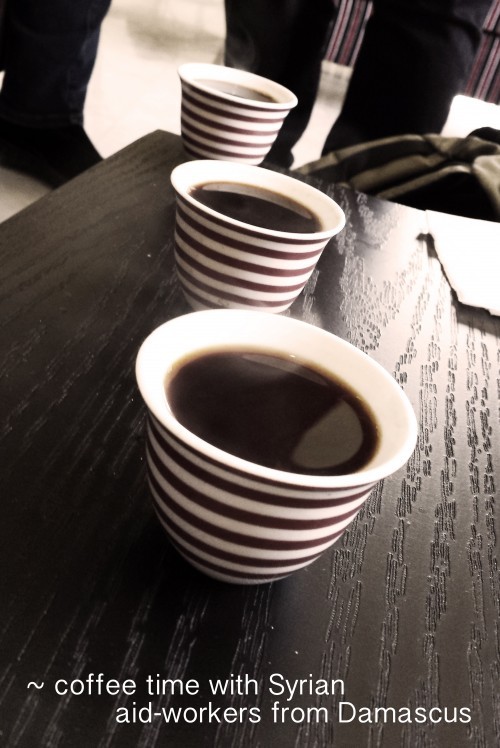 Returning home this time, I am not just telling stories. I am sharing about the lives of people who now have a special place in my life. Continued support of IDPs in Syria through programs such as the Bags of Blessing program is still very much needed. Most importantly, I hope to cultivate a connection between them and the rest of the world by sharing their personal testimonies gathered during my LIFE team experiences.
Like the song says: "We are the world…We're all part of God's great big family…we'll make a brighter day…Just you and me."
Whether it is getting to know the refugees in our neighbourhood or joining GAiN's LIFE team in Lebanon and meeting them locally, the encounter is life-changing. They will no longer be just news stories but personal acquaintances, and for me, like family!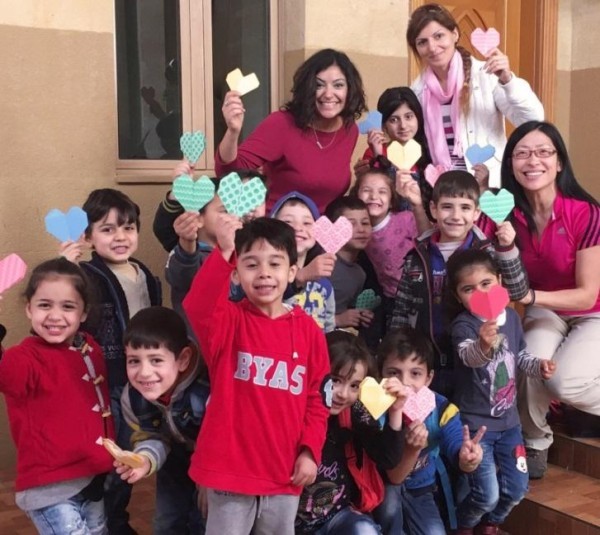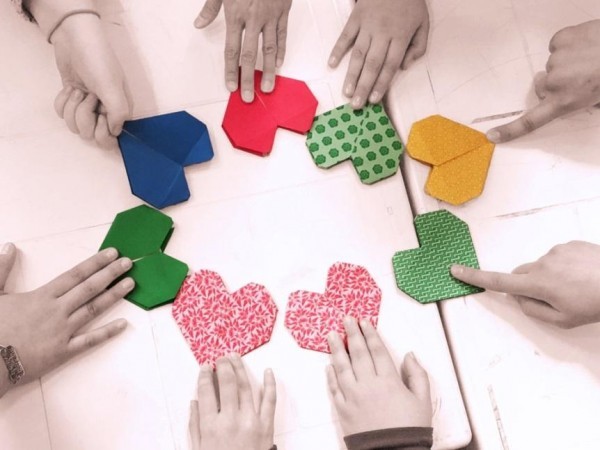 DO YOU WANT TO GO ON A LIFE TEAM TRIP? SEE OUR UPCOMING TRIPS HERE.
LEARN MORE ABOUT THE BAGS OF BLESSING PROGRAM HERE.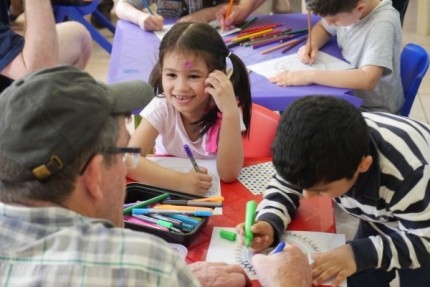 In the past seven years since the Syrian Crisis started, news of the ongoing war has been unavoidable. Uncertainty seems to be the only constant for refugees and yet, there is still a strong spirit of hope – participants on our most recent LIFE Team to Lebanon learned.
For two weeks in May, seven compassionate people joined Global Aid Network on a LIFE Team impact trip to Lebanon. The purpose of the trip was to get a better understanding of the crisis happening in Syria while serving alongside our partner in Beirut, Lebanon, to help bring hope and encouragement to refugees.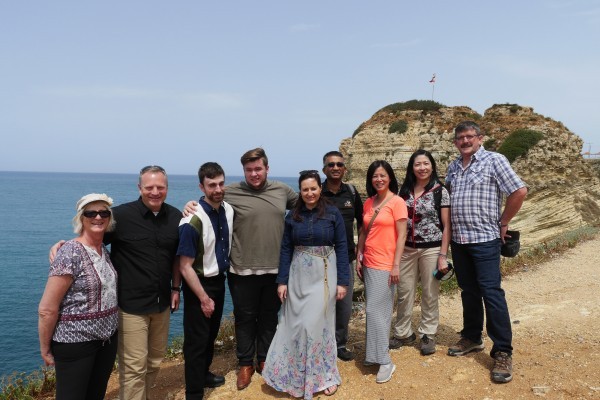 The team showed up, ready to serve with the opportunity to be present in the following ways:
1) To encourage our Syrian partners
Our team met with some leaders from our partner organization in Syria, who travelled from Damascus to Beirut for a short one-and-a-half day retreat. We had the chance to hear directly from our Syrian partner's staff who shared their own harrowing stories of war, displacement and loss.
The volunteers, who faithfully distribute Bags of Blessing (food and household items) to people who have been forced from their homes, were an inspiration and encouragement to our team. Their steadfast determination to stay in a war zone to provide aid to those in need is a strong testament to their faith.
"At times, the personal stories were so heartbreaking that many tears flow[ed] in the room," shared Lily Kwok, LIFE Team Manager. "The team ministered to the Syrian leaders through their listening ears, words of encouragement, many prayers and hugs and simply being present. Despite the tears and obvious pain, we were so encouraged by the leader's joy, faith and trust in the Lord."
The meeting was mutually encouraging to both the Syrian staff and the LIFE Team. Our Syrian partners found the session therapeutic, while our team members gained an eye-opening and humbling glimpse into what life has been like in Syria for the past seven years.
"It has made me more aware of the impact of war on the citizens of the country of Syria," said one participant. "The hurt and pain of losses but the opportunities it gives to show the love of Jesus."
Another LIFE Team member said: "I have been challenged by the group of heroes in the faith from Syria. They care about their community so much to risk their own lives."
2) Spend time with refugee children
With our Lebanese partner, the team was able to serve at a "makeshift" school for over 40 refugee children who are unable to attend a Lebanese school for various reasons. The children were either behind academically (due to the war and displacement causing a gap in their schooling), lacked the required legal status, or simply could not afford the minimal fees required to attend a school.
Despite the lack of obligation for these children to attend this unofficial school, the kids show up early, enthusiastic and ready to learn.
"It's a testimony of love and care the kids receive from the church that keeps them coming back," Kwok observed.
Team members that worked with the kids were able to help them with crafts, math games and chapel services, providing some temporary relief for the underpaid but passionate teachers.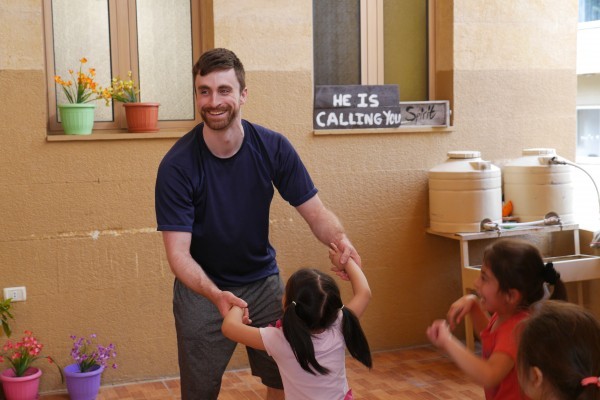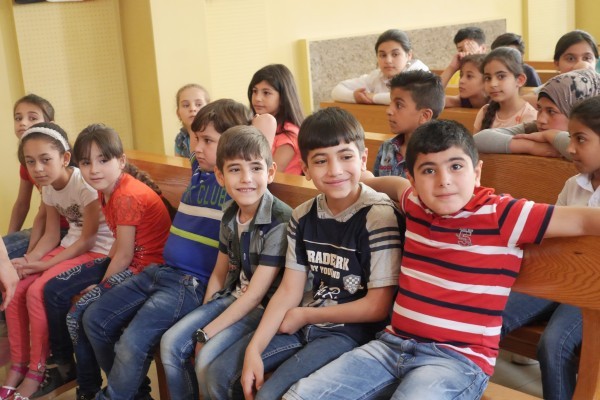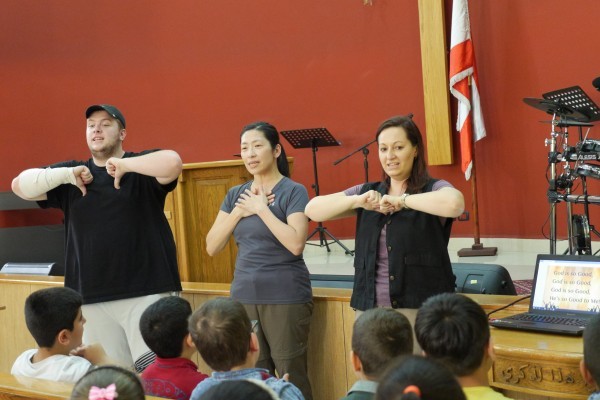 3) Visit refugee families
After school, participants were able to be a light to the community by visiting the homes of refugee families (some were families of children who attend the school).
"During these visits we were able to hear stories of their plight from Syria, often filled with some traumatic experiences," Kwok explained.
They also visited a squatter refugee camp (not run by the UN) in the Bekaa Valley. Working with the local hosts, the team was able to meet with a family of eight (parents and six kids) who had been at the camp for two years. There, they saw the reality of conditions that refugees in camps have to live in.
"Often there are no words when faced with such circumstances, but we also know that God is at work here through this team who are committed long-term," said Kwok.
4) Lend a hand
Team members also had the chance to serve through manual labour at our partner's used clothing store. The store sells items at a discounted price for refugees in need. By spending their time cleaning up the storefront and adding a fresh coat of paint, the store was transformed to be more welcoming and organized.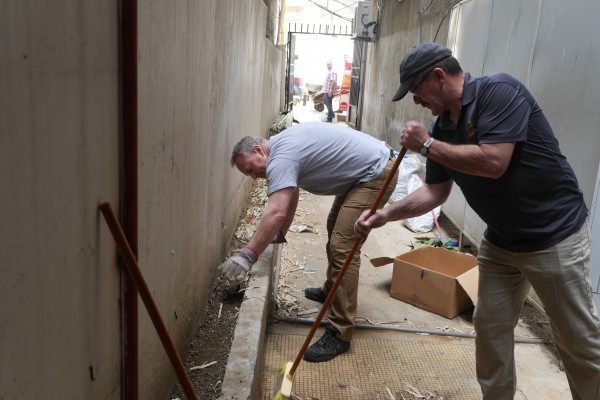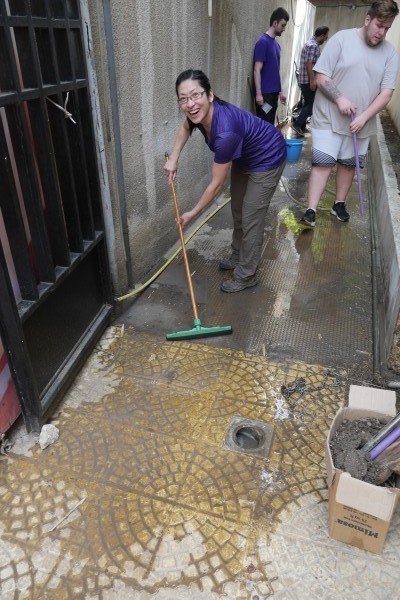 At the same time, other team members were able help our Lebanese partner prepare meals for refugee kids and seniors in the community. Help in the kitchen provided an "answer to prayer" for the staff who work tirelessly.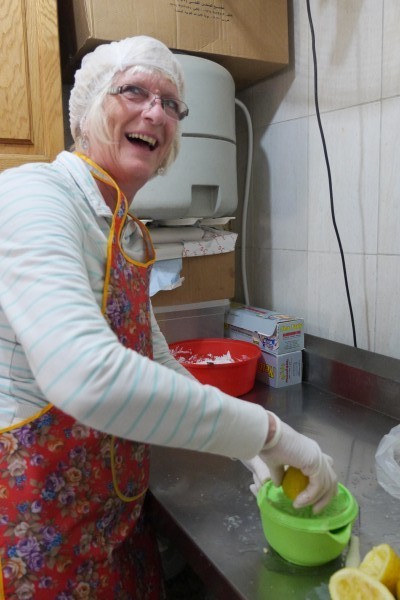 With open and compassionate hearts, the LIFE Team group was able to serve the community in different ways. Their willingness to be available and present meant that they were able to be used in whatever capacity was needed.
One LIFE Team participant said: "What I have experienced the most in short-term teams like this is that it's about being able to build relationships, taking time to stop, spend time with people and not just "do.'… Maintaining relationships can be such an encouragement to the people here. To know that they have prayer partners all over the world is just as important as the practical things that are needed in getting a job done."
ARE YOU INTERESTED IN JOINING US ON A LIFE TEAM TRIP? JOIN US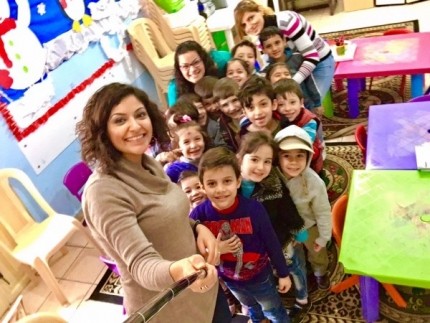 Nardeen, a medical interpreter in Illinois, gets the opportunity to work with refugees from the Middle East but because her interactions with them are restricted to just interpreting, she has no time or place to give any personal advice or words of encouragement while on the job. The desire to work more closely with refugees and provide some emotional support left her wondering what other ways she could get involved. When she heard about a GAiN LIFE Team trip to Lebanon to work with a local partner helping Syrian and Iraqi refugees, she knew she had to consider it.
"It was on my heart to do something [more] with refugees but I didn't know where to start, when to go [or where]. So when my cousin told me that she's going [on the Lebanon trip], I felt like God was preparing something and He already has prepared my heart before," Nardeen explained.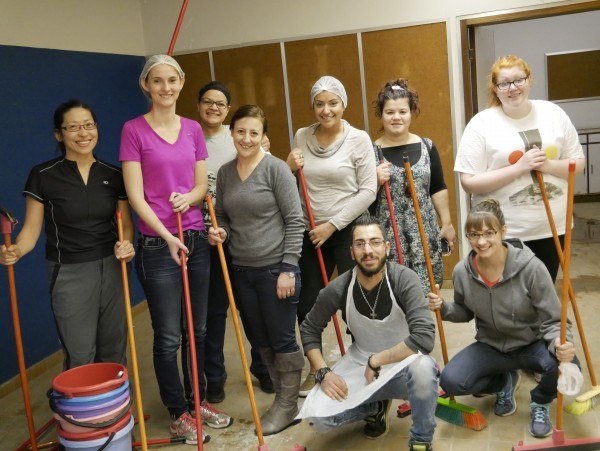 With six participants and two leaders, the team spent two weeks working with a local partner who runs programs for refugees in the community, including 42 refugee children. Participants got to help with tutoring, cleaning out an old basement (to be used as a clothing depot for refugee families), leading chapel, cooking lunches and providing much-needed relief to the local staff who seemed to work endlessly. They also had the opportunity to visit some of the families of the children, as well as join local staff to deliver hot meals to families who could not afford ingredients to cook.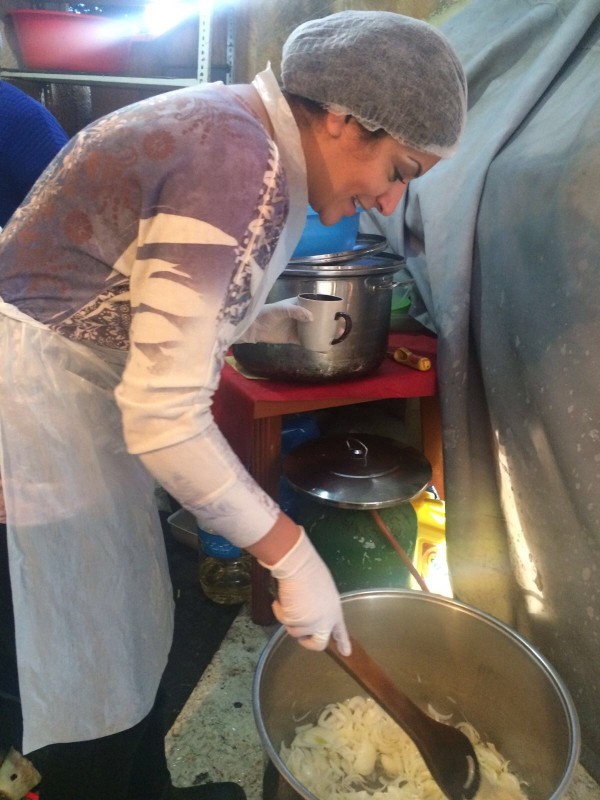 Something that made an impact on Nardeen was visiting a refugee camp in Bekaa Valley. The informal, overcrowded camp where families share tents with other refugee families highlighted the poverty that refugees are living in. While they managed to escape a war zone, many still live in inadequate housing and lack enough food or heat during the winter.
"When we went there one of the ladies invited us to her tent. This lady was so thankful. She invited us and we sat on the mattresses around the tent and she was trying to make it as presentable as possible. Cardboard covered with a little thin cloth just to make it feel like home. So we were sitting around and chatting with them about their life and how they left Syria, some of the way was on foot."
With nothing more than a stuffed toy to gift to the children and open ears to listen, Nardeen felt she did not have much to give, especially after hearing personal experiences from the mouths of those who are still living with traumatic memories.
"At the beginning, I felt the need is huge and I felt so humbled," Nardeen expressed. "Those people really came out of war and distress and lost loved ones, so I don't really have much to offer. But what I saw from them, the appreciation, the gratitude, the openness to share about their life, made me feel like it's worth it. It's worth it to come all the way to be here and just listen. Even to give words of encouragement, anything helps them. They were really happy about us being there and travelling all the way just to come and share with them and listen to them."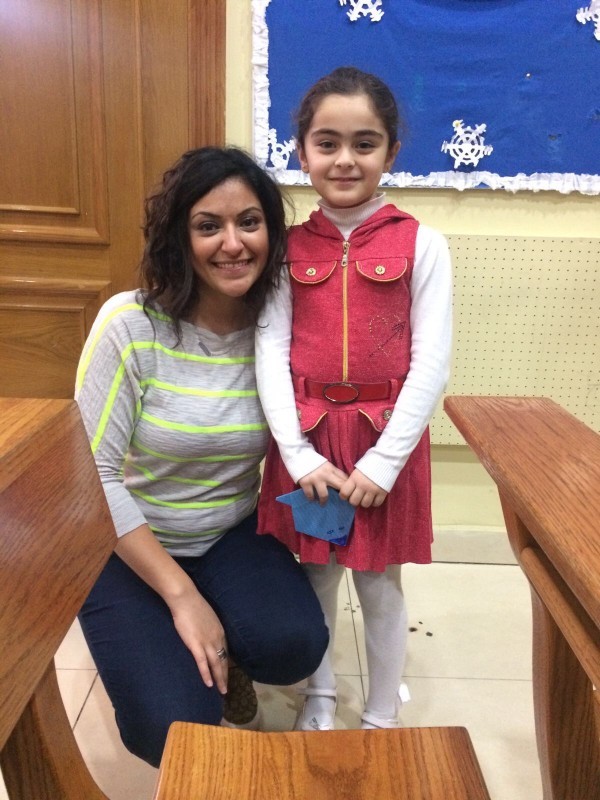 Despite a lack of relatable life experience, the LIFE Team's presence was invaluable to the refugees they served and spent time with.
"The families are really broken so we felt so small to be doing anything [for them]," Nardeen said. "I felt like the Lord used us even if we have nothing. Even if we feel that we cannot give anything, He showed us how just giving attention and listening to their stories and praying for them – it [means] the world to them."
Now that she has been home for a while, she is already seeing how the people she encountered in Lebanon have influenced the way she lives her everyday life, including at work.
"I interpret a lot for refugees when they come for screenings, depression screenings and all that. I started to look at it differently. I started to just imagine the world that they were in and the situations they were in and just pray for them, even if not with them, but just pray for them."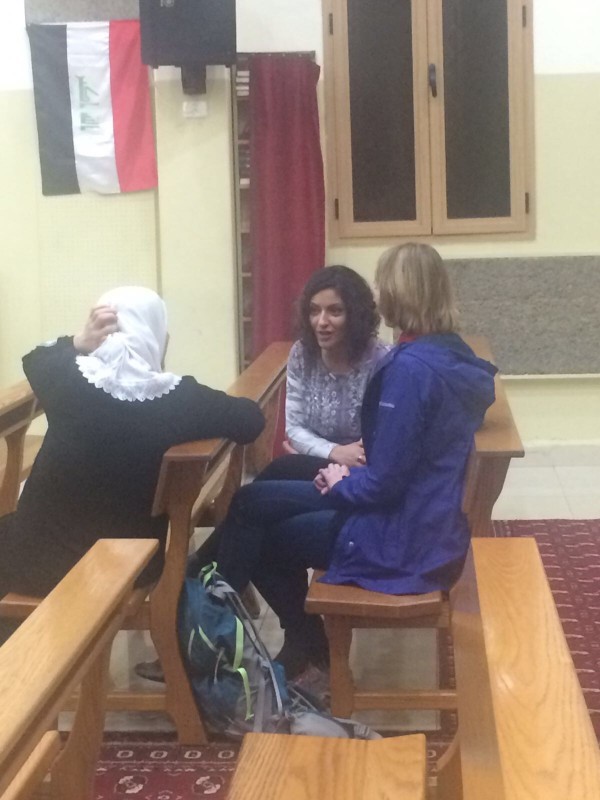 With Lebanon being her first mission trip, Nardeen feels the experience opened her eyes to the reality of what refugees go through and how even something as little as showing care and concern can be a blessing.
"People [you help] will appreciate it so much. It's going to change a lot of perspectives, a lot of priorities in your life. It will be so different hearing from somebody [who is living the life you see on the news]. It's so different to be there and visit their houses and sit there and listen to their stories. You feel so involved and your heart will be there. It's a really life-changing experience."
JOIN US IN LEBANON FOR OUR NEXT LIFE TEAM PROJECT.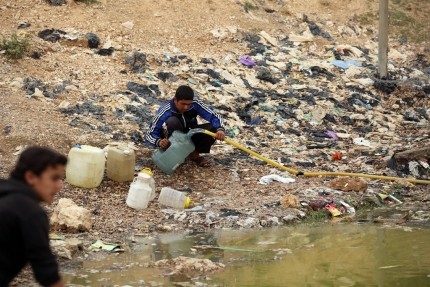 30 October 2017 – The Islamic State of Iraq and the Levant (ISIL or D'aesh) may be largely pushed out of Syria's Raqqa governorate, but after years of oppression and nearly a year of intense fighting – marked recently by heavy airstrikes – humanitarian needs will continue to be large for some time, the top United Nations relief official told the Security Council Monday.
"Since the beginning of the anti-ISIL offensive in November last year, airstrikes and clashes have resulted in more than 436,000 people being displaced from Raqqa to 60 different locations, including in neighbouring governorates," UN Emergency Relief Coordinator said briefing the Council via videoconference from Amman, Jordan.
"One conclusion is obvious: the impact of the Syria crisis continues to be profound."
Expressing deep worry about the impact of fighting and airstrikes on civilians and civilian infrastructure in Raqqa governorate, with scores of civilians reportedly killed in recent months, he said he is also concerned for the safety and protection of civilians at risk from unexploded ordinance throughout Raqqa city, particularly those trying to return to their homes.
"Despite the directive issued by local authorities for civilians not to return to the city until it is deemed safe, the UN anticipates that people will go back to try to check on and protect their homes and their personal assets," Mr. Lowcock explained.
Further to the east, in Deir Ez-Zor governorate, heavy fighting and airstrikes continue to result in civilian deaths and injuries. Large-scale displacement also continues, with the UN International Organization for Migration (IOM) reporting some 350,000 people displaced since August, including more than 250,000 people in October alone.
As for eastern Ghouta, Mr. Lowcock daily shelling has continued to be reported in recent weeks. Humanitarian access to eastern Ghouta – one of the four de-escalated areas where nearly 95 per cent of Syria's besieged population lives – has been severely curtailed for months. Since the start of the year 110,000 people have received food assistance, out of an estimated population of nearly 400,000.
"Today the UN and partners delivered food, nutrition and health assistance to 40,000 people, he told the Council, warning however that an alarming number of child malnutrition cases have been recorded there, and more than 400 people with health problems require medical evacuation.
Overall, he said that more than 13 million people inside Syria still need humanitarian assistance. 6.3 million of them are exceptionally vulnerable and in acute need because of displacement, hostilities, and limited access to basic goods and services. "Conflict and violations of international humanitarian law continue to be the principal drivers of humanitarian need, with civilians in many parts of the country enduring massive suffering."
"Against this background, the UN and our partners continue to implement in Syria one of the largest humanitarian operations in the world," said Mr. Lowcock who is the UN Under-Secretary-General for Coordination of Humanitarian Affairs, noting, by example that in September, the World Food Programme (WFP) provided food assistance to more than 3.3 million people, the UN Children's Fund (UNICEF) reached over 1.5 million people, and the World health Organization (WHO) reached over 800,000 people.
He also went on to point out that cross-border assistance provided for in last year's Council resolution 2165 "has been a lifeline," allowing the UN to reach millions of people in need in northern and southern parts of Syria. On average, aid was delivered to 2.76 million people a month through cross-border operations between January and August of this year.
"Our experience with cross-line operations from within Syria […] leads us to believe that it would be impossible to reach those people in a sustained manner from within Syria. I therefore regard a renewal of resolution 2165 as essential. Millions of people depend on the activities it mandates," he underscored.
IF YOU WOULD LIKE TO KNOW HOW GAIN IS INVOLVED, CLICK HERE.
(Source)
(Image Source: UNICEF/UN066040/Souleiman)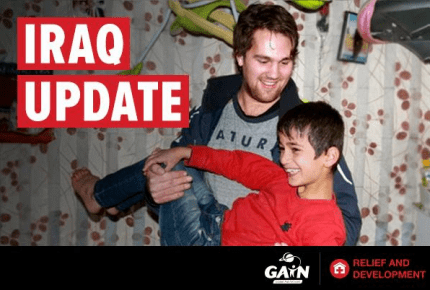 Saleem is your average ten-year-old boy who likes playing soccer and running around. But three years ago, while his family was fleeing from Mosul, IS fighters caught up to them. They took his father aside and gave him an ultimatum: either convert to Islam immediately or come with them. In order to protect his family, Saleem's father chose to leave his loved ones. No one has seen or heard from him since.
"They took his father aside and gave him an ultimatum: either convert to Islam immediately or come with them."
On Tuesday, December 13, GAiN's DART (Disaster Assistance and Response Team) members arrived on location near Erbil, Iraqi Kurdistan to distribute emergency relief to IDPs (Internally Displaced People) and refugees, people like Saleem and his family, from Mosul and Baghdad.

The team is distributing more than 1000 mattresses, blankets and pillows to people entering the Debaga refugee camp with nothing more than the clothes on their backs. They are also preparing to distribute food packages in Al-Karma and Al-Amal within the next few days.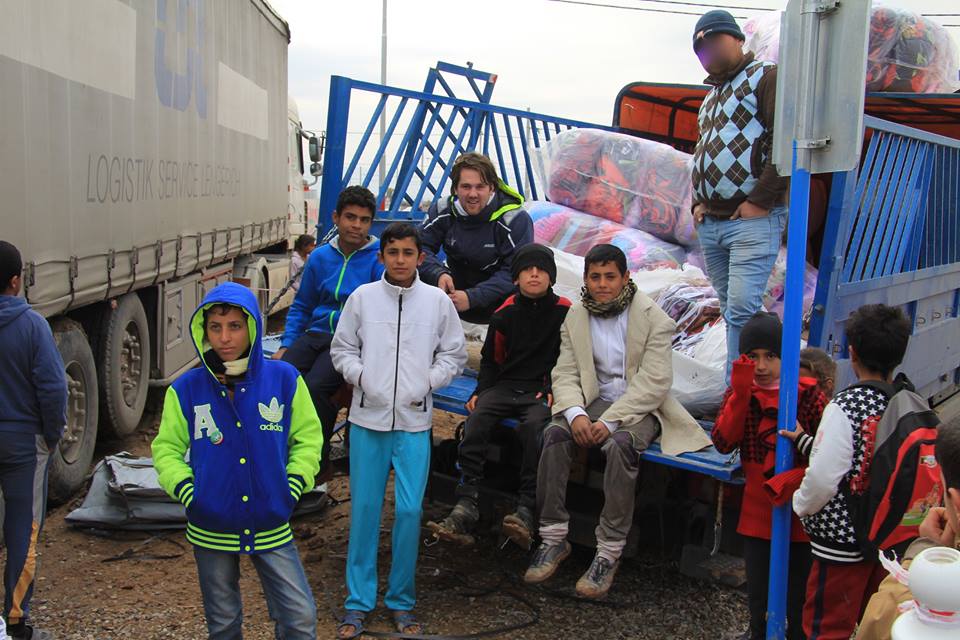 Since October 17, 90,100 people have been displaced from Mosul and have fled to Erbil and Ankawa with the need for food, water and non-food essentials, such as warm clothes and heaters to get through the cold Iraqi winter.
Team members attended a women's meeting with a local partner at an "improvised container church" outside of Erbil. About 60 women gathered to hear from a psychologist, who has worked with refugees for years, on dealing with suffering and pain. The psychologist not only spoke on scientific matters, but also shared her personal story about finding hope in Jesus. There, team members helped distribute Christmas gifts in the form of cookies, bringing a bit of light and normalcy to a dark situation.
As of now, the end is nowhere in sight. There is still a great need for daily essentials (food, water, shelter and clothing) and the urgency of the needs has only intensified, as winter has arrived.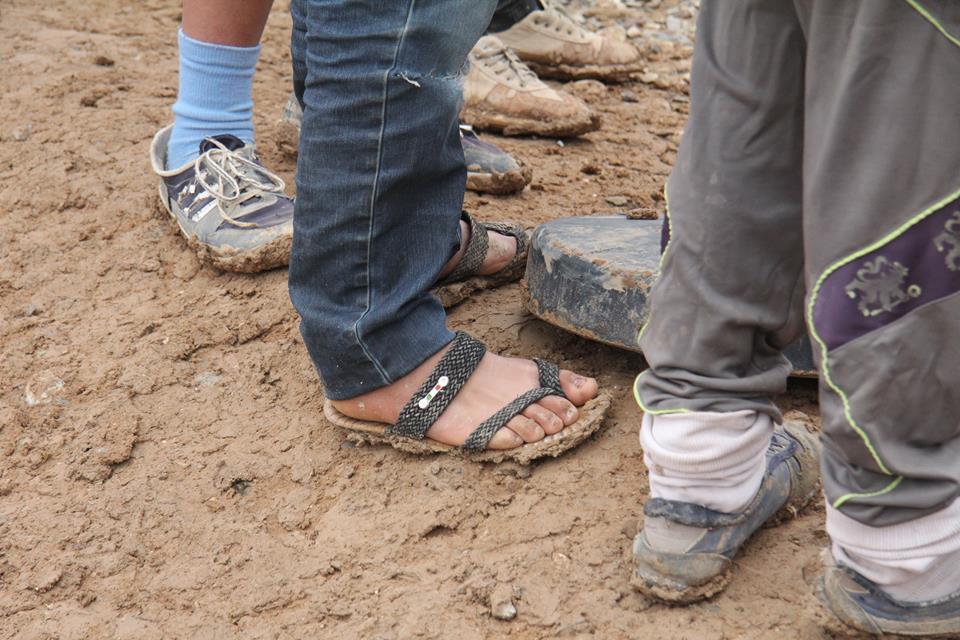 While Canadians experience cold winters, those in Iraq without shelter and proper clothing are at great risk. Providing fuel for heating, blankets and heaters are a high priority, as more than half of people displaced are children under 18-years-old.
Rick from the Netherlands was in Erbil in 2014 to distribute relief in refugee camps. Upon his return, he made a hopeful observation:

"Two years ago the whole city was crowded with improvised refugee camps. In almost every school building, park or church you could find a refugee camp. By now, a lot of these camps are gone. People have found shelter in houses or the refugee camps are transformed to long-term facilities. Tents are replaced by containers and in the unfinished buildings there are apartments built in. It still doesn't meet my conditions for having a decent life, but it is intriguing to see how people are able to fall down four times, but stand up five. Even coming from the most miserable circumstances people manage to make the best out of their lives."
"…it is intriguing to see how people are able to fall down four times, but stand up five. Even coming from the most miserable circumstances people manage to make the best out of their lives."
We still have matching funds available up to the end of the year, which doubles every gift given, and our plan is to continue working with our local partner into the New Year.

IF YOU WANT TO GET INVOLVED WITH OUR RELIEF WORK IN IRAQ, CLICK HERE.
*Name changed for safety reasons.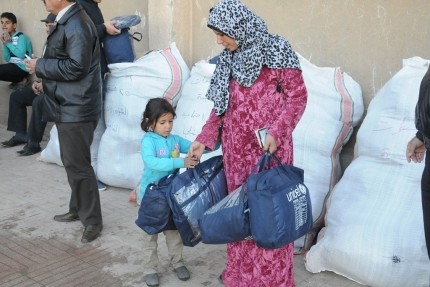 2 February 2016 – With four million Syrian and host community children in need of education and no let-up in sight in the fighting tearing the country apart, the United Nations and its partners are seeking $1.4 billion at a major conference in London on Thursday to save the current youth generation.
"The scale of the crisis for children is growing all the time, which is why there are now such fears that Syria is losing a whole generation of its youth," said UN Children's Fund (UNICEF) Regional Director for the Middle East and North Africa, Peter Salama, whose agency is coordinating the 'No Lost Generation Initiative'.
"As a result of all the work being done by partners and donors, education and protection for children are now being prioritized. But what we must see in London is the step-change necessary to bring all children back to learning; to protect those who are at risk of dropping out; expand safe and inclusive learning environments; recruit and train more teachers; improve the quality of education, and support the development of technical, vocational and life skills opportunities for youth."
The London conference is being co-hosted by Britain, Germany, Kuwait and Norway, and leaders from more than 30 countries are expected to attend, with the aim of raising new funding to meet the immediate and longer-term needs of those affected by the crisis.
Nearly five years into the Syrian war, some four million Syrian and host community children and youth aged 5-17 years are in need of education assistance, including 2.1 million out-of-school children inside Syria and 700,000 Syrian children in Turkey, Lebanon, Jordan, Iraq and Egypt.
Last year, the combined efforts of Governments and international partners helped more than one million children and youth inside Syria benefit from formal or non-formal learning opportunities. But with no political solution in sight to one of the most brutal conflicts the world has seen in decades, the number of children missing out on an education continues to climb.
Governments at the London meeting will also be urged to put more pressure on parties to the Syria conflict and those who support them to end attacks on schools and other places of learning, in accordance with international humanitarian law.
According to UNICEF, the killing, abduction and arrest of students and teachers has become commonplace, as have arbitrary attacks on schools. About one in four schools cannot be used because they have been damaged, destroyed or are being used as shelters for the internally displaced or for military purposes.
The No Lost Generation Initiative was set up in 2013. By the end of 2015 1.2 million children and youth inside Syria benefitted from improved formal and non-formal learning opportunities and more than 650,788 in Egypt, Iraq, Jordan, Lebanon and Turkey received school supplies or support through cash grants.
GAIN IS COMMITTED TO HELPING 1,000 FAMILIES WITHIN SYRIA. OUR HEARTS BREAK WITH THE DAILY REALITY MANY OF THESE CHILDREN AND THEIR FAMILIES ARE EXPERIENCING.
IF YOU WOULD LIKE TO READ MORE ABOUT OUR WORK, CLICK HERE.