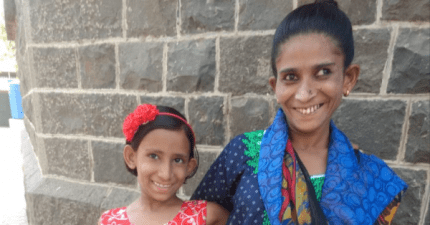 Many questions were swirling around in the minds of Nisha* and her daughter Pallavi*. They were so accustomed to life in Mumbai. Nisha and her little one were safe and comfortable in Ashralaya, a home for women and children from destitute backgrounds in Mumbai. Unfortunately, the home did not have the facility for long-term residency for both mother and child, so the loving sisters (the nuns) who were in charge of this home approached Mukti Mission for help.
Very soon, Nisha and eight year-old Pallavi became part of the Mukti family. Nisha was born with a speech impediment and has been mute since her birth. In their society, this disability may have been considered a curse on the family, forcing her to leave home and fend for herself. To earn a living, she worked in one of the housing societies in the vicinity, doing daily household chores.
Through an acquaintance, she met her husband and had a beautiful baby girl. But it wasn't long before Nisha was deserted by her husband, leaving her on the streets with her child.
Nisha had to eventually discontinue her employment as she had a baby to care for and nobody would accept Nisha and her baby in their home. Unfortunately, they had no choice but to restore to begging in order to feed themselves. Commuters and those passing by in the city felt sorry for them, but in Mumbai, a city that never sleeps, people are busy and overwhelmed with the worries of the day, ignoring Nirmala and her baby.
One day, the police felt that there was no option but to move them to Ashralaya, a halfway home for women and children from impoverished backgrounds.
Now Nisha's permanent home is at Mukti Mission. Whenever Nisha is found around the campus, she loves running to people with her warm smile and bright eyes. She always has a message to share about her life. It's difficult to understand Nisha sometimes, but when Pallavi is with her, Pallavi is smart enough to know what her mother wants to say and without mincing words. Pallavi, with her impeccable English, will translate from her mother's sign language.
Mukti Mission has a unique ministry of accepting both mother and child together as part of the empowerment program. Praise God for Mukti Mission, who opens its doors for those in need, so that they can find hope and a bright future.

*Names changed for privacy and security
WOULD YOU LIKE TO LEARN MORE ABOUT MUKTI MISSION AND HOW YOU CAN SUPPORT WOMEN AND CHILDREN FROM IMPOVERISHED BACKGROUNDS IN INDIA?