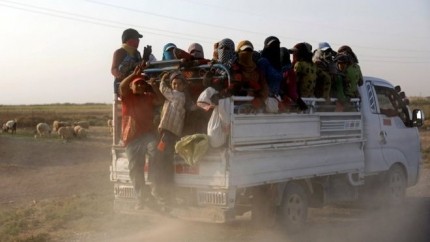 September has been the deadliest month in Syria's civil war so far this year, a monitoring group has said.
The UK-based Syrian Observatory for Human Rights (SOHR) said more than 3,300 people had died in September, including 995 civilians.
Of those civilian deaths, it said about 70% were caused by Russian, Syrian government, or coalition air strikes.
The group bases its casualty reports on information provided by a network of activists in Syria.
It counted 207 children among the civilian dead, along with some 790 pro-government fighters, more than 700 from so-called Islamic State (IS) and al-Qaeda affiliates, and some 550 rebels.
The SOHR says it is a non-political and independent monitoring group, though it does not publish its methodology or verification process.
Many of the deaths have occurred during the fighting between the country's multiple factions and IS. But air strikes in Syria have continued as the jihadist group has lost most of its territory in the country.
An alliance of Kurdish and Arab fighters has mostly reclaimed the northern city of Raqqa, the group's former de facto capital.
Its last remaining stronghold in Syria is the province surrounding the eastern city of Deir al-Zour.
Russian air forces are supporting the Syrian military in their attempts to fully retake the city.

A long-running siege of Deir al-Zour was broken by Syrian military forces in early September. In the aftermath, the SOHR said dozens of civilians had been killed in air strikes outside the city.
The Syrian Defence Forces – fighters which oppose Syrian President Bashar al-Assad but are also fighting IS – have also claimed to be hit by Russian and Syrian air strikes, a charge which Russia denies.
And last week, Human Rights Watch said a pair of air strikes by the US-led coalition in March had killed at least 84 civilians.
IF YOU WOULD LIKE TO KNOW HOW GAIN IS INVOLVED, CLICK HERE.
(Source)
(Image Source: Reuters)