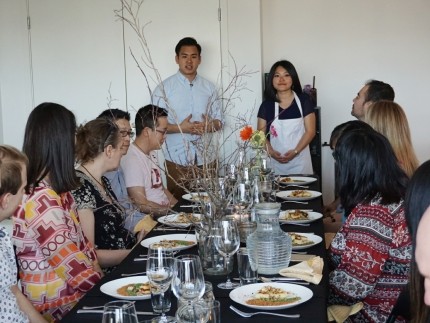 Food nourishes, satiates and brings people together. It did all that and more on April 9 and 10, when hobby chefs Tim Lee and Elaine Cheng hosted a dinner fundraiser in Vancouver, B.C., as part of DinnerPartyYVR and Social Bites, which had guests leaving with more than just full stomachs.
Lee, the Associate Director of GAiN's Water for Life Initiative (WFLI), and Cheng, founder of Food Connections, partnered together to host "Water: A Journey of Restoration, Dignity & Life," which spanned over two nights and sold out.
A story telling the harsh reality of the water crisis was weaved into each course, creating an experience for each guest and raising awareness about the ever-present issue. This visual and sensory way of raising awareness really emphasized the reality of a lack of clean water in some developing countries.
"People will remember this night, which is great because then it's not just an event that they go to, but it's an experience," shares Lee.
Lee and Cheng deliberately put together a menu with an opposite flavour progression than usual menus. They started out with more pungent and strong flavours and ended with cleaner and simpler flavours near the end. "This is just to emulate going from thirstiness to thirst quenching," explains Lee.
The menu was as follows:

1st course: The Water Crisis
Ricotta Gnocchi with crispy pangritata, chives and spiced hazelnut dust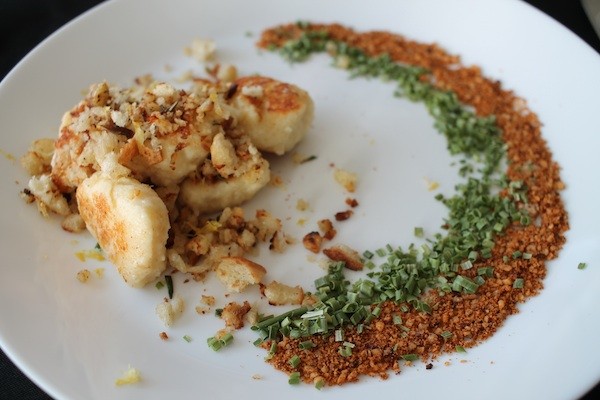 Over 650 million people in the world do not have access to clean water and over 1 billion people do not have proper sanitation facilities. The first dish was served with these statistics and depicted the absence of water for many people in developing countries.

"[The first course] looks very dry, like a pile of dirt or rocks. The flavour is fairly robust; it's meant to be a little dry, so people need to have a drink of water to emulate the thirstiness," explains Lee. "The gnocchi, they look like little jerry cans; they look dirty."
2nd course: The Water Tragedy
Seafood Trio, snapper, nori, bonito with kombu dashi broth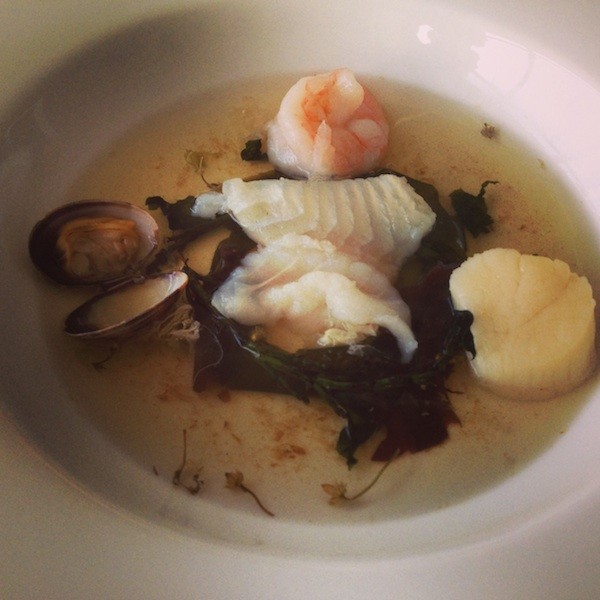 The second course highlighted the sad reality that many people in developing countries walk long distances and return home with dirty, contaminated water. The kombu broth was poured tableside so that guests could witness the kelp wreath rise to the top, representing polluted water.

"It's a seafood trio and it's presented with camomile flower underneath. It really talks about the tragedy and the flower and seafood represents the nuggets of beauty that is floating out in the midst of tragedy. [It symbolizes that] the people are resilient. They are vibrant and make it work, but they are still struggling at the same time."
3rd course: The Water Opportunity
Pork Two ways, vegetable terrine, lavender, potato mousseline sauce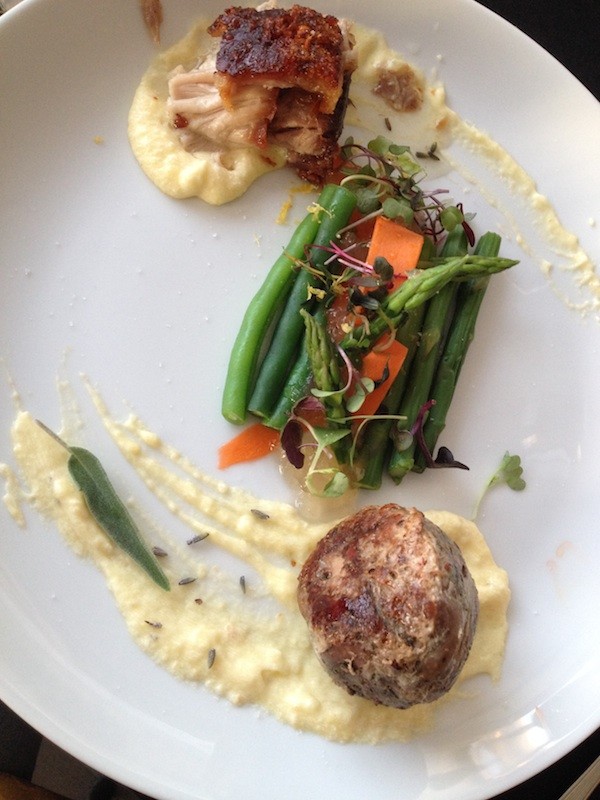 The third dish represented the multiple benefits of clean, accessible water. The two ways shows that water not only solves a multitude of health issues, it also makes an economic difference, as well as impacts gender and security issues in these rural villages.
"There's a garden salad in the middle, made of asparagus and green beans and gelee in the middle. It's cold and simulates a river. There's some herbs on top to give the imagery of spring, where there's opportunity budding out. Water comes with opportunities. The sauce is a potato mousseline sauce. [We used] potatoes because potatoes are from the ground and it represents that water is from the ground up." The lavender in the mousseline represents beauty in the spring.
4th course: Sweet Water
Poached Pear, strawberry riesling gel, elderflower foam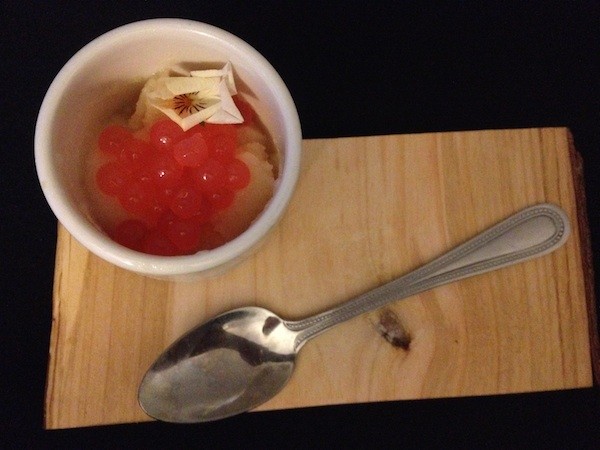 "The whole flavour of the sorbet is supposed to be a refreshing, light, delicate way to finish the meal."

Referring to water as sweet may seem weird but it is an acceptable adjective for those who are used to consuming muddy, contaminated water. Pure and clean water is not only refreshing, but sweet in so many ways.
The first night was opened to the public and brought out a variety of people. Some guests were looking to meet fellow foodies, some were mostly interested in the menu and what was being served, and others came out because they were passionate about the water issue. The second night's attendees were friends of Lee and Cheng so the atmosphere was more relaxed.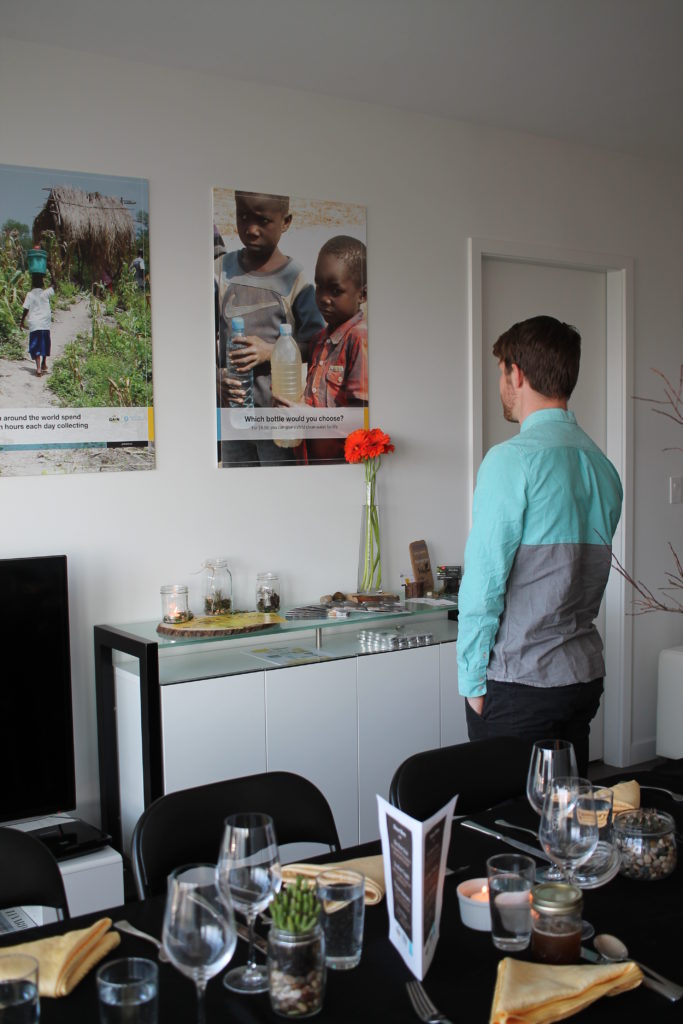 Overall the dinner was a success and Lee is looking for future opportunities to host another fundraiser like this one.
"I tend to think food has a way of breaking down barriers and we can actually talk about life and issues in general. This kind of combines the two things that are quite powerful: water and food together."
Note: To learn more about the inspiration behind why Cheng, founder of Food Connections, partnered with GAiN and did this dinner, click here.