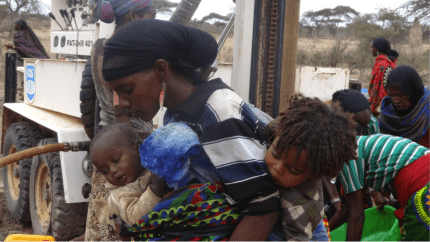 Hawa Guyo of Melbena, Ethiopia is a mother who always carried two children (one in the front and one on her back) as she walked walk eight hours a day to fetch water.
Upon arrival…the water was extremely dirty. People and animals used it at the same time. The donkeys and other animals urinated in the same pond that Hawa was using for drinking water. She explained that both her and her children were getting sick from the water-borne diseases. To add to this, since Hawa did not have money to get treated, they suffered a lot for years.
Today, Hawa shared that their life is totally different for three significant reasons.
Firstly, after the water well was provided in her village, they only walk five minutes to get water.
Secondly, Hawa gets clean water from the well and they're not suffering from water-borne diseases anymore.
Lastly, the responsibility of fetching water used to fall on the little girls and women and because of that the girls were not able to go to school. Now, since they no longer walk eight hours to fetch water, they have time to go to school. Hawa said that she is now able to send her children to school.
Hawa urged that the drilling support for the Borana people should continue so that many people are protected from sickness and the little girls can get an education.
"Thank you for what has been done for me and my community," shares Hawa.
WOULD YOU LIKE TO HELP OTHERS LIKE HAWA?