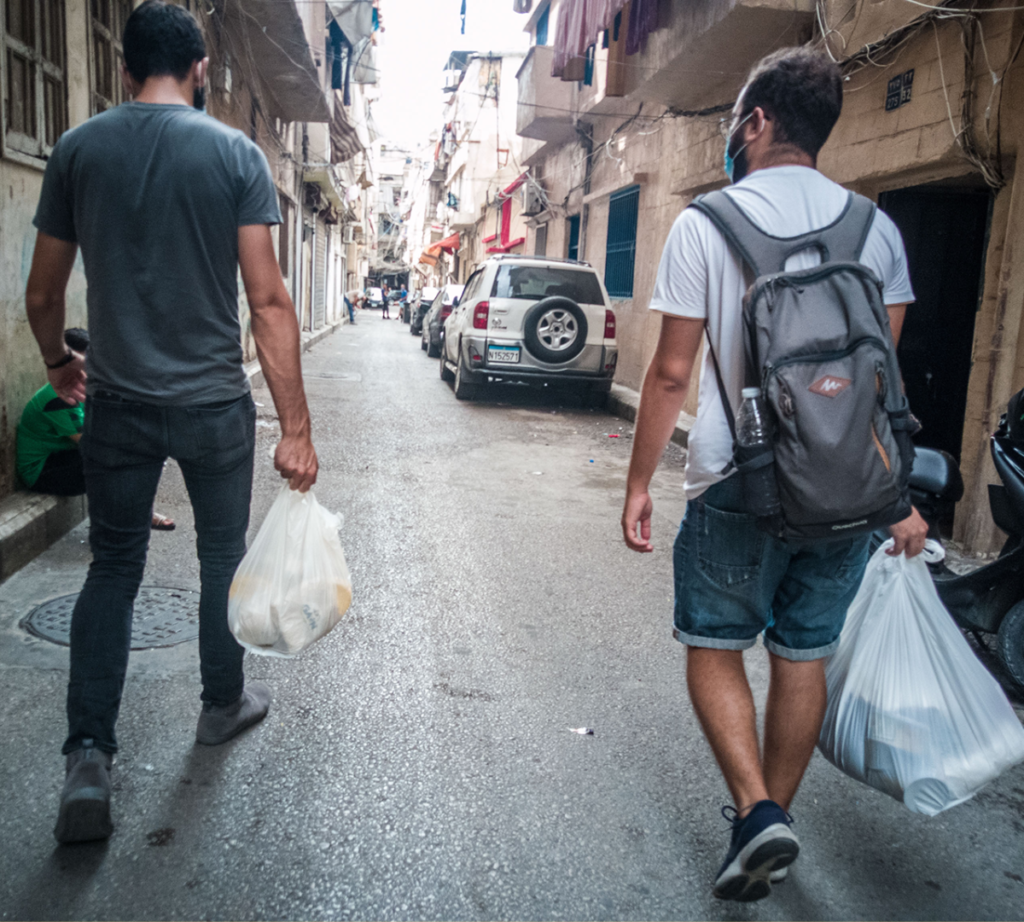 After the Beirut explosion on August 4th, our local partners in Lebanon formed a team to help coordinate cleanup and repairs efforts. Six staff, 11 interns and disciples, and several volunteers joined the effort to visit homes, churches, schools and hospitals to help with cleaning and clearing the glass and rubble caused by the explosion. The team was able to join in the efforts to clean 120 homes, two schools, four churches and one hospital.
They did a field survey of homes affected by the explosion and assessed ways they could help the affected families. The needs varied from urgent repairs to walls, doors, windows, glass replacement, replacement of appliances to personal needs like food, medicine, elderly and baby care products. Teams were divided into smaller groups that went back to these homes to bless families by helping provide some of their needs.
They met Anna through a referral by a family that we were helping. Anna is a single mother who raised three boys on her own after her husband left them. She used to work at a school selling snacks and cooking for elderly people around her neighborhood. After the Lebanese Revolution started in October and the COVID-19 lockdown happened in March, she lost her job at the school due to school closures.
As if that wasn't enough, she also lost her job cooking for the elderly after their families requested she stop to prevent possible spread of the virus. Anna was left without a job and has since struggled to afford food for herself, leaving her going to bed most nights on an empty stomach.
Then the explosion happened and Anna was left devastated and lost hope completely. When our team showed up on her doorstep with food packages, she was overjoyed. She hadn't received this kind of help or generosity from anyone.
After the team fixed things around her house, they shared about who they were and why they do what they do. "We told her our aim is to show God's love and tell everyone about Him," explained our partner. "She was very open since she was from a Christian background."
They spent time praying for her and when it was done she cried, "Your prayer is so beautiful from the heart. I don't deserve it. I'm so far away from God and I'm not a good person. I don't talk to Him or anything. But sometimes I look up and speak to Him but I don't feel He listens to me."
"God is close to you and He loves you," they reassured her. "He has been taking care of you. Whatever you say, He listens to you. Keep talking and praying to Him."
Anna was so touched that she invited the team to come back another time. Once they left, she sent them a voice note saying, "I want to thank you all from the bottom of my heart. Thank you for thinking about us and helping us. I'm so happy that everything in the food pack was what I really needed."
The team has done 450 connections so far with the number expected to reach our 500 families target in the coming week. By early September, have visited 320 homes of the 420, blessing the people and providing repairs, food packs, medicine and the message of hope in a loving God who truly loves and cares for them. Of those they visited and blessed, 13 people made the decision to commit their lives to Jesus.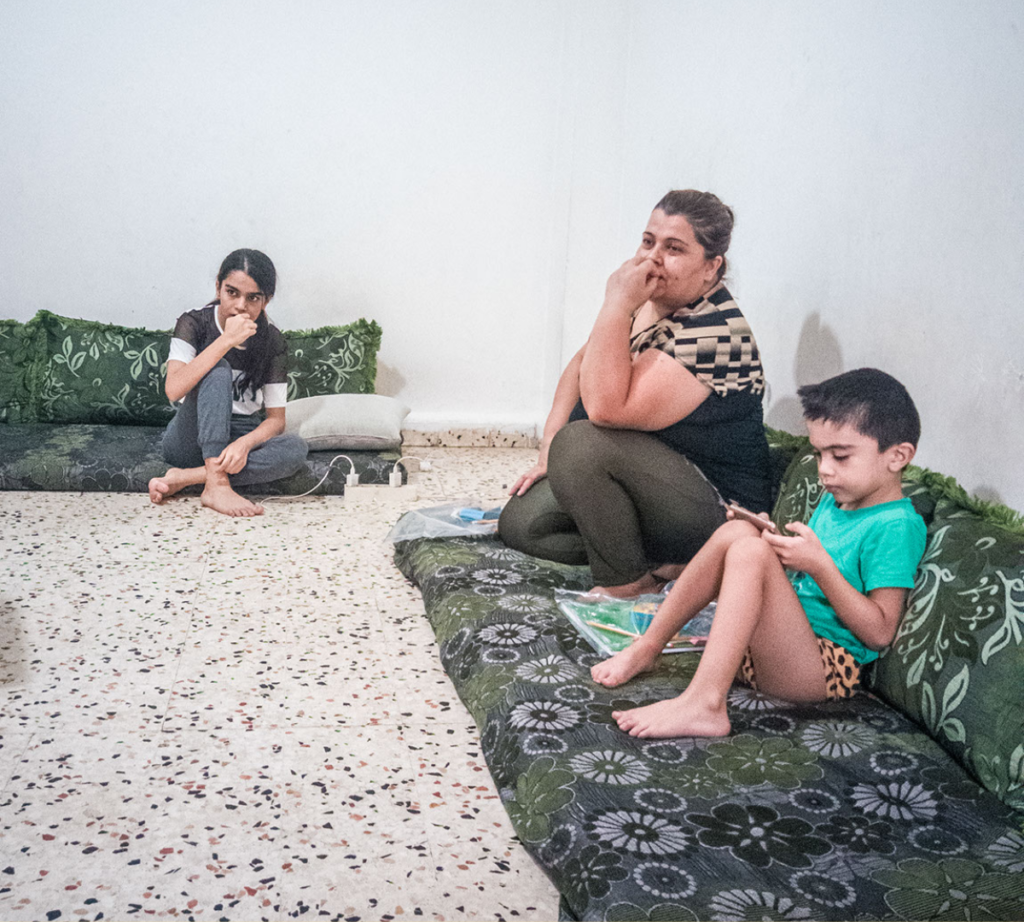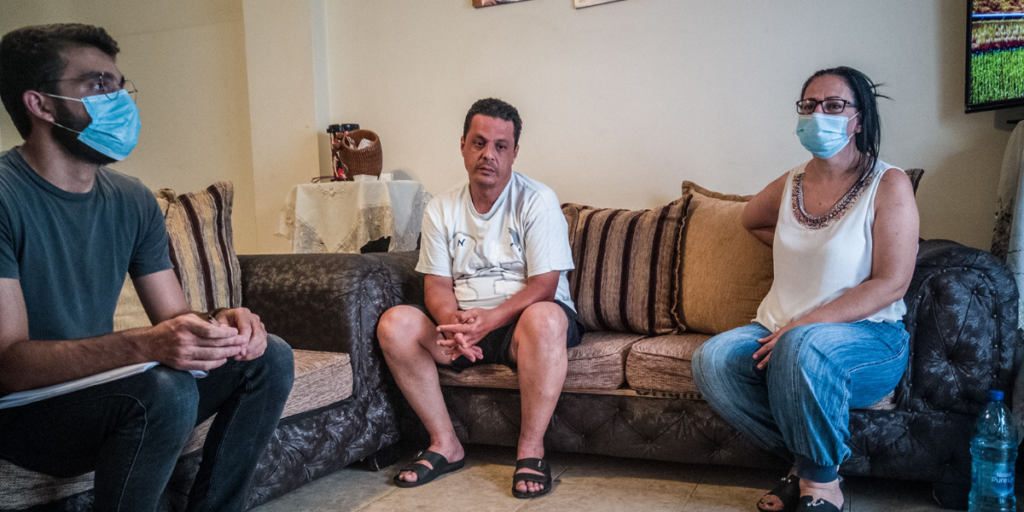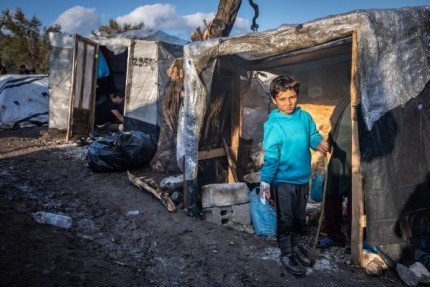 Story by Angelika S.
There are places you would never choose to call your home. There are lives you would never choose to live. There are destinies you would never choose to experience.
All of these seem to be combined in a place called Camp Moria: 17,000 to 20,000 people crammed together in a place designed for not more than 3000, the smell of decay hanging in the air, overflowing garbage bins everywhere, children playing in the dirt, people queueing up for hours for getting food, taking a bath or getting medical help.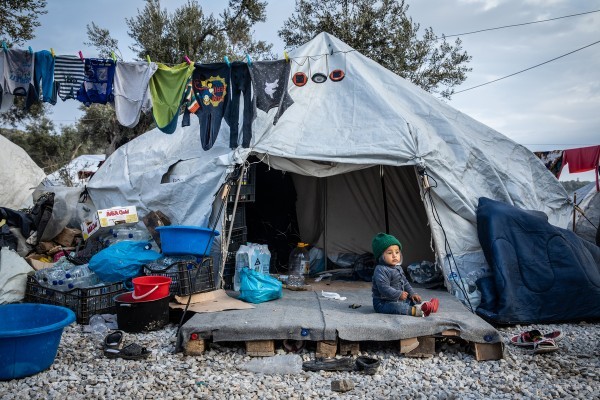 When you take a walk through the camp you can look into thousands of faces, faces that are marked by the traumatic experiences they have survived. The list of these experiences is long: war, armed conflict, violence, civil unrest, starvation, persecution, human loss, loss of belongings and much more. The stories behind these faces may be similar, and yet they are so unique. Every single person in the camp has his or her own story and this story had a personal impact on his or her life. There may be despair, hopelessness, depression, or even anger or aggression.
And this is what the camp reflects at first glance: an atmosphere of darkness, lifelessness, and low aspirations. People's lives have been torn apart, left with only the debris of their dreams they once wished to live, like a forest burned down by a devastating fire.
Yet, if you have a closer look, you may also see something else. In the midst of all the rubble there are beautiful flowers making their way through the ashes.
Someone has made a tiny, beautiful garden around his hut, paving a path of white stones from the gate to the entrance of his hut.
In the same neighbourhood someone has created an idyllic archway to his hut decorated with plants and flowers.
A small girl dressed like a princess gives you a bright smile when you pass by and wave at her.
A mother is sweeping in front of her home, which is tiny and poor but neat and clean.
A family of six invites you to their home that consists of one single room. They have prepared a "table" with tea, biscuits, and their national sweets. An atmosphere of love and generosity welcomes you. They are interested in your life, your family and your background. 'You are always welcome to visit us', they tell you as you leave them to continue your walk through the camp.
In the midst of the darkness there is light, in the midst of the rubble of broken dreams there is hope, in the midst of the ashes of torn lives there is beauty. But we have to open our eyes to see this. It may not be visible at first glance or on the surface—it can only be seen when you take a deeper look, when you look beyond the obvious.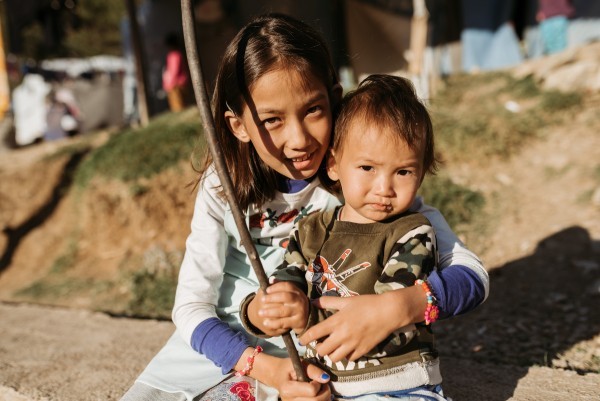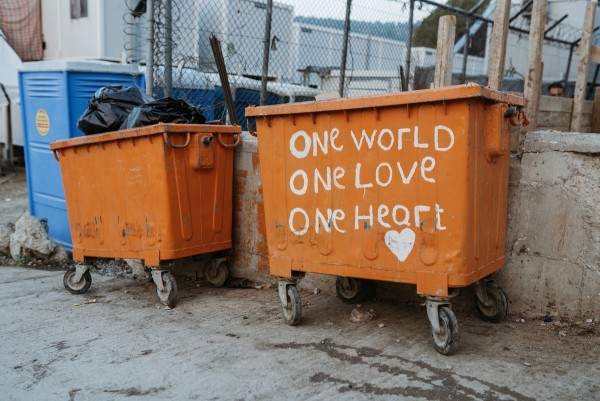 This is also true for our own lives. There may be hardships, there may be pain or loss; still it is not our surroundings that determine our lives, but the way we deal with them. We can make the ashes of our lives blossom and bring forth a beauty that cannot be compared with anything else.
Together, we can help provide communities like Moria with food and other necessities during this time, as well as help prevent and slow the spread of COVID.
WILL YOU PARTNER WITH US?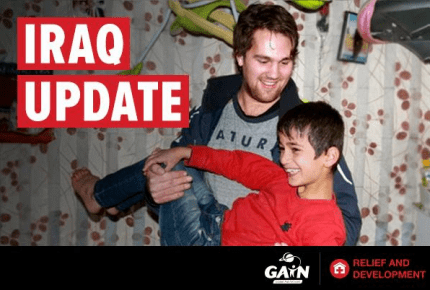 Saleem is your average ten-year-old boy who likes playing soccer and running around. But three years ago, while his family was fleeing from Mosul, IS fighters caught up to them. They took his father aside and gave him an ultimatum: either convert to Islam immediately or come with them. In order to protect his family, Saleem's father chose to leave his loved ones. No one has seen or heard from him since.
"They took his father aside and gave him an ultimatum: either convert to Islam immediately or come with them."
On Tuesday, December 13, GAiN's DART (Disaster Assistance and Response Team) members arrived on location near Erbil, Iraqi Kurdistan to distribute emergency relief to IDPs (Internally Displaced People) and refugees, people like Saleem and his family, from Mosul and Baghdad.

The team is distributing more than 1000 mattresses, blankets and pillows to people entering the Debaga refugee camp with nothing more than the clothes on their backs. They are also preparing to distribute food packages in Al-Karma and Al-Amal within the next few days.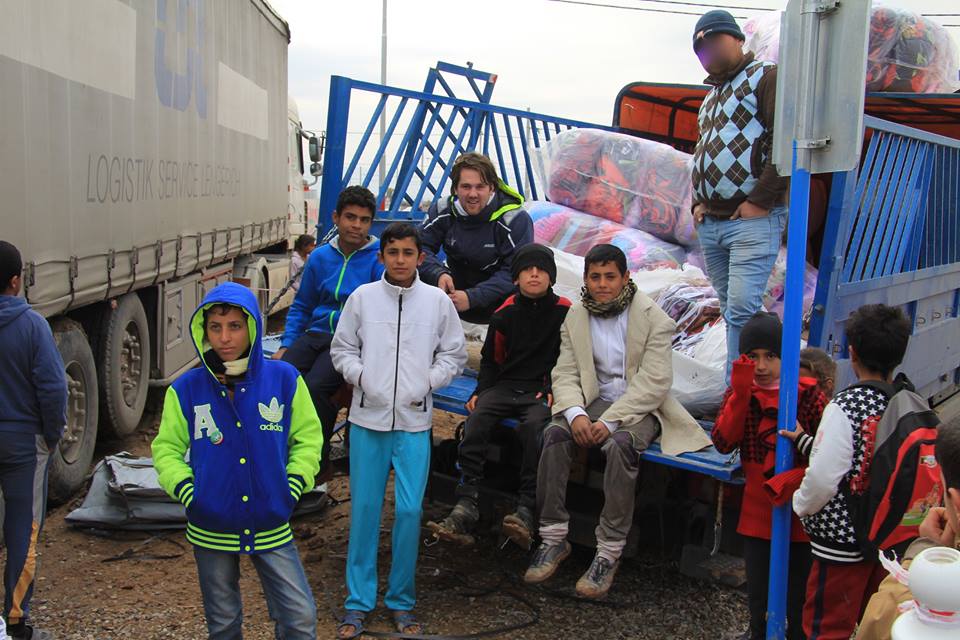 Since October 17, 90,100 people have been displaced from Mosul and have fled to Erbil and Ankawa with the need for food, water and non-food essentials, such as warm clothes and heaters to get through the cold Iraqi winter.
Team members attended a women's meeting with a local partner at an "improvised container church" outside of Erbil. About 60 women gathered to hear from a psychologist, who has worked with refugees for years, on dealing with suffering and pain. The psychologist not only spoke on scientific matters, but also shared her personal story about finding hope in Jesus. There, team members helped distribute Christmas gifts in the form of cookies, bringing a bit of light and normalcy to a dark situation.
As of now, the end is nowhere in sight. There is still a great need for daily essentials (food, water, shelter and clothing) and the urgency of the needs has only intensified, as winter has arrived.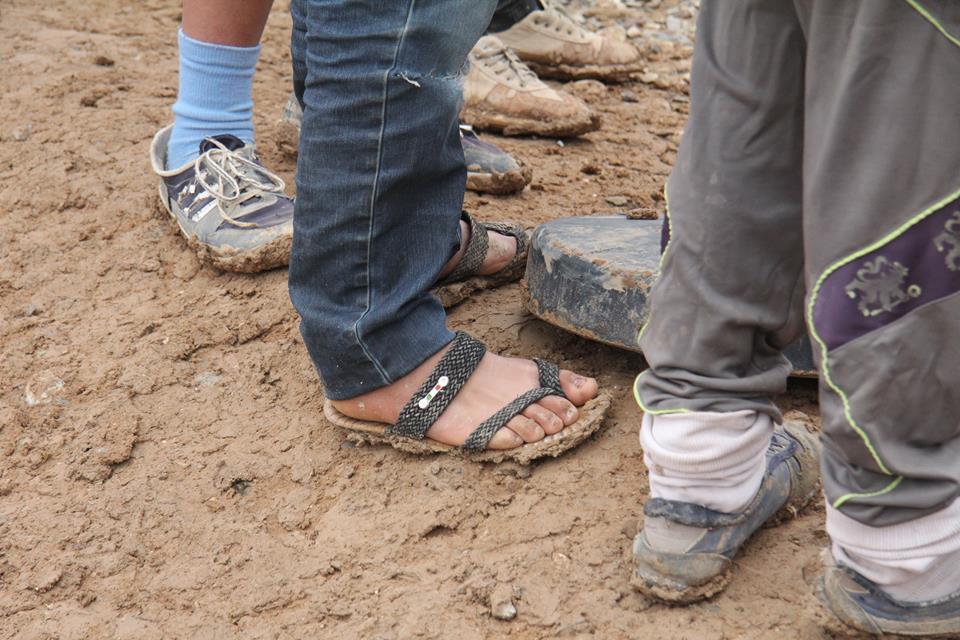 While Canadians experience cold winters, those in Iraq without shelter and proper clothing are at great risk. Providing fuel for heating, blankets and heaters are a high priority, as more than half of people displaced are children under 18-years-old.
Rick from the Netherlands was in Erbil in 2014 to distribute relief in refugee camps. Upon his return, he made a hopeful observation:

"Two years ago the whole city was crowded with improvised refugee camps. In almost every school building, park or church you could find a refugee camp. By now, a lot of these camps are gone. People have found shelter in houses or the refugee camps are transformed to long-term facilities. Tents are replaced by containers and in the unfinished buildings there are apartments built in. It still doesn't meet my conditions for having a decent life, but it is intriguing to see how people are able to fall down four times, but stand up five. Even coming from the most miserable circumstances people manage to make the best out of their lives."
"…it is intriguing to see how people are able to fall down four times, but stand up five. Even coming from the most miserable circumstances people manage to make the best out of their lives."
We still have matching funds available up to the end of the year, which doubles every gift given, and our plan is to continue working with our local partner into the New Year.

IF YOU WANT TO GET INVOLVED WITH OUR RELIEF WORK IN IRAQ, CLICK HERE.
*Name changed for safety reasons.
Fraser Valley Gleaners has been an integral partner of ours!
Click here to see why.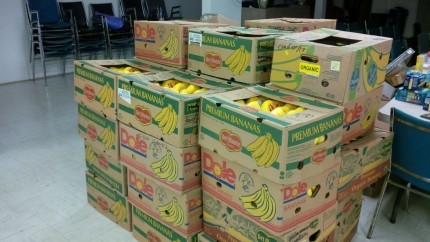 Refugees are resettling in Canada with very little in hand, so when an opportunity arose to supply some much needed items to a local centre that aids refugees, we happily took it.
On Friday February 5, 2016, we loaded up two trucks full of donated items and took four trips to the Middle Eastern Friendship Centre, a place where new settlers from the Middle East and Africa could gather together in Surrey, B.C.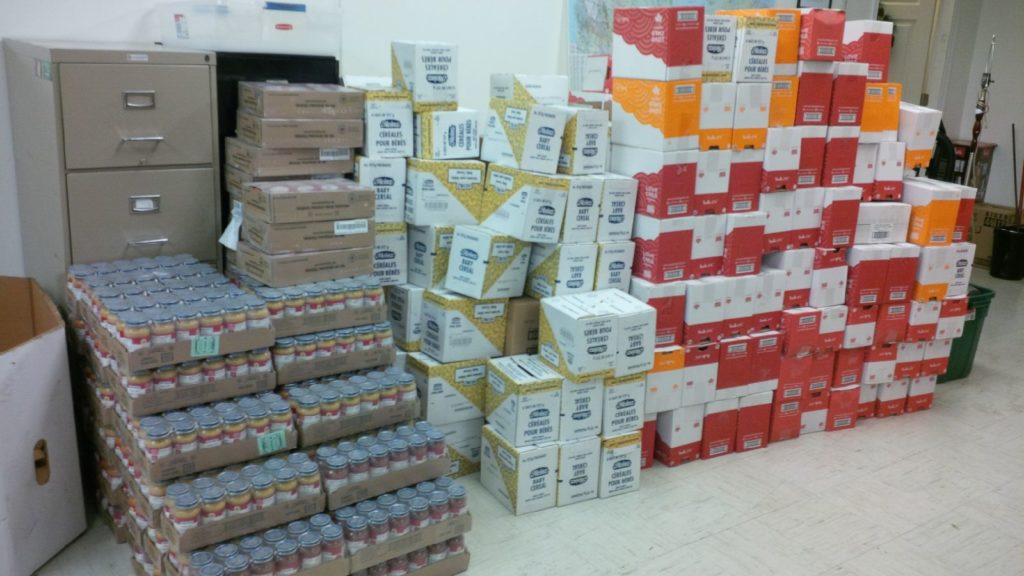 While GAiN has initiatives focused on helping Syrian IDPs (Internally Displaced People) within Syria, refugees that come into Canada are not usually our primary focus.
"We have chosen to help internally displaced Syrians whose plight is not often highlighted in the news media," explained Aaron Rogers, GAiN's Chief Operations Officer. "However, because we received this donation of goods, there was an opportunity through a local organization to support refugee families [from all different countries] coming into Canada."
Back in August 2014, we received a generous donation which just so happened to align with the needs of the Middle Eastern Friendship Centre.
"Do you have a need for diapers? I have all these diapers, would you be interested?" Rogers asked the centre's founders, as we had just received two pallets of diapers from a donor.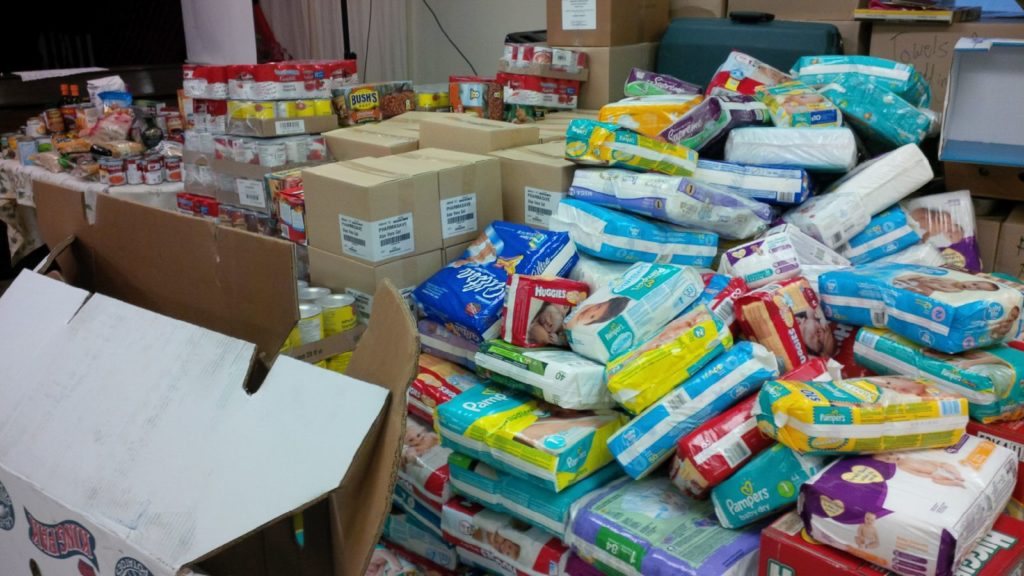 "His jaw just dropped," Rogers recalls. "He and his wife were in tears. They were saying they have all these families coming in with babies and they have nothing to give them when they come to the centre." At the time they had furniture and other items available but were lacking necessities such as canned food and diapers.
Fast forward to present day and the need for donated goods is still great. Canada has reached the commitment to resettle 25,000 Syrian refugees. As of March 22, 2016, 26,202 refugees from Syria have landed in Canada since November 5, 2015, according to statistics from Citizenship and Immigration Canada.
So, when we received pallets of diapers, canned food and baby cereal from the same donor from two years before, Rogers had the Middle Eastern Friendship Centre in mind.
The significance of refugees' needs was reflected in the founders' priceless reaction to news that we would be donating more goods. "He was just in tears. It was an answer to prayer for him."
When GAiN received the goods, Rogers recruited some of the office staff located at our headquarters in Langley, BC to load up trucks to drive the donated goods to the centre.
"We have an opportunity to help refugee families coming into Canada, many of them from Syria and Iraq. It's not one of our projects, but …we're also looking for opportunities to help people. As this opportunity was presented to us by the Middle East Friendship Centre, we were thrilled to take it on and bless them."
IF YOU WANT TO LEARN MORE ABOUT GAIN'S WORK IN SYRIA, CLICK HERE.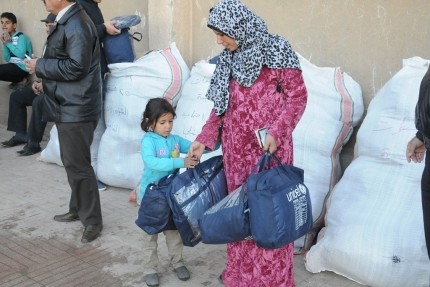 2 February 2016 – With four million Syrian and host community children in need of education and no let-up in sight in the fighting tearing the country apart, the United Nations and its partners are seeking $1.4 billion at a major conference in London on Thursday to save the current youth generation.
"The scale of the crisis for children is growing all the time, which is why there are now such fears that Syria is losing a whole generation of its youth," said UN Children's Fund (UNICEF) Regional Director for the Middle East and North Africa, Peter Salama, whose agency is coordinating the 'No Lost Generation Initiative'.
"As a result of all the work being done by partners and donors, education and protection for children are now being prioritized. But what we must see in London is the step-change necessary to bring all children back to learning; to protect those who are at risk of dropping out; expand safe and inclusive learning environments; recruit and train more teachers; improve the quality of education, and support the development of technical, vocational and life skills opportunities for youth."
The London conference is being co-hosted by Britain, Germany, Kuwait and Norway, and leaders from more than 30 countries are expected to attend, with the aim of raising new funding to meet the immediate and longer-term needs of those affected by the crisis.
Nearly five years into the Syrian war, some four million Syrian and host community children and youth aged 5-17 years are in need of education assistance, including 2.1 million out-of-school children inside Syria and 700,000 Syrian children in Turkey, Lebanon, Jordan, Iraq and Egypt.
Last year, the combined efforts of Governments and international partners helped more than one million children and youth inside Syria benefit from formal or non-formal learning opportunities. But with no political solution in sight to one of the most brutal conflicts the world has seen in decades, the number of children missing out on an education continues to climb.
Governments at the London meeting will also be urged to put more pressure on parties to the Syria conflict and those who support them to end attacks on schools and other places of learning, in accordance with international humanitarian law.
According to UNICEF, the killing, abduction and arrest of students and teachers has become commonplace, as have arbitrary attacks on schools. About one in four schools cannot be used because they have been damaged, destroyed or are being used as shelters for the internally displaced or for military purposes.
The No Lost Generation Initiative was set up in 2013. By the end of 2015 1.2 million children and youth inside Syria benefitted from improved formal and non-formal learning opportunities and more than 650,788 in Egypt, Iraq, Jordan, Lebanon and Turkey received school supplies or support through cash grants.
GAIN IS COMMITTED TO HELPING 1,000 FAMILIES WITHIN SYRIA. OUR HEARTS BREAK WITH THE DAILY REALITY MANY OF THESE CHILDREN AND THEIR FAMILIES ARE EXPERIENCING.
IF YOU WOULD LIKE TO READ MORE ABOUT OUR WORK, CLICK HERE.
Many Syrian IDPs (Internally Displaced People) first come to our partner's building because someone tells them they can get a Bag of Blessing there. Each Bag of Blessing consists of food and non-food items. With the onset of winter, blankets and heaters were now added to each bag.
After individuals would come to the center and the volunteers and staff showed them love and kindness, the individuals usually became a part of the community. Often they kept coming, even if they no longer needed a Bag of Blessing.
Recently, a local staff member shared a story of a grandmother who first came to the center looking for aid…
"After some time, we learned that she had two little girls. They were her great-grandchildren, ages three and five. The reason why they were staying with her was because the girls came from a broken home. Their mother left them and their father did not work. They had no one to look after them. Their dad was also abusive toward the girls and it was a very bad situation.
The grandmother used the Bag of Blessing and took care of the girls. Her life was changed through that bag. I am thankful for this time because I had the opportunity to be able to see how God works through people.
She began to come every Saturday to share with me about her difficult circumstances concerning her grandchildren. At times, we were not always able to supply their needs, but I could see how God was working in her life, and how He was protecting these little kids from an abusive father.
Maybe the aid that we were able to give her gave the grandmother the strength to continue helping these little girls to have food and clothing, to grow, be healthy and warm."

As of today, we are helping provide 1,000 families (totaling 5,000 individuals) with basic necessitites through the Bags of Blessings.
WOULD YOU LIKE TO HELP PROVIDE HOPE AND AID FOR ANOTHER PERSON SUCH AS THIS GRANDMOTHER AND HER FAMILY?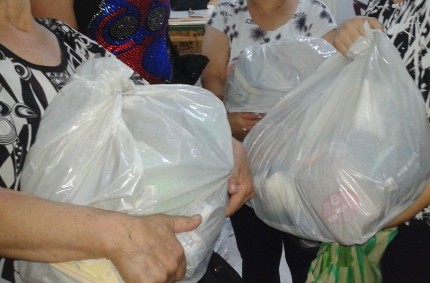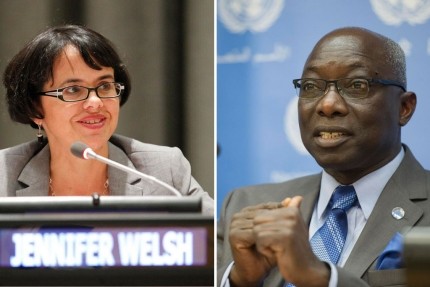 13 October 2015 – Senior United Nations human rights officials today expressed their alarm at the rise in violent rhetoric by influential religious leaders – including calls for "holy war" against certain faiths – in relation to the situation in Syria.
The UN Secretary-General's Special Adviser on the Prevention of Genocide, Adama Dieng, and Special Adviser on the Responsibility to Protect, Jennifer Welsh, condemned the recent call by clerics in Saudi Arabia for Sunni Muslims and their States to support a "holy war" against Shia Muslims and Christians in Syria, as well as against States and non-State armed groups perceived to support them.
"Such rhetoric can aggravate the already extremely volatile situation in Syria by drawing religiously motivated fighters to join all parties to the conflict, thus escalating the risk of violence against religious communities," said the Advisers in a statement, adding that "advocacy of religious hatred to incite or justify violence is not only morally wrong, but also prohibited under international law."
Mr. Dieng and Ms. Welsh also expressed concern at reports that Russian Orthodox clerics had referred to the Russian participation in the conflict in Syria as a "holy battle" against terrorism, as "statements of this kind can be manipulated, feed suspicion and increase polarization of communities."
The Special Advisers also noted the response by Russian authorities, who reportedly denied that there was any religious connotation to their involvement in Syria.
They praised the organization Syrian Christians for Peace for rejecting the concept of a Christian "holy war" and condemning those who invoke it.
The Special Advisers called on States to dissociate themselves from and condemn any form of advocacy of religious hatred, promote dialogue and protect and empower all those religious figures and human rights defenders who are working towards enhancing interreligious respect and harmony.
The officials also called on religious leaders around the world to refrain from any form of advocacy of religious hatred and incitement to violence, and to counter any use of such rhetoric, emphasizing that "religious leaders should be messengers of peace, not of war."
"In situations in which tensions are high, as in Syria, religious leaders should call for and foster restraint and dialogue, rather than fanning the flames of hatred," they cautioned.
If you want to read more about how GAiN is working in Syria, click here.
(Article Source)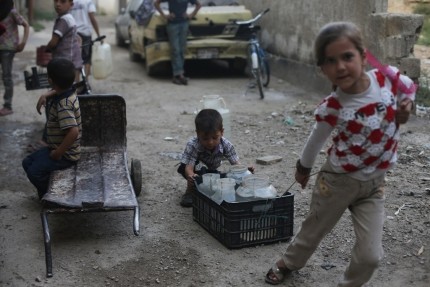 16 September 2015 – The United Nations Children's Fund (UNICEF) has condemned in the strongest terms mortar attacks on civilian areas of Aleppo, Syria, which reportedly killed at least 19 children yesterday, including six in a UNICEF-supported child friendly space.
"Child friendly spaces enable children to play and reconnect with their childhood, and forget, even if for a short time, the horrors of war. They must never be targeted," Hanna Singer, UNICEF Representative in Syria said in a statement.
"This reprehensible attack shows that even the simple act of playing represents a grave danger for children in Syria," she added.
In recent weeks, several indiscriminate attacks have been reported in civilian populated areas leading to the death and injury of scores of children.
"These attacks highlight a flagrant disregard for the laws of war. They are a stark reminder that nowhere in Syria is safe for children," Ms. Singer warned.
UNICEF is calling on all parties to the conflict in Syria to immediately halt such attacks and do their utmost to protect civilians and civilian infrastructure such as schools, health clinics and water facilities, in accordance with international humanitarian law. The agency urged that all civilians including children to be protected at all times.
In his briefing to the UN Security Council today, Under-Secretary-General for Humanitarian Affairs Stephen O'Brien highlighted the impact of the conflict on Syria's children and young people.
"Today, Syria is one of the most dangerous places on earth to be a child," he stated, adding that over 5.6 million children are in need of immediate assistance. In addition, children continue to be murdered, tortured and subjected to sexual violence by all parties to the conflict. "Millions of children have been traumatized by the horrors they have witnessed."
In addition, Mr. O'Brien noted that, although the school year commenced this past week, over two million children – one out of every three – are not in school in Syria, and an additional 450,000 children are at risk of dropping out. He also expressed his concern that, in areas controlled by the Islamic State of Iraq and the Levant (ISIL), schools were using a curriculum designed by the terrorist group.
IF YOU WOULD LIKE TO KNOW HOW WE ARE COMING ALONGSIDE SYRIAN CHILDREN AND THEIR FAMILIES, CLICK HERE.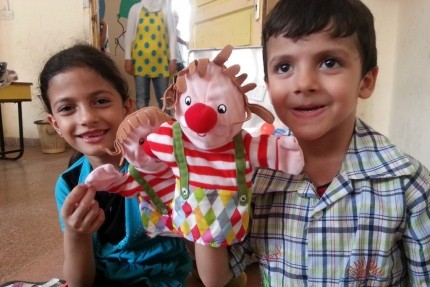 15 September 2015 – As children around the world return to school, there are more than two million in Syria who will not be able to join them, the United Nations Children's Fund (UNICEF) cautioned today, adding that another 400,000 are at risk of dropping out of school as a direct result of conflict, violence and displacement.
With the conflict in Syria now in its fifth year, some children in Syria have never known what it is like to enter a classroom, while others have lost up to four years of their schooling, the agency noted in a news release.
"Syria's basic public services, including education, have been stretched to the maximum," said Hanaa Singer, UNICEF Representative in Syria. "We need to do so much more to help the education institutions from collapsing and increase opportunities for children to access education across the country."
School buildings are also affected by the conflict; 5,000 of them cannot be used as they have been destroyed, converted into shelters for displaced families, or used as bases for armed forces, UNICEF said. Often, the schools and their surroundings are unsafe, dangerous for children to reach, and at risk of deliberate attack. To take their exams last summer, at least 20 per cent of Syria's children were forced to cross lines of fire.
UNICEF has been working with local partners on the ground to reach around three million children, and has implemented an informal education programme to reduce the number of out-of-school children. The agency is also printing school supplies and text books locally and distributing them to students.
"Even under the worst circumstances Syrian children keep asking to learn and go back to school because they are yearning for a better future and a chance to be influential" said Ms. Singer. "We must all invest in Syria's children as they are the future of Syria and they will help rebuild their country when peace returns."
Under the 'No Lost Generation Initiative,' UNICEF is starting a self-learning programme to reach 500,000 children who missed out on years of schooling. An accelerated learning programme is also aimed at helping 200,000 children catch up with their learning and eventually reintegrate into formal education. UNICEF is also rehabilitating damaged schools and creating prefabricated classrooms to accommodate 300,000 additional children.
UNICEF requires $68 million by end of the year, of which $12 million is needed immediately in order to continue responding to children's educational needs.
IF YOU WOULD LIKE TO KNOW HOW WE ARE COMING ALONGSIDE SYRIAN CHILDREN AND THEIR FAMILIES, CLICK HERE.
(Article Source)