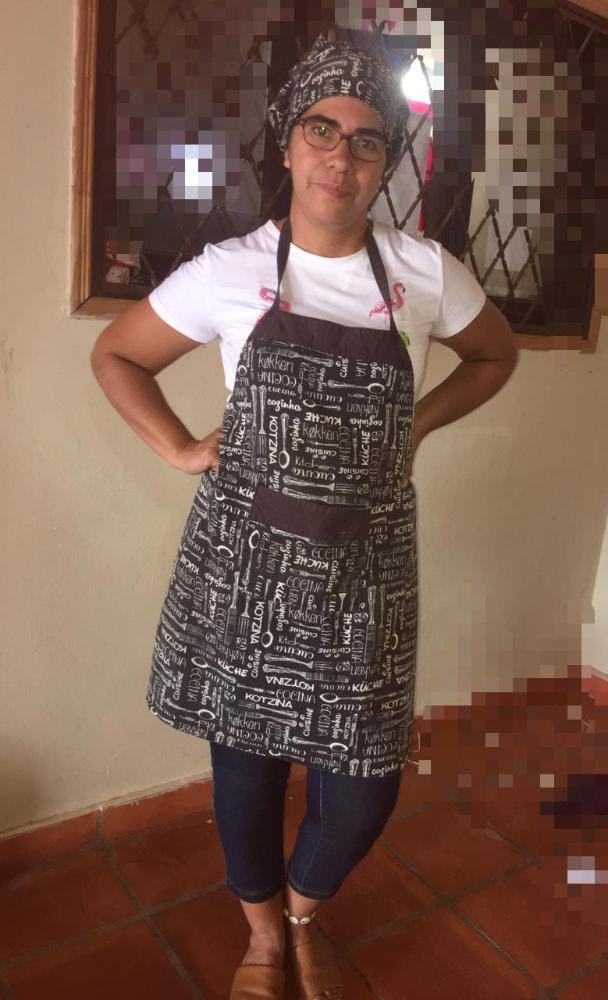 As both a mom and stepmom, Luisa works hard to not only maintain a business, but to see it grow and expand into new areas so that she can better provide for her family. Two years ago, Luisa started selling rotisserie chicken to go, which gradually turned into a small café restaurant.
Luisa is part of the microloan program with Diaconia, Global Aid Network (GAiN)'s partner in Paraguay. GAiN envisions a world with flourishing communities where people are physically, spiritually and emotionally thriving. Through the program, many women who are living in poverty are given the chance to start or grow their own businesses, become financially independent and free from debt. Women in the program are also put into weekly trust groups with other business owners, where they can encourage and hold each other accountable to pay back their loans.
When Paraguay enforced a strict lockdown because of the COVID-19 pandemic, people no longer went out to eat in restaurants and many places began to implement delivery services. Luisa noticed this trend and started selling containers and to-go boxes to the other businesses in her community. Now, her neighbouring small enterprises can purchase the supplies they need from her in bulk.
Luisa is thankful for the support she receives from the other women in her trust group and says it's nice to be surrounded by other small business owners because they can share advice and support each other.
With her current loan, Luisa will restock her products as delivery services continue to grow. However, her long term goal is to expand her rotisserie chicken business into a buffet restaurant. And while she loves cooking and seeing her business thrive, her true motivation is to sustain her family and provide a better future for their four children.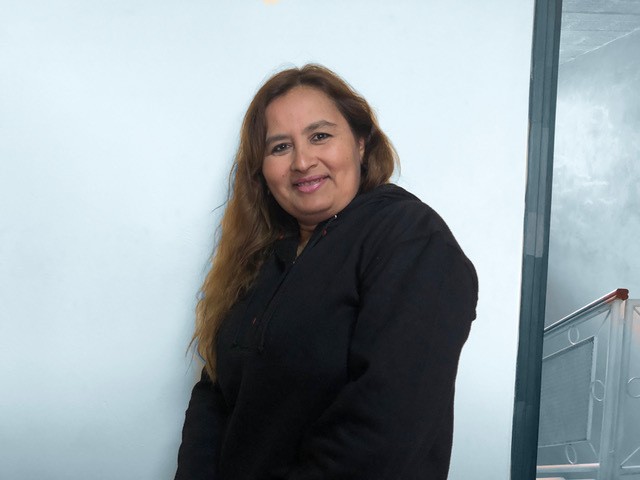 There's a common phrase in Paraguay that talks about putting on the jersey when someone needs you or something needs to be done. It means that you are a team player and that people can count on you to come through. Over the past year, Maria has shown that she not only is a team player, but that she seeks out opportunities to empower the women around her — her teammates — in life.
Maria joined a trust group through Diaconía, Global Aid Network (GAiN)'s partner in Paraguay, three years ago to help her thermos decoration business grow. In 2018, she started attending vocational training courses to learn how to decorate sandals and make bead jewelry. Her instructor, Fabiola, recognized her talent and knew about her thermos decoration business, so she invited Maria to learn more about becoming a course instructor.
At the beginning of 2019, Maria started teaching a new course. With the popularity of a loose leaf tea called "tereré," her thermos decoration quickly became the course with the most demand in the communities. Maria has grown significantly in her self-confidence and independence, as she now drives herself to other cities to offer courses. Recently, she has expanded the courses she offers to include the skills she had previously learned with Diaconía. Last year, she taught a total of ten courses.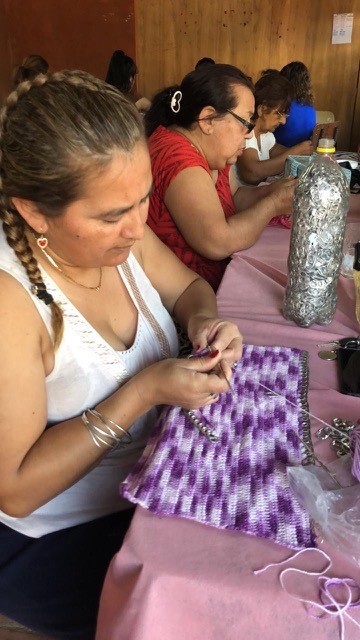 With her payment from teaching, she applied what she has learned during her time with Diaconía and invested wisely in her business. She was able to purchase a new embroidery sewing machine to give her thermos products a more detailed and elegant design. As she continues to grow in ability and capacity, Maria never looked around and saw other women as competition. She is always looking for ways to serve and empower the women around her, helping them to learn new skills and ways to improve their businesses. She has also looked for new ways to serve in her church as she grows in her faith through the constant discipleship she receives through Diaconía.
Everyone that meets Maria falls in love with her. She shows up early and prepared. She knows what it means to go above and beyond — to wear the jersey.
We met Maria earlier this year and were encouraged by her story. Like everyone else, her life was impacted by COVID but because of the continued support, Diaconia is slowly restarting operations. At the moment, there are a total of 4,340 Diaconia clients. Smaller loan groups are meeting where possible, or trust group presidents are meeting one-on-one with members. As things are getting back on track, we look forward to sharing more stories of hope like Maria's.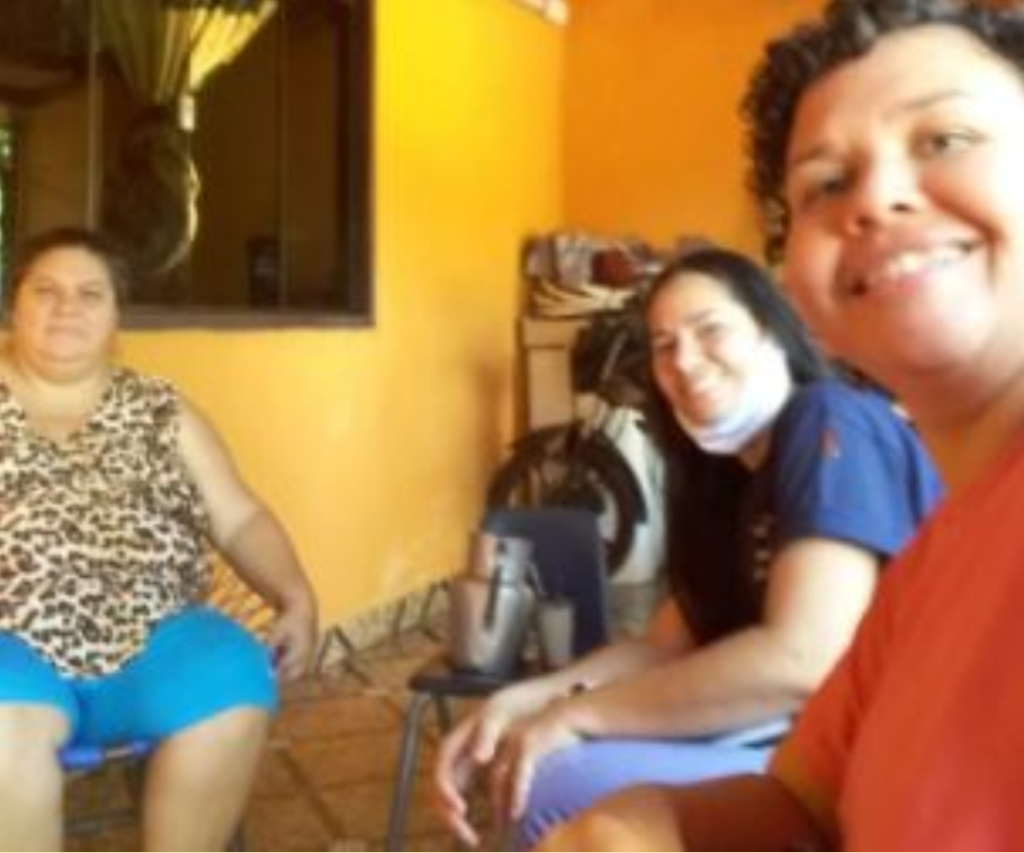 When COVID hit Paraguay, the country's strict lockdown measures meant that many small businesses suffered, resulting in many families struggling to get enough food to eat each day. As a result, GAiN's local partners Diaconia and Jesus Responde are running soup kitchens to help.
Margarita R. is a chaplain for Diaconia. She meets with trust groups, specifically to share God's word, encourage women in the trust groups and pray for them. This was needed more than ever, as a lot of these women were desperate to provide for their families. Below is her story about how she was able to walk alongside a woman who had experienced a series of tragic events.
"I contacted the president of a trust group called San Vincente and asked the leader for permission to visit the soup kitchen so I could pray for her and her family. She accepted without hesitation.

One day, I was visiting a woman named Zunilda and she shared her very painful past. She lost her daughter-in-law in a motorcycle accident, and then three months later, her daughter and her husband also got into an accident, which left her husband fighting for his life. Thankfully, after a long treatment, her daughter recovered completely.

I followed up with Zunilda once a week to pray, encourage her and her family, and share the Word of God with them. The last time that I visited, she told me about a recent tragedy with her nephew. He was hit by a car after chasing a soccer ball that went into the street.

Through text messages, I chatted with her and encouraged her to not distance herself from God, but to rest in Him. I explained how we are able to do this, and every week I continue to pray with her and her daughter. I make sure to continue to share encouraging devotionals with them.

The family was filled with anxious worry about the nephew's recovery. It's at times like these that they say they are very thankful for the prayers and support they receive from Diaconia.

I was encouraged when Zunilda told me that she is drawing closer to God again. Thanks to Him, she says, her six-year-old nephew is now much better and has returned home from the hospital."

Your support has helped provide not just physical nourishment, but emotional and spiritual support for women and families that are struggling during this pandemic. Thank you for helping reveal hope and restore life during these uncertain times. Your help is making a huge impact.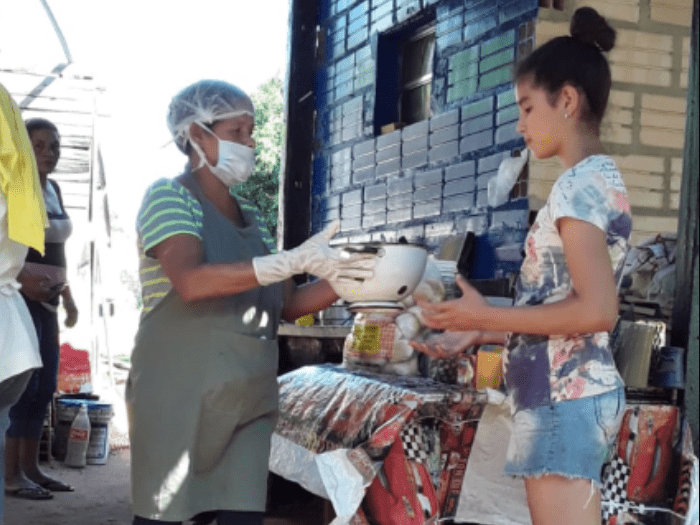 To prevent the spread of COVID-19, the country of Paraguay immediately imposed a strict lockdown and managed to keep their cases low. Unfortunately, this put limitations and restrictions on people's ability to work, worsening the situation for those already living day-to-day and experiencing food insecurity.
Diaconia, Global Aid Network (GAiN)'s Paraguayan partner, was unable to run trust groups due to a ban on public gatherings. Because of strict curfews and other restrictions, many of their clients' businesses were impacted.
To help alleviate the stress of food insecurity for their clients' families and others, Diaconia teamed up with Jesus Responde to run soup kitchens in multiple different communities. There are currently 49 active soup kitchens, reaching over 8,500 people.
Gloria Q., an employee of Diaconia, shared the impact that the soup kitchens are having in the communities, as well as the hearts and sacrifice of the women who are serving.
"I have had the opportunity and great pleasure of being able to spend a morning with several [Diaconia] clients who are running one of the soup kitchens. Having someone visit from the organization brings so much joy to the community and they are always very thankful for the both the material and moral support that they receive from Diaconia.
The women commented happily about their day-to-day experiences cooking for so many people in need. They are in a large squatter village and can't serve every person but are very thankful to be able to reach so many families.
As they showed me their cooking space, I noticed that they had all of their utensils sanitized and clean and several families had brought firewood so that it would be enough when it came time to cook.
While their cooking space is a bit precarious, the women are not discouraged thanks to their positive attitudes and enthusiasm. They have notebooks where they record the quantity of people that attend every day and a small bank for those who wanted to contribute even the smallest coins to purchase meat for the next day.
Many of them work in recycling and have found themselves out of work temporarily.
Miriam, who is a Diaconía client, and Rosa, who is the owner of the house where they cook, are both Christians and are very grateful for the opportunity to share what God is doing in that place.
Every day, they ask the people attending to form a line where they will retrieve their food and, before serving, they share a Bible verse and pray for the needs that they express at that time.
Now, they don't even have to ask for prayer requests, the people they serve make sure to remind them that it's time to pray and most of all they look forward to the time of prayer before the food is served.
Rosa even commented that some people have shown up to leave a small piece of paper that has their prayer requests on the days that the soup kitchen doesn't serve meals.
These women expressed how God works to not only provide supplies and materials, but also works spiritually and how he can change perspectives and mindsets when families hear His Word. Some, maybe only a few, but not any less important, are conscious that if they have even something small to eat at home, they don't attend the soup kitchen so that those who need it most are able to eat, despite not having enough for themselves.
Some days, they play games and sing Christian songs with the children that come. If they show up early and the food isn't ready yet, they take advantage of the time to have some fun with the younger kids. And then, after the meal, they go home even more joyful.
After spending a wonderful morning with the women of this soup kitchen, we had a time of prayer—thanking God for His mercy, asking Him to keep transforming hearts through this activity, and for taking care of each person who is exposed daily to COVID-19.
This was such a beautiful experience for me and filled me with such a feeling of satisfaction and, more importantly, joy. I thank God for each one of the women working in the soup kitchens that each and every day are willing and ready to serve their community without expecting anything in return."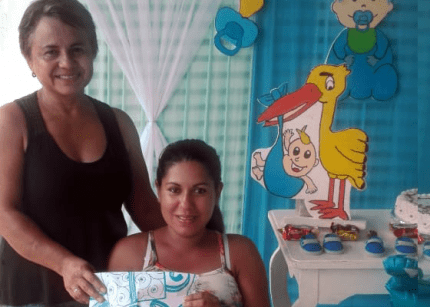 Mercedes is a woman of many talents. While her main business is selling clothing in her neighborhood, she also makes a variety of traditional Paraguayan foods to sell. Her two children are now grown, but are still living at home and their whole family depends on the income Mercedes generates with her business.
Creating a new income source was the initial reason that Mercedes became an entrepreneur, however, she has a deeper motivation for choosing to sell clothing. "Something I've always taught my children is that they should try to dress well," she said. "It doesn't matter if you're rich or poor, you should always try and you deserve the opportunity to dress well." She also commented that when she does business, she's not only selling clothes, she's selling hope to the people in her neighborhood.
Seven years ago, Global Aid Network (GAiN)'s Paraguayan partner, Diaconía gave her the initial push she needed to get her business started. She says that Diaconía has helped her to look further than her current situation and to hope for more. "Diaconía gives us the support we need. The women in my community have a lot of potential, but we need a push and training on how to start a business. Diaconía has been a huge help."
Mercedes has also learned how to always have a goal in mind, and she is working to one day have her own shop to sell clothes and also make healthy meals to-go. Many of her neighbours work full time and don't have enough time to sit and have a healthy meal at lunch time. Her dream is to create a menu with healthy options that her neighbors can purchase and take with them on busy days.
Over the years, Mercedes' trust group has grown together and learned to support and celebrate one another. They even take advantage of their meeting times to have birthday parties, baby showers and fundraisers for group members in need.
WOULD YOU LIKE TO PROVIDE A MICRO-LOAN TO A WOMAN LIKE MERCEDES?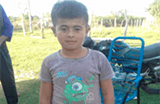 Felipe*, 10 years old, lives in Abai, Paraguay with his parents. When missionaries named Susana and Alejandro visited his grandmother's home, he learned about the opportunity to go to a nutrition centre, run by Jesus Responde, Global Aid Network's partner in Paraguay. At the nutrition centre, children from impoverished backgrounds can come weekly, receive nutritious meals, receive tutoring and learn about Jesus.
Before going to the nutrition centre, Felipe disobeyed his parents and showed very little interest in his studies. Despite already being in third grade, he didn't know how to read or write.
Felipe is now in fourth grade. His mother commented that she has been congratulated by Felipe's teacher because his behaviour has notably improved. Not only that, but he can now read Bible verses correctly, thanks to the care and attention he has received from the nutrition centre. This has impacted Felipe's entire family and has opened the door for his parents and grandfather to all receive Christ in their hearts.
Soon, they are expected to take the next step of being baptized.
Susana, the missionary, commented that their church has grown and that they are extending the services they offer at the nutrition centre to provide more meals. Through children like Felipe, we can see how the simple service of providing food can allow encounters with their families and the opportunity to share the love of Christ with them.
*Name has been changed
YOU COULD PROVIDE A NUTRITIOUS MEAL AND MORE FOR A CHILD LIKE FELIPE. WOULD YOU GIVE A GIFT THAT CAN MAKE A LIFE-CHANGING IMPACT ON A CHILD?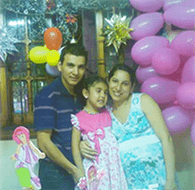 Pastor Daniel married his wife Nancy in 2006. A year after their wedding, Camila was born. She was a joy to her parents and shared her father's passion for music.
At the end of 2012, a medical diagnosis indicated that Camila, only four years old, had a brain tumor. The results of the studies were not encouraging; the doctors said they could not operate on Camila and that there was nothing they could do. The tumor continued to grow and Camila's health deteriorated rapidly. Everything was delivered into the hands of God, praying and waiting for His will.
In February 2013, Camila, now five years old, told her father, "Dad, I am going to go with Jesus." Ten days after, Camila passed away, leaving her parents to deal with the pain of losing a daughter.
Two years later, Pastor Daniel moved his family to the city of Itauguá, Paraguay, with the desire to impact their community. They began to pray for direction. Camila's words echoed in his mind and heart until he finally understood that if his five-year-old daughter was sure that she would be in heaven with Jesus after she passed away, then the children of the neighborhood could also have the same sense of security. This assured Pastor Daniel that working with the children would not be a waste of time.
It was then that, they learned about the support that Jesus Responde, Global Aid Network (GAiN)'s partner in Paraguay, was providing through the wholistic community centres. These community centres, all throughout Paraguay, invite children from families who are living in poverty and crisis to gather weekly. They come for a nutritious meal and various activities, such as sports and games, educational tutoring, and spiritual care (songs and Biblical teaching through AWANA, a children's discipleship program). In some cases, some community centres host vocational trainings for parents of the children.
Hearing about the impact of these community centres filled Pastor Daniel and his wife with so much joy and hope that they decided to open their own community centre in partnership with Jesus Responde. They called it La Semilla.
Today, Pastor Daniel tells us how children get excited when they receive a nutritious meal, as many of them do not eat breakfast or eat at home. La Semilla has helped Daniel and his family fulfill their call and teach these children about Jesus.
WOULD YOU LIKE TO INVEST IN A WHOLISTIC COMMUNITY CENTRE IN PARAGUAY? YOU COULD MAKE A DIFFERENCE IN THE PHYSICAL, SPIRITUAL AND SOCIAL HEALTH OF CHILDREN LIVING IN POVERTY.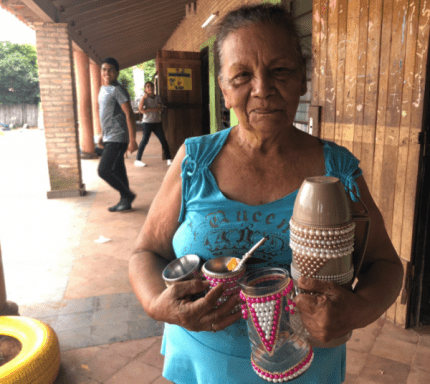 When Benita found out she was sick and began to grow weaker, she could no longer clean houses for a living. She began to sell traditional Paraguayan foods from her home but was just barely making it on the small income she was earning. At the beginning of 2018, she heard of the vocational training courses through Diaconía, Global Aid Network (GAiN)'s partner in Paraguay, and joined right away. Diaconia offers vocational training for impoverished women who are interested in establishing or growing a small business. Throughout the year, there are a variety of different classes for women who are interested in learning how to sew, craft, do hair and makeup and more. Since Benita started attending a vocational training, she has never missed a meeting since.
Throughout the year, she has learned to crochet, embroider cloth purses, decorate sandals and thermoses, and work with beads to make jewelry. Now, in addition to selling food, she takes personal orders for her craft work and sells her products in her community. She has always loved creating things but wasn't able to allow her creativity to flourish because there wasn't anyone to teach these trades. With the skills she learned in the courses, she now loves what she does, and the additional income helps her to advance more in life.
She is thankful for what Diaconía and God have done in her life and community. Because of this experience, her neighbourhood is improving economically and is more united. What she has learned and accomplished has created a sense of pride in her own work and has taught her that she can always learn new things.
DO YOU WANT TO HELP WOMEN LIKE BENITA BY GIVING THE OPPORTUNITY TO LEARN NEW SKILLS THROUGH VOCATIONAL TRAINING? YOU CAN HELP WOMEN IN PARAGUAY BREAK THE CYCLE OF POVERTY.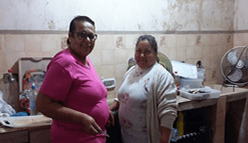 Mrs. Clotilde Haedo (pictured on the right), 57 years old, is a hardworking mother of seven, currently living with two of her kids in Isla Bogado, Paraguay, in the neighborhood of Luque. She has faithfully attended the National Marathon of Prayer, an event organized annually by Global Aid Network (GAiN)'s Paraguayan partner Jesús Responde, since 2010.
In August 2012, a young volunteer from Jesús Responde met with Clotilde and shared stories of impact from the Jesús Responde wholistic community centres and invited Clotilde to partner with them as a donor. She accepted the invitation and committed to giving 20,000 Guaranies ($4.36 CAD).
True to her word, Clotilde gave the agreed amount each month.
Unfortunately, as time passed, her family experienced a financial crisis, causing her to, with great sorrow in her heart, renounce the commitment that she had made.
In September 2017, the pastor, of Clotilde's church, Pastor Cleibel Peixoto, challenged the members of his congregation to start a wholistic community centre. Although she was hesitant at first, Clotilde agreed to be one of the cooks. In that moment, she remembered the commitment she had made and could not fulfill years ago. Clotilde saw this as a new opportunity that came from God. He was calling her once again to serve.
By the end of 2017, the wholistic community centres had served the community successfully and the number of children in attendance increased. Upon hearing this, a representative of Jesús Responde en Luque told them of the support given to the churches that work with children.
On February 13, 2018, Pastor Cleibel presented his application and shortly thereafter began to work in partnership with the institution.
On June 3 of that same year, Mrs. Clotilde confirmed during a volunteer day, once again, the call for her life. "I thank God for showing me, after thirty years (in the way of the Lord), the ministry that He had kept for me," she told us, with tears in her eyes.
Today she serves with joy and faithfulness at the community centre, loving and caring for the children. The children have praised her, saying that they do not even eat a meal made with as much affection in their homes.
YOU CAN HELP BRING WHOLISTIC NUTRITION TO IMPOVERISHED CHILDREN IN PARAGUAY. WILL YOU HELP SUPPORT A WHOLISTIC COMMUNITY CENTRE?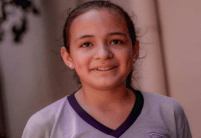 Telma is 12 years old and lives with her mother Liz, her grandmother Esperanza and her sister Sara. For the majority of her life she has been under the care of her grandmother because her mother was absent. When her mother wasn't working she would spend her free time with friends, attending parties or other participating in other activities outside of the house.
Grandmother Esperanza already knew about Jesus and was a regular church attendee. Her church runs a wholistic community centre with Global Aid Network (GAiN)'s Paraguayan partner Jesus Responde. At these community centres, children from impoverished backgrounds are invited to attend weekly, where they receive a nutritious meal, play games with other kids, and learn about Jesus through the AWANA program.
Telma was two years old when her grandmother brought her and her sister Sara to a wholistic community centre. It was there that she was taught about Jesus and his love. Every morning, Telma and Sara would pray to God that Liz (their mother) would come to know Jesus.
Eventually, after years of praying, their mother decided to accompany Telma and Sara to church. It was in one of the meetings that she got to know Jesus. Now, the whole family attends church together. Recently, Grandmother Esperanza lost her eyesight but continues to attend church meetings, thanks to perseverance and the help of Telma who is an active church participant.
Telma shares, "Jesus transformed my family. In my house there is more peace and more joy. Sara and I now receive the attention and affection from our mother that we did not have when we were younger. We are grateful because every day we are taken care of, loved and get to learn about God."
WOULD YOU LIKE TO SUPPORT A WHOLISTIC COMMUNITY CENTRE IN PARAGUAY?