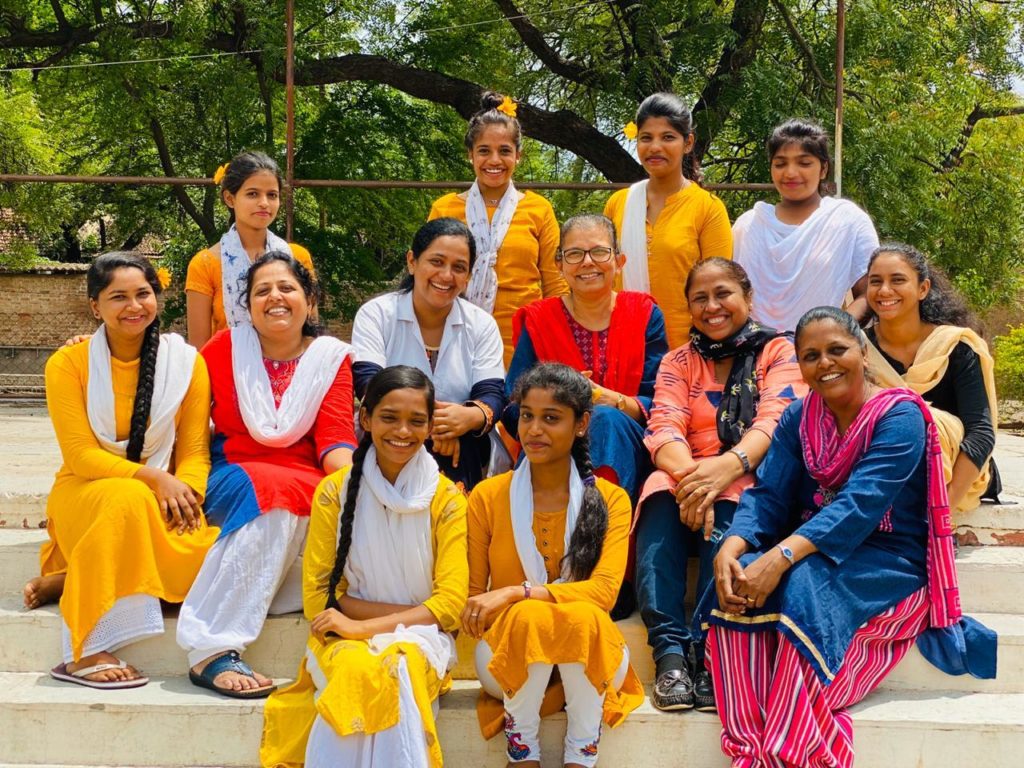 "Therefore if anyone is in Christ, he is a new creation, the old has gone, the new has come!" – 2 Cor. 5:17 (NIV).
Due to the COVID-19 pandemic, India has been under lockdown, restricting the movement of girls and women at Pandita Ramabai Mukti Mission (Mukti). Mukti has been focusing on healing for the community and instilling higher standards of hygiene. They are spending this time in lockdown learning to create, communicate, cooperate and work on new methods toward self-sufficiency.
The flower family girls volunteered to set up kitchen gardens in their family yards, with guidance from the farm staff. Segregation of organic and non-organic waste is done systematically and making their own fertilizer is now a joy and not a burden. The farm staff is committed to the vision of using every patch of land and making it productive.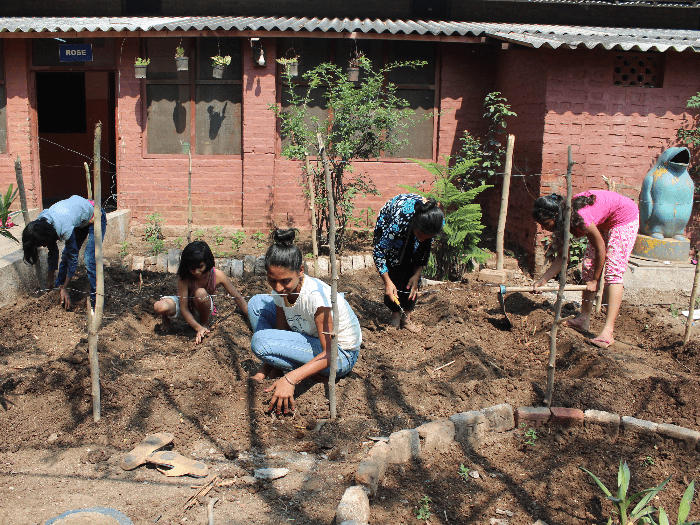 While the girls are keeping busy, being forced to stay at home has been frustrating for them. Being occupied with gardening, cooking and handcrafts hasn't been enough. Dr. Lorraine Francis, Mukti's Mission Director, had something in mind for the girls. She took her love and concern to the Lord in prayer and decided to hold a one week camp, from June 15 to June 19, 2020, for the Mukti girls on campus.
Dr. Ajita Kuberji, Dr. Deepika and Dr. Lorraine Francis, were the resource women for the camp. They spoke on the theme of newness in Christ. The young women experienced a fresh visitation from the Lord. Many girls prayerfully made the decision to walk in the newness of Christ, with reverence and in obedience to God's Word. Many wanted to put away old thinking patterns and behaviors and have a closer relationship with God. The girls gained a better understanding of involving God in every aspect of their lives. Dr. Lorraine Francis also spoke of the importance of maintaining a journal. The girls made a commitment to record their thoughts and burdens in a private journal.
The 104 girls who attended the camp were divided into teams named after birds: Peacock, Dove, Eagle and Parrot. It was a delightful sight to see all these girls dressed beautifully in colours that imitated the plumage of their team birds. Apart from the spiritual sessions, there were also sessions on painting, art and crafts. The happy campers participated in games, cultural activities and even a cooking competition.
The team that organized the camp was keen that girls struggling with emotionally heavy issues be encouraged. The sound of their singing, dancing and joyous laughter was a rich reward for the team's hard work.
This verse represents Mukti's prayer and hope for each precious girl who attended the camp "Do not let anyone look down on you because you are young but set an example for believers in speech, in life, in love, and in purity." – 1 Timothy 4:12 (NIV)
When India went under a strict lockdown in March, migrant workers were left unable to work when their job sites (like factories) were forced to shut down1. Living on a daily wage, many felt they had no choice but to return to their homes, often hundreds or thousands of kilometres away, in rural areas. For those unable to get transportation, they've been forced to return home on foot. This has led to over 100 deaths and even more injuries, either from accidents or exhaustion2.
Pandita Ramabai Mukti Mission has been involved in outreach to migrant workers, providing over 460 food packets to families in need. Below is a story from Mukti:
There are many heartbreaking stories among the migrant workers. As my residence is facing the state highway, most of the time, I see broken families. Having packed their scanty belongings, they make their way back to their own state. I saw a couple, with the wife balancing a little infant on her hip, and a bundle of clothes on her head. The husband had another bag on his shoulder and a toddler holding his hand. With tears rolling down their cheeks, they had been walking on foot, not knowing when they would reach their destination.
Some of these families have to travel thousands of kilometres to reach their hometown. The migrant workers with whom Mukti is associated are so grateful that Mukti has spared their lives, saving them from having to sleep under the railway tracks with their families.
"Thank you Mukti Mission for coming to our aid. We would have done a foolish thing by making a decision to leave Kedgaon!" one family shared. "From the feedback we have received from our friends who left their workplace and took the risk of going home, are now in very bad shape. Most of them suffered from all kinds of illness on the way. Some died and others are on the way to die. Those who have managed to reach their destination through difficulties are not allowed to live in the village. Their hometown neighbours and friends are not willing to take the risk of accepting them back. Hence, in other words, they are neither here nor there. This is the plight of migrant workers all over India. Praise God for Mukti Mission who stretched forth their hand of love, kindness and generosity which we will forever be indebted to. In no way, we can repay you for what you have been doing for us, but we know that there is a God who will reward you."
Would you partner with us to help reveal hope and restore life through our COVID Response?
Together, we can help communities slow the spread of the virus, as well as provide necessities like food.
By Priya Dsouza, Mukti Staff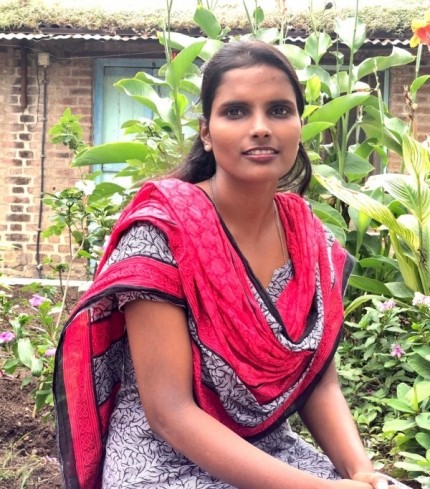 Radhika came to Mukti as a shy two-year-old. Her father had recently died in a railway accident. He had passed out drunk on the railway track and was run over by a train. He was survived by his wife Hirabai, five daughters and a son. Hirabai was uneducated and made little money as a maid. She suffered from a bad back; this made most labour intensive jobs very painful for her. She was doing her very best to support a family of seven, but it was still not sufficient.
Hirabai brought her youngest two daughters to Mukti Mission for residential care and education. Radhika became a part of the Sunflower family and spent her childhood there. Hirabai had requested that her daughters be educated in Marathi medium, so the two sisters attended Sharda Sadan school and then the Manorama Memorial girls High School. Radhika was a good student. Besides being attentive in class, she also excelled in drawing and painting. A passion she still pursues.
Radhika was raised in a Christian environment, hearing about God and His sacrificial love for her. She found great comfort in the Bible and God's promises. But she did not accept Jesus as her Lord and Savior. When she was in the 11th standard, Radhika attended Vacation Bible School. It was here that God touched her heart. She gave her life to Jesus and became a new creation. She started to read the Bible and experience life in a different way.
After obtaining very good marks in her 12th board exams, Radhika earned her B.A in Economics from Jawaharlal College in Kedgaon. She had always had a heart to serve, so a Masters degree in Social Work (MSW) was the logical next step for her. She completed her Masters degree and worked as an assistant in the Residential Care office in Mukti. It was in her capacity as assistant that I met and worked with Radhika.
I was new to Mukti and assigned to create profiles for newly joined residents. The case files were all written in Marathi, a language I cannot read or understand. Radhika came over to my desk in the communication office to translate information I needed. She would go through the case reports and narrate the story to me. Then I would ask her specific question to fill blanks in the narrative. As we worked through that first pile of files, I noticed many unique qualities in Radhika.
She always used respectful terms, even while talking about the most villainous character mentioned in the case. Sometimes we would stop and talk about the people mentioned in the file and their lives. She showed great compassion in her understanding of people and their motivations. Her attitude can only be described as a Christ-like love towards sinners.
Radhika embodies the verse, "Let your gentleness be evident to all" (Philippians 4:5). She radiates peace, gentleness and is a calming presence in the midst of heated arguments and angry outbursts. She has a humble heart and ready smile. Radhika is always impeccably dressed and manages to look fresh even on sweltering summer afternoons.
Her friends and housemates of the Magnolia family have nothing but high praise for her cooking. Her egg biryani and chicken curry are always in demand. She also makes various Indian sweets with besan (chickpea flour) and tries to make time to cook for her Mukti family.
Radhika has not had much chance to bond with her biological family. She has begun reconnecting with them, but is a little wary of moving in with them. She fears that they will force her into an unsuitable marriage. There are many goals she wants to accomplish before settling into married life.
She feels she has an aptitude for counseling in the area of depression. She wants to do a counseling course sometime in the near future. She plans on preparing for a government job placement exam. She wants to be part of either the Central Adoption Resource Authority (CARA) or the Child Welfare Committee (CWC).
The security of a government job and the steady income would help her provide financially for her mother, who is aging and unwell.
Radhika started a new job at the Aashirvad Hostel in Nagpur last month. She will start off as a receptionist and later move onto Social Work related work. She is very excited for this new chapter in her life. After spending 24 years in the safety of Mukti Mission, the time has come for her to leave the nest. "Mukti is my home, I will be back when I get my annual vacation." She attributes all her accomplishments to the opportunities received at Mukti Mission. The best gift Mukti gave her was introducing her to Jesus, her Lord and Savior.
YOU CAN SUPPORT A YOUNG GIRL AT MUKTI MISSION. WILL YOU GIVE TO HELP CHANGE A LIFE LIKE RADHIKA'S?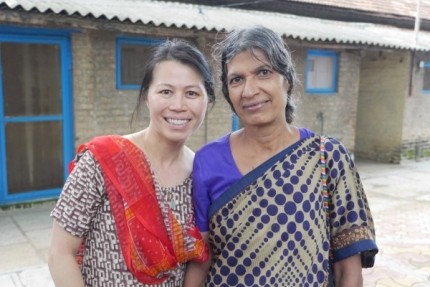 Pandita Ramabai Mukti Mission in India is not just a place to serve, but, as Marlene learned, a place where visitors will be served and loved by residents and staff.
"I thought I was going there to serve and I thought [people at Mukti] were in need but I felt that I was served instead. I came back home and just felt very, very blessed and very loved. I developed some good friends and I heard tons of stories and connected with the women who worked there."
Through LIFE Team Manager and friend Lily, Marlene learned of the opportunity to join Global Aid Network (GAiN) on a LIFE Team impact trip to India. From the end of July to mid August, Marlene was able to go on the trip, along with her husband and three kids (15 year-old son, 13 year-old daughter and 11 year-old daughter).
"It was incredible because this was something that, when I initially thought of going to Mukti, I didn't think that my whole family could come with us."
Her group, which consisted of other families, was one of two groups that went to Mukti with GAiN this past summer.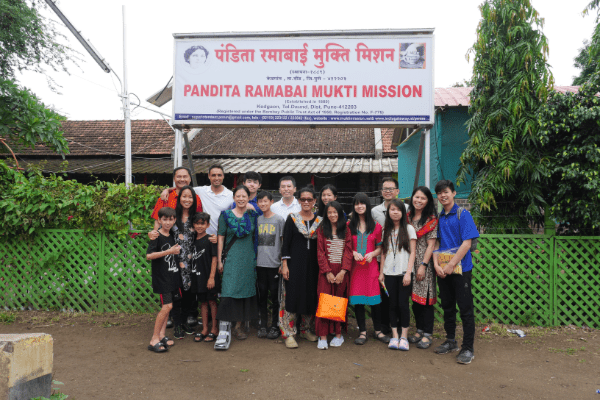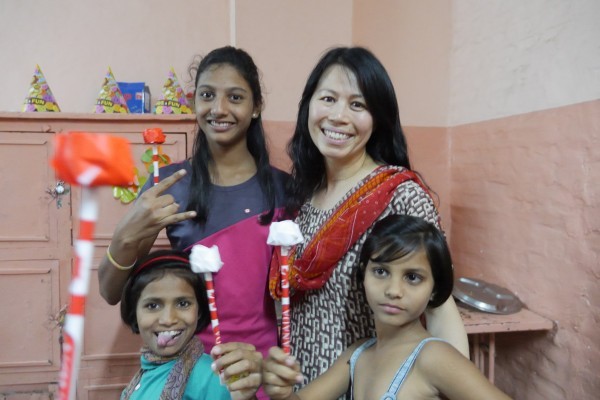 During preparations for the trip, participants were advised to be open-minded when it came to being assigned tasks and areas to serve. Marlene had a willingness to do whatever was needed. As a self-described task-oriented person, she was ready to serve at the school, where she was to teach English lessons, and then at the office to help with child sponsorships and other administrative tasks.
"But the most impactful thing I got out of [being there] was just really listening and connecting to the stories of the girls and staff there. I enjoyed making connections and seeing how strong their faith and devotion is, and hearing what brought them to Mukti in the first place."
One of the many people who made an impact on Marlene was a lady named Saroj. Saroj is a Mukti resident who volunteers at the dining room, serving international groups that come through to visit, like the LIFE Team. Marlene was touched by Saroj's hospitality and heart to serve, and how she made them feel like "special guests."
Saroj was initially brought to Mukti as a baby, where she grew up and has lived her whole life. She attended schools at Mukti and ended up serving in various ways. Saroj is a well-loved housemother for a flower family (Mukti residents are grouped into names of various flowers), where she serves the girls that live at her flower family home.
Marlene was especially touched by Saroj's devotion and dedication. "She tells me that she doesn't really sleep too much but early in the morning she spends about an hour or so just praying. Then she comes to morning devotions every single day and is off serving us throughout the entire day. Then afterwards, she goes into her home and serves her flower family in the evening, helping with their memory verses and with the homework and anything else that needs to be done. Then she starts it all over again, every single day. That's her commitment and her devotion and she says this is where God has called her. This is where she's meant to serve."
Not only did they spend time getting to know the staff, they also spent quality time with the girls, visiting the different flower families.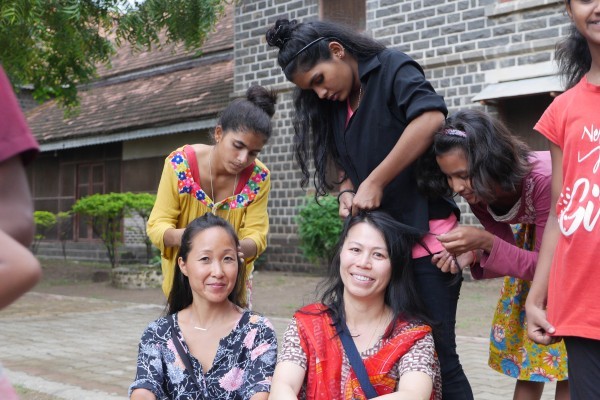 "We were able to hang out and play with the kids and sing with them or have them braid our hair. Just talking and hearing their stories and doing crafts with them," Marlene reminisced.
Although her family had never been on a trip like this, and her children had never been to a developing country before, the trip was impactful for the whole family. Mukti is a great place for families to serve in missions overseas, Marlene said, because it is safe and there are a variety of ways for each person to serve. The family is able to serve together or separately. She explained that on one day, her husband and son worked at the farm, while her and her daughter were at the special needs school, and their other daughter was in the nursery.
"I think it gives you an opportunity to safely serve as a family, but not necessarily together doing the same thing. There's a variety of different things that you can serve in so you don't feel like you're doing something you don't want to do or are not comfortable doing."
Now that they've been home for a few months, Marlene has been reflecting on how the trip has made a difference in her and her family's lives.
"I am more reserved when it comes to sharing my story of how God worked in my life. I only share if people ask me to share and I usually just share amongst one or two other people. So I felt like there were a lot of opportunities to share [my faith]. After the trip, I felt much bolder in regards to sharing God's work in my life and not being so bashful about it. Because I have seen how these girls at Mukti, they praise God all the time; the stories from the staff at Mukti and how they are not inhibited by anything. They show their faith and devotion every single time."

She hopes that her children will be able to look back on the trip as memorable and life-changing.
"I know that God has been working in [my kids'] hearts and I think that one day, maybe when they're older, they'll look back at this and will remember this as an experience together as a family. Hopefully some of the things that they experienced will impact them in how they look at people or look at other parts of the world, and how they look at what we have."
ARE YOU INTERESTED IN GOING ON A LIFE TEAM IMPACT TRIP TO INDIA?
LEARN MORE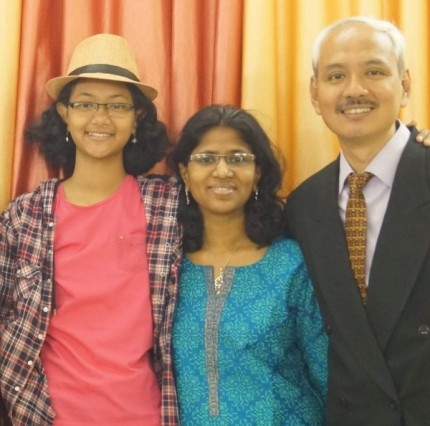 Story by Sulekha
The Mukti Home became my beautiful abode when I was 11 months old. My mother had died due to tetanus and father due to tuberculosis. It is difficult to describe how I have been blessed. I was loved and given an opportunity to study at one of the best English Medium Christian schools in Pune. I had the opportunity to learn a variety of sports and represent school and state at various levels. There was nothing that I lacked and I am most grateful for the spiritual discipline that was built in from a very early stage in life. We were highly impacted by the sacrificial lives of missionaries from overseas, as well as others from within India who had chosen to leave their family to serve at Mukti.
Nothing beats the testimony of Pandita Ramabai herself, who was committed to God's calling fearlessly. I had the opportunity to help set up archives and read through her correspondence with politicians and people in prominent positions and that greatly impacted the choices I made.
Academically, I studied science in college and later studied nursing. I worked in the maternity section and later as a teacher at the College of Nursing.
I got married in December 1998 to Naren who was working in the Indian Navy at the time. But the plan was to give up this job to start a home for orphan boys as part of the church social work wing. I knew in my heart that this was the right course of life because at the age of 15, I heard God clearly speaking to me about His plan for my life. I was blessed to be a blessing and the biggest blessing I had received was being brought up in Mukti. I knew that this was my opportunity to give back what Mukti had done for me. My life was shaped in such a way that I could be instrumental to shape the destiny of other children in need.
To make this God-given dream come to reality, our first two boys came to live with us on July 5, 1999. We served at this home for 16 years and over the years had 16 boys under our care. We lived in the same house, ate the same food and ensured it was a family-like atmosphere. Our daughter Champa* was born in 2002 and the boys were thrilled to have a little sister.
We have also been leading the local church for the last 18 years and have grown from eight members to about 150 members. We also planted two more churches. The boys who grew up under our care are worship leaders and musicians for the church.
Champa is growing into a fine young girl and is passionate to serve the excluded. She loves visiting Mukti.
I am currently working as the Regional Head for an organization in India that works largely among those from situations of abuse and exploitation.
Looking back, I am so thankful to the Lord for a great childhood in Mukti, for all the opportunities and above all, to know my Saviour, the Lord Jesus. All my achievements are nothing but the Lord's doing; His blessing, His favour. Mukti will always be my home and I proudly teach my Sunday school children about Pandita Ramabai. I also encourage our youth to take part in missions. As we pursue in building His kingdom, we do keep at the core of our values what Pandita Ramabai said, "A life committed to God has nothing to fear, nothing to lose and nothing to regret."

*Name changed
WOULD YOU LIKE TO LEARN MORE ABOUT MUKTI MISSION AND HOW YOU CAN SUPPORT WOMEN AND CHILDREN TO HELP BREAK THE CYCLE OF POVERTY?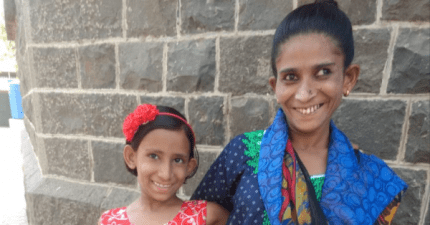 Many questions were swirling around in the minds of Nisha* and her daughter Pallavi*. They were so accustomed to life in Mumbai. Nisha and her little one were safe and comfortable in Ashralaya, a home for women and children from destitute backgrounds in Mumbai. Unfortunately, the home did not have the facility for long-term residency for both mother and child, so the loving sisters (the nuns) who were in charge of this home approached Mukti Mission for help.
Very soon, Nisha and eight year-old Pallavi became part of the Mukti family. Nisha was born with a speech impediment and has been mute since her birth. In their society, this disability may have been considered a curse on the family, forcing her to leave home and fend for herself. To earn a living, she worked in one of the housing societies in the vicinity, doing daily household chores.
Through an acquaintance, she met her husband and had a beautiful baby girl. But it wasn't long before Nisha was deserted by her husband, leaving her on the streets with her child.
Nisha had to eventually discontinue her employment as she had a baby to care for and nobody would accept Nisha and her baby in their home. Unfortunately, they had no choice but to restore to begging in order to feed themselves. Commuters and those passing by in the city felt sorry for them, but in Mumbai, a city that never sleeps, people are busy and overwhelmed with the worries of the day, ignoring Nirmala and her baby.
One day, the police felt that there was no option but to move them to Ashralaya, a halfway home for women and children from impoverished backgrounds.
Now Nisha's permanent home is at Mukti Mission. Whenever Nisha is found around the campus, she loves running to people with her warm smile and bright eyes. She always has a message to share about her life. It's difficult to understand Nisha sometimes, but when Pallavi is with her, Pallavi is smart enough to know what her mother wants to say and without mincing words. Pallavi, with her impeccable English, will translate from her mother's sign language.
Mukti Mission has a unique ministry of accepting both mother and child together as part of the empowerment program. Praise God for Mukti Mission, who opens its doors for those in need, so that they can find hope and a bright future.

*Names changed for privacy and security
WOULD YOU LIKE TO LEARN MORE ABOUT MUKTI MISSION AND HOW YOU CAN SUPPORT WOMEN AND CHILDREN FROM IMPOVERISHED BACKGROUNDS IN INDIA?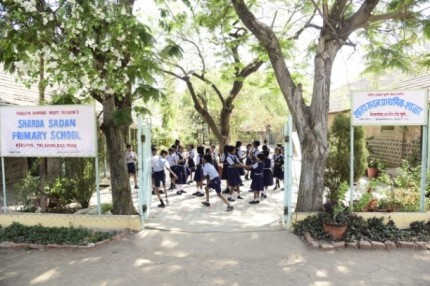 As of March 11, 2019, Mukti Mission and the Sharda Sadan home have been around for 130 years. Sharda Sadan, which means 'Home of Learning', opened with two pupils and soon increased to several hundreds. Today, it houses more than 2,200 students, both residential and day scholars, who are eager to take advantage of an education that has been imparted since the last four generations. A great-grandfather, aged 85, proudly came to grace the occasion as his great grandson is the fourth generation student of the school.
Mukti Mission founder Pandita Ramabai's heroic fortitude, unflinching devotion and absolute faith have brought hope and a bright future to thousands of suffering women and children. Surrounded by opposition, abuse and treachery, she has fought almost single-handedly against the evils of superstition and ignorance, the tyranny of caste, the iniquities of child marriage and perpetual widowhood, which for century upon century have blighted the lives of women in India.
Over the past 130 years, more than 7,000 children have studied at the school. It is a unique school where parents of the students play an important role in its growth. It is more of a family-based school where students from all walks of life attend and have testified that they have not seen or experienced any kind of discrimination.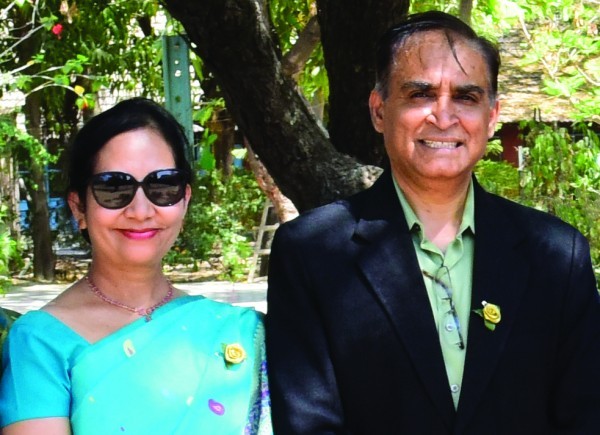 Being an ex-student of the school, Dr. Mahendra Chitre, a neurologist in a leading hospital in Pune, was invited to be the Chief Guest to preside over the function. Dr. Mahendra Chitre delivered a very down-to-earth address, bringing sweet memories of his childhood experiences. The audience was moved when he made a reference to his 2nd Standard teacher, Sumanbai Shitoley, who was in the crowd. When Sumanbai was teaching the little boy Mahendra, she wouldn't have thought that she was investing her teaching skills in a student who would one day become a neurologist.
Teachers, you have an important role to play in the lives of your students. Your little primary section student today may become someone who will impact the nation tomorrow. Mukti Mission's special emphasis is education. The dream of starting a Pandita Ramabai University is being pursued and will take another decade for this dream to become a reality. However, the immediate goal is to work towards a Senior College of Science, Arts and Commerce as a first step to fulfill the larger dream in the days to come.
Also at the event was Chairman and Advocate Markas Deshmukh (also a former student) and 450 former students. Two very senior teachers, Mrs. Sumanbai Shitole and Mrs. Sakhubai Jadhav, who taught at Sharada Sadan in 1967- 1972, were amazed to see how the school has grown and were very touched.
The staff and students set up a wonderful programme which was centered on the theme of 'relationship'. It was a blessed day which ended with a delicious lunch for all.
WANT TO LEARN MORE ABOUT MUKTI MISSION?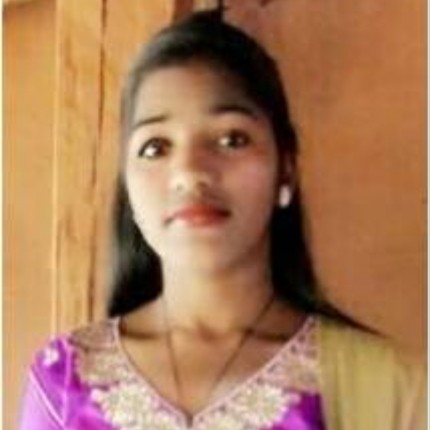 When Rajalini was a young girl, she would visit a nearby hospital run by a Christian Mission. She would watch, fascinated, as the nurses cared for patients, taking note of tender and compassion they had with every interaction.
"There was one patient in particular who not only needed medical care but needed a loving touch from the Lord," Rajalini recalled. "There was a nurse who ministered to the patient as if Jesus was touching him. Looking at this service to humanity, I felt a burden in my heart to grow up and become a Christian nurse and do likewise."

As eager as she was to get started on her studies in order to pursue nursing, her situation held her back. Her parents worked on daily wages and she was in charge of household chores, such as cleaning and cooking.
It was through the benefit of education at the Sukungia Day Care Centre, run by Pandita Ramabai Mukti Mission, that Rajalini was able to continue her studies. The initiative was started with the aim to help studious but impoverished children get through school.
"After joining the Day Care Centre, my life was transformed inside out. I have learned so many new things and I felt a great sense of deliverance. My mourning turned into dancing. I am now in Junior College and will definitely pursue my dream to become a nurse so that I can help the hurting people by showing the love of Christ."
WOULD YOU LIKE TO SUPPORT A YOUNG WOMAN LIKE RAJALINI IN INDIA? HELP EMPOWER GIRLS AND WOMEN AT MUKTI MISSION.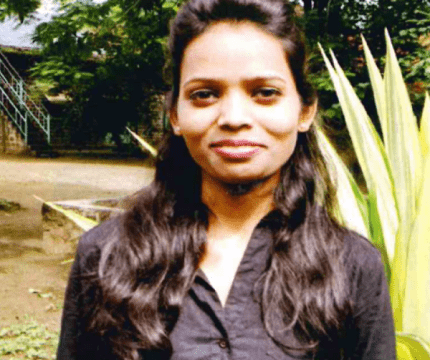 By Shital
I am Shital, a daughter of Mukti Mission. I arrived at Pandita Ramabai Mukti Mission in May 2001, at the age of five, along with my two older sisters. After our father's death, our mother was not able to look after us or provide for our needs. So she decided to take the three of us to Mukti to give us a better future. She always hoped that we would grow up in a place where we would be loved and cared for.
As I was growing up in Mukti, I was nourished and cherished by the people around me. I received a good education from primary school through 12 standard (Grade 12) while at Mukti and subsequently went on to pursue a Bachelor's Degree in Computer Science with the help of the Mission. By God's grace, I completed my degree with First Class (honours).
I was given all that I needed, not only for my physical and academic needs but spiritually as well.
At present, I am living and working in Pune with an IT company. Mukti encouraged me to explore new things in the outside world with my education and talents. Through these new opportunities, the joy of the Lord is reflected to those around me. People often ask me, "How can you be so happy?" This gives me a platform to share my story, of how I experienced God's love, with my co-workers. Though I am surrounded by many challenges as a new employee, I have already seen how God is protecting and strengthening me.
I am really grateful to God, that He brought my sisters and me into the Mukti family and to have a secure home. Whatever I am today is because of God and the gift of Mukti. I believe "The will of God will never lead you where the grace of God cannot keep you."
SHITAL IS ONE OF MANY INSPIRING WOMEN WHO CAME FROM MUKTI.
SUPPORT THE NEXT MUKTI GIRL AND HELP HER GROW INTO AN EMPOWERED WOMAN. GIVE TODAY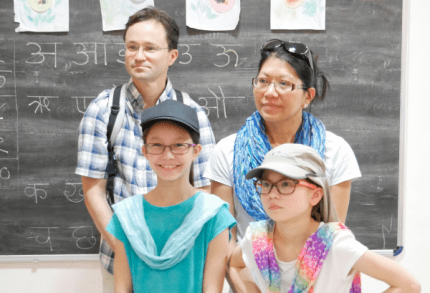 When May's first daughter Rachel was born 11 years ago, May knew that she wanted to take her family on a mission trip.
"With our children growing up in a society where they have everything at hand, I wanted them to know that God loves all people, not just those around them that they are able to love. I wanted them to know that despite different cultures, we are all the same. We were all created by God and we all have the same needs."
When she heard about GAiN's LIFE Team to India, two weeks at Pandita Ramabai Mukti Mission to run a children's camp for orphaned girls during Diwali, she knew that it was the perfect opportunity for her family.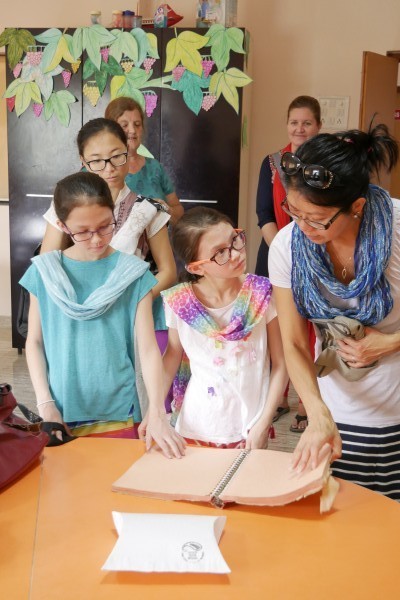 May approached her husband Andy about the opportunity and together they encouraged their daughters to pray about going. After months of prayer, they finally got their answer when their youngest, Amanda, age 10, said, "I really want to help the girls, too. I think we should go."
"It wasn't a decision we made overnight. It was the girls' first time out of North America, to a country that is totally opposite from our society and culture," May explained. "We knew it was an extreme shock to them."
So May, Andy, Rachel and Amanda joined a team of six other people to India in October. May was assigned to lead the crafts workshop, teaching the girls how to make things like popsicle stick flowers and Perler bead designs.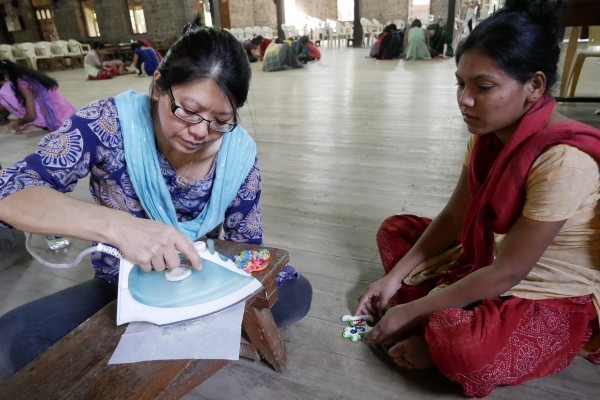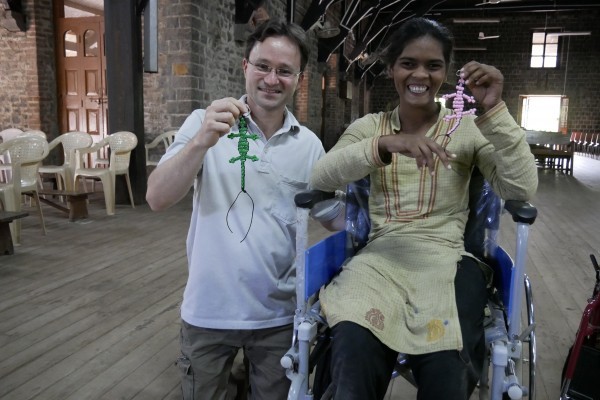 While the girls enjoyed getting creative with the crafts, May's favourite part of camp was music time with the kids.
"I enjoyed singing with the girls – the blind and disabled children. Being able to sing with the blind children and move their arms to do the actions… That was such a highlight for me, to see the joy on their faces," May reminisced.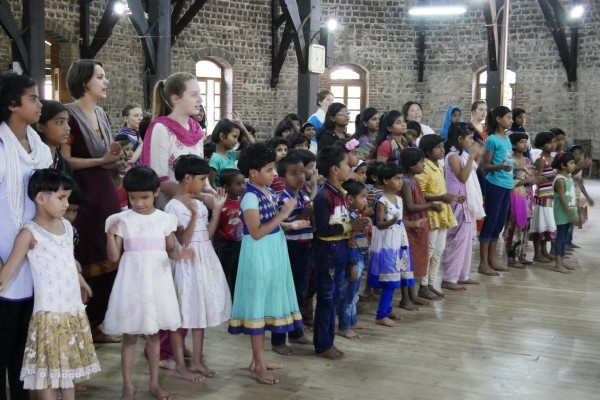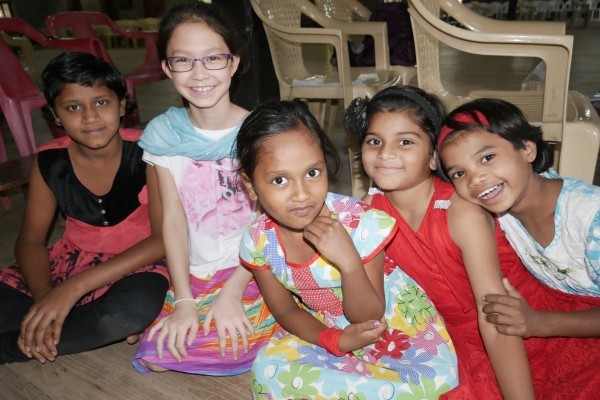 For Rachel and Amanda, one of their most memorable moments was visiting the blind women's home on the Mukti campus. The ladies spoke minimal English, so the girls and other team members were able to help them write Christmas cards to the women's sponsors.
As it was their first trip outside the country, May has been able to see how the mission trip to India has impacted her girls.
"Since we've been home they've been wanting to find out how they can help the mission on this side, in Canada," May explained. "It has certainly impacted them in the sense that they're more aware of the needs of people and that there is a spiritual need. They pray often for those in Mukti, especially the special friends they've made there. They've seen the physical needs as well and so they often ask, 'How can we help them? What can we do? What can we send them?'"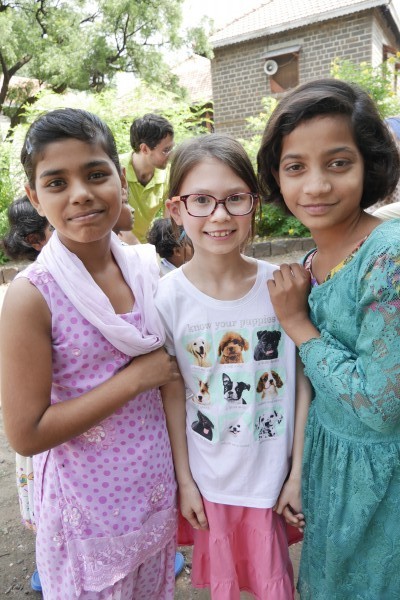 A LIFE Team trip to Mukti Mission is the perfect way to introduce your family to mission trips, May says. She highly recommends the experience for people who want to take their young children.
"Bringing children, I find, breaks a lot of barriers because children are children and my kids just love making friends with the girls," May explained.
"Our team was wonderful. We had unity and all had the same desire, which was to love on the girls. Often they have this perception that Canada is better than India, but it wasn't about our two cultures. It was about them and showing them that God loves them and we are just like them."
JOIN US ON A LIFE TEAM TO INDIA THIS YEAR.