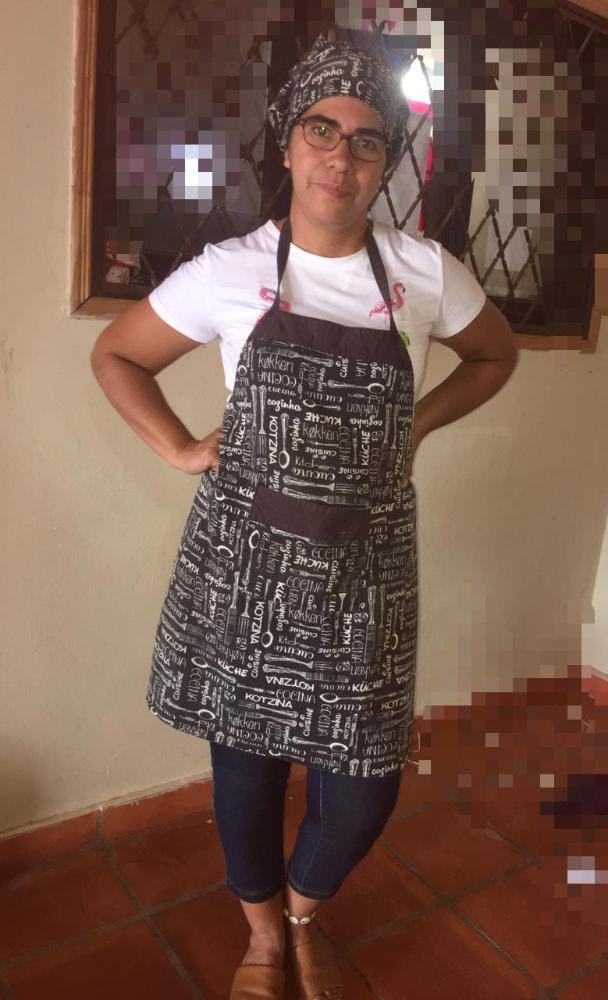 As both a mom and stepmom, Luisa works hard to not only maintain a business, but to see it grow and expand into new areas so that she can better provide for her family. Two years ago, Luisa started selling rotisserie chicken to go, which gradually turned into a small café restaurant.
Luisa is part of the microloan program with Diaconia, Global Aid Network (GAiN)'s partner in Paraguay. GAiN envisions a world with flourishing communities where people are physically, spiritually and emotionally thriving. Through the program, many women who are living in poverty are given the chance to start or grow their own businesses, become financially independent and free from debt. Women in the program are also put into weekly trust groups with other business owners, where they can encourage and hold each other accountable to pay back their loans.
When Paraguay enforced a strict lockdown because of the COVID-19 pandemic, people no longer went out to eat in restaurants and many places began to implement delivery services. Luisa noticed this trend and started selling containers and to-go boxes to the other businesses in her community. Now, her neighbouring small enterprises can purchase the supplies they need from her in bulk.
Luisa is thankful for the support she receives from the other women in her trust group and says it's nice to be surrounded by other small business owners because they can share advice and support each other.
With her current loan, Luisa will restock her products as delivery services continue to grow. However, her long term goal is to expand her rotisserie chicken business into a buffet restaurant. And while she loves cooking and seeing her business thrive, her true motivation is to sustain her family and provide a better future for their four children.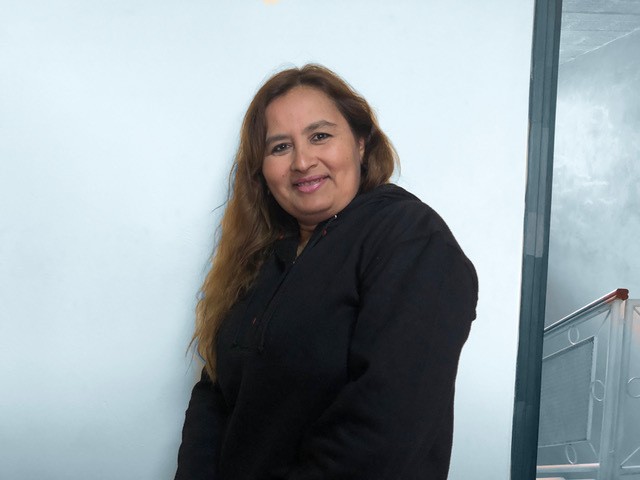 There's a common phrase in Paraguay that talks about putting on the jersey when someone needs you or something needs to be done. It means that you are a team player and that people can count on you to come through. Over the past year, Maria has shown that she not only is a team player, but that she seeks out opportunities to empower the women around her — her teammates — in life.
Maria joined a trust group through Diaconía, Global Aid Network (GAiN)'s partner in Paraguay, three years ago to help her thermos decoration business grow. In 2018, she started attending vocational training courses to learn how to decorate sandals and make bead jewelry. Her instructor, Fabiola, recognized her talent and knew about her thermos decoration business, so she invited Maria to learn more about becoming a course instructor.
At the beginning of 2019, Maria started teaching a new course. With the popularity of a loose leaf tea called "tereré," her thermos decoration quickly became the course with the most demand in the communities. Maria has grown significantly in her self-confidence and independence, as she now drives herself to other cities to offer courses. Recently, she has expanded the courses she offers to include the skills she had previously learned with Diaconía. Last year, she taught a total of ten courses.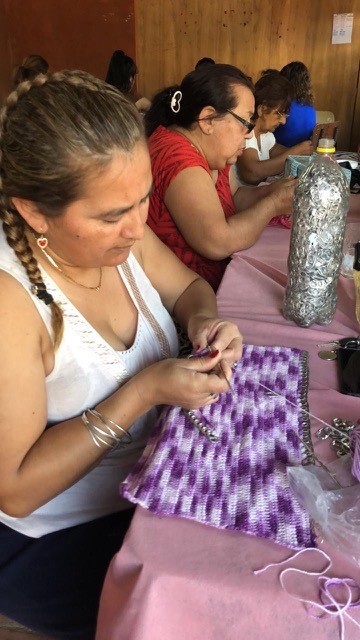 With her payment from teaching, she applied what she has learned during her time with Diaconía and invested wisely in her business. She was able to purchase a new embroidery sewing machine to give her thermos products a more detailed and elegant design. As she continues to grow in ability and capacity, Maria never looked around and saw other women as competition. She is always looking for ways to serve and empower the women around her, helping them to learn new skills and ways to improve their businesses. She has also looked for new ways to serve in her church as she grows in her faith through the constant discipleship she receives through Diaconía.
Everyone that meets Maria falls in love with her. She shows up early and prepared. She knows what it means to go above and beyond — to wear the jersey.
We met Maria earlier this year and were encouraged by her story. Like everyone else, her life was impacted by COVID but because of the continued support, Diaconia is slowly restarting operations. At the moment, there are a total of 4,340 Diaconia clients. Smaller loan groups are meeting where possible, or trust group presidents are meeting one-on-one with members. As things are getting back on track, we look forward to sharing more stories of hope like Maria's.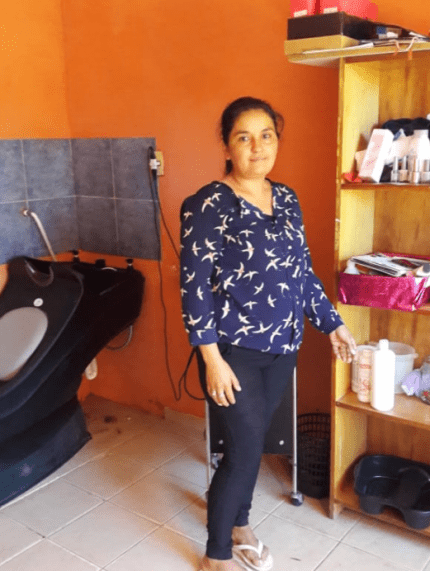 Irene is a woman of many talents. Though her profession and passion is cosmetology, she began selling perfumes and clothing 22 years ago. She always dreamed of opening her own beauty salon but because of her family's economic situation she wasn't able to.
She lives with her husband and their four children, one of which is adopted. When her niece was abandoned at age six, Irene's mother (the child's grandmother) took her under her care. However, when the grandmother passed away, Irene began to care for her niece and she became part of the family. Having an additional child was difficult, financially, but Irene's family persevered and with God's help and faithfulness they now have more stable finances.
Two years ago, Irene was finally able to fulfill her dream. Due to the support of Diaconia, Global Aid Network (GAiN)'s partner in Paraguay, she was able to open the beauty salon that she always dreamed of having. With her loans that she receives from Diaconia, she buys first-class products and equipment for her salon. Soon, she hopes to purchase products to offer massages since she has also completed several masseuse courses. Other than the financial help she is receiving, Irene would like to complete more training in both cosmetology and massage therapy. Her long-term goal is for her beauty salon business to grow to be self-sustaining so that she will no longer have to sell perfume and clothing on the side.
Not only is Irene working toward expanding her business, she is also a dedicated chaplain of several Diaconia trust groups. Trust groups are made up of about 15 loan recipients who gather regularly to pay back their loans, receive support from their peers and hold each other accountable. Many trust groups also have designated chaplains who provide spiritual support by sharing a Biblical devotional before each meeting, offering prayer and emotional support to group members, and connecting them to the local church.
Through Irene's partnership with Diaconía she has grown immensely in her faith and is thankful for the support and encouragement she receives. Her love for the Lord is what motivates her to go every week and share His love with other women.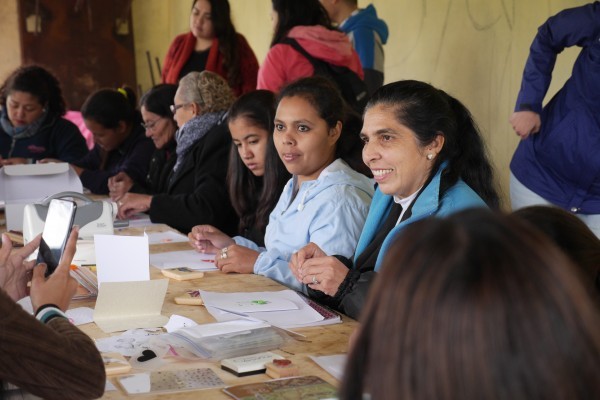 YOU CAN HELP A WOMAN LIKE IRENE BY PROVIDING A MICRO-LOAN TO HELP HER START AND GROW HER OWN BUSINESS. WILL YOU GIVE TO HELP BREAK THE CYCLE OF POVERTY IN PARAGUAY?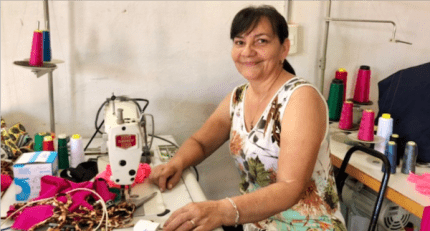 Fifteen years ago, Rosalina knew her life was about to drastically change. When her youngest son was born with mental disabilities, she immediately searched for a way to work from home. She had been working in a clothing factory for years and had sufficient experience in clothing design and fabrication to open her own home workshop in her home. She began to specialize in bathing suits and started to sell them to large retail companies in her city.
Now, her three older children work with her, along with one other hired employee. Two of her children have their own workshops as well, and one has been certified from a design institute. She says her youngest knows how to work all the machines and likes being involved, but he's still too young to legally work alongside the rest of the family.
Thanks to Diaconia, Global Aid Network (GAiN)'s partner in Paraguay, Rosalina was able to receive micro-loans to help grow her business. Diaconia helps impoverished women by offering financial training, vocational training and micro-loans to assist in the start up and growth of a small business.
Rosalina used the loans she received to buy new fabrics and accessories to make more bathing suits. She is currently in the process of launching her new line of suits for children and babies. Her goal for this season is to increase sales and hire someone to market and sell her specific brand. She wants to have her own store instead of selling her products to larger companies. Her other goals are to provide further training for her children and to purchase a printing press to put more designs on the fabrics. As a single mother, Rosalina has not only provided for her family, she has taught her children how to work hard, run a business, and persevere until you succeed.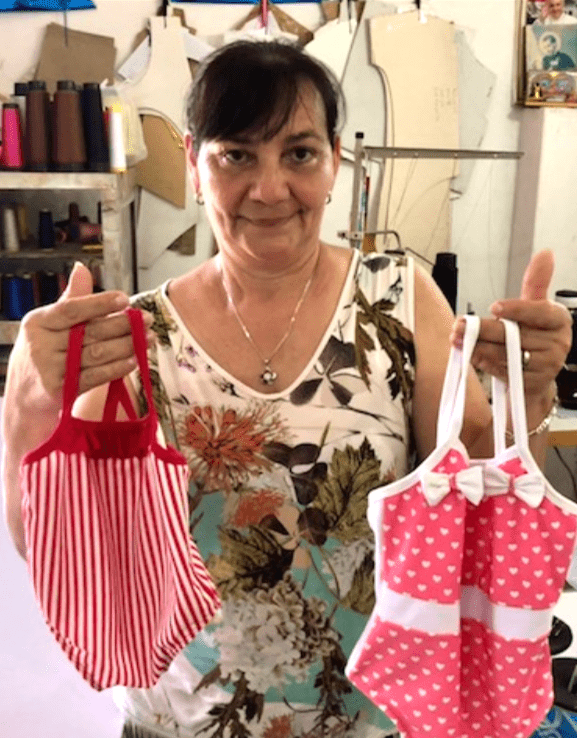 YOU CAN HELP WOMEN LIKE ROSALINA BY PROVIDING A MICRO-LOAN TO HELP HER START HER OWN BUSINESS. WILL YOU GIVE TO HELP BREAK THE CYCLE OF POVERTY IN PARAGUAY?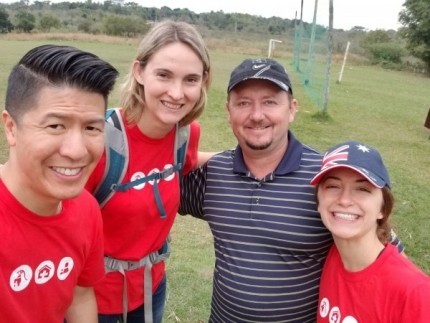 Alex P., Paraguay LIFE Team Participant, shares his experience below.
I was expecting to simply do some business workshops and that was it – but God had greater plans.

I felt called to do missions when I was a teenager but never acted upon it. Life got in the way – going to school, finding a job, getting married, buying a house, having kids, etc.
One Sunday, the pastor of my church had a sermon about "rekindling lost dreams" and, immediately, I thought about missions.
When I came across Global Aid Network (GAiN)'s booth at Missions Fest in January 2018, they really got my attention. I searched through the LIFE Team trips and saw that the Paraguay trip needed volunteers with a business background to teach on financial literacy, which is sort of what I already do in my profession! This was a sign that God was calling me there.
So, I went on the trip to Paraguay to serve with Diaconia (GAiN's in-country partner that provides micro-loans to help women get out of the cycle of poverty). There, I did workshops on financial literacy, how to start a business and managing personal finances.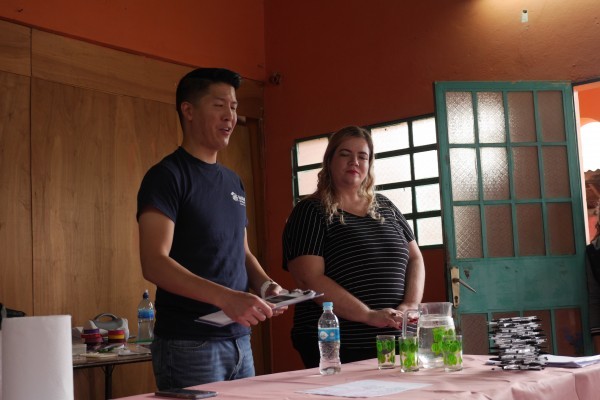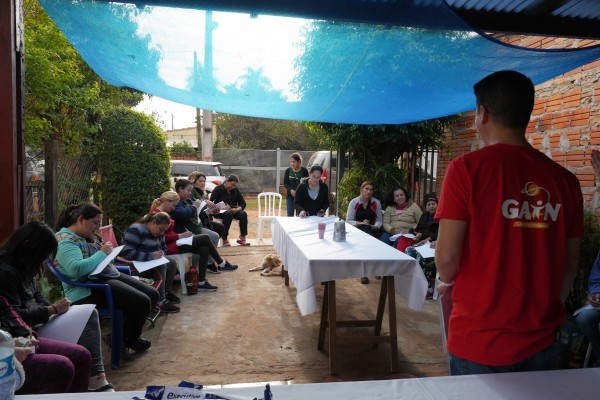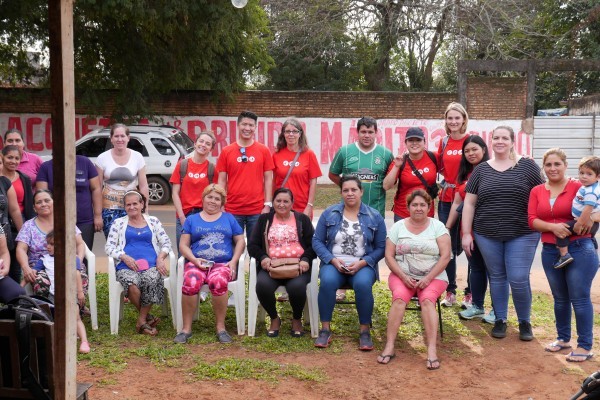 We also visited several Diaconia Trust Groups – groups of about 15 people, who receive a group loan and help hold each other accountable to pay back their loans. Then we visited some of the local businesses of Diaconia clients. We got to see how the micro-loan program has impacted their lives.
Near the end of our week, we visited Jesus Responde (Global Aid Network's other partner in Paraguay) and went to a wholistic community centre that partnered with a church to do AWANA Children's Ministry and spent the day with the children and staff there.
In the middle of the week, I also had an opportunity to lead a devotional for the Diaconia staff. I tried to keep an open mind to whatever God had in store for me. I was busy preparing the business presentations leading up to the trip, so I didn't have too much time to meditate on it beforehand. I was expecting to simply do some business workshops and that was it – but God had greater plans.
The devotional that I shared with the Diaconia staff was something I didn't prepare beforehand, perhaps only 30 minutes the night before. After several conversations with the local staff at Diaconia, it became apparent to me that because of the history with the Triple Alliance War and how it has affected the culture in Paraguay, the family unit is broken.
With the current culture in Paraguay right now, it generally accepted as normal for men to not be involved in family life, even being unfaithful to their wives. Some men are not present, leaving the burden to raise families to the women.
I felt that God called me to direct my devotional toward the men, talking about the importance of prioritizing family as a husband and father.
The staff at Diaconia really thanked me for speaking on the topic (even the women too). One lady said to me that no one has ever spoken on that topic like that before, and the men really needed to hear it.
There was great fruit from my devotional, as it even sparked more conversation with our missions team throughout the week! My initial intention was just to direct the devotion towards the men, but God multiplied the fruit by also blessing the women!
I feel that I showed God's love by serving the people through financial literacy workshops, leading a devotional, listening to people's stories and speaking into their lives, and spending time with the kids at the community centre.
What impacted me the most was listening to people's stories about how God has changed their lives through Diaconia, Jesus Responde and the local church. As long as we get out of our own way and say yes to God, He will open up doors and bless you abundantly.
I hope that sharing my experience with my family and friends will inspire them to also serve locally or abroad. I am most definitely thinking of going back! I've already made plans to return next year, and in the meantime, starting to learn Spanish.
If you want to go on a mission trip, do it! There is never going to be a perfect time to go. Life will get in the way and you can make up hundreds of excuses not to do it, but if you feel called don't ignore it. Say yes to Him and He will take care of the rest. You will be glad you did. You may even think "why didn't I do this sooner?" You will be blessed greater than you can imagine!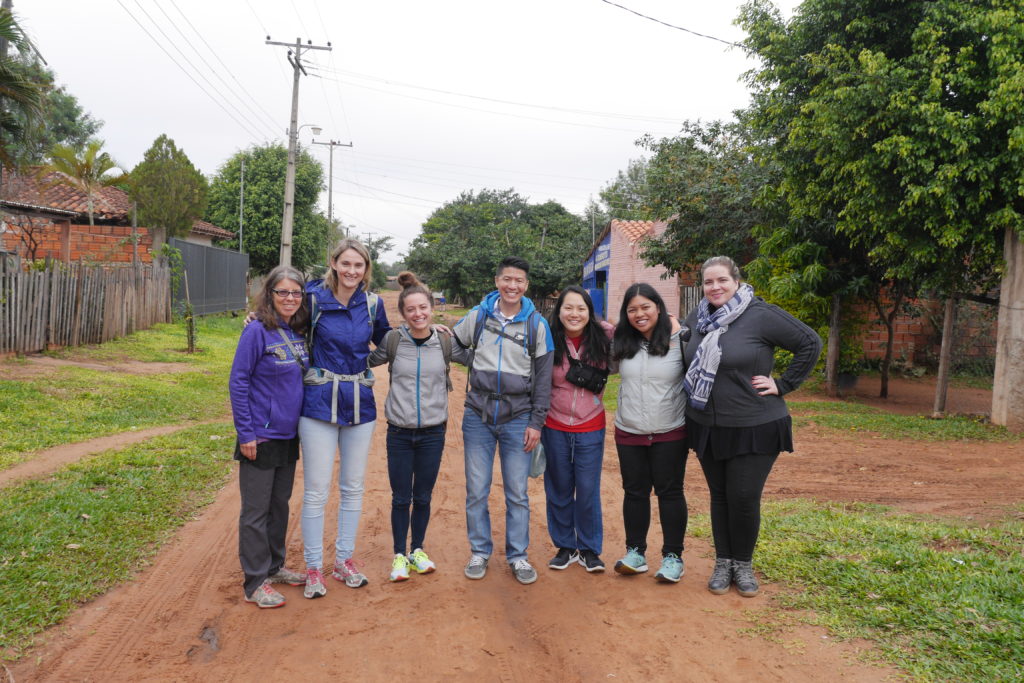 JOIN A LIFE TEAM TRIP TO PARAGUAY THIS YEAR!
I'M INTERESTED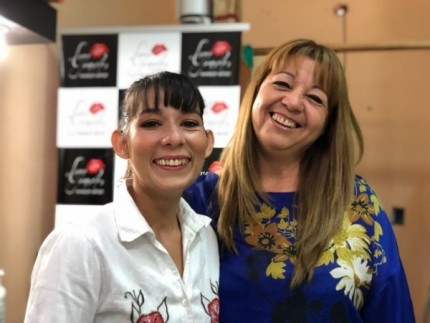 "I struggled to live. I had no money in my wallet."
Lucia, a resident of Mariano Roque Alonso, is a mother of two, Eladio, 7, and Mia, 6. Her husband lives with her and the kids, but she still carries the burden to provide for her family.
Before she heard about Diaconia, Lucia worked as a manicurist and struggled to make a living. With no money for training, her opportunity for growth was stunted. Her life changed when she heard about Diaconia through her son's school, where they were promoting free vocational training. Lucia signed up to learn hairdressing and makeup. During her training, her teacher Lorena saw great potential in Lucia and invited her to work at her hair salon.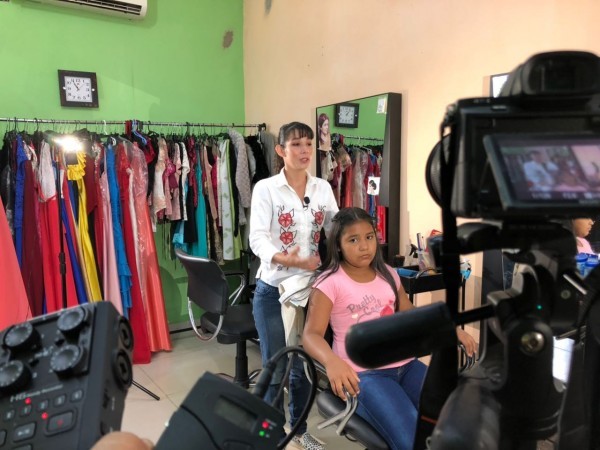 Today, Lucia has her own small business that has been growing and thriving. This past year, she was able to purchase a small car, which has helped her to be more effective in her work. Never did she imagine that she would ever drive a car, when all she could do before was yearn for a safer way to transport her little children.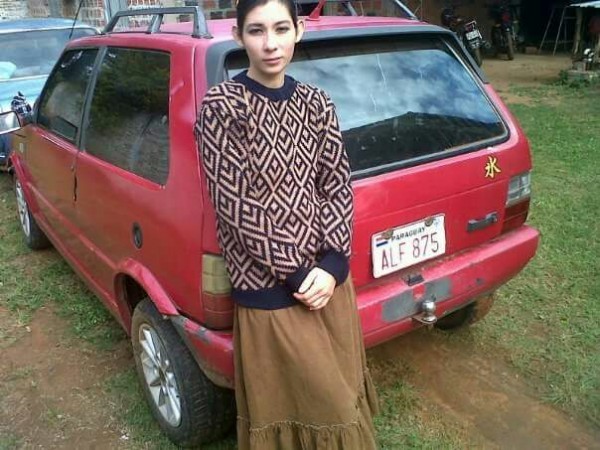 Survival is not the goal for Lucia and her family anymore. While she has a growing client base, she dreams of owning her own hairdressing shop where clients can come to her. "I am so thankful for the opportunities that I have access to thanks to Diaconia. It literally changed me and my family's lives."
WANT TO MAKE A DIFFERENCE IN THE LIFE OF A WOMAN LIKE LUCIA?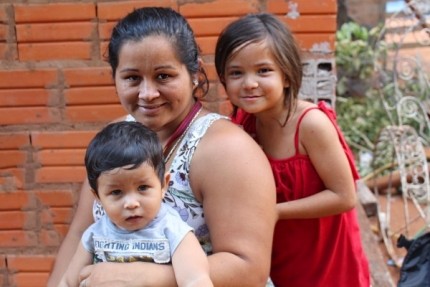 Maria Carmen, 37, is the mother of three children (a 12-year-old girl, nine-year-old boy and one-year-old boy). Every day she leaves the home before 4 am to collect and recycle trash, leaving her kids with her mother.
When she gets back to the house at around noon, she spends the afternoon cooking food, such as empanadas, milanesas and sandwiches, to sell to her community. Maria doesn't work out of a building, she goes out on the street to sell her food.
Maria is part of the Diaconia Trust Group called "Jesus Misericordioso", which means "merciful Jesus." She learned about this Trust Group through her sister, who was in the group before her and encouraged her to join. Maria Carmen says, "I have been in Diaconia almost four years and I want to continue. I am so thankful for all the help I have received."
The Diaconia program has helped encourage her to dream big about the future of her business.
"Thanks to [a micro-loan] I am able to grow my business and aim to open my little restaurant locally – that is my dream," shared Maria Carmen.
The Jesus Misericordioso Trust Group consists of 15 women who live in a squatter zone. Most of them have similar stories to Maria, some of them working through the night collecting and recycling trash.
"[The trust group] has helped me at so many levels," shares Maria. "I have grown financially and spiritually through our chaplain's visits. It is really true that we are stronger together."
WANT TO HELP FULFILL A WOMAN'S DREAM WITH A MICRO-LOAN?
DONATE NOW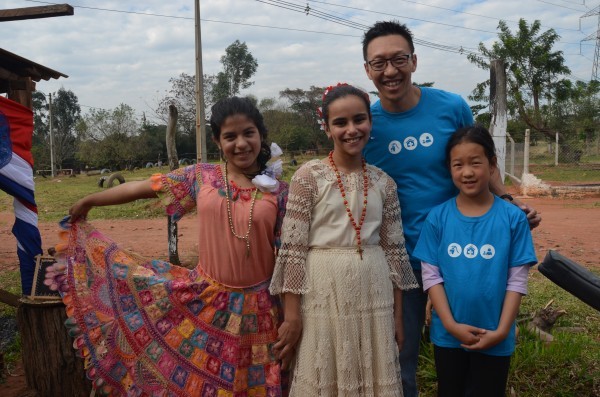 "I never knew that I could make an impact in other people's lives with the things that God has taught me and prepared me for," Osmond, from Richmond, B.C., stated after his return from a GAiN LIFE Team trip to Paraguay in July 2017. "I knew in what areas we were going to serve but I didn't know how God was going to use us, to be perfectly honest. We were just answering the call to go and we were just trusting that God would reveal Himself to us in new and exciting ways – and He really did. He changed my entire perspective on the concept of global missions."
Typically, mission trips are perceived to have carved out specific roles for volunteers: the doctor, nurse or physician, helping aid and provide care for those without access to proper healthcare; the teacher, carefully loving on the village children and imparting their knowledge; the builder helping build schools, houses or churches. Among those roles, Osmond could not see where he fit in.
"I'm not a healthcare professional. I'm not a teacher. I'm not a structural engineer, I don't build houses," said Osmond, whose specific discipline in engineering is in control systems. "I wasn't really sure how God was going to use me in this particular capacity other than an extra pair of hands. Through this trip, God made me realize that there is a lot of need in the world for the professional skills that I've learned over the years and that I'm able to bless a lot of people through that."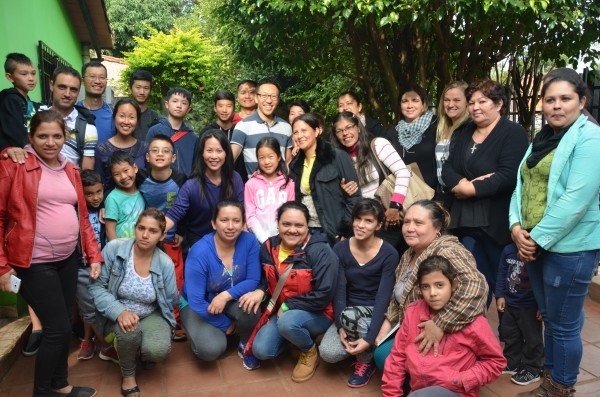 Despite his preconceptions about mission roles and his skill-set, Osmond was able to make a difference in the lives of a group of women in Paraguay. It was his 20-year business experience that was of value to the women at Diaconia, GAiN's Paraguayan partner.
The majority of impoverished women in Asunción, Paraguay are stuck in a cycle of poverty that traces back to the Paraguayan War in the 1800s, in which the country was defeated, along with the majority of its male population. The devastating consequences of this war still impact Paraguay today.
Osmond learned that post-war, the country's top priority was re-population, creating a culture where men were encouraged to have multiple partners. This practice stuck around for centuries and has had ill effects on Paraguay's family structures. It is culturally acceptable for men in this region to not be involved in the family, leaving women as single parents, struggling to get by in an already desperate economy.
That's where Diaconia, GAiN's Paraguayan partner, comes in. Diaconia provides micro-loans to women, encouraging them to take vocational classes and start their own businesses. With financial literacy training and other business classes, women in the program have access to education that empowers them to pay off their debts and help them get out of poverty.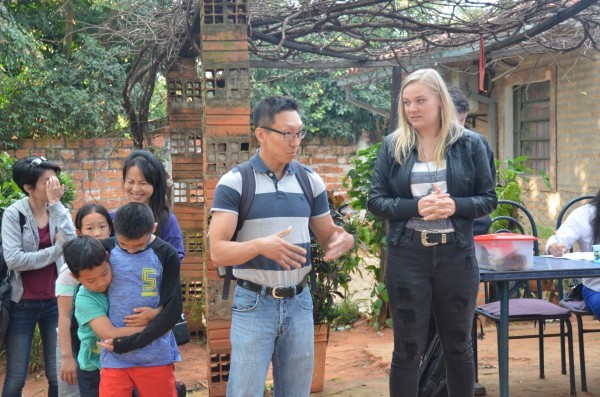 As a business professional, Osmond's expertise allowed him to do a presentation for Diaconia loan recipients, sharing his knowledge on small business and entrepreneurial best practices and principles. The presentations were restructured to address the unique challenges these women face.
"I would have never guessed that [my business knowledge] would be useful at all, but yet God did a completed 180 on me. I never realized how needed it was because many of these ladies never had the opportunity to learn anything about basic business practices before."
They finished the workshop with a talk on sustainability and creating a long-term business – something that is a foreign concept to the locals in Asunción, whose immediate concern is day-to-day survival.
"I had a lot of people come up afterward, thanking me for everything that we shared with them," Osmond recalled. "We talked [and] we prayed with the women. They seemed so encouraged by that. Seeing that light and that spark in the ladies that were there… Many of them indicated they were excited to be able to go back [to work] and start implementing things they learned from the seminar. They wanted to take advantage of these new ideas presented, that they could see tangible uses for. It was so exciting."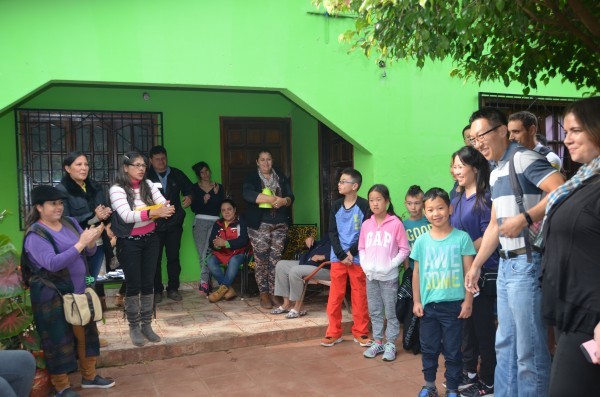 There was story after story of women whose lives had changed because of the program. One, in particular, stood out.
Amalia had a lifelong dream of owning an empanada shop. The shop was initially run from a small tent outside of her home. With the help of the loan, she was able to build a permanent building structure, complete with electricity and plumbing. Customers are welcomed with an awning and the store is furnished with stools.
"She opened the store early [one day] so that we could sample her empanadas. We were glad to purchase them, they were amazing!" Osmond raved.
"[These women] started with nothing and there was no way to break the cycle of poverty without this type of an opportunity. To have a business idea and be able to do something that removes them from the need to scavenge day by day for their basic necessities – it was so inspiring."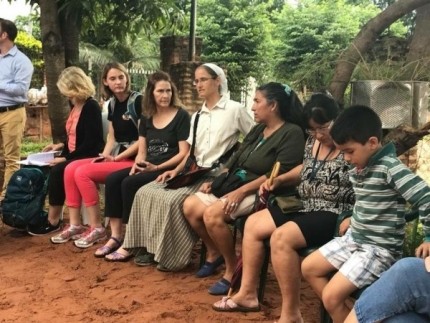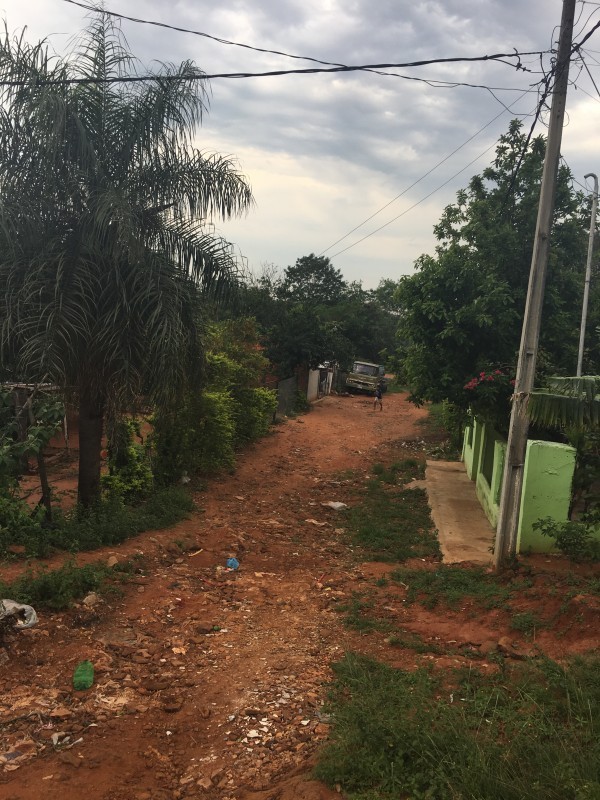 Close your eyes and journey with me as we travel down a dusty, red dirt road in rural South America – a road unmarked and impossible to find to the untrained eye. After half an hour of twisting, turning and bumping along, the road becomes impassible by car and the journey must be continued by foot.
Makeshift households are sparsely scattered, with laundry strung on lines; chickens, pigs, and dogs running around; and residents going about their daily lives. Around a few more corners and we reach a household where 15 ladies gather outside, weekly, in what is known as a Diaconia Trust Group.

Each lady exhibits hope and joy, as she describes her dreams of building a business for herself. The possibilities seem endless: a bakery, a cleaning business, a dressmaker, and even a pizzeria. She dreams this business will bring a better future for her children, as there is likely not a father figure in the household.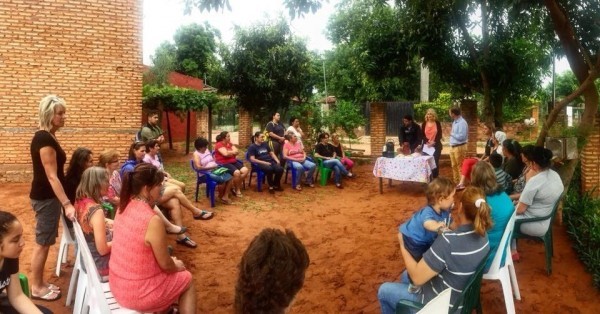 In the first meeting, earlier this year, each lady received a loan equivalent of approximately $30 USD – which will be paid back over the course of 12 weeks.
As the present meeting commences, the appointed group leader starts things off. All 15 ladies are called by name, one at a time, to walk up and make their loan payment in cash, into the cardboard box. A payment is in the range of 15,000 Guaranines ($2.70 USD). The ladies are also required to pay group designed penalties for late payments from previous weeks. The group secretary dutifully makes note of the payments by hand in the book, as the loan steward stands by.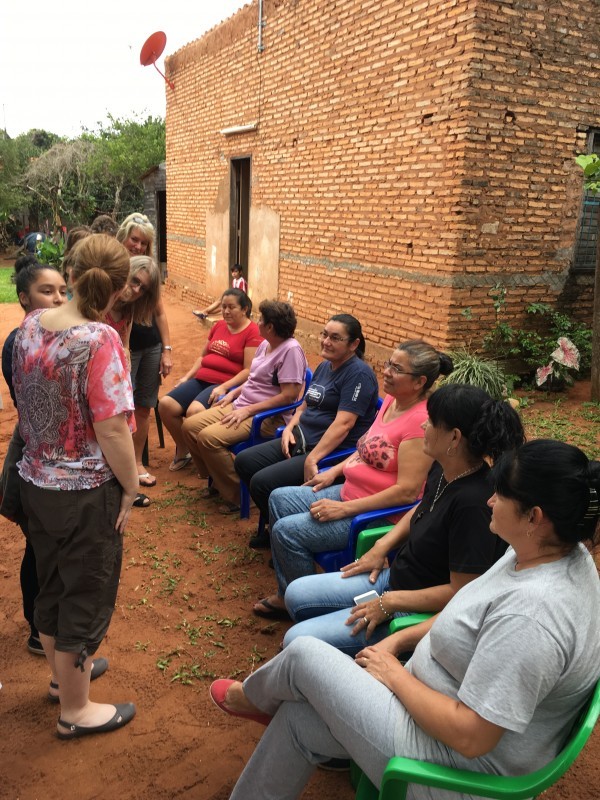 Following this initial round of payment, any ladies who received additional loans from group savings (for special projects) are once again called to the front to make their cash payments, as the secretary takes note.
Once these debts have been paid off, the ladies request any loans from the group savings for special projects. The group then approves these requests and the loans are issued.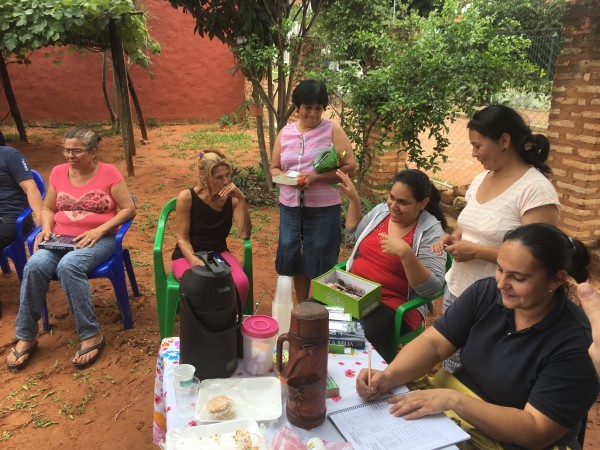 Upon completion of the meeting, each lady returns down the dusty road by foot, as she continues to work hard building her business, and in turn, restoring hope for the future of her family and the future of Paraguay.
Want to help empower women to change the future of Paraguay?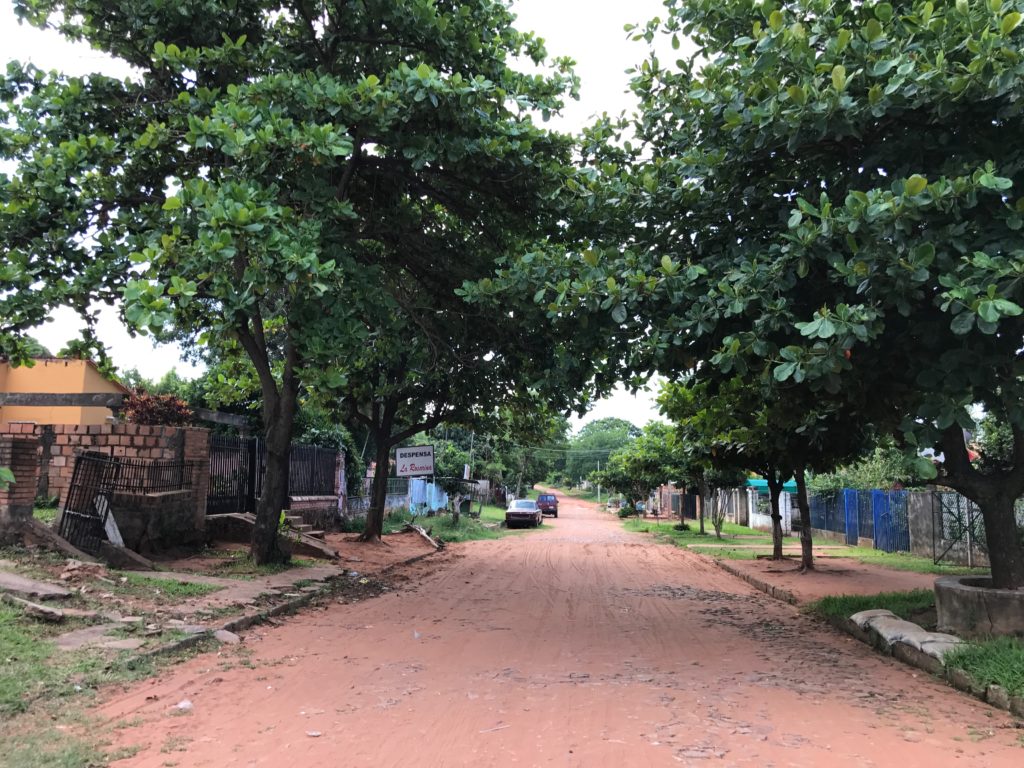 On their first day in Asuncion, Paraguay, during a nice stroll along the Paraguay River, the LIFE Team was exposed to the stark reality of inequality. High-rises towering over the floodplain slums revealed the intense economic disparity of the city. When heavy rain pours and the river rises, squatter homes – made of cardboard, metal and tarp – that line the shores are subject to flooding, forcing people to leave their makeshift homes until the flood subsides.
A far way from home, the LIFE Team spent two weeks in 2017, serving communities in Paraguay, alongside our local partners. The team was made up of families from the Richmond, B.C. area, ranging in age and consisting of adults, teens and children. They got to teach workshops, visit an orphanage, prepare food and distribute goods, as well as spend quality time with children in the community.
In Paraguay, the pit of extreme poverty is so deep that those in the gutter feel hopeless to escape.
More than a third of the population live in poverty, especially those in rural areas.1 Because the burden of poverty usually falls on women, Diaconia (our partner in Paraguay) provides micro-loans to poor women who are trapped in debt, empowering them not only through opportunities to start a career and earn money to pay off their loans, but to also build a better future for their families.
Rufina was one of those women. She received an opportunity to create a new life. As a wife and mother of five, Rufina now had hope that she could provide for her youngest adopted daughter, Anita.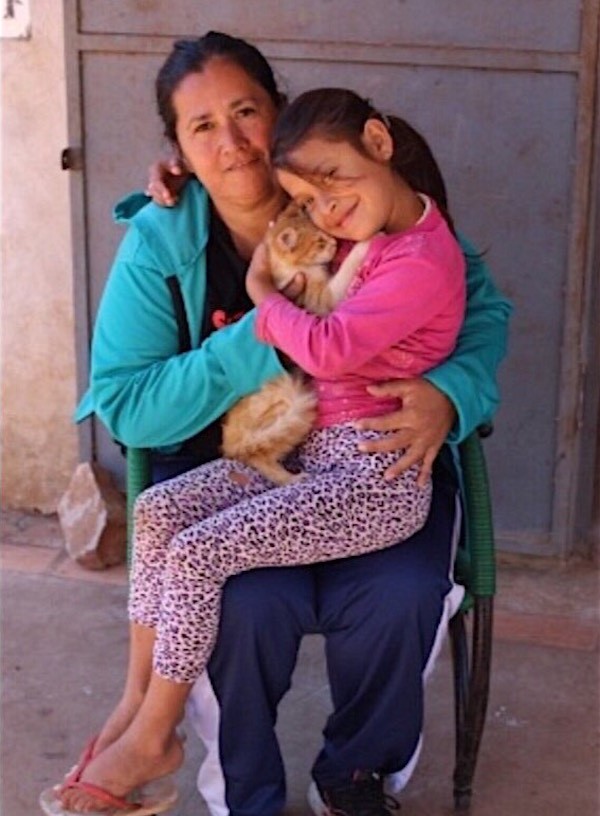 She had always fought to overcome the many obstacles in her life, but it wasn't until she joined Diaconia, that she received an opportunity to move forward.
"Two years ago I joined Diaconia with the hopes of growing financially by investing into my clothing store," Rufina shares. "We were struggling to put food on the table and were having a difficult time with my daughter. I was taking medication to sleep at night, which made me very exhausted throughout the day. I was struggling and my family and friends were worried about me. I started to work with our micro-finance Trust Group each week. Today, I am off sleeping pills and my business is thriving. My daughter's life is also improving. I can only say that Diaconia has brought a change into every area of my personal and family life!"
Marta was another woman impacted through Diaconia. As a single mom to one son, Marta was struggling to make ends meet. Selling food on the streets was her only way to make a living. But this all changed when she got involved.
"A year ago I was struggling to make ends meet," shares Marta. "I was living in a constant deep sadness due to the passing away of my father who had always been such a support. I heard of Diaconia and joined. Before I knew it, I was cooking and selling meals from home on a consistent basis and making really good money with it. Today, I don't have to go out on the streets anymore to sell food. Through my Trust Group, I was able to hear about God's love for me. Today, I am free from the sadness that had overtaken my life. I have been blessed above and beyond what I hoped for!"
The micro-enterprise program also provides workshops and vocational training for these women, something that the LIFE Team was able to get involved in. A highlight of their time was leading workshops where they taught the women how to make something many of them had never even tasted before – Chinese fried rice. Some team participants also got to use their skills to lead workshops and speak on business-related topics such as marketing and budgeting, helping empower the women to develop the skills to grow businesses.
On their sixth day there, the team got to visit our other partner Jesus Responde, a Paraguayan non-profit that developed a strategy to connect local churches to build Community Centres across the country. With soup mix from the Fraser Valley Gleaners, a partner of ours that is based in Abbotsford, B.C., over 400 Community Centres are able to feed approximately 25,442 impoverished children each week.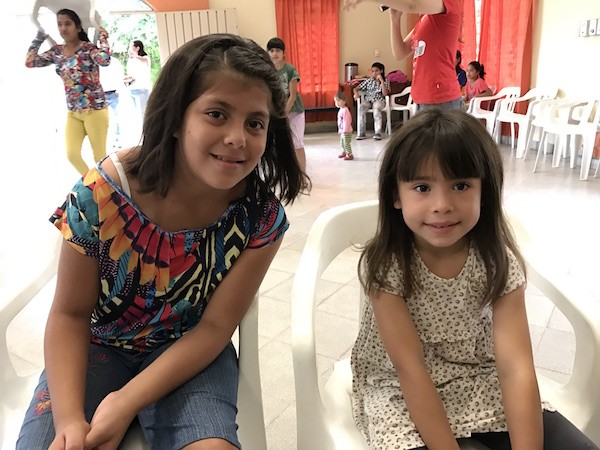 The team got to visit one of the Community Centres, where they were able to eat with the children and spend time playing games with them.
For many team participants, the most heartbreaking experience happened at the end of the trip, when they drove across the country to Ciudad Del Este (City of the East) to visit a children's centre. Though it was called Hogar Transitorio y Abrigo "Nino Feliz", which translates to Happy Child Transitional Home and Shelter, according to Lily Kwok, GAiN's LIFE Teams Manager, it was anything but happy.
The centre is a government facility that provides temporary shelter for children who come from abusive homes. Although Jesus Responde has been working with a local partner to help the shelter, and the children are no longer in abusive homes, their new temporary home still needs a lot of help.
"We were told the kids there are from broken homes, have never known structure and deeply craved love and affection," explained Kwok. "Honestly, we felt overwhelmed by the situation and were deeply saddened by the conditions of these kids. They ate so fast and wanted more! It was hard to leave."
Feeling the heaviness of the situation, team participants did their best to bring as much joy as they could in the time they were there. This came in the form of balloons, skipping ropes and groceries to prepare a meal for the kids.
Kwok comments, "It was a challenging but impactful two weeks. The group definitely grew in their knowledge of poverty and were challenged in how they are to respond going forward."
IF YOU WANT TO LEARN MORE ABOUT OUR UPCOMING LIFE TEAM TRIPS, CLICK HERE.