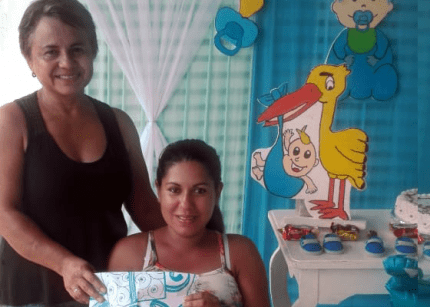 Mercedes is a woman of many talents. While her main business is selling clothing in her neighborhood, she also makes a variety of traditional Paraguayan foods to sell. Her two children are now grown, but are still living at home and their whole family depends on the income Mercedes generates with her business.
Creating a new income source was the initial reason that Mercedes became an entrepreneur, however, she has a deeper motivation for choosing to sell clothing. "Something I've always taught my children is that they should try to dress well," she said. "It doesn't matter if you're rich or poor, you should always try and you deserve the opportunity to dress well." She also commented that when she does business, she's not only selling clothes, she's selling hope to the people in her neighborhood.
Seven years ago, Global Aid Network (GAiN)'s Paraguayan partner, Diaconía gave her the initial push she needed to get her business started. She says that Diaconía has helped her to look further than her current situation and to hope for more. "Diaconía gives us the support we need. The women in my community have a lot of potential, but we need a push and training on how to start a business. Diaconía has been a huge help."
Mercedes has also learned how to always have a goal in mind, and she is working to one day have her own shop to sell clothes and also make healthy meals to-go. Many of her neighbours work full time and don't have enough time to sit and have a healthy meal at lunch time. Her dream is to create a menu with healthy options that her neighbors can purchase and take with them on busy days.
Over the years, Mercedes' trust group has grown together and learned to support and celebrate one another. They even take advantage of their meeting times to have birthday parties, baby showers and fundraisers for group members in need.
WOULD YOU LIKE TO PROVIDE A MICRO-LOAN TO A WOMAN LIKE MERCEDES?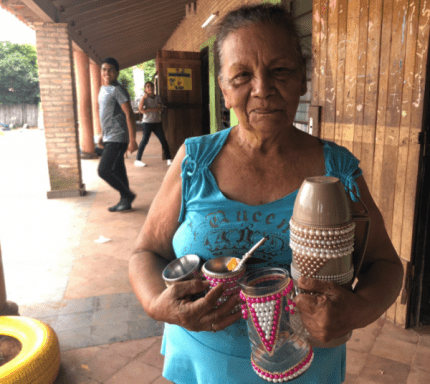 When Benita found out she was sick and began to grow weaker, she could no longer clean houses for a living. She began to sell traditional Paraguayan foods from her home but was just barely making it on the small income she was earning. At the beginning of 2018, she heard of the vocational training courses through Diaconía, Global Aid Network (GAiN)'s partner in Paraguay, and joined right away. Diaconia offers vocational training for impoverished women who are interested in establishing or growing a small business. Throughout the year, there are a variety of different classes for women who are interested in learning how to sew, craft, do hair and makeup and more. Since Benita started attending a vocational training, she has never missed a meeting since.
Throughout the year, she has learned to crochet, embroider cloth purses, decorate sandals and thermoses, and work with beads to make jewelry. Now, in addition to selling food, she takes personal orders for her craft work and sells her products in her community. She has always loved creating things but wasn't able to allow her creativity to flourish because there wasn't anyone to teach these trades. With the skills she learned in the courses, she now loves what she does, and the additional income helps her to advance more in life.
She is thankful for what Diaconía and God have done in her life and community. Because of this experience, her neighbourhood is improving economically and is more united. What she has learned and accomplished has created a sense of pride in her own work and has taught her that she can always learn new things.
DO YOU WANT TO HELP WOMEN LIKE BENITA BY GIVING THE OPPORTUNITY TO LEARN NEW SKILLS THROUGH VOCATIONAL TRAINING? YOU CAN HELP WOMEN IN PARAGUAY BREAK THE CYCLE OF POVERTY.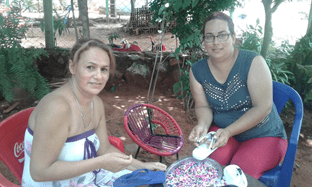 In the city of San Antonio, Paraguay, resident Maria Liz meets regularly with a group of women – all budding or aspiring entrepreneurs. This group is one of many trust groups formed through Diaconia, Global Aid Network's in-country partner in Paraguay that provides micro-loans and business training to poverty-stricken women. As recipients of micro-loans, these women gather weekly to encourage and hold each other financially accountable to repay their loans.
This particular group calls themselves Valuable Women.
"I heard about Diaconia through a radio station and called their office and that was how, together with a group of women from my neighbourhood, we were able to receive microloans," said Maria. "We heard about the vocational trainings offered and I immediately took the opportunity."
Maria attended a crafts workshop, learning specifically how to make embroidered slippers.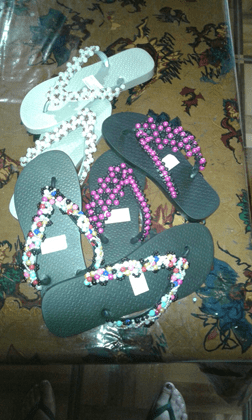 "I learned a lot. It gave me a solid income and I have sold a lot of these slippers since then. I am so grateful to Diaconia for creating a place for opportunity and growth for me and many other women in my community."
Would you like to help a woman like Maria start her own business? Your one-time or monthly gift can impact multiple women over time!
GIVE TODAY: