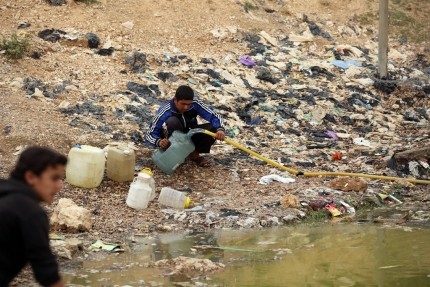 30 October 2017 – The Islamic State of Iraq and the Levant (ISIL or D'aesh) may be largely pushed out of Syria's Raqqa governorate, but after years of oppression and nearly a year of intense fighting – marked recently by heavy airstrikes – humanitarian needs will continue to be large for some time, the top United Nations relief official told the Security Council Monday.
"Since the beginning of the anti-ISIL offensive in November last year, airstrikes and clashes have resulted in more than 436,000 people being displaced from Raqqa to 60 different locations, including in neighbouring governorates," UN Emergency Relief Coordinator said briefing the Council via videoconference from Amman, Jordan.
"One conclusion is obvious: the impact of the Syria crisis continues to be profound."
Expressing deep worry about the impact of fighting and airstrikes on civilians and civilian infrastructure in Raqqa governorate, with scores of civilians reportedly killed in recent months, he said he is also concerned for the safety and protection of civilians at risk from unexploded ordinance throughout Raqqa city, particularly those trying to return to their homes.
"Despite the directive issued by local authorities for civilians not to return to the city until it is deemed safe, the UN anticipates that people will go back to try to check on and protect their homes and their personal assets," Mr. Lowcock explained.
Further to the east, in Deir Ez-Zor governorate, heavy fighting and airstrikes continue to result in civilian deaths and injuries. Large-scale displacement also continues, with the UN International Organization for Migration (IOM) reporting some 350,000 people displaced since August, including more than 250,000 people in October alone.
As for eastern Ghouta, Mr. Lowcock daily shelling has continued to be reported in recent weeks. Humanitarian access to eastern Ghouta – one of the four de-escalated areas where nearly 95 per cent of Syria's besieged population lives – has been severely curtailed for months. Since the start of the year 110,000 people have received food assistance, out of an estimated population of nearly 400,000.
"Today the UN and partners delivered food, nutrition and health assistance to 40,000 people, he told the Council, warning however that an alarming number of child malnutrition cases have been recorded there, and more than 400 people with health problems require medical evacuation.
Overall, he said that more than 13 million people inside Syria still need humanitarian assistance. 6.3 million of them are exceptionally vulnerable and in acute need because of displacement, hostilities, and limited access to basic goods and services. "Conflict and violations of international humanitarian law continue to be the principal drivers of humanitarian need, with civilians in many parts of the country enduring massive suffering."
"Against this background, the UN and our partners continue to implement in Syria one of the largest humanitarian operations in the world," said Mr. Lowcock who is the UN Under-Secretary-General for Coordination of Humanitarian Affairs, noting, by example that in September, the World Food Programme (WFP) provided food assistance to more than 3.3 million people, the UN Children's Fund (UNICEF) reached over 1.5 million people, and the World health Organization (WHO) reached over 800,000 people.
He also went on to point out that cross-border assistance provided for in last year's Council resolution 2165 "has been a lifeline," allowing the UN to reach millions of people in need in northern and southern parts of Syria. On average, aid was delivered to 2.76 million people a month through cross-border operations between January and August of this year.
"Our experience with cross-line operations from within Syria […] leads us to believe that it would be impossible to reach those people in a sustained manner from within Syria. I therefore regard a renewal of resolution 2165 as essential. Millions of people depend on the activities it mandates," he underscored.
IF YOU WOULD LIKE TO KNOW HOW GAIN IS INVOLVED, CLICK HERE.
(Source)
(Image Source: UNICEF/UN066040/Souleiman)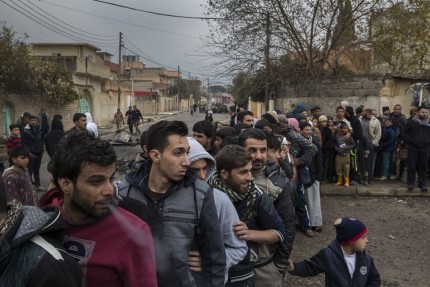 24 March 2017 – An estimated 400,000 Iraqi civilians are trapped in Mosul's Old City as fighting intensifies and people continue to flee, the United Nations refugee agency representative today warned.
"The worst is yet to come," said Bruno Geddo, the Representative of the UN Refugee Agency (UNHCR) in Iraq.
Speaking by phone, Mr. Geddo said the fighting in the west has been more intense than in the less densely populated east of the city, where the battle ended in January.
"People are stuck between a rock and a hard place," he added. "There's fighting shelling, bombing."
When people try to flee, extremists shoot them. Some have tried to leave during prayers or under cover of fog at first light – but were killed, Mr. Geddo said.
Meanwhile, life in the Old City is becoming impossible with a lack of food, clean water or fuel, Mr. Geddo said.
Meeting with civilians at the UNHCR transit and reception centre at Hammam al-Alil, outside of the city centre, Mr. Geddo said the number of people moving through has "surged" in recent days with up to 12,000 people arriving daily.
Some 340,000 people have been displaced since the fighting in Mosul started last October. Of those, about 72,000 have returned home.
The UN representative called on all those fighting to allow civilians to leave areas of conflict for safer zones, and no one should be forced to come back home.
"Liberating Mosul is necessary but not sufficient," Mr. Geddo said. "We equally have to get it right with the protection of civilians and in the humanitarian response."
(Source)
(Photo Credit: UNHCR/Ivor Prickett)
IF YOU WOULD KNOW TO HOW WE ARE WORKING IN IRAQ, CLICK HERE.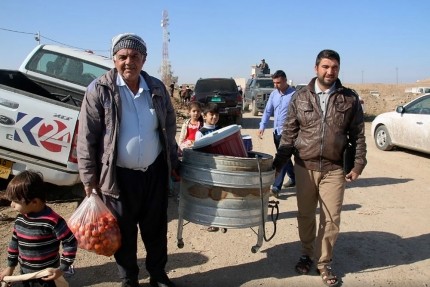 28 December 2016 – Since operations began to retake the Iraqi city of Mosul from the Islamic State of Iraq and the Levant (ISIL) two months ago, some 114,042 people have been displaced and as many as one million are out of reach of humanitarian assistance.
According to the latest report from the UN Office for the Coordination of Humanitarian Affairs (OCHA), the ongoing conflict has rendered it is impossible to state a definitive estimate on the number of people who are still living in ISIL-controlled areas.
However, the humanitarian community is concerned that conditions for these communities are deteriorating, as basic goods have not been replaced in western parts of the city since the city's supply routes were closed last month.
Of particular concern is the safety and security of children, as more than 50,000 have been affected due to the Mosul military operation and surrounding conflict. Hamida Lasseko, Deputy Representative of the UN Children's Fund (UNICEF) in Iraq, told UN News that the agency is working with the Iraqi Government to provide basic services, psychosocial support, and education to children.
"This is going to be our main area of focus – to advocate for the education of children. This will also help to keep the children safe: they will be protected from being recruited, affected from the armed conflict, and they will also be able to access their basic rights," she said.
"We continue to ask all those who are involved in the conflict to leave children to grow as children so that they have a normal life," Ms. Lasseko said, emphasizing that "they should stop using children for the benefit of the war."
For those who are now living at camps, humanitarian assistance includes basic services such as clean drinking water, latrines, medical assistance. OCHA emphasized that providing new plots to accommodate people who have recently fled is an urgent priority: just last week, an additional 10,170 people were displaced.
However, security incidents have threatened aid operations in eastern Mosul. On 22 December, three suicide car bombs exploded in Gogchali, an area on the eastern outskirts of the city adjacent to the main access route. These explosions were in addition to mortar fire that killed aid workers and beneficiaries. just a few days earlier, as well as a significant uptick in trauma injuries over the past month.
Meanwhile, flooding due to ongoing rains has threatened water safety, and the arrival of winter brings dropping temperatures and harsher conditions. UN agencies and stakeholders are working to ensure that civilians have adequate protection from the cold, and one NGO is building a field hospital to shorten ambulance journeys and reduce pressure on Erbil hospitals.
GAIN IS WORKING IN IRAQ. IF YOU WOULD LIKE TO READ MORE ABOUT OUR RELIEF EFFORTS, CLICK HERE.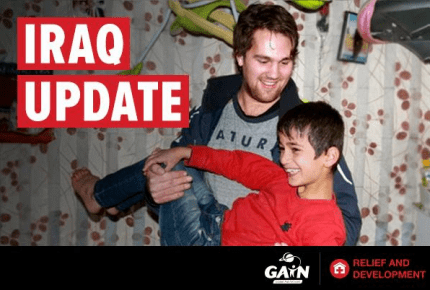 Saleem is your average ten-year-old boy who likes playing soccer and running around. But three years ago, while his family was fleeing from Mosul, IS fighters caught up to them. They took his father aside and gave him an ultimatum: either convert to Islam immediately or come with them. In order to protect his family, Saleem's father chose to leave his loved ones. No one has seen or heard from him since.
"They took his father aside and gave him an ultimatum: either convert to Islam immediately or come with them."
On Tuesday, December 13, GAiN's DART (Disaster Assistance and Response Team) members arrived on location near Erbil, Iraqi Kurdistan to distribute emergency relief to IDPs (Internally Displaced People) and refugees, people like Saleem and his family, from Mosul and Baghdad.

The team is distributing more than 1000 mattresses, blankets and pillows to people entering the Debaga refugee camp with nothing more than the clothes on their backs. They are also preparing to distribute food packages in Al-Karma and Al-Amal within the next few days.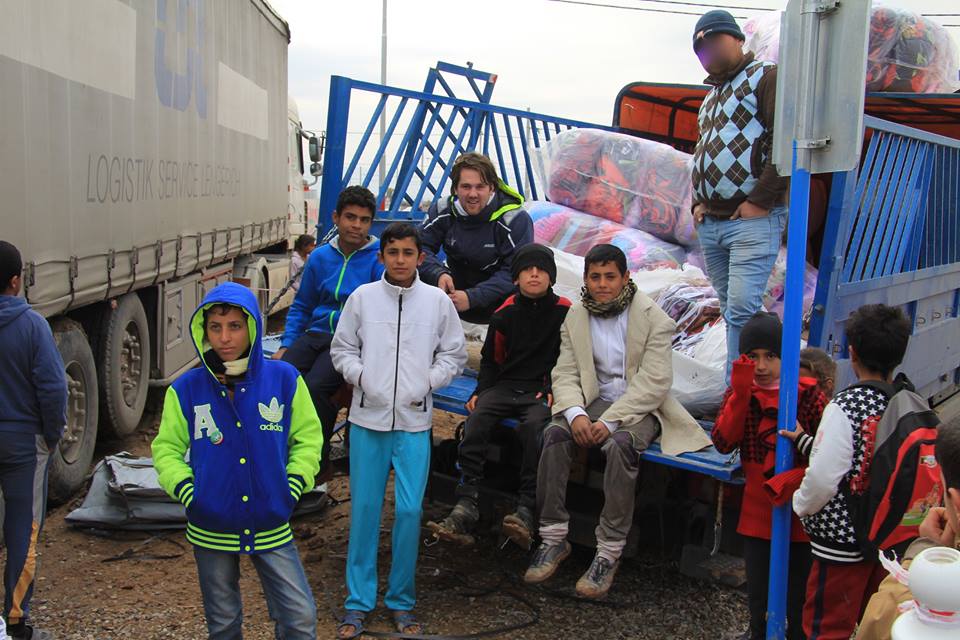 Since October 17, 90,100 people have been displaced from Mosul and have fled to Erbil and Ankawa with the need for food, water and non-food essentials, such as warm clothes and heaters to get through the cold Iraqi winter.
Team members attended a women's meeting with a local partner at an "improvised container church" outside of Erbil. About 60 women gathered to hear from a psychologist, who has worked with refugees for years, on dealing with suffering and pain. The psychologist not only spoke on scientific matters, but also shared her personal story about finding hope in Jesus. There, team members helped distribute Christmas gifts in the form of cookies, bringing a bit of light and normalcy to a dark situation.
As of now, the end is nowhere in sight. There is still a great need for daily essentials (food, water, shelter and clothing) and the urgency of the needs has only intensified, as winter has arrived.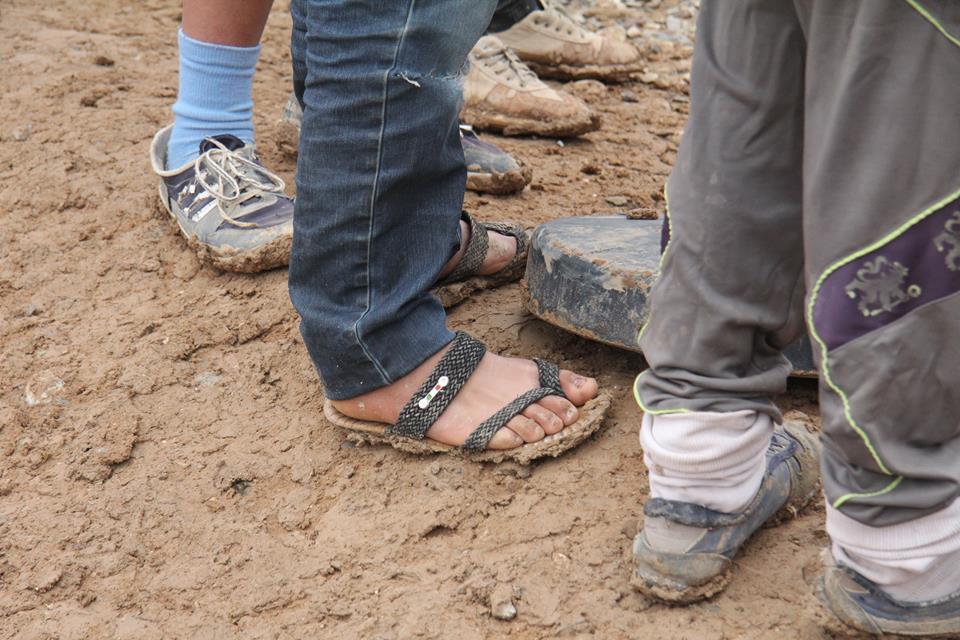 While Canadians experience cold winters, those in Iraq without shelter and proper clothing are at great risk. Providing fuel for heating, blankets and heaters are a high priority, as more than half of people displaced are children under 18-years-old.
Rick from the Netherlands was in Erbil in 2014 to distribute relief in refugee camps. Upon his return, he made a hopeful observation:

"Two years ago the whole city was crowded with improvised refugee camps. In almost every school building, park or church you could find a refugee camp. By now, a lot of these camps are gone. People have found shelter in houses or the refugee camps are transformed to long-term facilities. Tents are replaced by containers and in the unfinished buildings there are apartments built in. It still doesn't meet my conditions for having a decent life, but it is intriguing to see how people are able to fall down four times, but stand up five. Even coming from the most miserable circumstances people manage to make the best out of their lives."
"…it is intriguing to see how people are able to fall down four times, but stand up five. Even coming from the most miserable circumstances people manage to make the best out of their lives."
We still have matching funds available up to the end of the year, which doubles every gift given, and our plan is to continue working with our local partner into the New Year.

IF YOU WANT TO GET INVOLVED WITH OUR RELIEF WORK IN IRAQ, CLICK HERE.
*Name changed for safety reasons.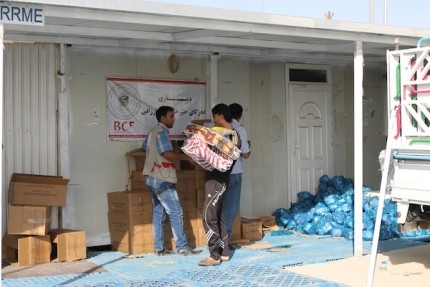 "I'm still in shock; the situation was very, very, very bad," Simon* told me, the day after their first visit to Debaga Camp at the end of July. "Yesterday I was taking photos, interviewing people, and crying. I had heard about the situation, but didn't imagine it was so terrible."
A Christian IDP from Mosul, Simon is no stranger to the trauma of imposed flight from a feared "enemy", the harsh new realities you're forced to confront along the way, and the longer term harsh reality awaiting you once you arrive at relative safety. But even he was at a loss for words to describe his experience at Debaga Camp.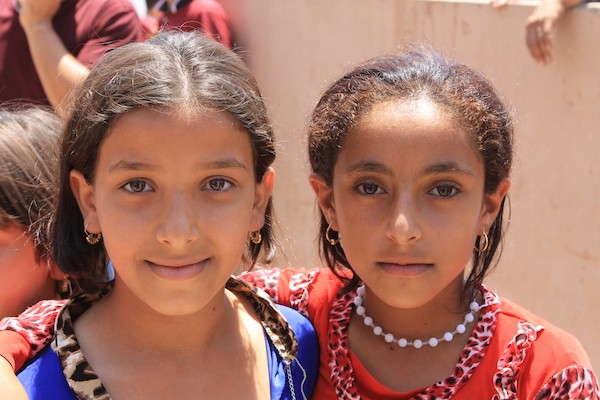 The majority, if not all, of these families are Muslims displaced from their towns and villages as a result of the military offensive as the Iraqi army coalition continues to make progress in its fight to remove ISIS from Iraq, and specifically its stronghold in Mosul.
Debaga Camp, located on the edge of the Kurdistan Region (an autonomous region of Iraq, significantly more stable and secure than the rest of Iraq), was originally built in late 2015 and hosted about 3,300 people, a number that has increased tenfold. At the end of July, the registered IDPS numbered over 29,000. As of late October, Debaga is host to over 32,000 individuals, with over 58,000 having passed through the camp since March.
"I've never seen people so desperate for food—'Just give me one!'," said Simon. "We were distributing materials (water, ice, fruit, bread, baby food) and they didn't run out, we just kept distributing…like the loaves and fish! We need God always—He's providing people, connections, He's doing everything."
The population of Debaga Camp has exploded over the past several months, placing it far above capacity and forcing a second and third location to be hastily constructed. Resources—water, sanitation and hygiene, shelter, food—are scarce, but organizations are doing their best to provide these basic necessities to people within the first hours of their arrival.
Our partner on the ground was able to take responsibility for a section of the camp, and distributed blankets, the nutritious dried soup mix and dried fruit donated by Fraser Valley Gleaners (which is GAiN's partner) to 5000 families.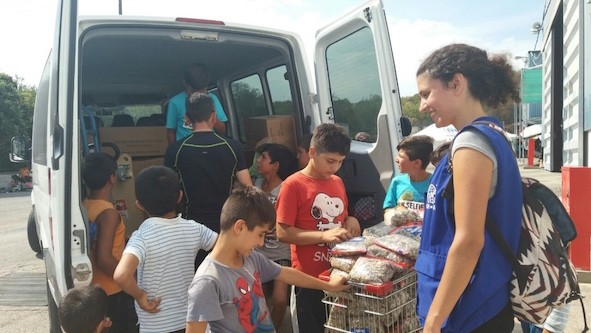 The blankets were crucial to these families living exposed to the chill of the desert nights, and the rapidly approaching chill and wet of winter. The soup mix and dried fruit were a great boost to the limited diet of these persecuted people.
The war in Syria has raged on for over five years, with 4.8 million people fleeing the violence, carrying little more than hope. Thousands of Syrians have made the journey across the Mediterranean Sea to Greece.
In June 2016, GAiN Netherlands transported five pallets of Fraser Valley Gleaners' dried soup mix to Thessaloniki in Greece. In Thessaloniki, GAiN Netherlands works in partnership with the Apostolic church, caring for 1,500 Syrian refugees.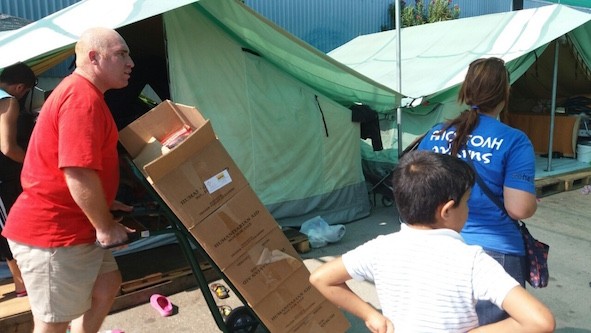 GAiN offices around the world seek to come alongside these suffering people and demonstrate the love of God, in word and deed, from Ukraine to Paraguay, to the refugee camps in Serbia and Greece, and to the IDP camps in Iraq. Without
the partnership and generosity of Fraser Valley Gleaners, thousands of refugees and displaced people would continue to be need of healthy sustenance.
On behalf of the refugees and displaced people, THANK YOU to all the volunteers, staff and leadership at Fraser Valley Gleaners.
IF YOU WANT TO KNOW MORE ABOUT OUR RELIEF WORK IN IRAQ, CLICK HERE.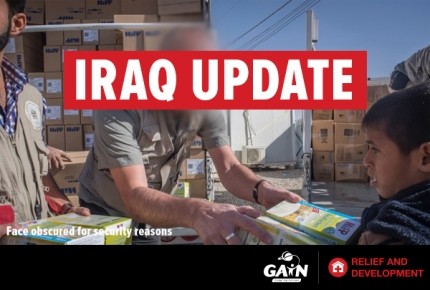 This letter is to update you on the situation in Mosul, Iraq since the battle to liberate Mosul began on October 17th.

We have been able to provide much-needed help for the Iraqi people in need, thanks to donors like you.

From November 17-22, GAiN sent an assessment team to Iraq. During their time in country, they witnessed devastating sights and experienced horrifying sounds and smells.

Along with the over three million displaced Iraqis since 2014, the recently liberated town of Qaraqosh (eight kilometers from Mosul) was also devastated. Explosives and fire destroyed every single private home, the infrastructure was intentionally abolished and every one of the ten churches there…obliterated. Deliberate attacks of Christian faith were evident as crosses atop churches were smashed, Christian literature burned and graffiti tagging the churches with phrases like "we love death as you love life" and "Christianity has ended here."

"Qaraqosh is reminiscent of the 2010 earthquake destruction in Haiti except this was entirely man-made and evil," shares one of the team members.

Our staff visited two new camps holding over 100,000 people and there they were able to distribute humanitarian aid consisting of rice, baby cereal, and winter clothing.

However, the need is still overwhelming and very real as witnessed first-hand by the staff. And, as the devastation continues to grow, the need grows also.

We have expanded our relief programs with the local partners on the ground to provide further help through its Disaster Assistance and Response Team (DART).

A preliminary plan has been put into action. With the onset of winter, this plan addresses several basic human needs ranging from providing water, food, warm clothing and hygiene packets.

We urge you to help us, bring aid to the thousands who have been devastated and traumatized by this horrific attack and restore hope to them by demonstrating God's love during this Christmas season.

YOUR GIFT TODAY WILL BE DOUBLED BY A DONOR MATCH!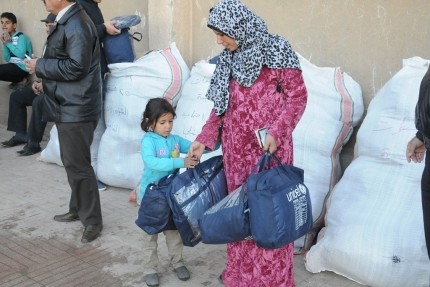 2 February 2016 – With four million Syrian and host community children in need of education and no let-up in sight in the fighting tearing the country apart, the United Nations and its partners are seeking $1.4 billion at a major conference in London on Thursday to save the current youth generation.
"The scale of the crisis for children is growing all the time, which is why there are now such fears that Syria is losing a whole generation of its youth," said UN Children's Fund (UNICEF) Regional Director for the Middle East and North Africa, Peter Salama, whose agency is coordinating the 'No Lost Generation Initiative'.
"As a result of all the work being done by partners and donors, education and protection for children are now being prioritized. But what we must see in London is the step-change necessary to bring all children back to learning; to protect those who are at risk of dropping out; expand safe and inclusive learning environments; recruit and train more teachers; improve the quality of education, and support the development of technical, vocational and life skills opportunities for youth."
The London conference is being co-hosted by Britain, Germany, Kuwait and Norway, and leaders from more than 30 countries are expected to attend, with the aim of raising new funding to meet the immediate and longer-term needs of those affected by the crisis.
Nearly five years into the Syrian war, some four million Syrian and host community children and youth aged 5-17 years are in need of education assistance, including 2.1 million out-of-school children inside Syria and 700,000 Syrian children in Turkey, Lebanon, Jordan, Iraq and Egypt.
Last year, the combined efforts of Governments and international partners helped more than one million children and youth inside Syria benefit from formal or non-formal learning opportunities. But with no political solution in sight to one of the most brutal conflicts the world has seen in decades, the number of children missing out on an education continues to climb.
Governments at the London meeting will also be urged to put more pressure on parties to the Syria conflict and those who support them to end attacks on schools and other places of learning, in accordance with international humanitarian law.
According to UNICEF, the killing, abduction and arrest of students and teachers has become commonplace, as have arbitrary attacks on schools. About one in four schools cannot be used because they have been damaged, destroyed or are being used as shelters for the internally displaced or for military purposes.
The No Lost Generation Initiative was set up in 2013. By the end of 2015 1.2 million children and youth inside Syria benefitted from improved formal and non-formal learning opportunities and more than 650,788 in Egypt, Iraq, Jordan, Lebanon and Turkey received school supplies or support through cash grants.
GAIN IS COMMITTED TO HELPING 1,000 FAMILIES WITHIN SYRIA. OUR HEARTS BREAK WITH THE DAILY REALITY MANY OF THESE CHILDREN AND THEIR FAMILIES ARE EXPERIENCING.
IF YOU WOULD LIKE TO READ MORE ABOUT OUR WORK, CLICK HERE.
Many Syrian IDPs (Internally Displaced People) first come to our partner's building because someone tells them they can get a Bag of Blessing there. Each Bag of Blessing consists of food and non-food items. With the onset of winter, blankets and heaters were now added to each bag.
After individuals would come to the center and the volunteers and staff showed them love and kindness, the individuals usually became a part of the community. Often they kept coming, even if they no longer needed a Bag of Blessing.
Recently, a local staff member shared a story of a grandmother who first came to the center looking for aid…
"After some time, we learned that she had two little girls. They were her great-grandchildren, ages three and five. The reason why they were staying with her was because the girls came from a broken home. Their mother left them and their father did not work. They had no one to look after them. Their dad was also abusive toward the girls and it was a very bad situation.
The grandmother used the Bag of Blessing and took care of the girls. Her life was changed through that bag. I am thankful for this time because I had the opportunity to be able to see how God works through people.
She began to come every Saturday to share with me about her difficult circumstances concerning her grandchildren. At times, we were not always able to supply their needs, but I could see how God was working in her life, and how He was protecting these little kids from an abusive father.
Maybe the aid that we were able to give her gave the grandmother the strength to continue helping these little girls to have food and clothing, to grow, be healthy and warm."

As of today, we are helping provide 1,000 families (totaling 5,000 individuals) with basic necessitites through the Bags of Blessings.
WOULD YOU LIKE TO HELP PROVIDE HOPE AND AID FOR ANOTHER PERSON SUCH AS THIS GRANDMOTHER AND HER FAMILY?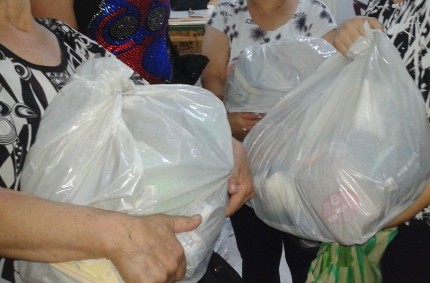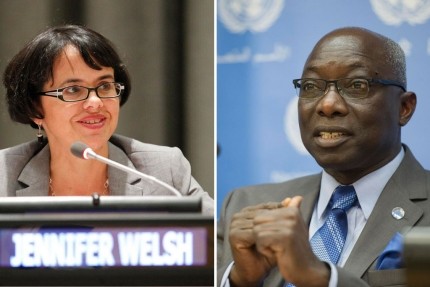 13 October 2015 – Senior United Nations human rights officials today expressed their alarm at the rise in violent rhetoric by influential religious leaders – including calls for "holy war" against certain faiths – in relation to the situation in Syria.
The UN Secretary-General's Special Adviser on the Prevention of Genocide, Adama Dieng, and Special Adviser on the Responsibility to Protect, Jennifer Welsh, condemned the recent call by clerics in Saudi Arabia for Sunni Muslims and their States to support a "holy war" against Shia Muslims and Christians in Syria, as well as against States and non-State armed groups perceived to support them.
"Such rhetoric can aggravate the already extremely volatile situation in Syria by drawing religiously motivated fighters to join all parties to the conflict, thus escalating the risk of violence against religious communities," said the Advisers in a statement, adding that "advocacy of religious hatred to incite or justify violence is not only morally wrong, but also prohibited under international law."
Mr. Dieng and Ms. Welsh also expressed concern at reports that Russian Orthodox clerics had referred to the Russian participation in the conflict in Syria as a "holy battle" against terrorism, as "statements of this kind can be manipulated, feed suspicion and increase polarization of communities."
The Special Advisers also noted the response by Russian authorities, who reportedly denied that there was any religious connotation to their involvement in Syria.
They praised the organization Syrian Christians for Peace for rejecting the concept of a Christian "holy war" and condemning those who invoke it.
The Special Advisers called on States to dissociate themselves from and condemn any form of advocacy of religious hatred, promote dialogue and protect and empower all those religious figures and human rights defenders who are working towards enhancing interreligious respect and harmony.
The officials also called on religious leaders around the world to refrain from any form of advocacy of religious hatred and incitement to violence, and to counter any use of such rhetoric, emphasizing that "religious leaders should be messengers of peace, not of war."
"In situations in which tensions are high, as in Syria, religious leaders should call for and foster restraint and dialogue, rather than fanning the flames of hatred," they cautioned.
If you want to read more about how GAiN is working in Syria, click here.
(Article Source)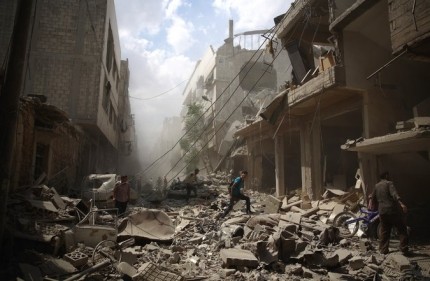 BEIRUT, Lebanon — Every morning, at the dawn call to prayer, women and children move silently from the Damascus suburb of Douma to the surrounding farm fields, seeking safety from the day's bombardments by the Syrian government.
The walk is part of a surreal routine described by the fraction of Douma's residents who remain: shopping on half-demolished streets, scavenging wild greens, carrying out mass burials. But not even the fields are safe; recently, medics said, bombs killed two families there — 10 people, including seven children.
As crowds of Syrians transfix the world with their flight to Europe, this kind of life is one of the many nightmares they are fleeing. They leave behind increasingly empty neighborhoods — from the Damascus suburbs to the northern city of Aleppo — that testify to the scale of their exodus.
Such bombardments have been going on for years in insurgent-held areas like Douma, one of the first areas to revolt against the government in 2011. And yet, the situation can still get worse. The past month in Douma made that clear.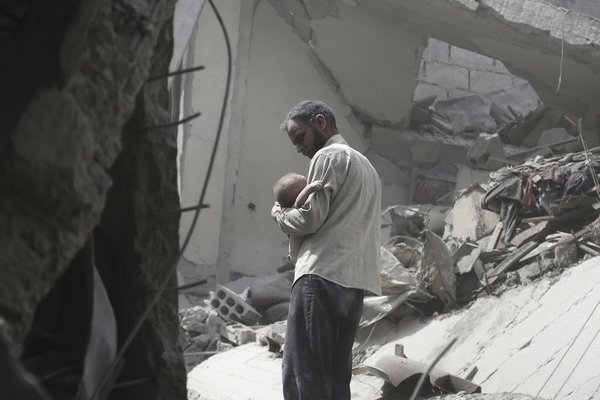 Government forces began a barrage even more intense than usual, using not only the artillery shells that Douma has come to expect, but also airstrikes. Perhaps four out of five residents had already fled what was once a bustling community of around half a million, and emergency workers say the new bombings drove out thousands more.
More than 550 people, mostly civilians, have died in the past month in Douma and nearby suburbs, 123 of them children, Red Crescent medics say. August was one of the bloodiest months in the district, with at least 150 trauma injuries being treated each day from Aug. 12 to 31 — a number that includes only patients from 13 makeshift clinics that work with Doctors Without Borders.
Such concentrated violence has shaken even the most steadfast holdouts, said Ahmed, a Douma resident and a paramedic in his 20s who asked to be identified only by his first name for his safety. Of those who remained in early August, half have fled, he said, while the rest trek daily to hide in the fields or stay "trapped at home, praying they won't get killed."
As international focus has shifted to the Islamic State's highly publicized violence and the threat it poses beyond Syria, less attention has been paid to the original struggle between President Bashar al-Assad and the insurgent groups that rose up after the crushing of a protest movement in 2011.
But that earlier conflict was driving people from their homes long before the Islamic State existed in its current form.
Advocacy groups for the Syrian opposition, as well as international watchdogs like Human Rights Watch, have long contended that the security forces' bombardment of insurgent-held areas like Douma takes the largest toll on civilians, killing far more people than the Islamic State. Although no definitive numbers exist, a tally by a Syrian civilian opposition group, the Violations Documentation Center, said that 18,000 had been killed by airstrikes, which only the government has the ability to carry out, and that more than 27,000 had died in shelling and rocket attacks by all sides.
The Syrian government says it is bombing terrorists.
Douma, like other poorly served cities around Damascus, rose up early, and many there took up arms. It is now a stronghold for the Army of Islam, an insurgent group. The Nusra Front, Al Qaeda's arm in Syria, is also active there, while the Islamic State is not known to play a role.
Insurgents also use indiscriminate tactics. After the new wave of attacks in Douma, they shelled Damascus, killing at least 20 people, according to death notices on pro-government websites. No one claimed responsibility.
But in terms of scale, the government's bombing of rebellious areas is on another level. It has laid waste to large sections of central Homs in western Syria, Aleppo and the Damascus suburbs. In Aleppo, the weapons of choice are shrapnel-packed barrel bombs, unguided and dropped from helicopters.
In the past month, more than 450 civilians died from government bombings in East Ghouta, a semicircle of opposition-held working-class towns around Damascus, according to lists kept by the local branch of the Syrian Arab Red Crescent. Many of the victims were in Douma, the group said, including elderly people, women and children.
But it is not just bombings that deform life in Douma. Years of government blockades have forced residents to depend on tunnels and smugglers for daily goods. Humanitarian aid is largely blocked, and few people can get in or out.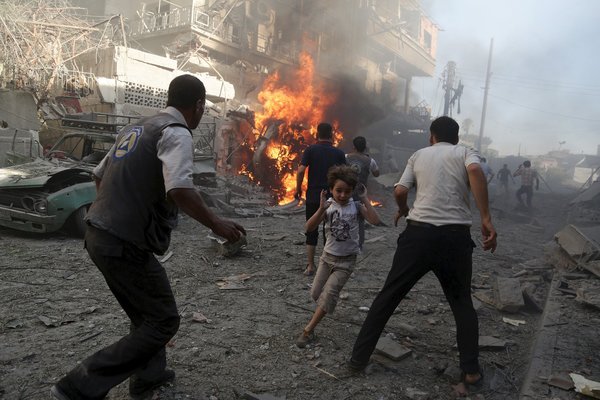 Government and opposition fighters alike take their cuts of bribes and smuggling revenues. Some insurgents act as warlords, enriching themselves and cracking down on dissent. The human rights lawyer Razan Zeitouneh and other secular opposition activists disappeared from Douma in 2013, believed to have been kidnapped after criticizing the Army of Islam.
So escape means dealing with smugglers and new risks, even for those who have no plans to take a boat on the Mediterranean. It begins from the moment of leaving one's own block, on the way to Damascus.
"It's completely normal for people to wish they can go overseas," Ahmed, the paramedic, said. But, he added, "Can they?"
Those who do reach Damascus — joining seven million Syrians displaced within the country — can be harassed or even arrested by security forces suspicious of people from opposition areas.
That drives many to Lebanon, Jordan or Turkey, which host most of the four million Syrians officially registered as refugees abroad. The Damascus suburbs have hemorrhaged 165,000 people to Lebanon alone. But those countries have become less hospitable, with residency crackdowns and shrinking benefits. So refugees can go further afield, including to Europe. Or they can go back to Douma, and to a war that has killed a quarter of a million Syrians. Because of the siege and restrictions on journalists by combatants, life there can only be glimpsed on videos posted by insurgents, anti-government activists and rescue workers. They show streets engulfed by uneven piles of brick, rooftops tilted askew and steel reinforcement bars pulled apart like spaghetti.
In one recent clip, a volunteer — perhaps a teenager — slung over his shoulder the limp body of a small boy. In another, a slight youth dug a ragged, bloody corpse from under rocks until a voice behind him says, "Don't film the body. Enough."
Often, amid the search for survivors, there is no sound but the crunch and clink of rubble, and residents manage to utter just one sentence, "God is greater."
"Neighborhoods fell on the heads of the residents," Imad al-Din, a Douma resident, said recently over Skype. "The screaming can still be heard."
"Black Sunday" is what Douma residents call Aug. 16. At least 122 people died in one of the war's deadliest air attacks, on a vegetable market, according to rescue officials, the Syrian Network for Human Rights and other monitoring groups.
Bilal Abu Salah, a resident who left the market just before the strike, is haunted by the faces of the pushcart vendors who sold him cucumbers, zucchini and eggplant. Minutes later he saw one covered with blood; one died, two were seriously injured.
Dr. Adnan Tobaji operated in a makeshift basement clinic, sometimes on the floor, without anesthetic or sterile supplies. Shortages could be deadly, he said. One woman died waiting for a blood bag to arrive.
The new attacks have gutted Douma's meager remaining street life and local institutions. Nine civil defense workers were killed. The local authorities imposed a curfew and even canceled Friday Prayer.
Douma's free fall has prompted Dr. Tobaji and several hundred colleagues and residents to sign a petition calling for a complete humanitarian truce, hoping it spurs talks and ends the war.
The call is striking coming from rebellious Douma. It sets no preconditions for the fate of Mr. Assad, long a sticking point.
"The fate of Assad for us is nothing compared to the fate of Syria the country, the people and the children," Dr. Tobaji said. "At this moment while we are talking a Syrian is being killed. We need a solution by any means to stop the fighting."
The solution, he added, "might not suit me or many other people but it's not for me or for this or that person. It's for Syria."
GAIN IS PROVIDING AID TO SYRIANS WHO ARE DISPLACED WITHIN THEIR OWN COUNTRY. CLICK HERE IF YOU WOULD LIKE TO KNOW OUR RELIEF EFFORTS.
(Article Source)