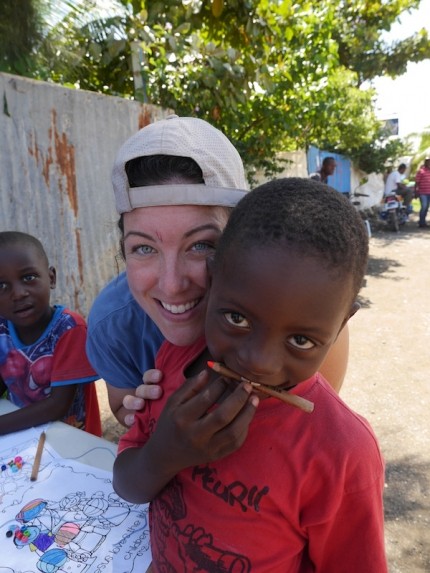 "I held a baby who had been left in the dump, being eaten by rats, and my heart broke again; this time seeing starving children and animals [in] the conditions that they live in and the suffering they endure because they cannot access simple medical care," Sherri said of her first and then her most recent trip to Haiti with a GAiN LIFE Team.
It was from a young age that Sherri knew her calling was to serve the needy overseas. While searching for mission organizations, she came across GAiN and felt its mission statement aligned with her calling. With further digging, she discovered that there was an upcoming LIFE Team to Haiti which would provide the chance to lead children's camps and do medical check-ups at Ca-Ira Orphanage and the surrounding community of Leogane.
"I had served in Haiti [on another trip] a few years ago and God broke my heart for the people of Haiti. To be able to return to this resilient country was an answer to prayer."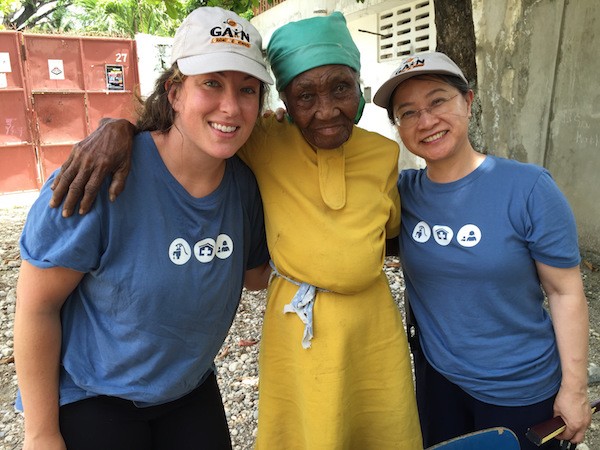 Sherri's skills as an emergency nurse proved valuable to the medical portion of the trip, where the medical team (consisting of Sherri, a physician and translator) conducted hygiene and sanitation seminars, performed medical check-ups and provided basic medical care at Ca-Ira Orphanage and the outside community.
When she wasn't doing medical check-ups or health teachings, Sherri helped lead children's camps where she got to interact with hundreds of kids while running the bracelet-making station.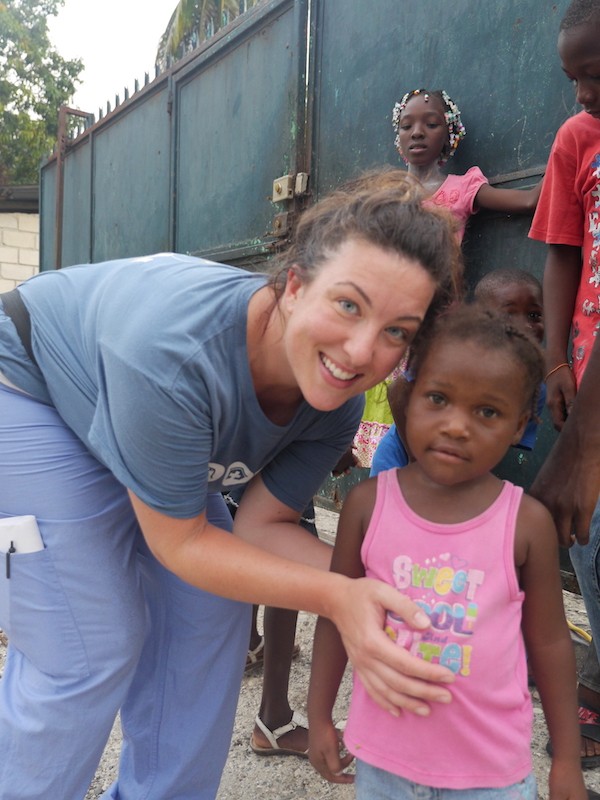 The chance to demonstrate God's love also came in a variety of other ways, including a day of construction work at the orphanage, doing outreach in the community by distributing bags of food to families living in extreme poverty, praying for them and inviting them to a screening of the JESUS Film.

"[On] our last day there, driving back to the airport, I was still stunned by the piles of garbage everywhere and the lawlessness of the country. Yet, despite extremely difficult circumstances, they are a resilient people who have so little, yet, will share anything they do have. They gather for hours to worship God with no time limit. Instead of focusing on their pain, they turn to God, wholeheartedly and rely on Him to meet their needs."
"The trip far exceeded any expectations that I did have," Sherri stated. Her experience on the LIFE Team only intensified her desire to continue demonstrating the love of God to the broken.
"As an emergency nurse, I often see that life is full of unknowns and I cannot encourage you enough to just go, taking this pause in the midst of your busy life, to serve the hurting and needy people [for] a chance to show God's love in ways that would not be possible otherwise."
WOULD YOU LIKE TO HAVE A SIMILAR EXPERIENCE AS SHERRI'S? CLICK HERE TO CHECK OUT OUR UPCOMING LIFE TEAM PROJECTS.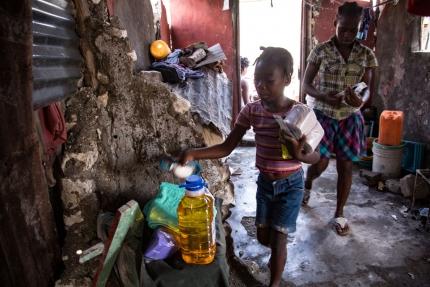 4 November 2016 – As Haiti struggles to recover from the massive destruction wrought by Hurricane Matthew, which pummelled the tiny island one month ago today, the United Nations warned that while its seems as if "the world has moved on," Haiti's needs are vast, exemplified by the nearly 600,000 children being stalked by disease, hunger and malnutrition and in need of assistance.
"One month after the hurricane, life for more than half a million children in Haiti is still far from back to normal," said Marc Vincent, Haiti Representative for the UN Children's Fund (UNICEF), in a news release. "Too many children are still homeless, hungry, out of school and in danger. We are scaling up our response and are determined to help as many of them as possible as fast as we can."
UNICEF said there have been at least 1,000 suspected cholera cases among children in the past month. Out of 219 cholera treatment centres in the country, 18 have been damaged in the worst-hit departments of Grand'Anse and South, further complicating efforts to contain the disease.
The total destruction the Category 4 storm inflicted on crops, food stock and livestock in some of the worst affected areas have left over 800,000 people in need of immediate food assistance and more than 112,000 children at risk of acute malnutrition.
An estimated 50,000 children have been left homeless and are staying in temporary shelters. Another 3,500 children living in institutions need help accessing nutrition, water and sanitation services.
More than 700 schools have been affected and about 86 schools have been used as temporary shelters, causing school disruption for at least 150,000 children.

UNICEF is working with national and other partners to provide basic assistance to the most vulnerable children. They are providing 100,000 people a day with safe water, organizing a cholera vaccination campaign that will be launched next week to immunize up to 900,000 people, and providing cholera prevention kits that contain water purification tablets, soap and oral rehydration salts. Between 100 and 200 kits are distributed every day.
In addition, they are delivering an integrated package of services to prevent and treat malnutrition among children under five as well as pregnant and breastfeeding mothers living in the hurricane affected areas, replenishing vaccines and restoring the cold chain so that routine immunization can resume in the health centres that are still operational and in mobile clinics, and distributing emergency medical supplies to 18 health centres.
Joint actions also include setting up mobile child friendly spaces where vulnerable children and families can receive psychosocial support, and training 60 volunteers to staff them, and repairing 22 schools and distributing school-in-a-box and early childhood development kits so that children can resume their learning as soon as possible.
UNICEF requires over $23 million through the end of the year to meet children's humanitarian needs following the hurricane, including for the cholera response. So far, it has received a mere $6 million.
Jens Laerke, spokesperson for the Office for the Coordination of Humanitarian Affairs (OCHA), told reporters in Geneva that, according to the latest figures from the authorities in Haiti, Matthew has so far caused 546 deaths and left 438 people injured.
He said that needs are vast, especially in the areas of quality water, education, shelter, child protection, health and nutrition. A total of 1.4 million people are in need of humanitarian assistance, and an estimated 40 per cent of them are children. The UN emergency humanitarian appeal for $120 million is far only 33 per cent funded.
Haiti needs support to restore, rebuild health services
Haiti needs support to restore and rebuild its health services at various levels, ranging from cholera treatment centers to community health centers to major hospitals, according to Dr. Jean-Luc Poncelet, the Pan American Health Organization/World Health Organization (PAHO/WHO) representative in Haiti.
In the country's South, "the government faces challenges in restoring health facilities in affected areas and urgent repairs to restore functionality have been identified," he said.
In Sud Department, 28 per cent of health facilities sustained severe damage and eight per cent are closed, while in Grand'Anse, 43 per cent of health facilities were severely damaged and seven per cent are closed. Of the 74 cholera and acute diarrhea treatment facilities in Haiti, 34 are fully functional, while 40 sustained various levels of damage.
Restoring health services to a functional level requires not only fixing structures, but providing electricity and water and sanitation, as well as helping many health workers who themselves have been severely affected by the hurricane's destruction, according to the Haiti Ministry of Public Health.
"The major needs are to renovate existing health structures with durable repairs, to increase humanitarian assistance to rural areas, and to improve water quality and sanitation," Mr. Poncelet said.
The latest figures from the Haitian government show that 175,509 Haitians are still living in shelters, while more than 1.4 million people are in urgent need of humanitarian assistance.
PAHO/WHO teams identified five priority areas of action for the health sector, estimating that $9 million in emergency funding is needed to carry out essential activities.
These priorities are: restoration of health care delivery capacity and access to health services in the most affected areas; increased epidemiological surveillance to support early detection and timely management of disease outbreaks; intensification of vector-control and protective environmental health measures in impacted areas; rapid and effective response to cholera outbreaks in affected communities; and support for efficient coordination of humanitarian assistance and management of information to effectively address the most urgent humanitarian needs.
A vaccination campaign is planned to start Nov. 8, targeting 820,000 people in 16 communes affected by Hurricane Matthew and that have reported cholera cases or deaths. To prevent additional cholera cases, which are likely to increase in the rainy season from now until December, it is also important to advance on water purification, health promotion, and sanitation at the same time.
Bettina Luescher, spokesperson for the World Food Programme (WFP), said that the agency has delivered food to 400,000 people, as part of its work to support the Government in its work. The situation is dire on the ground, with huge logistical challenges, but together with its partners WFP has reached people by truck, helicopter and boat.
Some 140,000 people are still displaced and living in temporary shelters. The food situation is worrisome: in areas hit by the hurricane crops have been destroyed, along with livestock and seeds, local markets are running out of food and the prices of imported goods are rising.
The planting season is supposed to happen this month and will be affected, which meant in turn that the next harvest, in the early months of 2017 will be affected. WFP aims to reach 800,000 people. In order to do that, it has appealed for $58 million overall and still needs $40 million urgently.
(Source)
(Image Source: UNICEF/Roger LeMoyne)
IF YOU WANT TO KNOW MORE ABOUT HOW GAIN IS WORKING IN HAITI, CLICK HERE.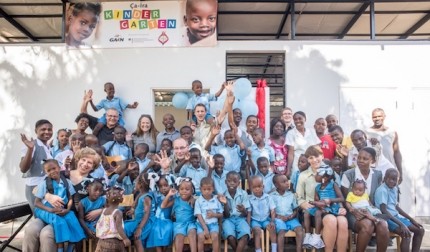 It's been more than six years since Haiti was hit with a 7.0 magnitude earthquake on January 12, 2010. About 316,000 people were killed, one million people lost their homes and 100,000 children became orphans. The living quarters of Ca-Ira Children's Village, an orphanage on the coast of Leogane (the epicentre of the quake) was shaken to the ground – resulting in the death of five orphans and two staff.
After providing emergency relief and running medical clinics with volunteers during the first six months after the earthquake, we decided to get involved in reconstructing Ca-Ira, knowing that it would be a long-term project. This initiative was led by GAiN Germany with support and contributions from other GAiN offices.
We played a key role in not only providing funding but also sending in staff and volunteer LIFE teams 2-3 times a year to help with the reconstruction efforts. As of April 2016, we sent a total of 19 LIFE Teams (180 total participants) to Haiti since the earthquake. This includes volunteers who were involved in emergency relief, as well as construction.
Our Project Associate Sam Bechard first visited Haiti with a LIFE Team in 2012 and the country was still in crisis mode – even two years after the earthquake. "When we drove outside, we saw house after house underground. We still saw the devastation and the suffering on the faces of people. They lost family members, a few staff and children. They couldn't talk too much about the earthquake at that time – it was too fresh. They were [still] in shock and in survival mode."
At the time, there were just temporary structures built since the earthquake: a temporary kitchen with a roof, put together from a few pieces of wood; a tiny, crammed room that served as a temporary dorm for 30 kids; a church without a roof; and a temporary bathroom. Reconstruction for permanent buildings had just started.
Fast forward to 2016 and a few new buildings have been completed: a new girls' dorm and boys' dorm, a guesthouse and kindergarten buildings.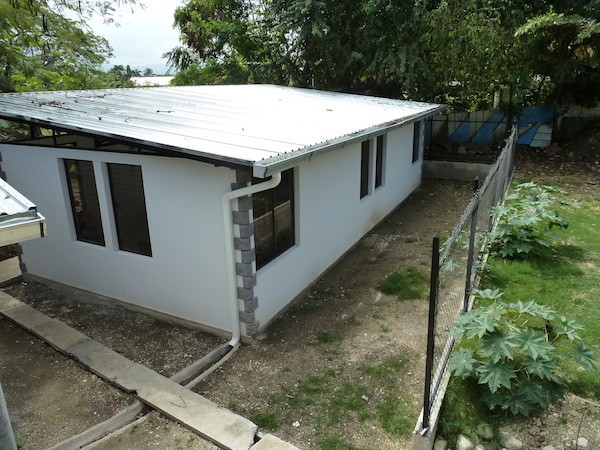 Hardworking local teams, LIFE team volunteers from various GAiN offices, and even former children from the orphanage helped in the construction.
In January 2016, an opening and dedication ceremony was held to celebrate the completion of the kindergarten. Staff and children from the Ca-Ira, as well as delegates from the US and GAiN Germany were in attendance.
The children now have a safer learning environment – a major upgrade from the old, tiny, moldy shack that served as a temporary learning space. The new kindergarten is made of two buildings, which consists of three classrooms and two teachers' rooms. The buildings are brighter and more spacious (96 sq. m, compared to the 15 sq. m shack) and were designed to cool down temperatures and reduce the amount of mosquitos in the building.
While reconstruction is a priority, we recognize the importance of not just rebuilding the structures that collapsed, but also rebuilding the community by investing in the education and development of the children.
For the past three summers, our LIFE Teams have been running a children's camp for two weeks for children in the orphanage and surrounding community. Kids get to participate in Bible lessons, worship services, arts and craft stations and team games.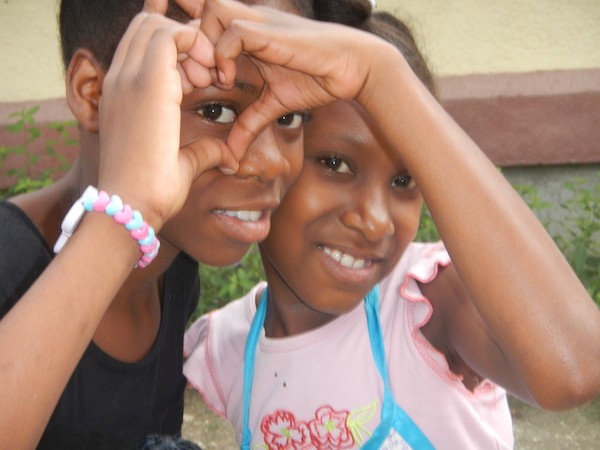 It's also at these summer camps that some of the older kids from Ca-Ira get the opportunity to practice their leadership skills and become role models to younger kids. This group of young leaders, in their early to midteens, are called the Battalion. GAiN has been involved in training these kids to develop their skills in areas such as leadership, sharing the gospel and public speaking. Bechard has seen significant growth in these kids, including their involvement in the kids' camps, outreach projects, community service, and setting up for screenings of the JESUS Film.
Some of the Battalion kids grew up in Ca-Ira decided to stay after graduation so they could use their skills to give back to the community that played a part in their upbringing.
"We are investing in the next generation and their future," Bechard explains. "This orphanage will raise the next generation of leaders, musicians, school teachers, and business men."
Our work at Ca-Ira also extends into serving the surrounding community. One of those ways is distributing small food packages to families in the Ca-Ira community, surrounding the orphanage. LIFE teams join members of the local church, along with a translator, and hand out packages of food containing practical items such as rice, oil, sugar and salt.
"The packages aren't large, but they are enough to be a helpful blessing to families in the area that are struggling to provide for their families," explains Lindsay Schacter, LIFE Teams Manager. "Oftentimes, the teams are able to visit some of the same families previous teams have visited, providing an opportunity to build ongoing relationships between our team and the Ca-Ira church with community members."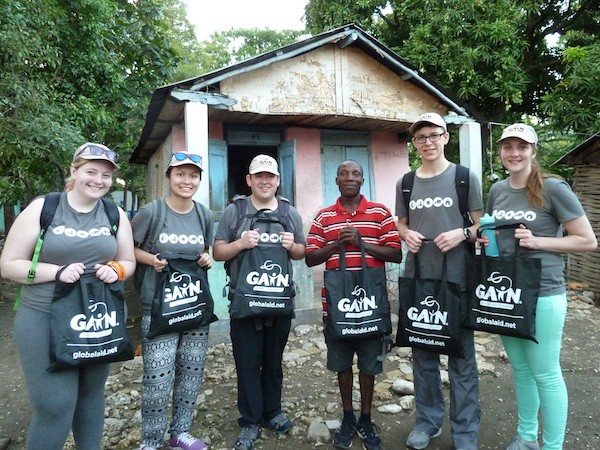 Another way that we are investing in the community is through community health programs and medical clinics.
We run mobile medical clinics onsite at Ca-Ira, giving the children an opportunity to see a doctor. In 2015, nurses were able to perform a basic health check on all the children at the orphanage.
"From running mobile clinics in various locations in Haiti over the past five years, we learned early on that one of the greatest needs in the area of health was not for clinics, but for basic health education," says Schacter. "Mothers especially desire to care for their children and give them the best start in life but are often ill-equipped to care for them both through a lack of access to health care, but also simply through a lack of understanding about topics such as hygiene and sanitation, nutrition and the spread of illness."
In 2015, our LIFE Team hosted community health education on different topics. There were training sessions for orphanage staff and an open session for members of the community, where they could learn and ask questions.
While a lot has been done, Schacter and Bechard acknowledge that there is still a lot of work to do in Haiti, the poorest country in the Western Hemisphere. But they are hopeful for the future after looking back at how far the orphanage and the people in the surrounding community have come since the earthquake.
"When I look to the future, I see our local staff and children becoming key leaders in the community," says Bechard. "I remember when we planted some mango trees on the ground, around the building. After a few years, they are now growing and bearing fruit. [In the same way,] we started from nothing and needed to rebuild everything, but now our work [is bearing] fruit. We're building a future where they had no hope. The children can now focus on their school, focus on playing music and dancing. They are back to being children, living in security, playing without fear and smiling like never before. They have a home."