Global Aid Network (GAiN) sent a DART (Disaster Assistance Response Team) to Lesbos, Greece to spend two months at Camp Moria. One of their projects was to rebuild a structure that had burned down in March 2020. Because of a shortage of volunteers, due to COVID-19, the DART team helped rebuild the structure (called Level Two).
Below is a story written by Melinda, a DART member:
As soon as we start working a crowd of kids starts gathering and wants to help. Men and women walk by, either giving us curious looks or asking in, more or less, broken English what we are doing.
"When is it done?"
"We don't know. A few weeks."
A few weeks to rebuild two burnt structures in camp.
The fire happened two months ago and a lot of families lost their shelter. The families that lived inside the two isoboxes but also the families living in self-built structures around it. One child lost its life.
Omar*, a 15 year old boy from Afghanistan lives with his mother and siblings only a few meters down from where the fire happened. He tells me that the fire broke out in the morning. An accident. The mother of the little child was standing in the food line to get breakfast for them when the fire started. Her husband was already in Germany and the two of them on their long journey to reunite with him. But the reunion of the father with his little child will never happen. The little one died in the fire.
Omar also tells me that the fire truck couldn't even make its way to the location. The paths in camp are too narrow for a big fire truck. Women and children were running away from the fire while men were bringing water to extinguish the flames. It is a miracle that the fire was stopped by buckets of water. The trees standing around still have black trunks.
A few families have already built new structures around the burnt skeleton of an isobox. Even though the land is valuable no one has settled inside the left behind ash-black beams. Local NGOs had to fight for that. Now no family has to be told to remove their shelters while we are rebuilding.
"Do you think it is good that we are rebuilding the isoboxes?"
"Yes!" Omar says. "Then families can move here from the jungle," as the olive groves around the official camp are called. "That's good. They will even have a shared bathroom and electricity here."
Omar helps us today scraping off the bubbled paint and soot off the beams. He's excited to be able to help and also practice his English with us. During lunch a beautiful woman comes and brings us Afghani pastries. Kids and adults tell us thank you for doing the work and rebuilding.
We feel well taken care of.
"Will you be back tomorrow?"
"Yes, tomorrow and the day after tomorrow and almost every day from now on until this shelter is finished."
In addition to rebuilding the burnt structure, the DART team also built an isolation station for potential COVID patients to quarantine, in the event of an outbreak at the camp.
Melinda shared a few thoughts just before the station was about to open:
The isolation station from MSF (Doctors Without Borders) is now officially ready to be opened. As we drop off the last few things for the 'isolation kits' every patient will get upon arrival, a group of 15 cleaners is roaming around, sweeping up the last sawdust and picking up the last bits and pieces that show that up.
Until today, this place was a full-on construction site. The electricians fix the last light switches, the water tanks get filled with water, the project manager is on the phone and looks tired, stressed, but still content. While all of this happens, medical personnel get their tours in groups of 15, do a walk through from low risk area to high risk area, walk into the changing rooms and take a look at the wash facilities for the future patients. It feels like a buzzing beehive.
Tomorrow is the opening. And while people are excited that everything seems to be done in time, the hope is that this facility will never have to be used. Or at least never to its full capacity. That only very few of the isolation kits will ever be handed out. The paradox of building a corona isolation facility: putting in so much work under time pressure with the hope and prayer that it will never be needed.
Story and photos by Pau. A. (Written on May 26, 2020)
One of the valuable contributions the DART (Disaster Assistance Response Team) is bringing to camp Moria is additional experienced personnel and good quality equipment. This week, from Monday to Wednesday, we are helping our partner EuroRelief to distribute hygiene packs to 2.000 families.
Most of the hygiene packs were donated by UNICEF. We also have refugee volunteers from Team Humanity to translate and give directions to families, while EuroRelief and GAiN are coordinating the distribution. It's amazing to see four aid organizations come together for such a necessary thing as it is hygiene inside camp.
While the rest of the team is still working on the construction project, Marie-Jose is probably bringing back memories from the DART mission in Iraq as she is taking care of registering and keeping track of the families being helped during the distribution. Meanwhile, Anais is standing under the hot sun guarding the queue and receiving tickets, while showing unconditional love with her big smile and nice conversations, probably without understanding a word. Moreover, our distribution equipment is making things much easier for dealing with the crowds.
"It's the first time they give me this," says Farid*, a young Afghan man who arrived at Moria six months ago with his family, "just once they gave us soap, now they are giving us this box, but I don't know what's in there." Every box includes two 10L collapsible water containers, one bucket, 12 soap bars, a self-powered torch, child potty, multipurpose cloths, reusable menstrual pad kits, sanitary pads, a safety whistle, underwear and laundry detergent.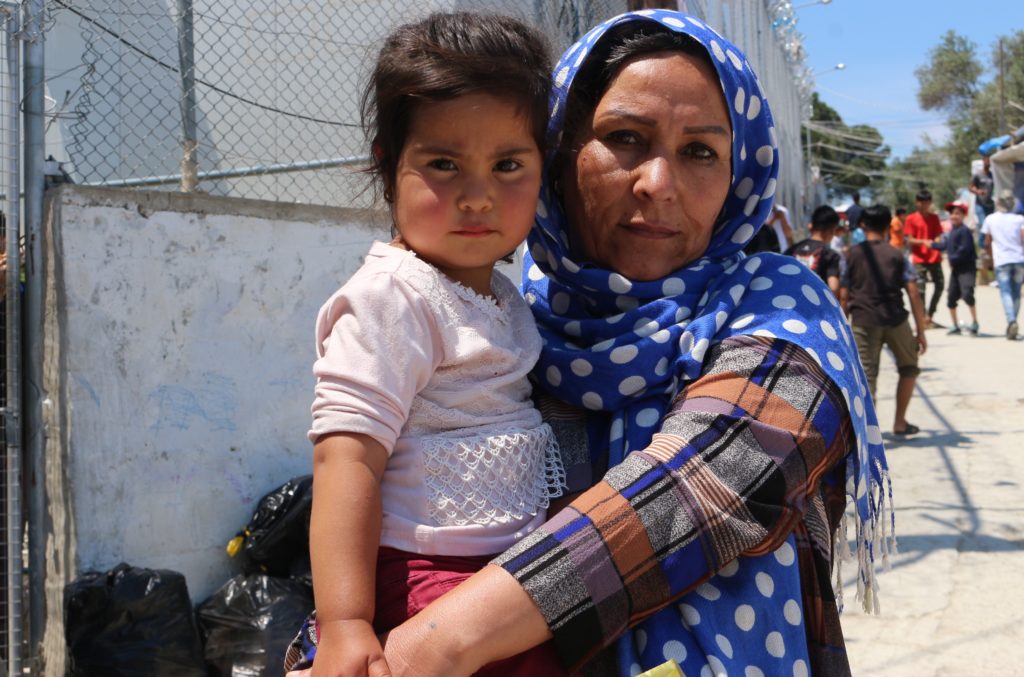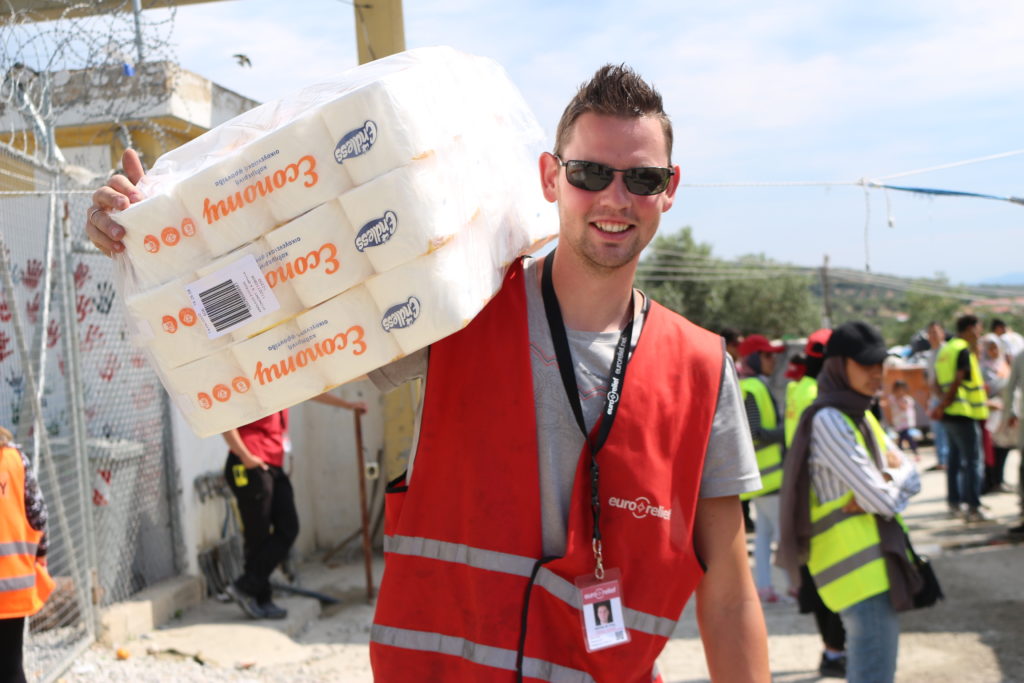 Zahra* is an Afghan woman in her fifties who came five months ago, now living with her husband in a tiny house made of reeds on top of the area called The Jungle. Where she lives "there is no washroom, no facilities, nothing," therefore they need to walk for a while to reach one. They try to keep clean and take hygiene measures during coronavirus times with the "few" products they have. "Two times they gave us soap," she recalls, "but the other times we buy it ourselves." The last time they received soap was "two months ago."
These families also affirm using only water for washing when they run out of soap and other products. But water is also a big problem inside Moria. "Because now the weather is so hot, every day we should take a shower, but we don't have (enough) water to do that," explains Fatimah*, an Afghan teenager raised in Iran who has come to the distribution on behalf of her family. "Because of coronavirus we should wash our hands, but we don't have water, what should we do?"
Fatimah is so right. Sometimes, Moria camp feels like a never-ending steeplechase race.
*Names changed for security reasons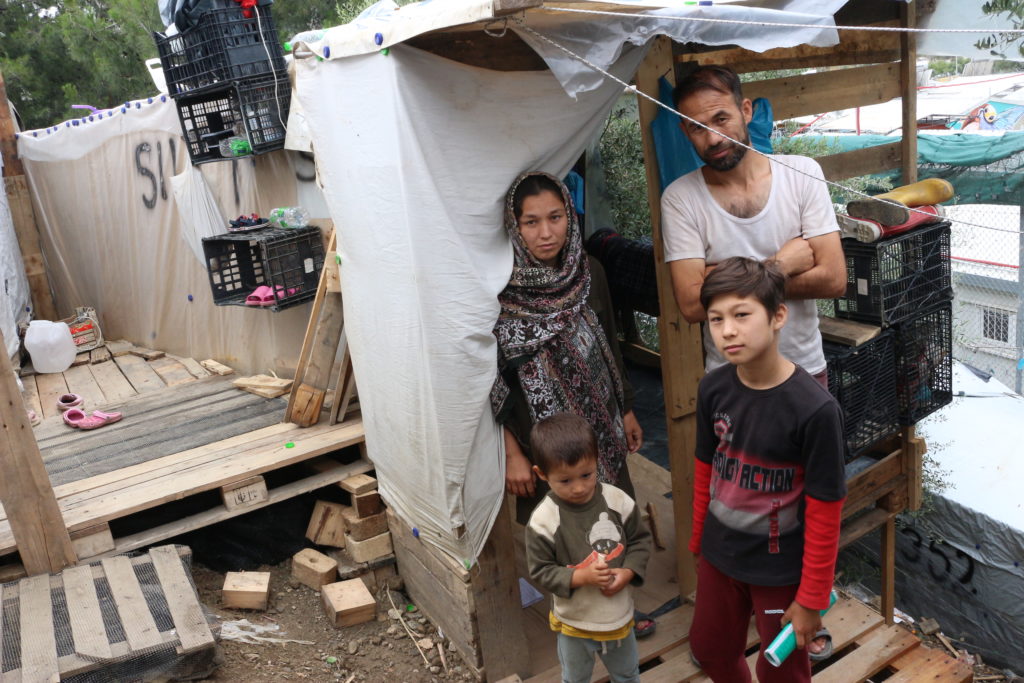 Story and photos by Pau A.
It was about 8:30 a.m. I was looking for a family nearby when I suddenly stumbled upon one of the most pleasant spots I have been in camp Moria. It was at the heart of camp, but it felt like stepping into a small countryside piece of land. Maybe because of the steep ground and pines around it, or maybe because the structures and paths to this place were so narrow that it made access very hard and it seemed to create a kind of microhabitat which was not as overcrowded and loud as other areas within the compound. Probably that is the reason why Darvish* and Sakine* left The Jungle and moved here with their two sons.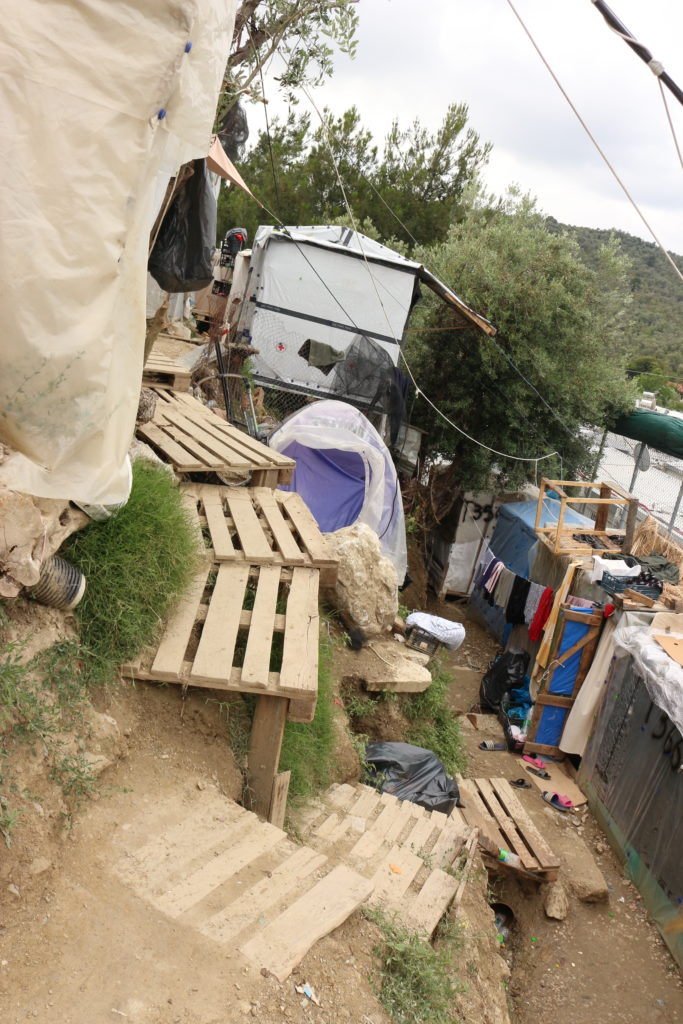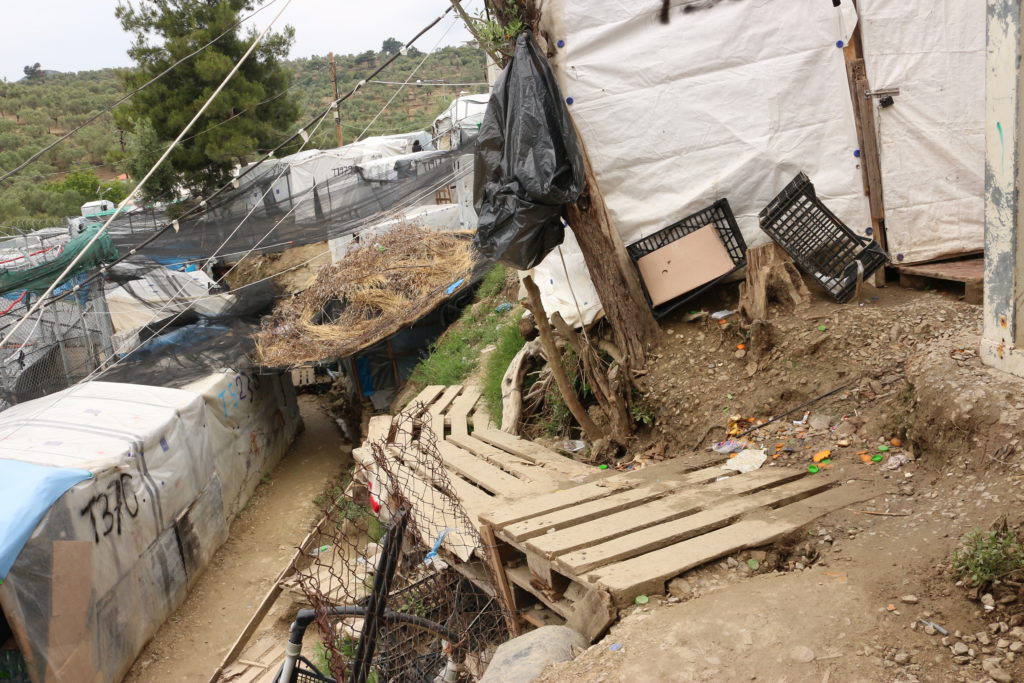 I was taking pictures of these fascinating pallet paths and the hanging houses supported by wooden beams, when Darvish came out of one of them and greeted me with the biggest of smiles. His place looked very nice (if compared to the standards of Moria), half of it was their house, and the other half was a wooden terrace that was kept clean and mostly empty, contrary to most house entrances here.
I asked Darvish with my hands if I could take a picture of his house, and he, also with his hands, replied, "Yes, of course!" When I was done, he again said some words I didn't understand, but with his gestures and looking at the inside of his house, I knew for sure he was inviting me for breakfast with his family. First I refused, just for being polite, but he didn't need to insist much before I happily accepted the invitation. This home and the family I had in front of me just brought me good feelings.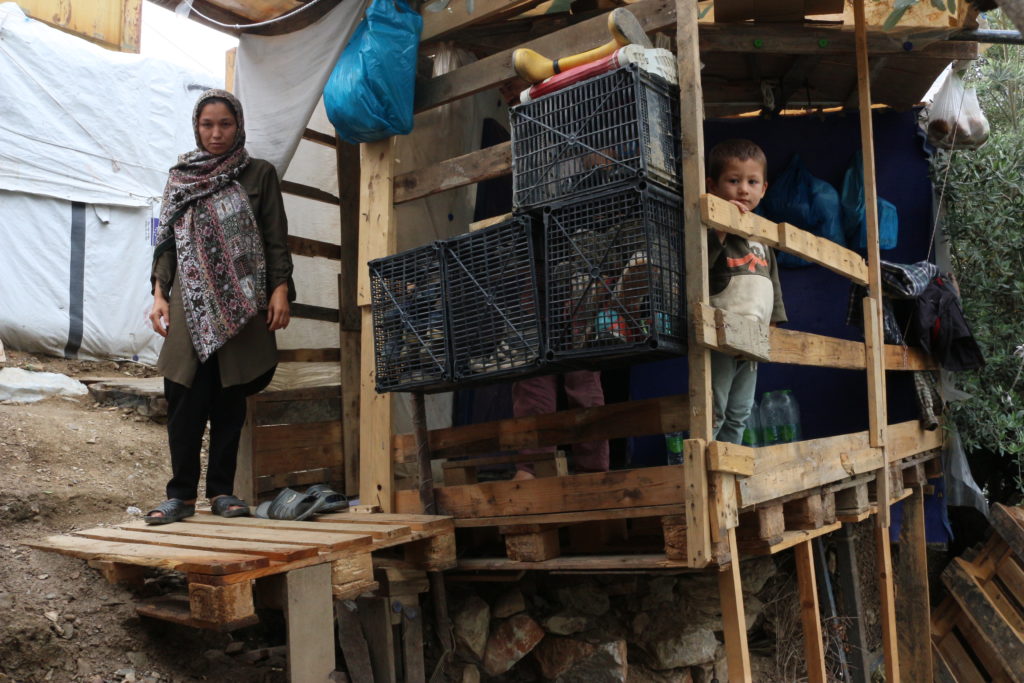 Once inside the structure, Sakine and her two boys asked me to sit down and share breakfast with them. It was a nice family breakfast without any hurries, just seating, eating and enjoying the sunny morning. I felt privileged to be part of it.
We ate pita bread that Darvish brought from the distribution, and also bread from the Afghan ovens on Baker Street. Before I could realize, I already had a cup of milk at my right. Sometimes we tried to speak about our countries, football, and other topics with the help of Google Translate. Sometimes the oldest son of about six years old tried to speak the little English he learned in class with me, and then teach it to his father. Sometimes we would just eat, drink and enjoy each other's company, as if we had known each other for a long time.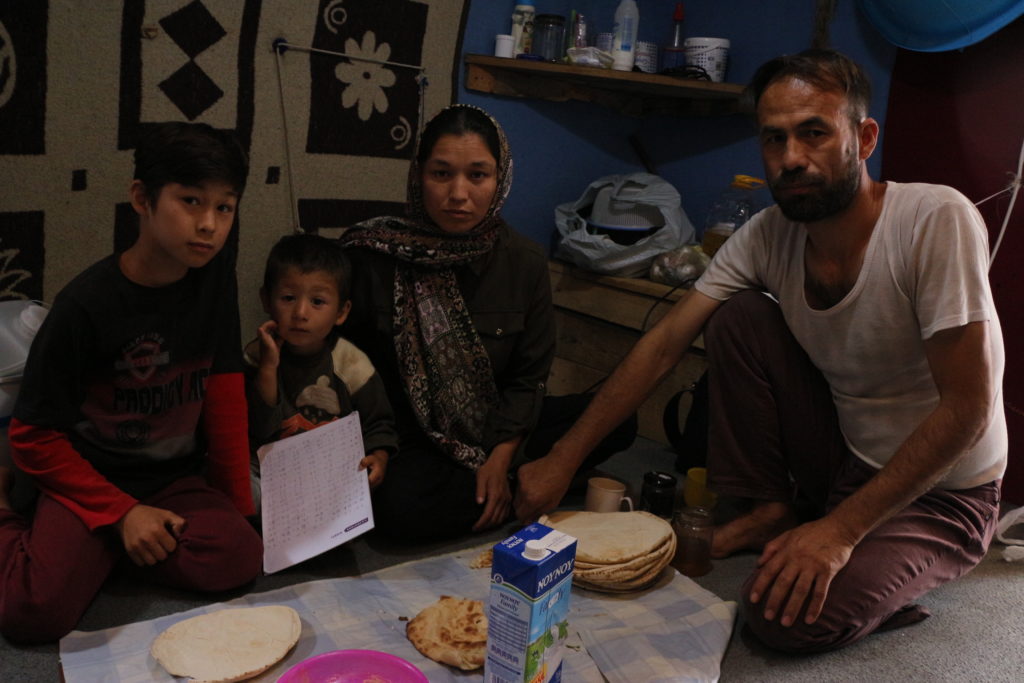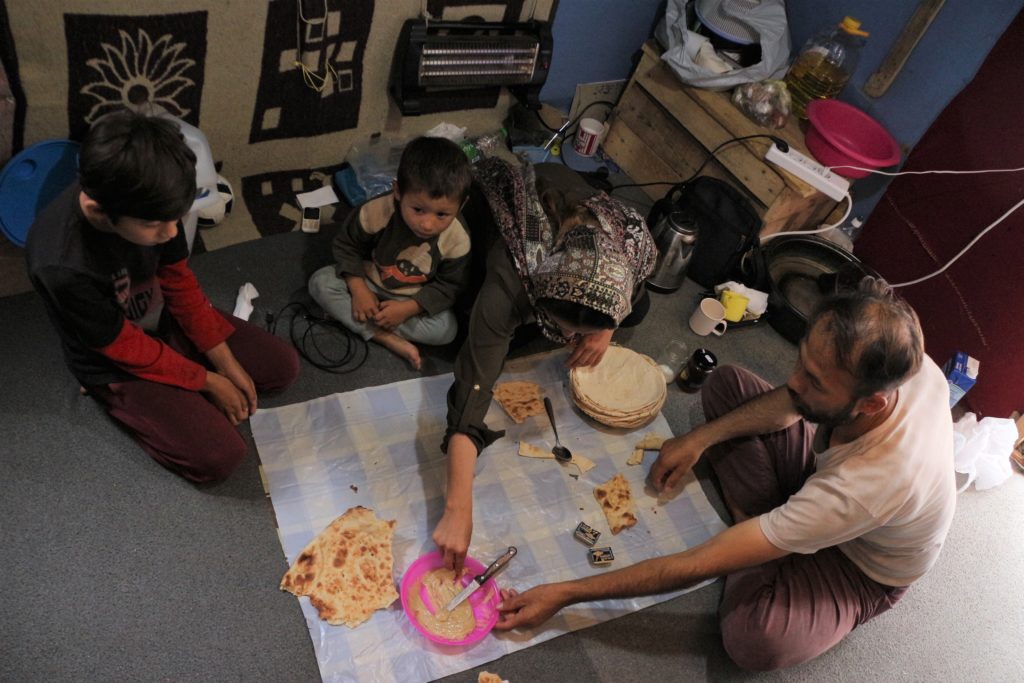 I would have stayed there all morning if I could, it just felt so comfortable in the heart of one the most uncomfortable places I have ever been. This kindness and hospitality from many refugee families in camp never ceases to amaze me. I cannot remember any words or specific conversations during our nice and peaceful breakfast. But I will remember the kindness, the smiles, the thankfulness, the warm welcome. Yes, the warm welcome. Kind of ironic when coming from a refugee family in Moria, isn't it?
This experience made me rediscover that most of the time, words are not needed to express very valuable things in life: kindness, appreciation, acceptance, etc. How much more we should share the love and hope we have received from God in such a way that words are, actually, not that much needed.
* Names changed for security reasons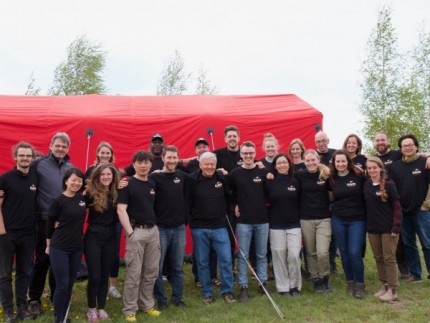 For Tess Mawson, doing a Global Aid Network (GAiN) DART (Disaster Assistance Response Team) training was an obvious step in her ministry and career in the humanitarian sector.
"I really love practical ways of serving people that are truly in their most desperate place. Often one of the strategies of GAiN DART teams is to reach people that are kind of on the outside, or have been left behind, or neglected by other organizations, or in situations where nobody else is reaching them," Tess explained.
"There's a value to reaching out to the lost and left behind. It is such a valuable way to show the love of God. I love getting to use my practical God-given skills in problem solving and hard work and leadership and all these different things and getting to use these to reach people."
DART is a GAiN Worldwide initiative, that responds in the event of a disaster by deploying teams of certified volunteers to the field. Teams provide aid such as food and non-food items, water, medical support, emergency shelter and trauma healing.
Every two years GAiN puts on a training, designed and organized by GAiN Germany, in order to equip and prepare trainees for real-life disaster response on the field. This year, the eight day training program was led by four GAiN Germany staff and one GAiN Canada staff. Twenty trainees from 10 different countries, including six Canadians, took part. The participants came from diverse backgrounds, ranging in age (early 20s to 70s), differing in careers (finance, medicine, business, humanitarian aid, etc.) and varying in culture.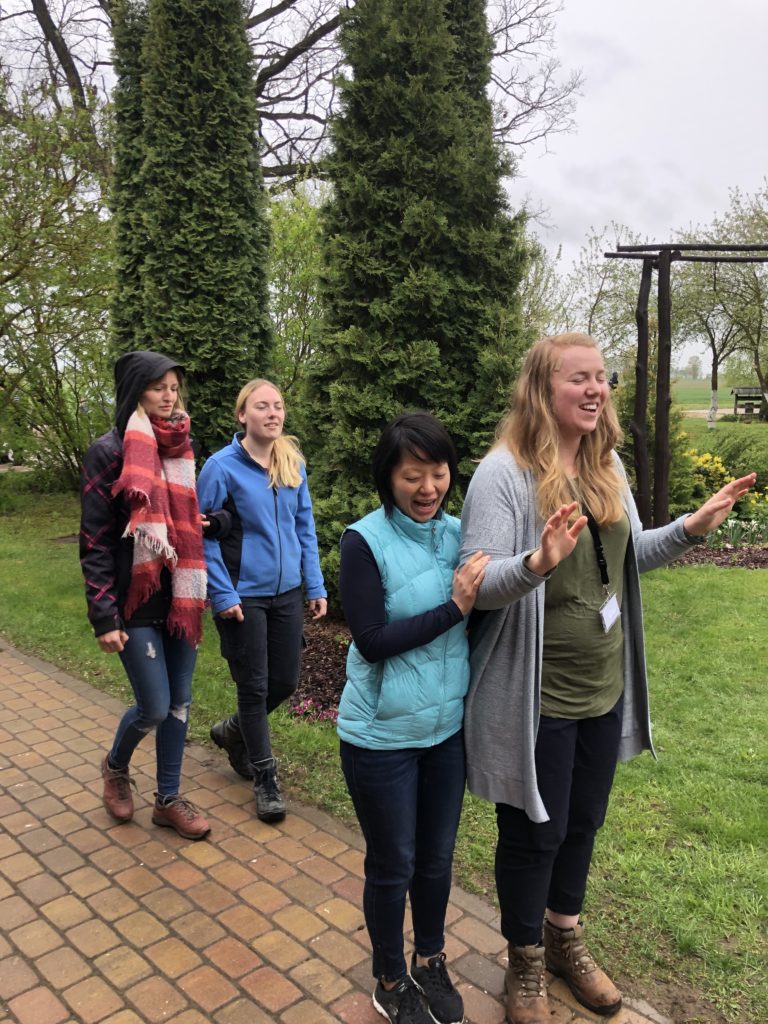 About half of the days were focused on classroom theory, where trainees learned about specific roles and responsibilities required for every DART team. Other sessions included topics on leadership, the history of humanitarian aid, conflict resolution, as well as safety and security.
The other half of the days consisted of a practical exercise that lasted multiple days. Trainees were put into teams, navigating a simulated disaster situation and getting the opportunity to practice being on a DART team. Trainees were tested to see how they would respond to possible scenarios and potential issues that may arise on any DART mission.
The program is designed to challenge, push and stretch participants. For Tess, she completed the program with a better sense of herself and learned more about leadership, teamwork and humanitarian aid.
"In my terms, [I call the training] the pressure cooker for character. You're definitely operating in these intense situations and you're not sleeping and you're working hard. You're really stretched, yet you have to work as a team and care for people and love people well. It really pushes you to know your limits and your capacity and to know when you need to stop and when you can push forward and when you need to rely on your team for work. [There were a lot] of really valuable lessons for team work."
Besides learning a lot about her strengths, weaknesses and capabilities, one of Tess's biggest takeaways was the humanness of humanitarian aid.
"We [often] think that it's about the logistics and what's being distributed and what's being done or the aid that's being brought, but it's actually so much more about the person that is receiving the aid. It's about meeting people where they are in their suffering and in their pain and caring for them and seeing them and being with them. That has so much of an impact, more than an item of food or clothing could."
If you have a heart for reaching the lost, hurting and forgotten, don't let the challenging aspects of the training discourage you from applying, Tess said.
"Don't make a decision based on your qualifications and your skills and experiences but on your desire to serve in that way. I would recommend DART to anybody who has a heart to meet people in very broken situations and who is willing to sacrifice comfort and ease to reach those people. It does help if you love problem solving and have an interest in humanitarian aid and those kinds of things but it's really open for everybody. It's open for everybody but it's not for everybody because it's hard. It does require a certain stamina to be able to do it."
IF YOU WOULD LIKE MORE INFORMATION, CLICK HERE TO EMAIL US.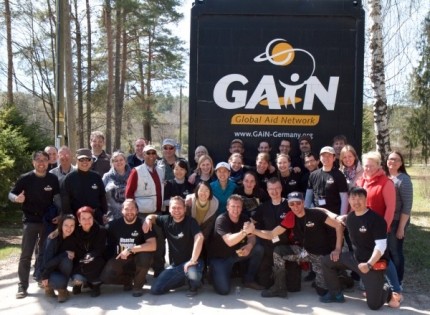 When participating in a DART (Disaster Assistance Response Team) mission you need to work through any physical, mental and emotional challenges that may arise — and that's just what DART training is for.
DART responds in the event of a disaster (natural or man-made) providing food, water, medical support, emergency shelter and trauma healing with the perspective of long-term aid. Volunteers are required to be ready to leave for a disaster area for at least two weeks, but preferably four weeks to three months.
In May 2017, Canadians participants, including one GAiN Canada staff member, took part in DART training that took place in Riga, Latvia for eight days.
The training program was organized by GAiN Germany, where trainees were put through real-life simulated situations to mimic specific problems that would present themselves on a DART mission. Sleeping in tents in freezing temperatures with little sleep only intensified the challenges, truly testing the participants' ability to respond under pressure. All of the real-life simulated situations gave participants a glimpse of what participating in a DART mission might entail.

"It is amazing and it's hard," expressed Monique Lieuwen, Relief and Development project manager for GAiN and DART training participant. "Your emotions [go up and down] at any given minute. [Sometimes you think], 'it's so awesome,' [and other times], 'wow, what am I doing?' But overall it is incredible."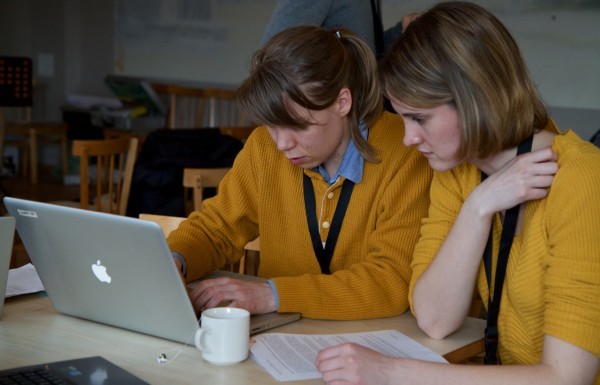 The training was valuable and Lieuwen returned to Canada having learned many things. One of the most significant lessons she learned was the importance of teamwork, especially in disaster situations.
"One thing that was really evident, because DART has a lot of strong personalities, was teamwork and the importance of submitting to the leader. You don't have time to ask questions, you just do it. There were moments we worked really well together and there were moments we should have just trusted the leader and we didn't. In a disaster context everything is amplified."
While a DART member needs to be strong, both physically and mentally, Lieuwen also learned that a team requires a variety of people with different skill sets. DART looks for volunteers with skills in leadership, communication, finances, medical care, technology, spiritual guidance, construction and more.
"If people think they're not qualified, I think they need to think outside the box a little bit. Because even at first I thought, 'What do I have to offer?' And at the end I was like, 'I can do this, this, this and this. A lot of people just think it is physical strength and you do need physical strength because you will do physical tasks but there's more."
But the DART training experience wasn't just challenges. Lieuwen was grateful to meet 19 other participants from six different countries: Canada, Australia, Germany, Finland, Netherlands and Korea.
"It's awesome to meet people from all those different places with the same faith and the same passions. One thing I love is before we went to the practical exercises we had time for praise and worship and so everyone is singing in their own language, the same song. I love it. It's a little glimpse of heaven."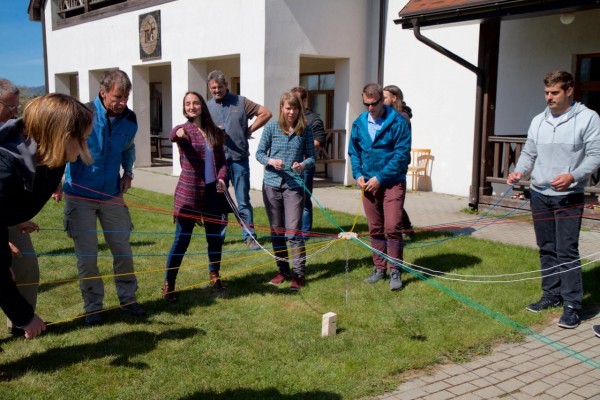 INTERESTED IN DART TRAINING?