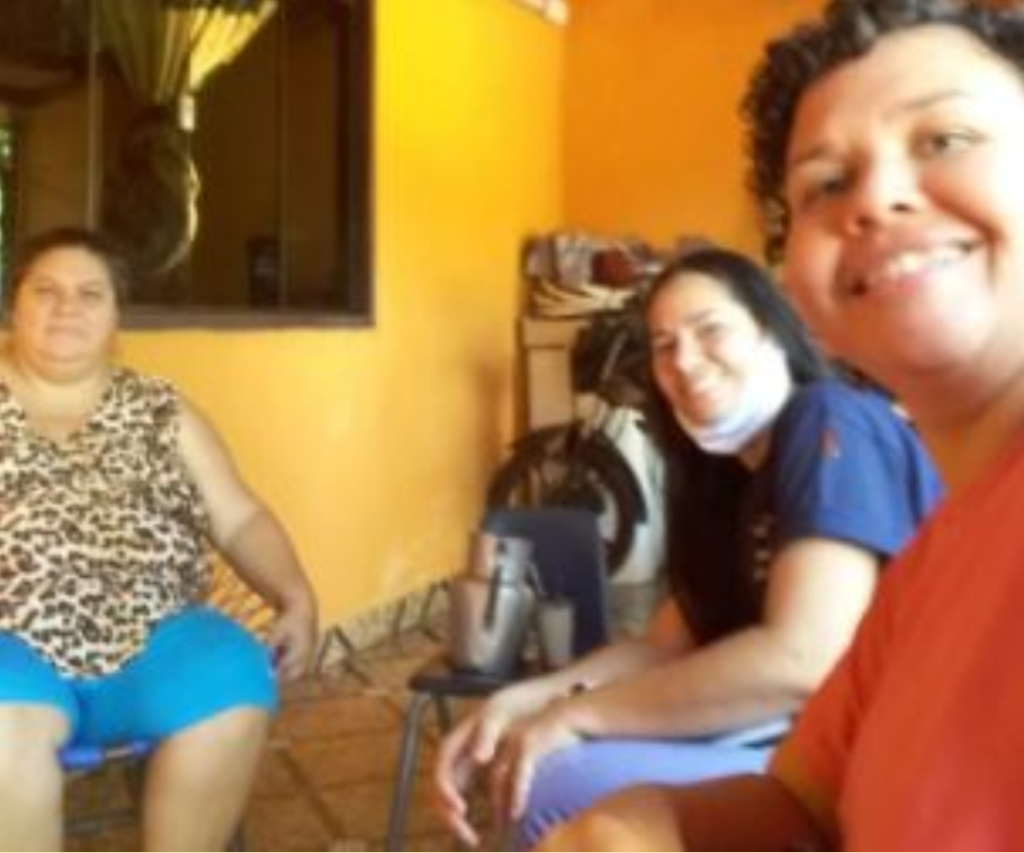 When COVID hit Paraguay, the country's strict lockdown measures meant that many small businesses suffered, resulting in many families struggling to get enough food to eat each day. As a result, GAiN's local partners Diaconia and Jesus Responde are running soup kitchens to help.
Margarita R. is a chaplain for Diaconia. She meets with trust groups, specifically to share God's word, encourage women in the trust groups and pray for them. This was needed more than ever, as a lot of these women were desperate to provide for their families. Below is her story about how she was able to walk alongside a woman who had experienced a series of tragic events.
"I contacted the president of a trust group called San Vincente and asked the leader for permission to visit the soup kitchen so I could pray for her and her family. She accepted without hesitation.

One day, I was visiting a woman named Zunilda and she shared her very painful past. She lost her daughter-in-law in a motorcycle accident, and then three months later, her daughter and her husband also got into an accident, which left her husband fighting for his life. Thankfully, after a long treatment, her daughter recovered completely.

I followed up with Zunilda once a week to pray, encourage her and her family, and share the Word of God with them. The last time that I visited, she told me about a recent tragedy with her nephew. He was hit by a car after chasing a soccer ball that went into the street.

Through text messages, I chatted with her and encouraged her to not distance herself from God, but to rest in Him. I explained how we are able to do this, and every week I continue to pray with her and her daughter. I make sure to continue to share encouraging devotionals with them.

The family was filled with anxious worry about the nephew's recovery. It's at times like these that they say they are very thankful for the prayers and support they receive from Diaconia.

I was encouraged when Zunilda told me that she is drawing closer to God again. Thanks to Him, she says, her six-year-old nephew is now much better and has returned home from the hospital."

Your support has helped provide not just physical nourishment, but emotional and spiritual support for women and families that are struggling during this pandemic. Thank you for helping reveal hope and restore life during these uncertain times. Your help is making a huge impact.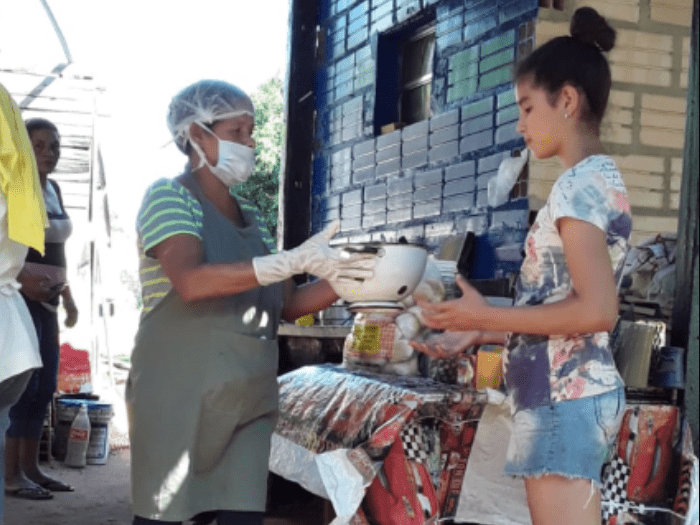 To prevent the spread of COVID-19, the country of Paraguay immediately imposed a strict lockdown and managed to keep their cases low. Unfortunately, this put limitations and restrictions on people's ability to work, worsening the situation for those already living day-to-day and experiencing food insecurity.
Diaconia, Global Aid Network (GAiN)'s Paraguayan partner, was unable to run trust groups due to a ban on public gatherings. Because of strict curfews and other restrictions, many of their clients' businesses were impacted.
To help alleviate the stress of food insecurity for their clients' families and others, Diaconia teamed up with Jesus Responde to run soup kitchens in multiple different communities. There are currently 49 active soup kitchens, reaching over 8,500 people.
Gloria Q., an employee of Diaconia, shared the impact that the soup kitchens are having in the communities, as well as the hearts and sacrifice of the women who are serving.
"I have had the opportunity and great pleasure of being able to spend a morning with several [Diaconia] clients who are running one of the soup kitchens. Having someone visit from the organization brings so much joy to the community and they are always very thankful for the both the material and moral support that they receive from Diaconia.
The women commented happily about their day-to-day experiences cooking for so many people in need. They are in a large squatter village and can't serve every person but are very thankful to be able to reach so many families.
As they showed me their cooking space, I noticed that they had all of their utensils sanitized and clean and several families had brought firewood so that it would be enough when it came time to cook.
While their cooking space is a bit precarious, the women are not discouraged thanks to their positive attitudes and enthusiasm. They have notebooks where they record the quantity of people that attend every day and a small bank for those who wanted to contribute even the smallest coins to purchase meat for the next day.
Many of them work in recycling and have found themselves out of work temporarily.
Miriam, who is a Diaconía client, and Rosa, who is the owner of the house where they cook, are both Christians and are very grateful for the opportunity to share what God is doing in that place.
Every day, they ask the people attending to form a line where they will retrieve their food and, before serving, they share a Bible verse and pray for the needs that they express at that time.
Now, they don't even have to ask for prayer requests, the people they serve make sure to remind them that it's time to pray and most of all they look forward to the time of prayer before the food is served.
Rosa even commented that some people have shown up to leave a small piece of paper that has their prayer requests on the days that the soup kitchen doesn't serve meals.
These women expressed how God works to not only provide supplies and materials, but also works spiritually and how he can change perspectives and mindsets when families hear His Word. Some, maybe only a few, but not any less important, are conscious that if they have even something small to eat at home, they don't attend the soup kitchen so that those who need it most are able to eat, despite not having enough for themselves.
Some days, they play games and sing Christian songs with the children that come. If they show up early and the food isn't ready yet, they take advantage of the time to have some fun with the younger kids. And then, after the meal, they go home even more joyful.
After spending a wonderful morning with the women of this soup kitchen, we had a time of prayer—thanking God for His mercy, asking Him to keep transforming hearts through this activity, and for taking care of each person who is exposed daily to COVID-19.
This was such a beautiful experience for me and filled me with such a feeling of satisfaction and, more importantly, joy. I thank God for each one of the women working in the soup kitchens that each and every day are willing and ready to serve their community without expecting anything in return."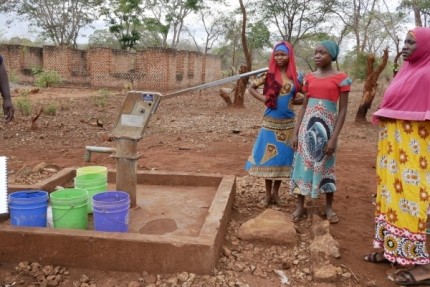 The GAiN Tanzania team recently drilled a well in the village of Liugulu on the grounds of a secondary school where a number of students live during the school year. When we came to visit, we were greeted by a few students.
Lack of clean and safe water affects the education of many students who spend plenty of hours a week collecting water. Unfortunately, this isn't uncommon. According to UNICEF, one out of every six secondary schools have no drinking water service. 1
Before the well was provided to Liugulu in May 2019, their nearest water source was a small river a few kilometres away. Students had no choice but to fetch buckets of water in the early morning hours or late at night, to ensure that they did not miss classes.
Not only did collecting water take up much of their time, the water was contaminated and often caused them to fall ill, resulting in absences due to sickness. Sadly, up to 443 million school days are missed worldwide, each year, due to water-related illness. 2
But now, with a water source right next to their school, these students are able to enjoy the full health benefits of clean water and the freedom to attend classes and focus on their studies without worrying about the burden of funding water.
We had the opportunity to speak with these students about what dreams they had for the future. Some wanted to be doctors to help heal the sick, while others wanted to be police officers to help protect people.
One girl said she wanted to be a teacher. Her desire was to come back to teach at this school because of the positive impact it has had on her life. Having access to this water source removes a significant barrier for these students to realize their potential. They are now one step closer to seeing their dreams become reality.
1 UNICEF https://www.unicef.org/eap/wash-schools-fast-facts
2 Human Development Report, 2006 https://www.wateraid.org/facts-and-statistics
YOU COULD HELP A VILLAGE LIKE LIUGULU GET ACCESS TO CLEAN WATER. WILL YOU GIVE TO MAKE AN IMPACT TODAY?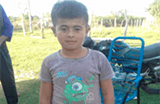 Felipe*, 10 years old, lives in Abai, Paraguay with his parents. When missionaries named Susana and Alejandro visited his grandmother's home, he learned about the opportunity to go to a nutrition centre, run by Jesus Responde, Global Aid Network's partner in Paraguay. At the nutrition centre, children from impoverished backgrounds can come weekly, receive nutritious meals, receive tutoring and learn about Jesus.
Before going to the nutrition centre, Felipe disobeyed his parents and showed very little interest in his studies. Despite already being in third grade, he didn't know how to read or write.
Felipe is now in fourth grade. His mother commented that she has been congratulated by Felipe's teacher because his behaviour has notably improved. Not only that, but he can now read Bible verses correctly, thanks to the care and attention he has received from the nutrition centre. This has impacted Felipe's entire family and has opened the door for his parents and grandfather to all receive Christ in their hearts.
Soon, they are expected to take the next step of being baptized.
Susana, the missionary, commented that their church has grown and that they are extending the services they offer at the nutrition centre to provide more meals. Through children like Felipe, we can see how the simple service of providing food can allow encounters with their families and the opportunity to share the love of Christ with them.
*Name has been changed
YOU COULD PROVIDE A NUTRITIOUS MEAL AND MORE FOR A CHILD LIKE FELIPE. WOULD YOU GIVE A GIFT THAT CAN MAKE A LIFE-CHANGING IMPACT ON A CHILD?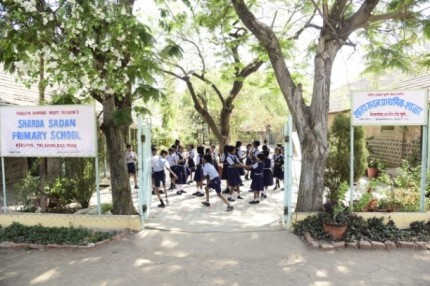 As of March 11, 2019, Mukti Mission and the Sharda Sadan home have been around for 130 years. Sharda Sadan, which means 'Home of Learning', opened with two pupils and soon increased to several hundreds. Today, it houses more than 2,200 students, both residential and day scholars, who are eager to take advantage of an education that has been imparted since the last four generations. A great-grandfather, aged 85, proudly came to grace the occasion as his great grandson is the fourth generation student of the school.
Mukti Mission founder Pandita Ramabai's heroic fortitude, unflinching devotion and absolute faith have brought hope and a bright future to thousands of suffering women and children. Surrounded by opposition, abuse and treachery, she has fought almost single-handedly against the evils of superstition and ignorance, the tyranny of caste, the iniquities of child marriage and perpetual widowhood, which for century upon century have blighted the lives of women in India.
Over the past 130 years, more than 7,000 children have studied at the school. It is a unique school where parents of the students play an important role in its growth. It is more of a family-based school where students from all walks of life attend and have testified that they have not seen or experienced any kind of discrimination.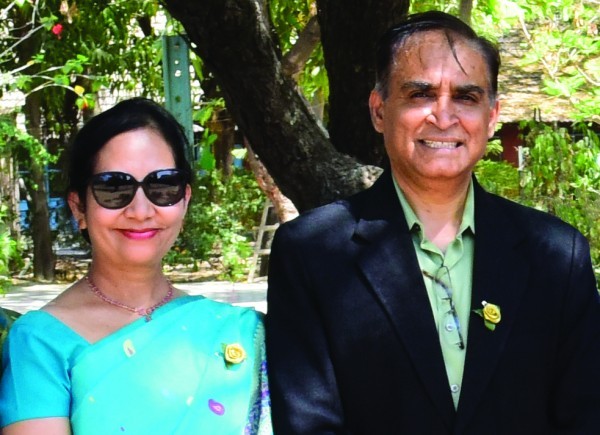 Being an ex-student of the school, Dr. Mahendra Chitre, a neurologist in a leading hospital in Pune, was invited to be the Chief Guest to preside over the function. Dr. Mahendra Chitre delivered a very down-to-earth address, bringing sweet memories of his childhood experiences. The audience was moved when he made a reference to his 2nd Standard teacher, Sumanbai Shitoley, who was in the crowd. When Sumanbai was teaching the little boy Mahendra, she wouldn't have thought that she was investing her teaching skills in a student who would one day become a neurologist.
Teachers, you have an important role to play in the lives of your students. Your little primary section student today may become someone who will impact the nation tomorrow. Mukti Mission's special emphasis is education. The dream of starting a Pandita Ramabai University is being pursued and will take another decade for this dream to become a reality. However, the immediate goal is to work towards a Senior College of Science, Arts and Commerce as a first step to fulfill the larger dream in the days to come.
Also at the event was Chairman and Advocate Markas Deshmukh (also a former student) and 450 former students. Two very senior teachers, Mrs. Sumanbai Shitole and Mrs. Sakhubai Jadhav, who taught at Sharada Sadan in 1967- 1972, were amazed to see how the school has grown and were very touched.
The staff and students set up a wonderful programme which was centered on the theme of 'relationship'. It was a blessed day which ended with a delicious lunch for all.
WANT TO LEARN MORE ABOUT MUKTI MISSION?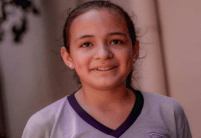 Telma is 12 years old and lives with her mother Liz, her grandmother Esperanza and her sister Sara. For the majority of her life she has been under the care of her grandmother because her mother was absent. When her mother wasn't working she would spend her free time with friends, attending parties or other participating in other activities outside of the house.
Grandmother Esperanza already knew about Jesus and was a regular church attendee. Her church runs a wholistic community centre with Global Aid Network (GAiN)'s Paraguayan partner Jesus Responde. At these community centres, children from impoverished backgrounds are invited to attend weekly, where they receive a nutritious meal, play games with other kids, and learn about Jesus through the AWANA program.
Telma was two years old when her grandmother brought her and her sister Sara to a wholistic community centre. It was there that she was taught about Jesus and his love. Every morning, Telma and Sara would pray to God that Liz (their mother) would come to know Jesus.
Eventually, after years of praying, their mother decided to accompany Telma and Sara to church. It was in one of the meetings that she got to know Jesus. Now, the whole family attends church together. Recently, Grandmother Esperanza lost her eyesight but continues to attend church meetings, thanks to perseverance and the help of Telma who is an active church participant.
Telma shares, "Jesus transformed my family. In my house there is more peace and more joy. Sara and I now receive the attention and affection from our mother that we did not have when we were younger. We are grateful because every day we are taken care of, loved and get to learn about God."
WOULD YOU LIKE TO SUPPORT A WHOLISTIC COMMUNITY CENTRE IN PARAGUAY?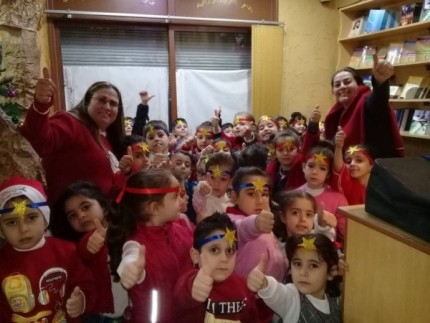 Another year has passed since the Syrian Civil War started in 2011 and the country remains unstable. Our partners on the ground are still working faithfully to bring hope and physical aid where needed most. They continue to meet with displaced families, the majority of whom have experienced trauma and are living in poverty as a result of the war.
In December, our partners distributed clothing (sweaters, jackets, dresses) to 523 displaced children whose families could not afford to get them Christmas gifts. One thousand Bags of Blessings (bags with essential food and non-food items that provide for a family of five for one month) were distributed to the children's families, which helped to alleviate their monthly expenses.
The clothes and Bags of Blessings were a huge help to many families who were in need of not just aid and hope, but community and love in the midst of war and uncertainty. Here are three families who had received gifts:
Jan's father is in the army, his mother has no work and his brother is just three months old. Jan's mother told our partners that receiving the Bag of Blessing helped her cover a large part of what would have been her expenses for the month. In the bag there was halawa (a Syrian dessert), which Jan loved.
When Jan received the Christmas gift (sweater) at the distribution, he was very happy and excited to wear it. Jan's mother said they were very thankful for this gift as there had been no money to buy things for him, since most of the money went toward the baby and rent.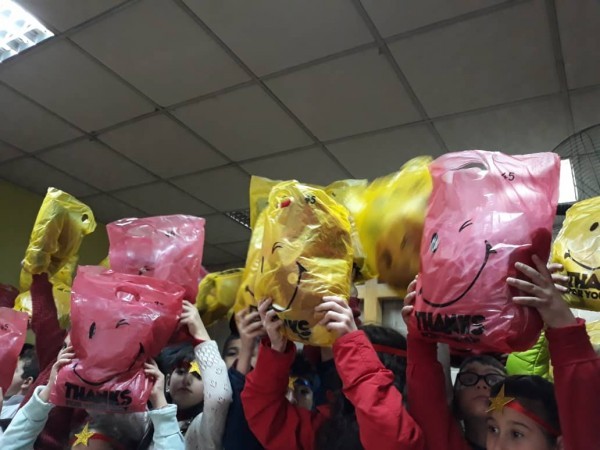 Kalven and Elvin are siblings. Their mother does not work and their father works sporadically, except for in the winter when there is no work available.
For a short period of time, Kalven and Elvin came to the centre. Last month the family took a Bag of Blessing, which helped them out tremendously. The mother said that she would buy half a kilo of rice for cooking. And, due to the high cost of sugar in Syria, she could not afford to buy any sweets at the market. But, with the Bag of Blessing, she received rice, oil, pasta and sugar. The children were delighted because they love pasta and halawa.
The family was also pleased with the Christmas gifts they received. The mother explained that she was unable to buy Christmas dresses for her children due to the market price being too high. So, they were thrilled to receive these dresses as gifts at the distribution.
Tim, Shahab and Nabih attended the centre where Christmas distributions were happening. Their father, who is physically disabled and in a wheelchair, works at a vegetable shop. Their mother does not work; instead, she stays at home and helps the children study.
The children's father mentioned that he had not been thinking about buying Christmas clothes because they had just given their children hand-me-downs from their relatives. When they received the Christmas gift of clothes, they were thrilled.
Upon receiving the Bag of Blessing, the mother cried and explained that she had not seen this amount of food in a long time. The boys loved the many different pastas and the rice. The family happily reported that now the children are always full and satisfied.
WOULD YOU LIKE TO BRING HOPE TO DISPLACED SYRIANS IN THE FORM OF A BAG OF BLESSING?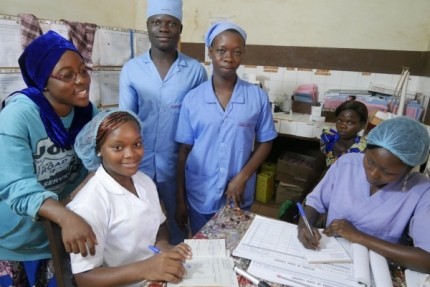 "The gender training has had a huge impact on our households," one woman from the village of Fignonhou, Benin, told us after we had conducted a gender sensitivity training in her community. "There was a lot of quarrelling between husbands and wives before. Now, few people quarrel. Violence against women has decreased."
When another woman first went to a hygiene and sanitation training put on by GAiN [as part of the Maternal Newborn Child Health (MNCH) project, in partnership with the Government of Canada] her husband was angry with her for going without his permission. However, when he noticed the useful information she was learning and how it improved their lives, he was happy to see her participate in more training and activities.
Sometimes it is these small improvements in women's lives that give hope. When before, women were devalued and forbidden to take action and responsibility, now, they are now trusted and empowered to create change. They are given a new status within their homes and communities.
This year for International Development Week (IDW), the theme is "Together for Gender Equality." Through our projects, one way that we aim to restore justice is by addressing gender inequality in the developing countries in which we work.
After 13 years of providing deep-capped water wells in remote areas, we've seen the power that clean water has to transform individuals and entire villages – not only to improve health but also the quality of life for women.
Over the last two years, we've been able to help mothers and children through the MNCH project by:
Providing water wells in the village near medical clinics. This not only reduces diseases but also eases the burden of time and physical demands for women and girls, allowing them to attend school, focus on the needs of their families and other economic activities.
Providing hygiene and sanitation education, as well as handwashing stations.
Equipping village champions with the tools to promote proper hygiene and community health.
Improving local health services by providing clinic trainings for village health workers to improve their skills.
Empowering women through gender sensitivity training for both men and women. The goal is to foster healthy family relationships and ensure that the rights of women are better understood and respected, as their participation in decision making and control of resources is valued.
Learn more and see how you can join us in becoming change-makers in advancing gender equality in countries like Benin and Togo.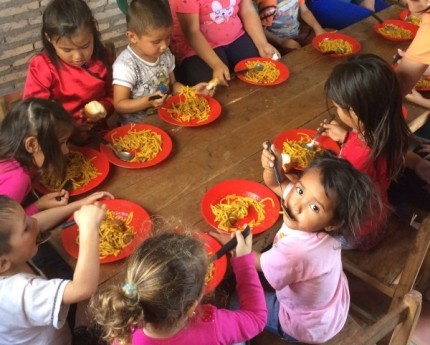 Sometimes we can be so focused on the end goal that we don't appreciate the journey. While we work hard at the office to raise funds and awareness for our projects all over the world, we can sometimes take for granted the process that it takes to get from beginning to end.
Earlier this month (May), we joined the Fraser Valley Gleaners, our local partners in Abbotsford, to pack a container shipment of soup mix and apple snacks for Jesus Responde, our partner in Paraguay.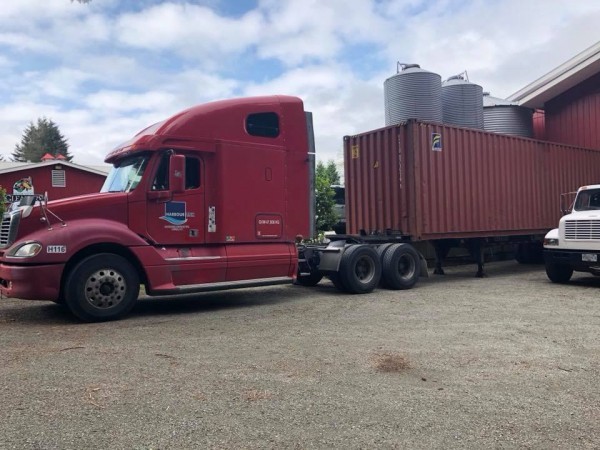 This year, our annual shipment contained 864 boxes of soup mix, for a total of 1,036,800 servings and 96 boxes of apples for a total of 46,080 servings!
Once the container reaches Jesus Responde, the food will be served at one of the 381* active wholistic community centres (previously called nutrition centres) throughout Asuncion, Paraguay, where approximately 22,179* children receive nutritious meals each week!
To connect the dots between Abbotsford and Asuncion, we highlighted the one-and-a-half month journey that the shipment takes from the warehouse of our faithful partners the Fraser Valley Gleaners to the Jesus Responde warehouse in Asuncion.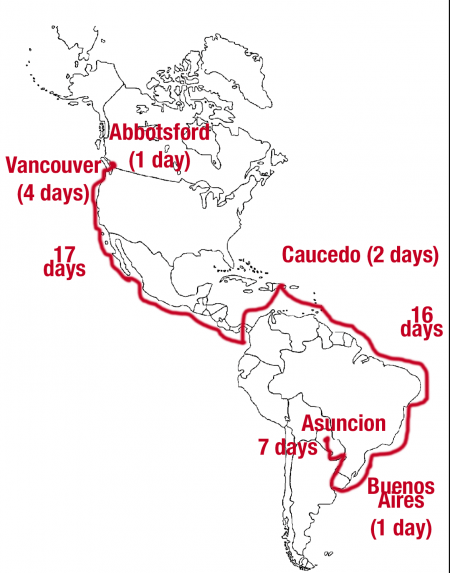 We never want to take the journey for granted. We are so grateful every time a shipment arrives intact because we know that impoverished children all over Paraguay have the opportunity to be fed nutritious meals every week!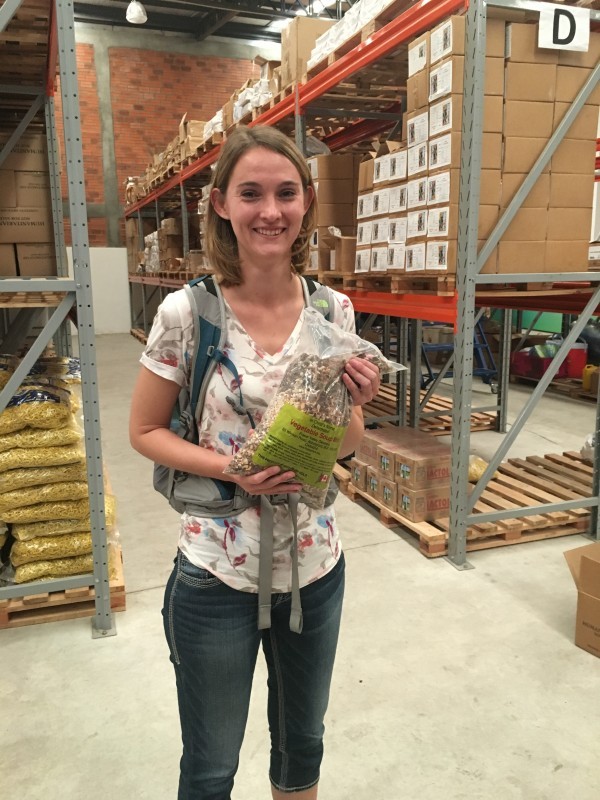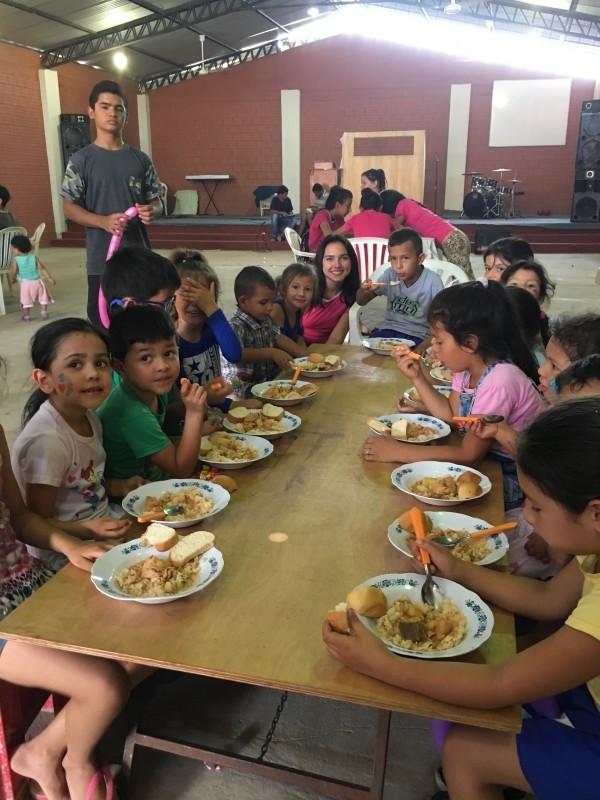 *As of March 2018
DO YOU WANT TO PARTNER WITH US TO HELP PROVIDE NUTRITIOUS MEALS TO CHILDREN IN PARAGUAY?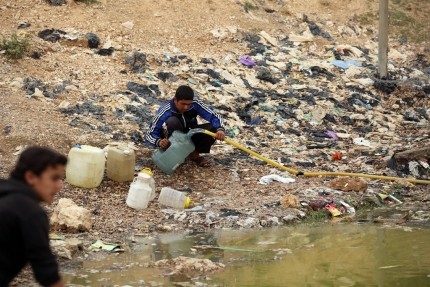 30 October 2017 – The Islamic State of Iraq and the Levant (ISIL or D'aesh) may be largely pushed out of Syria's Raqqa governorate, but after years of oppression and nearly a year of intense fighting – marked recently by heavy airstrikes – humanitarian needs will continue to be large for some time, the top United Nations relief official told the Security Council Monday.
"Since the beginning of the anti-ISIL offensive in November last year, airstrikes and clashes have resulted in more than 436,000 people being displaced from Raqqa to 60 different locations, including in neighbouring governorates," UN Emergency Relief Coordinator said briefing the Council via videoconference from Amman, Jordan.
"One conclusion is obvious: the impact of the Syria crisis continues to be profound."
Expressing deep worry about the impact of fighting and airstrikes on civilians and civilian infrastructure in Raqqa governorate, with scores of civilians reportedly killed in recent months, he said he is also concerned for the safety and protection of civilians at risk from unexploded ordinance throughout Raqqa city, particularly those trying to return to their homes.
"Despite the directive issued by local authorities for civilians not to return to the city until it is deemed safe, the UN anticipates that people will go back to try to check on and protect their homes and their personal assets," Mr. Lowcock explained.
Further to the east, in Deir Ez-Zor governorate, heavy fighting and airstrikes continue to result in civilian deaths and injuries. Large-scale displacement also continues, with the UN International Organization for Migration (IOM) reporting some 350,000 people displaced since August, including more than 250,000 people in October alone.
As for eastern Ghouta, Mr. Lowcock daily shelling has continued to be reported in recent weeks. Humanitarian access to eastern Ghouta – one of the four de-escalated areas where nearly 95 per cent of Syria's besieged population lives – has been severely curtailed for months. Since the start of the year 110,000 people have received food assistance, out of an estimated population of nearly 400,000.
"Today the UN and partners delivered food, nutrition and health assistance to 40,000 people, he told the Council, warning however that an alarming number of child malnutrition cases have been recorded there, and more than 400 people with health problems require medical evacuation.
Overall, he said that more than 13 million people inside Syria still need humanitarian assistance. 6.3 million of them are exceptionally vulnerable and in acute need because of displacement, hostilities, and limited access to basic goods and services. "Conflict and violations of international humanitarian law continue to be the principal drivers of humanitarian need, with civilians in many parts of the country enduring massive suffering."
"Against this background, the UN and our partners continue to implement in Syria one of the largest humanitarian operations in the world," said Mr. Lowcock who is the UN Under-Secretary-General for Coordination of Humanitarian Affairs, noting, by example that in September, the World Food Programme (WFP) provided food assistance to more than 3.3 million people, the UN Children's Fund (UNICEF) reached over 1.5 million people, and the World health Organization (WHO) reached over 800,000 people.
He also went on to point out that cross-border assistance provided for in last year's Council resolution 2165 "has been a lifeline," allowing the UN to reach millions of people in need in northern and southern parts of Syria. On average, aid was delivered to 2.76 million people a month through cross-border operations between January and August of this year.
"Our experience with cross-line operations from within Syria […] leads us to believe that it would be impossible to reach those people in a sustained manner from within Syria. I therefore regard a renewal of resolution 2165 as essential. Millions of people depend on the activities it mandates," he underscored.
IF YOU WOULD LIKE TO KNOW HOW GAIN IS INVOLVED, CLICK HERE.
(Source)
(Image Source: UNICEF/UN066040/Souleiman)