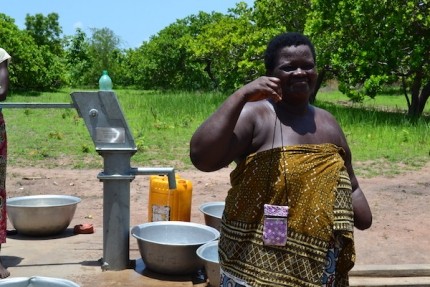 In the village of Kpassa, Benin we met with Alfowe, the fee collector for her village's water well. When we first meet her, we immediately noticed that she was without her left hand. Through an accident her hand was amputated, which has brought lots of hardships and difficulty in working and making a living to feed her family.
She said "The water has brought a lot of joy, wellness and life to community. Life is not possible when there's no clean water, and we are so grateful! The first time [we] found water coming out, we were just so happy to see it coming out!"
Kpassa has a borehole committee in place, a group of men and women in the community responsible for the long-term management and maintenance of the water well.
Villagers pay a small fee for a bucket of water and the money goes toward well maintenance and community development projects.
Alfowe hopes that if more people are paying for water, the borehole committee can compensate her for collecting money. This would allow her to purchase the food that she needs.
Today, because of the new water well, Alfowe finds purpose and fulfillment. She not only provides for her own needs but also serves her community.